Last Updated on 17th August 2023 by Chauncey Morgan
My hair is such a big part of my identity and after years of experimenting with it, I found that nothing is more important than having high-quality tools to style it. Among those tools, the one that you simply must have in your possession is the best hair straightener!
Choosing the perfect hair straightener for you is not always an easy task — you have to think about your hair type, length, and texture, not to mention straightener size, the material of the plates, and so many other things. There is a lot of research that goes into finding just the right hair straightener, but, luckily for you, I am here to make that search easier and more fun!
Today, you and I will go over my favorite and all-time greatest hair straighteners that will help you achieve a flawless look. Not only that — I will also go through a buying guide and answer some questions that you must have thought about at some point. I don't want to keep you in the dark any longer, so let's get right to the hair straightener reviews!
TOP PICK

For all-around great results for any type of hair, you can't go wrong with the CHI Lava Infused Hair Straightener.
Here are the Best Hair Straighteners
Before I go into the detailed reviews on the best flat irons, let's take a quick look at the products in our roundup and their key features.
BRAND
DETAILS
#1 CHI Lava Infused Hair Straightener

Temperature locking option

Ceramic volcanic lava plates

Extended plate length

CHECK PRICE

#2 KIPOZI K-139 Titanium Flat Iron



Adjustable temperature settings

Titanium floating plates

Auto shut-off option

CHECK PRICE

#3 Ghd Platinum+ Ceramic Hair Straightener



Smart predictive technology

High-quality, precision-milled plates

Long swivel cord

CHECK PRICE

#4 Conair CS221N Ceramic Hair Straightener



Heat recovery system

Fast heat-up option

Great for straightening and curling hair

CHECK PRICE

#5 T3 Lucea ID Flat Iron



Rapid HeatID technology

ThermaTouch technology

CeraGloss plates

CHECK PRICE

#6 Remington S5500 Anti-Static Hair Straightener



Anti-static technology

Fast heat-up

LCD temperature display

CHECK PRICE

#7 BaBylissPRO Nano Titanium Hair Straightener



Extra-long titanium plates

Ultra-thin design

50+ temperature settings

CHECK PRICE

#8 NuMe Megastar Tourmaline Hair Straightener



Plates with infrared stripe

Ion booster

Floating plate system

CHECK PRICE

#9 NITION Professional Salon Hair Straightener



5-in-1 coated plates

MCH heating feature

C-Sensor feature

CHECK PRICE

#10 Remington S7330A Wet2Straight Hair Straightener



Steam vents included

30 different heat settings

2 plate sizes available

CHECK PRICE

#11 CHI Original Ceramic Hair Straightener



Various styling options

Extra-long swivel cord

Ergonomic design

CHECK PRICE

#12 Conair INFINITI PRO Rainbow Hair Straightener



Ultra sleek style

Auto shut-off option

Rainbow floating plates

CHECK PRICE

#13 Revlon Copper+ Salon Hair Straightener



Various plate sizes

Heat memory system

Nano-copper technology

CHECK PRICE

#14 ghd Classic Original IV Hair Straightener



Protective plate guard

Optimal temperature

Ceramic heat technology

CHECK PRICE

#15 HSI Professional Glider Tourmaline Hair Straightener



Dual-voltage

Heat protective sensors

Even heat distribution

CHECK PRICE
It is not always easy to choose only five products to talk about. When it comes to hair styling tools, there are so many out there that it could take quite some time to find the one that fits your needs best.
To help you choose a great hair straightener for yourself, I will tell you more about my top five best hair straighteners that are available on the market right now. Let's get right into it!
The best overall hair straightener on my list is this one from CHI with volcanic lava plates that will give you a one-of-a-kind experience. Not only will this straightener leave your hair with a long-lasting style, but it will also make it stronger and shinier thanks to the lava- and ion-infused plates!
Key Features
Ceramic plates for frizz-less hair
Fast heat-up option
Auto shut-off after one hour
If you leave this hair straightener on and forget it, you don't have to worry because it comes with an auto shut-off option. This means that one hour after you turn it off, the flat iron will shut itself off, leaving you with a peaceful mind!
Pros
Lightweight design
Extra-long plates with volcanic lava powders
Cons
The temperature could be difficult to adjust
The CHI lava infused straightening iron is great for any style and any hair type — and with the lava powders in the plates, you can make your hair look even better than before!
This excellent straightener from Kipozi is one of the best-rated hair straighteners on Amazon, and there is a good reason for it. From the 1.75-inch(4.5cm) titanium plates to the adjustable temperature that goes as high as 450F (232C), there are a number of amazing features that will make you love this hair straightener!
Key Features
Perfectly sized floating plates
Auto shut-off option
Safety lock
Another great thing about this straightener is the ergonomic design that is comfortable in hand. You will have no problems using it for an extended period of time if you have long or thick hair.
Pros
Auto world voltage option
Temperature setting from 170F to 450F (76C to 232C)
Cons
More suitable for thinner hair, not for thicker hair
This is a very affordable, feature-packed straightener that you should definitely look into!
This ghd straightener is a favorite for professional hairstylists all over the world. The best thing about it is that it can actually make your hair stronger and shinier and protect your color while also giving you the perfect professional result!
Key Features
Predictive technology gives you the best for your hair
High-quality, precise plates
Suitable for all hairstyles
Proud owners of this hair straightener have reported that you do not need more than one stroke to make a section of hair pin-straight. That is how amazing these precision-milled floating plates are!
Pros
Comes with a heat-resistant plate guard
Optimum styling temperature
Cons
On/Off light can malfunction
If you want to feel like a true hair professional, get this smart hair straightener from ghd and always give yourself the perfect personalized styling experience.
If you are on a tight budget or just not willing to spend a lot of money on hair products, you should check out this quality hair straightener from Conair. You get every feature that you might need for a very reasonable price!
Key Features
Once you start using this straightener, you will find your hair getting increasingly shiny, and the frizz will be gone entirely. That is the beauty of having a straightener with ceramic-coated plates!
Pros
Extended floating plates
Five different temperature settings
Cons
The cord might be a bit short
It is not easy to find a good affordable hair straightener, but this one will give you even better results than you would ever expect. Give it a shot if you are on the market for a quality but budget hair straightener! If you find working with the cord unwieldy and want more freedom to move and maneuver, try a cordless flat iron.
Last but not least, I will talk to you about the perfect customizable hair straightener on the market — the T3 Lucea ID straightener with 1-inch (2.5cm) CeraGloss plates. The reason I love this straightener so much is because you can add info about your hair length and hair texture to it, letting the straightener tell you which temperature would be best for your hair.
This straightener has HeatID (the personalization settings, Rapid HeatIQ) heat precision, ThermaTouch technology, insulation for a better styling experience, and so many more features that will make you realize why this is such a great straightener!
Key Features
Ion generator for less frizz
Nine heat settings
High-tech and comfortable design
Ceramic plates
Not only does this straightener have a touch screen, but it also gives auditory feedback that will make your straightening even easier and more fun!
Pros
Precision-control hinge
Easy touch interface
Cons
Adjustability buttons can be difficult to use
You have to check out this smart hair straightener — you will never find more customizable features in one place! Set it to fit your hair type best and step up your hair game! 
You can check out other T3 straighteners here.
Coming at a very affordable price, this Remington S5500 hair straightener will amaze you with its anti-static technology. You will find your hair looking smooth and gorgeous immediately after using the flat iron.
Key Features
Reaches a temperature of 410 degrees
Leaves the hair static-free
Tangle-free cord
This straightener is most suitable for people with thin to normal hair. It can also help straighten thick hair, but the results might not be as good as with thinner hair. When you are finished with the straightening, you can leave the flat iron to shut itself off after approximately an hour.
Pros
Great for straightening and curling
Heats up quickly
Cons
The handle could get a bit hot
If you are looking for something with a simple, elegant design that is also affordable, this Remington is the best choice for you. Give it a try and see how your hair becomes static-free after only one use!
This flat iron from BaByliss is recommended for those who have shorter or medium-length hair because of the narrow plates as well as the overall thin design. You can use it for longer hair because of the long plates, but you will need to divide the hair into small sections to get the best results!
Key Features
Three plate sizes to choose from
Leaves hair frizz-free
Great for curling and straightening
The titanium plates on this flat iron will amaze you. They heat up very fast, and thanks to the adjustable temperature, you will be able to set them to the temperature of your choosing and avoid damaging your hair.
Pros
Lightweight and ergonomic design
Corrosion-resistant plates
Cons
This flat iron might be a bit more expensive than some of the others on this list, but the price is definitely worth it because it leaves the hair looking as gorgeous as ever!
The Megastar hair straightener from NuMe is a great choice for those of you who are looking to get your money's worth. Even though this hair straightener comes at a higher price, it is packed with features and has high-quality tourmaline ceramic plates that completely justify the cost.
Key Features
Tourmaline-infused floating plates
Adjustable temperature settings
Dual-voltage
This flat iron is very easy to use. It comes with a long swivel cord that can easily rotate in the direction of your choosing. The design is lightweight and ergonomic. You can even take it with you while traveling since it also has a dual-voltage option!
Pros
Does not damage the hair
Conveniently placed buttons
Cons
Plates might slightly pull the hair
There is nothing like the plates on this flat iron. They are tourmaline-infused, made of high-quality ceramic material, and have an infrared strip that can protect the hair from damage!
The design of this hair straightener is one-of-a-kind. There are no buttons or incomprehensible controls. All that you need to do is simply rotate the end of the flat iron to turn it on/off or adjust the temperature!
Key Features
Swivel cord with Velcro straps
Fast metal ceramic heater
Extra-long plates
Another great feature of the flat iron is the plates. They are created with a coating made of nanosilver, tourmaline, titanium, ceramic, and argan oil. When you put it all together, the plates really make your hair frizz-less, smooth, and healthy.
Pros
Great for straightening and curling
Hanging hook for better storage
Cons
Could accidentally change the temperature
The ideal 5-in-1 coated plates with great sizing can only make your hair look nicer! They also help you avoid unnecessary damage.
This is the second time that I mention a hair straightener from Remington, but this one is definitely a lot different from all the other straighteners on this list. This Remington Wet2Straight flat iron is perfect for everyone looking for a flat iron that they can use on damp hair. It will save you a lot of time considering that you will dry and straighten the hair at the same time!
Key Features
Suitable for all hair types and lengths
Features unique steam vents
Styles hair 3 times faster than other flat irons
The plates on this flat iron are made from a mixture of ceramic and titanium. They come in two sizes, and you can choose which ones fit your hair type best when you purchase the flat iron. The indicator light on the flat iron will help you decide which heat is best for your hair depending on whether it is damp or dry.
Pros
Heats up very fast
Automatically shuts off after 60 minutes
Cons
The steam can sometimes be too hot
This is a wonderful flat iron that you can use on all hair types. You will be impressed by the amount of time it will save you once you start using it!
It might not look as luxurious as some other hair straighteners, but this straightener from CHI will surely do wonders for your hair. With infrared technology and great ceramic plates, it can help keep the hair healthy while reducing frizz and static electricity.
Key Features
All-in-one ergonomic design
Optimal temperature setting for all hair types
Easy to use and clean
This flat iron comes with only one temperature setting, but it is the optimal temperature that you can use for styling any hair. You do not have to fear unnecessary damage to the hair; the plates are specially designed to provide moist heat and help the hair stay healthy.
Pros
Dual-voltage included
Great for curling, waving, and straightening hair
Cons
Temperature is not adjustable
This flat iron is a classic. No matter if you are a beginner or a hairstyling professional, it is bound to give you an unforgettable styling experience!
This is the second time that I mention Conair in this review and that is for a good reason! Their flat irons have always ranked among the top, and the same goes for this rainbow titanium flat iron with floating plates that allow fast and precise hairstyling!
Key Features
Adjustable temperature settings
Ionic generator included
Powerful ceramic heater
You can easily adjust the temperature of the flat iron with the push of a button and see the precise temperature on the LED screen on the front side of the iron.
Pros
Long-lasting straightening results
Does not damage hair
Cons
The swivel cord is a bit short
It's not just pretty – this flat iron is also very effective when it comes to styling hair. You will love using it, and you will enjoy the smoothness it gives to the hair.
The copper in the ceramic plates of this Revlon flat iron will help with heat distribution in order to avoid hot spots on the plates that could lead to damage. That is not all – the amazing design of the plates also helps avoid color fading!
Key Features
Heats up in ten seconds
Has memory heat system
Reduces frizz in hair
The design of this flat iron is very elegant: the body is black while the plates are a pinkish-brown color. You can choose between three different plate sizes depending on the length and texture of your hair.
Pros
Auto shut-off option included
Suitable for all hair types and length
Cons
Might be too hot for some people
I recommend giving this flat iron a try if you want your hair to look professionally styled. You can achieve that flawless look you are dreaming of with this great flat iron from Revlon.
Over the years, ghd has given us many amazing hair products and tools, all of them great for one reason or another. This classic original hair straightener from the company has won more than 250 beauty awards worldwide because it comes with several great features and makes the hair look professionally done.
Key Features
Comes with protective plate guards
Round ceramic floating plates
Optimal styling temperature
This flat iron is a great option for you if you like to style your hair often. Thanks to the heat technology and the optimal temperature setting, you will avoid damaging your hair even with daily use. The results are quite long-lasting, so there will be no need to straighten your hair every single day.
Pros
Comes with a long swivel cord
Turns off after 30 minutes of inactivity
Cons
Temperature is not adjustable
This flat iron might not be as fancy as the Platinum+ that I mentioned previously, but it is surely one of the most effective flat irons on the market right now!
This HSI flat iron is one of the most popular hair styling tools on Amazon. It has an astounding 70.000+ reviews among which you can find praises from satisfied customers from all over the world.
Key Features
Tourmaline crystal ion plates
Heat balance micro sensors
Durable, lasting results
This flat iron is suitable for all hair types and textures since the temperature is adjustable and can be set from a low 140 degrees to the highest setting of 450 degrees.
Pros
Comes with a protective glove and travel pouch
Great for straightening, curling, and waving hair
Cons
Does not have an auto shut-off feature
Considering its affordable price, this flat iron comes with so many features as well as several items included in the packaging. You will not regret giving it a closer look!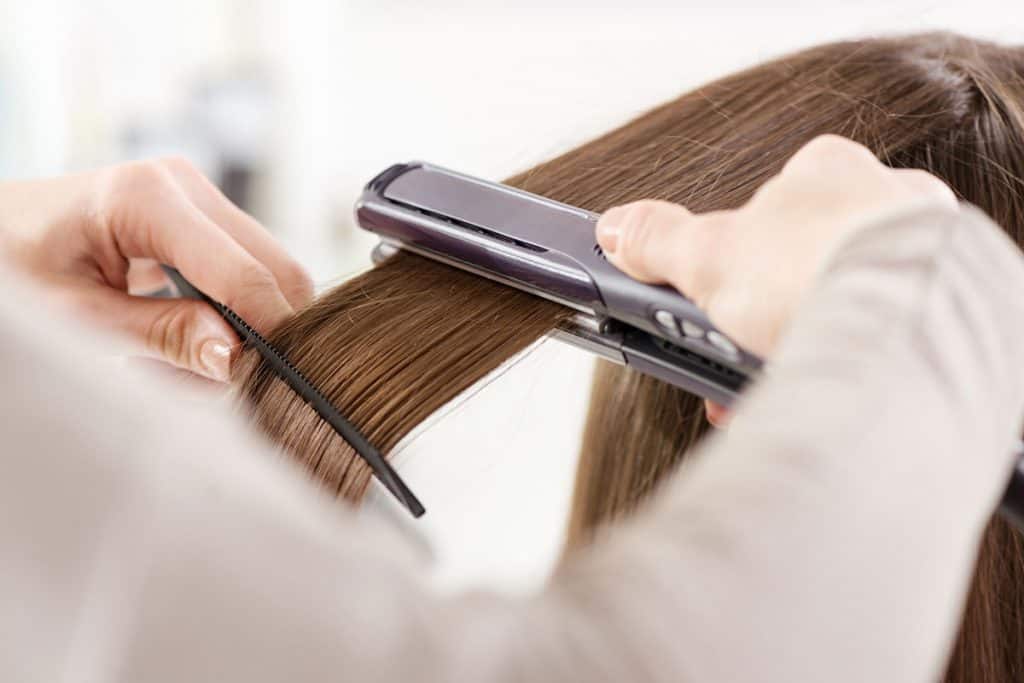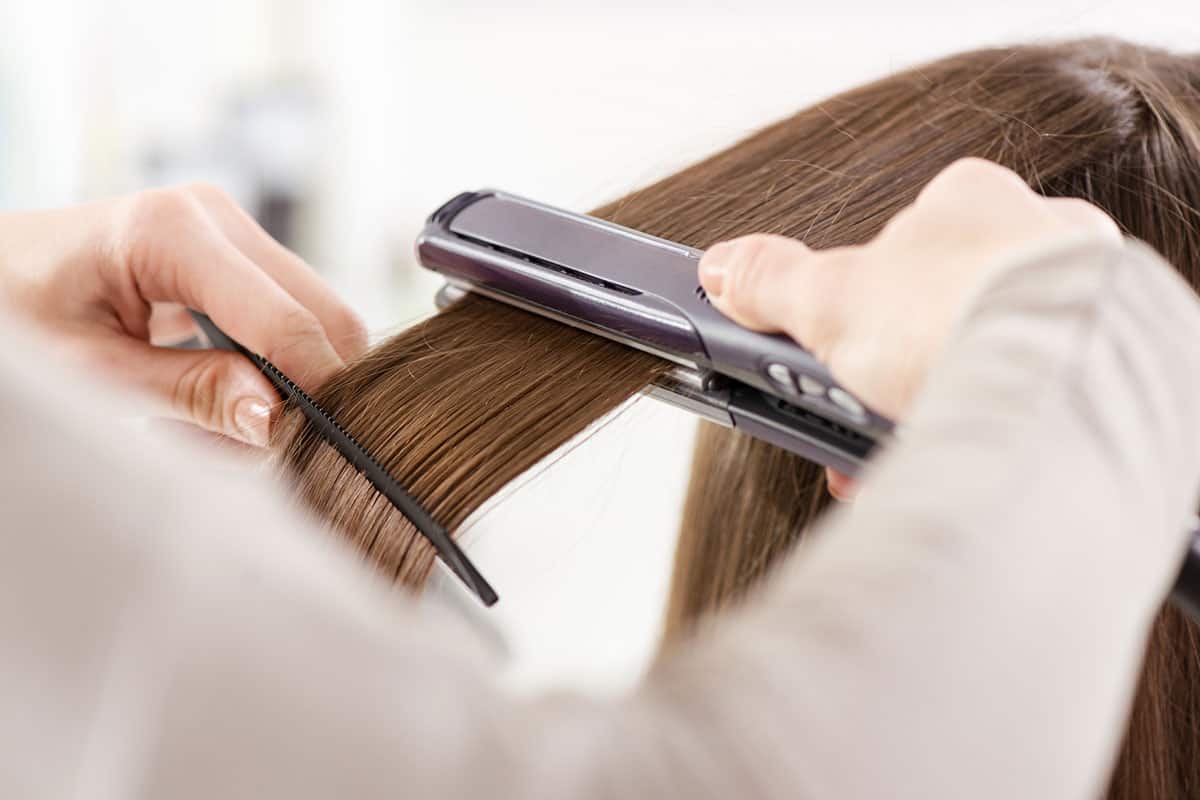 Choosing the Best Hair Hair Straightener: Factors to Consider
When buying a hair straightener, it is not about buying the most expensive one or the one that has the highest rating on the internet — it is about finding one that will fit your hair best. You have to think about factors like your hair length, texture, and whether it is chemically treated or not. All these things could impact how well a hair straightener will work for you.
Hair Straightener Temperature
If your hair is thicker or coarser, you will need a straightener to hit up to a high temperature. Thinner hair usually benefits from less heat, and more heat can lead to unnecessary damage.
Hair Straightener Plates
Ceramic plates are a good choice for you if you have dealt with frizziness in the past since the ceramic can evenly distribute heat and achieve a higher temperature. These types of plates are recommended for thinner, fine hair.
If you have thicker or coarser hair, you will need a flat iron with titanium plates that can heat up really fast. These types of plates are not recommended for people with fine hair as they can scorch easily.
Hair Straightener Size
When it comes to the size, you have probably noticed that there are larger straighteners and smaller mini ones as well. The smaller flat irons are great for those of you who travel often and are also recommended for people with shorter hair.
On the other hand, a larger straightener with bigger plates can be helpful for those with longer and thicker hair because they will spend much less time straightening.
FAQs About Hair Straighteners
Before I wrap this review up, I would also like to answer some of the frequently asked questions about hair straighteners that might be on your mind as well.
What product should I apply before using a hair straightener?
To avoid any unnecessary damage to the hair, you should use a heat-protective spray before you get straightening. You can also use some hair serums to give your hair more shine or make it healthier.
Is it bad to use a hair straightener every day?
Too much of anything can hurt you, and this also goes for hair straighteners. You should not be using the straightener every day.
If possible, use it only a few times every week after washing your hair. Between washes, you should use it only for some touch-ups using lower heat settings.
Do expensive hair straighteners work better?
Even though there are a lot of great hair straighteners that come at very affordable prices, it is still a good idea to save up for an expensive hair straightener.
Usually, the most expensive straighteners are made from high-quality materials, last longer, and leave your hair looking like it was done by a professional. When you think about it, this is everything that you would want from a hair straightener, so I recommend looking into a more expensive one if your budget allows it!
Style Your Hair Like a Boss Using the Best Hair Straightener!
I hope this review helped you learn more about how to choose the best flat iron for yourself. All of the hair straighteners I covered have their pros and cons, but if you are looking for something that will give you the best visible results on your hair, make sure to check out the CHI Lava Infused Hair Straightener.
If you have any experience with other hair straighteners, please share it in the comments and help others make a better and more educated pick when buying their new hair straightener!