If you want to get a smooth, shiny, and straight 'do, you do not necessarily have to make a salon appointment. A great titanium flat iron will make it totally achievable, and you'll marvel at how your hair can transform into utter gorgeousness. Also, titanium flat irons can give you not just straight hair, but also beautiful waves, flips, and curls.
If you're on a quest for the perfect titanium straightener that will work best for your hair, the road may be bumpy. With the market flooded by all sorts of flat irons labeled "the best," even when their quality is wanting, the danger of picking the wrong one always looms. However, you do not have to risk your hard-earned cash with a low-quality item because we are here to help.
We have reviewed the best titanium flat iron options on the market and dive into their performance and features. Keep reading to discover the perfect one for your hair. 
Top Pick 

The BaBylissPro Nano Titanium Straightener is our first choice. This titanium tool not only has advanced features, but it also comes with multiple heat settings that make it a perfect option for different hair types.
Our Best Titanium Flat Iron Reviews 
This BaBylissPro Nano Titanium Straightener is a premium tool designed with a special focus on details and deservedly grabs the first position on our list. BaBylissPro has become very popular for its high-quality products, and this Nano Titanium Straightener is no different. 
BaBylissPro wanted to create a flat iron that people could rely on to enjoy both the process and final results. This is why they made the straightener with a slim design that helps to eliminate hand fatigue while enhancing maneuverability. The design allows you to create pin-straight styles in no time. 
The flat iron is designed with smooth titanium plates for even and smooth heating. It comes with 50 temperature settings with a maximum of 450°F. Furthermore, it uses nano titanium technology that helps to protect the hair from damage.
Specs
Plate: Five-inch extended platinum plates 
Dimension: Available in three widths; 1 Inch, 1-1/2 Inch, 2 Inch
Heat control: 50 heat settings with a maximum of 450°F
Pros
Comes with an ultra-sleek design that makes handling easy and fun 
Lightweight construction helps to eliminate hand fatigue 
Made with long-lasting nano titanium plates 
Wide range of heating settings makes it a perfect option for straightening different hairs 
Easy to use 
Long cord 
Cons
If you are looking for a high-quality titanium flat iron, one of the top options is the KIPOZI Professional Titanium Flat Iron Hair Straightener, and it grabs the second position on our list. The flat iron comes with some awesome features that qualify it for a higher price, but KIPOZI offers it at an amazingly low tag.
This model has 1.75-inch titanium plates that are perfectly positioned to make styling easy. Furthermore, it features three heat settings for different hair conditions (healthy, fragile, and damaged) so that you can work without frying your hair. KIPOZI went a step ahead and ensured that each plate is made with melding technology that allows hair to glide through seamlessly to give you a smooth and shiny look. 
If you are traveling across the globe, there is no need to worry about voltage changes in the countries you visit with this straightener in tow. KIPOZI designed it with a special circuit that automatically converts the power to the required current. So you can just plug-and-go!
Specs
Power cord: 8 feet 
Plates: 1.75 special platinum floating plates 
Automatic shut off: Shuts down after 60 minutes of non-use
Pros
Stylish 
Remarkable uniform heating for easy ironing 
Uses dual voltage that makes it a perfect option for traveling
Fitted with an eight-foot swivel power cord 
Cons
Less effective for straightening extensions 
For years, NITION has sought to affirm its commitment to customer satisfaction with high-quality products, and pro hairstylists love the brand. Particularly, this professional salon hair straightener comes with great features that make it highly efficient, especially with its Simple One-Step Operation that doesn't require any button.
The flat iron uses a 5-in-1 ceramic coated heating plate that is further infused with titanium and nano silver. These elements are very useful because they help to lock moisture and avoid pulling to make your hair look sleek and shiny. We also found this straightener pretty easy to use and get the lovely shiny style you want.
The straightener also uses a C-sensor that auto-detects the heating plate's temperatures 30 times every second for calibration. This ensures that the tool is heating evenly and according to your preferred levels. Furthermore, it also has an auto shut-off feature functionality that turns the iron off after 60 minutes of non-use. 
Specs
Plates: Extra-long (4.1-inch) heating plates
Voltage: Dual voltage compatible (100v-240v)
Control: Six precise temperature options 
Pros
A long power cord with a 360-degree swivel 
Goes off automatically if not used for about 60 seconds 
Dual voltage compatible 
Digital LCD for easy temperature setting 
Ideal for both left and right-hand styling
Strong and durable 
Cons
May not produce the best results for extremely curly hair 
If you have natural hair and would want to get a highly-rated platinum iron, look no further than this ghd Platinum Flat Iron. It is designed with intelligent features that easily predict your needs to make straightening and styling pretty easy. The iron also rocks a sturdy construction that makes it durable. 
ghd designed this styling aid with the advanced ultra-zone technology that makes it stand out in the beauty niche. The technology recognizes different sections of your hair and immediately adapts the temperatures for consistent heating. The iron achieves this using high-speed monitoring of 250 times every second. Therefore, whether you have thin or thick strands, this is one flat iron that will never disappoint. It is also pretty easy to use.
When straightening your hair, this model is designed to make the process simple because of its firm alignment. ghd used a wishbone hinge that keeps the plates properly aligned and makes the flat iron durable. Furthermore, the straightener comes with round barrels that allow you to create curls and waves, among other styles.
Specs
Cable length: 9 feet
Maximum temperature: 365ºF
Voltage type: Universal voltage with an automatic sleep mode after 30 min of non-use
Pros
Made with heat resistant protective plate guard
Constructed with advanced technology that makes hair straightening easy 
Universal voltage makes it possible to use the flat iron anywhere on the globe 
Sleep mode turns off the straightener after 30 minutes of non-use 
A long 9-foot swivel cord 
Durable 
Cons
This Classic Silver Titanium Flat Iron is a salon-grade model that combines practicality and luxury. CROC designed this fat iron by improving the designs of the best models in the beauty niche. Its lightweight and ergonomic design has made it so popular that most users come back with positive feedback. We also loved the straightener because it is durable, which means you'll be using it for a long time.
Equipped with high-quality silver platinum plates, this tool is one of the fastest heating models you can get on the market. The iron also uses an innovative ventilation system that allows for effortless glide when straightening your hair. Furthermore, the plates are optimized for styling your hair into different looks, from vivacious curls to straight hair in no time. 
The tool also generates negative ions that seal cuticles and increase the shiny appearance of your hair. You will also love the automatic shut-off safety feature that switches off the iron after 30-minutes of non-use.
Specs
Plate: 1.5-inch wide
Material: Titanium and ceramic 
Heat: Maximum temperatures of 280-450°F
Pros
Salon-grade hairstyling tool with lightweight construction 
Dual voltage capability for international use 
Fast heating and consistent heat during use 
Stylish and ergonomic design 
Durable 
Auto shut off capability after 60 minutes of non-use
Cons
This hair straightening gem from Furiden is not just rich in features but also easy to use. We were impressed by the compact and lightweight construction that makes it the perfect option to straighten your hair in a jiffy. In just 15 seconds, the straightener hits the set temperature, and you can use it immediately to style your hair. 
Unlike other straighteners that are designed with fixed plates, FURIDEN designed this one with floating plates. This means that they easily adjust to the thickness of your hair to reduce the risk of damage. Besides, it also has a rounded design that makes it easy to create curls by simply wrapping it around the iron. You will also like the straightener because it generates negative ions that help to make the hair soft and frizz-free. 
This model also has an LCD display that makes it easy to set the temperatures depending on your hair type. You will also love the tool's built-in safety features that turn it off after 60 minutes of non-use. 
Specs 
Cord: 360-degree swivel cord 
Auto-Off: Automatic sleep mode after 60 minutes of non-use
Material: Titanium
Pros
Designed with 20 heat settings 
Light 
Distributes heat evenly on the plates 
Straightens the hair without damaging it 
Can hit maximum temperature in only 15 seconds 
Cons
The next flat iron on our list is this Mixcolor hair straightener and curler that uses an advanced plate made of tourmaline, ceramic, nano silver, and titanium. The combination makes the flat iron glide through the hair smoothly and give it a smooth finish without tugging. Even if your hair is thin, you can count on this straightener for a fab finish without damaging it. 
The flat iron is made with 3D floating plates that easily adjust to the thickness of your locks. Furthermore, the plates prevent the dirt and steam from getting to the interior of the tool. So you will find it pretty easy to use and clean. 
Another outstanding feature is the 9-foot 360° swivel cord that allows you to move freely and helps to keep strands from snagging. The tool also uses MCH technology that makes it heat pretty fast. You will also love its easy-to-use controls that only requires you to press the safety lock and rotate to the desired temperatures between 265℉ to 450℉.
Specs
Voltage: 100v-240v~50Hz/60Hz
Temperatures: 265°F-450°F
Cord: 360° Swivel Cord
Pros
Designed with sensors for temperature regulation and even distribution
Made to use 100v-240v dual voltage
The straightener comes with other useful accessories, such as heat resistant glove and salon comb 
Fitted with a 60-minutes auto-off
Cons
Not as durable as other models on the list 
If you are shopping for a high-quality titanium flat iron on a budget, this sleek and effective Professional Salon Quality Flat Iron is one unique model that you will love. ROSILY designed the flat iron with the user's comfort in mind, and you can expect to enjoy every moment you straighten your hair with it. 
If your hair has a lot of moisture, whether from perspiration or other sources, it can affect the results. However, this ROSILY Professional Salon Quality Flat Iron is designed with steam vents that help to remove water from damp tresses so that you can achieve the targeted results fast. Furthermore, the straightener comes with adjustable settings that make it a great pick for all hair types. 
The titanium tool uses advanced Metal Ceramic Heater (MCH) to moisten the hair, helping to transform dull and frizzy hair into a sleek and attractive hairstyle. It uses smooth titanium plates that not only heat faster but also help to resist corrosion.
Specs 
Plate size: 1.75-inch wide 
Temperatures: Maximum 450°F
Plate design: 3D floating plate design
Pros
Uses five temperature setting for better control 
60 minutes auto-off for safety and energy conservation
Dual-voltage of 100-240V for worldwide use
3D floating plate design that auto-adjusts depending on the thickness of the hair 
Sold affordably 
Good for both medium and long hair straightening 
Cons
Needs a universal adapter 
The last flat iron to make our list is Conair's INFINITI PRO, which is a premium model that you can trust for top performance. In addition to outstanding features, the flat iron comes in a unique iridiscent rainbow finish — so cute! 
This straightener has one-inch wide plates that make it a perfect pick for those with short hair. To make the straightener more effective, Conair used the floating-plate design, which adjusts itself depending on the thickness of the hair. You will also like the titanium technology used on the flat iron because it helps to protect the locks against heat damage. 
Another awesome thing about this straightener is that it heats up fast, and you can start straightening your hair in only 30 seconds. We also found the controls, especially the six-temperature settings, awesome because you have absolute control over the temperature.
Check out more models from the InfinitiPRO line in our roundup.
Specs
Plates: 1-inch 
Temperature control: Six temperature control 
Maximum temperature: 450°F 
Pros
Multiple heat settings make this iron a great pick for different types of tresses
Designed by Conair with a special focus on quality
Can reach maximum temperature of 450°Fin just 30 seconds 
Equipped with auto shut off for enhanced safety and energy conservation
Cons
Not the best for people with very long hair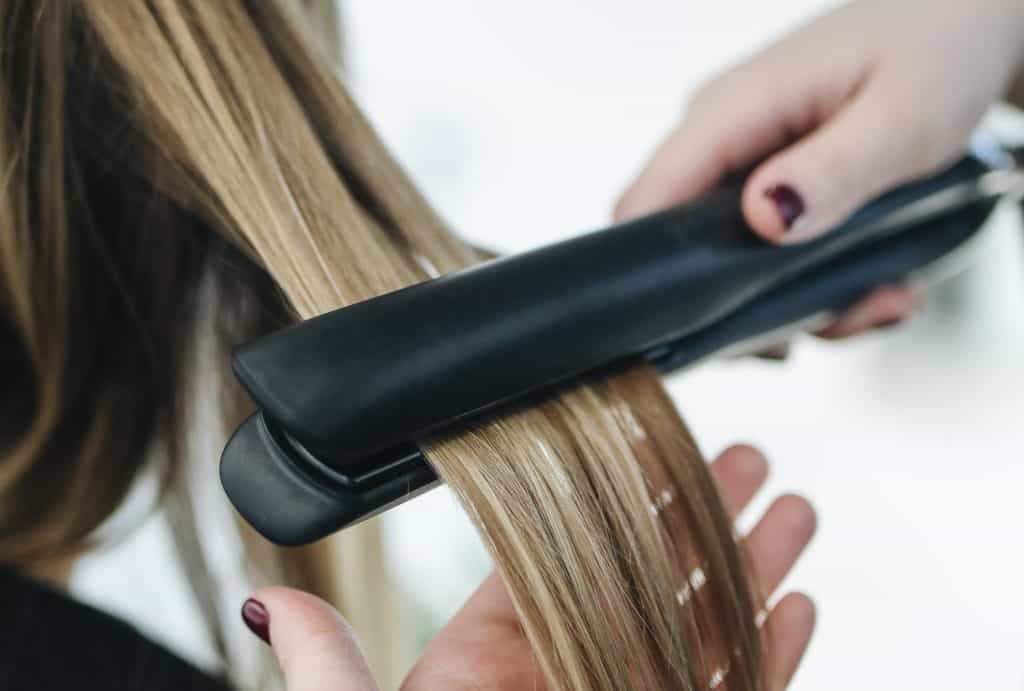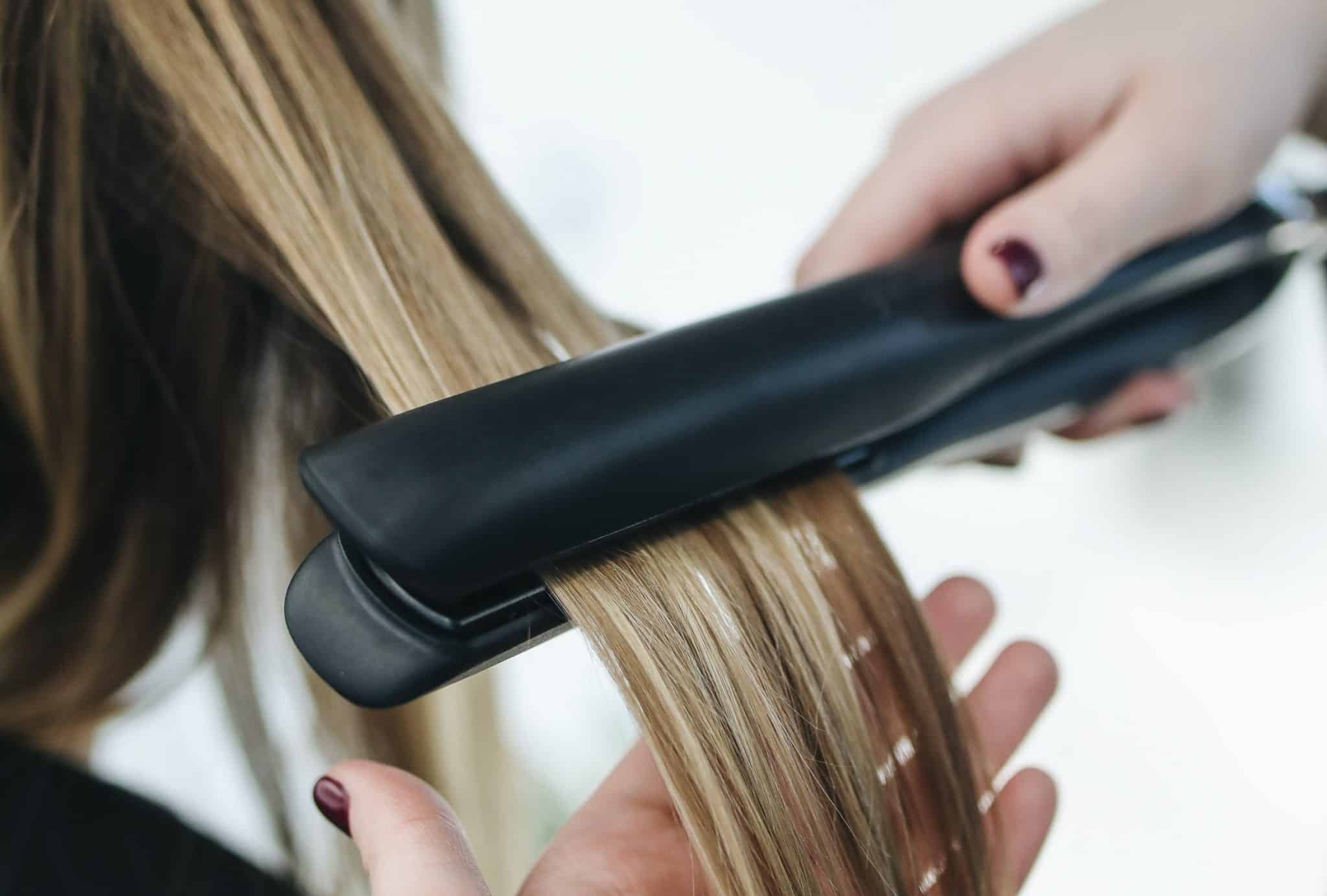 A Guide to Picking the Best Titanium Flat Iron 
With so many titanium straighteners on the market, it is easy to get confused. Indeed, even the above nine reviews might still sound too many, especially if you are new to the word of flat irons. However, this is why we prepared this buying guide to help clear everything up and assist you to pick the most suitable one for your hair.
Features
The features of a flat iron are the main determinants of how effectively it works. The goal is identifying the flat iron with ones that make styling easy, fast, and safe. Here are some of them: 
Plate Size
The size of the plates used in a straightener is crucial because it determines their effectiveness in straightening various types of hairs.
If you have short hair, a straightener with one-inch wide plates should be enough. Then, flat irons with 1.5-inch plates would work best for medium hair, while wider ones of more than 1.5 inches are recommended for longer lengths. 
Heat Time and Maximum Heat 
The ideal titanium flat iron should be able to reach maximum heating capacity, which again depends on the type of your locks. For example, if you have coarse black tresses, a straightener that can reach a maximum temperature of up to 450°F would be the best.
We would suggest that you go for the model that can achieve high temperatures but also allows you to control the heat for straightening finer tresses.
When it comes to heat time, you should look for a model that can reach the targeted straightening temperature quickly, like 30 seconds. A fast heating time means that you do not have to wait for long, especially if the time to get that perfect look is short.
Cord Length and Design 
Before placing your order for a titanium flat iron, take a moment to figure out where your power source is located. If the socket is close to the dressing mirror, a flat iron with a small cord length should be okay. However, if the socket is located further, a model with a longer cord will be the better option.
Price
In addition to the above features, you also need to factor in the price of the gadget. While it is true that the price of premium platinum flat irons can be high, it is also possible to get a high-quality model at a lower price tag. The good thing is that the titanium flat iron options that we have reviewed above have a wide price range. Therefore, once you have drawn your budget, check the reviews closely and you are sure of getting a suitably priced model. 
Brand 
As the demand for straighteners keeps growing, more brands have been entering the market, but not all of them are focused on quality.
To reduce the risk of buying low-quality flat irons, the best option is buying from the best manufacturers. These are the brands that have been in the market for a good while, with customers providing positive feedback about their products.
Some of the top brands that you should consider include BaBylissPro, NITION, Rusk, and Brocato. The good thing about the straighteners that we have reviewed above is that they are all from the best brands on the market. 
Final Thoughts
If you love to straighten and style hair on your own, the flat iron you select will greatly determine the results that you get. In this post, we have looked at the best titanium flat iron options on the market, and you can count on them to get salon-grade shiny and stylish tresses.
The titanium flat irons come with advanced features that make their use easy and comfy. Furthermore, they are designed by top brands that are trusted in the beauty industry. The flat irons' prices also vary so that you can select the preferred model based on your budget. 
While we vouch for the nine titanium flat irons on our reviews above (they are fab in every sense), the BaBylissPro Nano Titanium Straightener stood out from the pack. It uses advanced technologies that help to prevent hair damage, increase its efficiency and durability.