Last Updated on 17th August 2023 by Chauncey Morgan
It seems everyone is talking about T3 flat irons. Thanks in large part to celebrity stylists and social media, T3 straighteners and styling irons have become the go-to flat iron for everyone from salon owners to the girl next door.
According to T3's faithful, the company's flat irons are capable of straightening and, in some cases, styling even the most temperamental of hair. The secret seems to be features like tourmaline and ionic plates, smart technology, and multiple heat settings.
So are T3 straighteners worth the hype? In this article, we take a closer look at T3's three best straighteners — the SinglePass Compact, the Lucea ID, and the SinglePass X 1.5" — before determining which T3 is best for your type of hair.
TOP PICK 

The Lucea is most definitely my favorite of the lot, just because it senses just how much heat your hair needs to look straight and silky without damaging it. I think this is a breakthrough product!
My T3 Flat Iron Reviews
T3 has a number of products, including three standout flat irons. These are the SinglePass Compact Styling Iron, the Micro SinglePass X 1.5" Styling Iron, and the newest model, the Lucea ID Straightening and Styling Iron.
No matter what your hair situation, we recommend the T3 Lucea ID Straightening and Styling Iron.
This straightener is truly top of the line, and it boasts a series of innovative, high-tech features that make it easy to use for just about anyone. We especially love the smart technology that is capable of determining the ideal heat for your hair length, type, and texture.
Furthermore, the Lucea weighs less than one pound, making it easy to pick up and use at any angle.
Specs
Weighs 13.76 ounces
Highest heat setting is 410 degrees Fahrenheit
Suitable for any type and texture of hair
Capable of smoothing, styling, and straightening hair
Measuring less than a foot in length and weighing in at less than a pound, the Lucea ID Straightening and Styling Iron is T3's newest flat iron.
To use the Lucea ID, simply input into the smart settings whether your hair is fine, medium, or coarse; short, medium, or long; and whether or not it is color treated. From there, the Lucea ID uses smart technology to determine which of nine heat settings is best for your type of hair.
Though some users suggest the Lucea has too many bells and whistles, those same reviewers also point out that the smart technology can be turned off.
The flat iron is 1" wide and is designed so that you can straighten your hair from roots to ends in just one go. Most report that this is indeed the case.
Uniquely, the Lucea ID is both a straightener and a styling iron. It can be used to create three different looks, including an inverted flip and a bubble wave.
Regardless of what it is being asked to do, the Lucea ID leaves hair feeling soft and looking shiny, rather than dry like so many similar products.
Pros
Can be used to straighten and style just about any hair type
Can be custom set for your hair type and texture
Lightweight and user-friendly
Cons
Those with very thick hair may find the plates to be too narrow to straighten in a single pass
Higher price tag
A recent review: "You'll love this if you enjoy high-tech items which require instructions for use out-the-box. This straightener is good, works amazing by far, but there are honestly too many bells and whistles that it's far too complicated to use at 6AM just to straighten your hair."
Frizzy hair can be hard to tame. Fortunately, there's a T3 for that! If your hair is frizzy, curly, and otherwise unruly, then we recommend the SinglePass X 1.5" straightener.
This well-reviewed and best selling flat iron is extremely powerful, and users report it can straighten coarse, curly hair in a single pass. The SinglePass X is able to do this because of the custom blend ceramic plates that include a built-in microchip which helps the device maintain an event temperature. Five heat settings make the SinglePass even more customizable.
Specs
Five heat settings
Digital technology and an audio/visual interface
10.2" in length
Weighs just 10.24 ounces
The T3 SinglePass X 1.5" is an absolute workhorse of a styling iron. The SinglePass is designed to tame hair that is "difficult," "frizzy," or "extremely coarse," and based on the reviews of many, it seems to do the trick.
Part of the SinglePass's success has to do with its 1.5-inch plates. T3's products promise straight hair in just one glide, and these wider-than-usual plates keep that promise for those whose hair is thick and curly (though some users report having to glide at a slower pace).
The SinglePass X boasts five different heat settings but lacks the Lucea's smart technology that determines your heat setting for you. Still, each heat setting has been optimized for the best results, and it is easy to adjust between settings.
Like other T3 flat irons, the SinglePass's ceramic plates include an internal microchip that keeps the plates at an even temperature throughout its use.
Pros
Wider plates make it a suitable tool for even the thickest hair
Five heat settings from which to choose
Lightweight and easy to use
Cons
Some users report needing more than a "single pass"
Fewer bells and whistles than some other flat irons in its price range
A recent review: "I really like this flat iron. It's definitely a one-pass. It has different heat settings. I'm African American with natural kinky hair. I blow-dry my hair straight and then flat iron with this. I wash my hair only every couple weeks and I never have to flat iron my hair again during that time. Because it's bigger, I have to use a tiny flat iron for my edges."
Whether you have a shorter hair style or a few short ends, the T3 SinglePass Compact is the way to go.
This travel-sized straightener features two plates that are less than an inch wide, making it easy to get those strands of hair close to your scalp or forehead. Like the other SinglePass models, the Compact uses innovative technology to maintain a consistent heat throughout the device.
Specs
Length of 8.5 inches
Has two 0.8" plates
Includes a one-hour auto-off for safety
Though it is described as a "travel curling iron," the SinglePass Compact has the chops to be your go-to straightener.
The SinglePass Compact is the smaller version of the SinglePass X. Weighing in at less than six ounces, the Compact uses the same digital heating technology to ensure a shiny finish to your hair.
The custom blend ceramic and ionic technologies allow you to straighten, curl, or shape your hair with the 0.8" plates. Unlike some other straighteners, the SinglePass Compact is able to retain its heat throughout its plates so you can straighten your hair quickly.
The SinglePass Compact comes with just one heat setting. While this is meant for simplicity, some reviewers have mentioned that the setting has been too hot for their hair.
Pros
An ideal size for travel
0.8"-wide plates make it easy to straighten very short hair
Priced under $100
Cons
The single heat setting may be too hot for some hair types
Small size makes it difficult to straighten hair in just one pass
A recent review: "…The compact size fits well in my carry-on luggage, and the heat-resistant cover means I can stow and go in a hurry. It's also been an 'edge saver' for me, allowing me to extend my relaxers by a couple weeks before having to chemically treat my hair. The compact size allows me to get really close to my roots and extends my hairstyle perfectly."
Want to see the best flat irons from other brands? Check out our hair straightener roundup.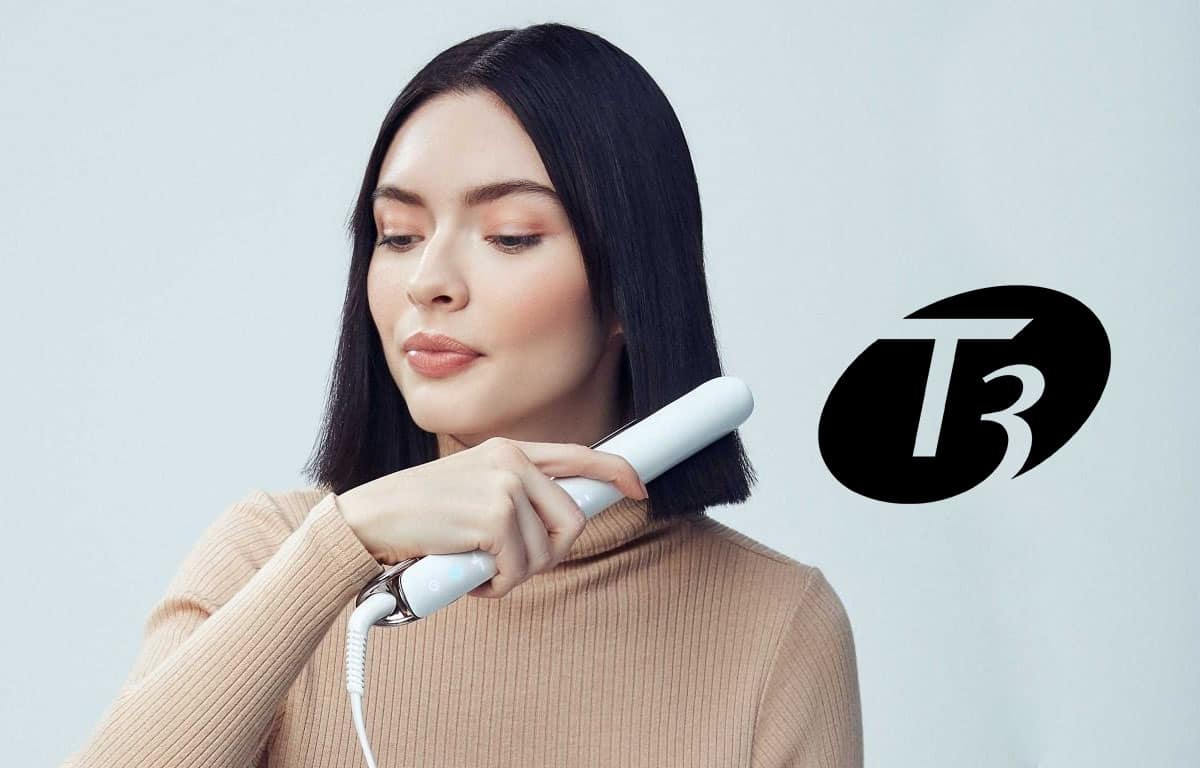 About T3 Flat Irons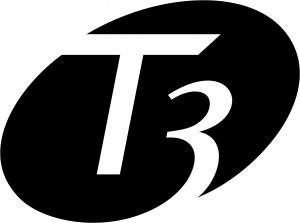 The California-based T3 company has been designing and producing hair-styling tools since its startup days in 2003. Today, T3 makes a variety of products ranging from hair dryers to showerheads, though its most popular products are arguably the flat irons. Each product is designed with a simple mission: "to help you love your hair, and enjoy styling it."
Those who purchase T3 products will notice three main components: innovative design, precise heat, and user-friendliness.
These components are apparent in the flat irons' many features, including:
Self-monitoring heat
Even heat for quick styling
Responsive technology
High performance
Aesthetically pleasing designs
It's no wonder T3 flat irons and other styling tools have become favorites of social media influencers, celebrity stylists, and hairdressers.
Frequently Asked Questions About T3 Flat Irons
Why are T3 straighteners so popular?
T3 has been a hit lately. The brand seems to be a favorite of social media influencers and celebrity stylists alike. All the attention has made T3 straighteners extremely popular.
Much of this attention stems from T3's innovative technology. Designed and manufactured in California, T3 products are good-looking, heat up quickly, and can straighten even thick, curly hair.
How much is a T3 flat iron?
Different T3 models have different prices, the most expensive being the "smart" models and those with interchangeable wands. Current prices range from about $90 to about $250.
Is T3 a professional brand?
T3 hair straighteners are thoughtfully designed for use at home or in the salon. Professionals often recommend T3 products because they heat quickly and are effective on all types of hair.
Where are T3 products made?
All of T3's products, including its flat irons, are designed in Venice, California, but they are manufactured in China.
What is the Auto World Voltage feature?
T3's Lucea ID flat iron includes a unique "Auto World Voltage" feature. The 100-240 voltage means the flat iron can be used anywhere in the world with just a plug adapter, not a converter. This makes it unique amongst plug-in hair care products.
Do T3 straighteners shut off automatically?
Yes. All T3 flat irons have a one-hour automatic shut-off for safety purposes.
What is the difference between the Lucea ID and the SinglePass X?
The Lucea ID and the SinglePass X are very similar in capabilities. The main benefit of the Lucea is the smart technology that can distinguish between nine heat settings to best suit your hair. This technology removes the guesswork and allows you to get a more accurate temperature, as the SinglePass X has just five heat settings.
Can you curl your hair with a T3 flat iron?
Though their main purpose is to straighten hair, both the T3 SinglePass X and the Lucea ID can also be used for curling. Because of its wider plates, the former is best for producing larger, looser curls and waves. If you are most interested in using your T3 to get smaller, tighter curls, then the Lucea ID is your better bet.
Despite these capabilities, some users report it taking quite a bit of practice to achieve either type of curl with either device.
What other products does T3 make?
In addition to these three models of flat irons, T3 makes a series of hair dryers, curling irons, and styling tools.
This article covers the Lucea ID, the SinglePass X 1.5", and the SinglePass Compact. However, T3 also makes a Micro Lucea 1" Professional Straightening Styling Iron and a SinglePass Ceramic 1" Straightening and Styling Iron.
The Bottom Line
T3's hair care products — which have gained immense popularity in recent years — are the workhorses of the styling tools aisle, and they're worth the hype.
Whether your hair is long or short, wavy or curly, there is a T3 flat iron that will feel like it's designed just for you and your hair. The T3 Compact is ideal for those who are frequently on the go or need a smaller tool for shorter hair. Meanwhile, the T3 SinglePass X can straighten even the coarsest and curliest hair in just one pass. Finally, T3's newest model, the Lucea ID, depends on smart technology to determine the perfect temperature for your hair. This model makes it easy for anyone to straighten and style their hair.
Whichever T3 model you choose, you are sure to get a high-quality and innovative hair styling tool that is setting the precedent for future hair care products.