Last Updated on 17th August 2023 by Chauncey Morgan
If you are looking for a great new flat iron to add to your hot tools collection, you have come to the right place. After going over these Conair InfinitiPRO flat iron reviews, you will be completely prepared to go out and buy the perfect flat iron for your hair.
A lot of people do not realize this, but there is a lot of thought that goes into buying a flat iron. It is not only about the manufacturing company or the price of the flat iron itself. You also have to take into consideration the plate material, size, shape, features, and many other things.
Once you start your search, you will inevitably come across one of my favorite hot tool companies – Conair. They do not only make women's hair care products, but they also have men's grooming products, skincare products, and more. What turned them into the well-known company they are today are the hot tools they produce – especially the flat irons.
In today's review, I will talk about the top six flat irons from Conair's InfinitiPRO line. I will cover everything you need to know about these flat irons so you can easily choose the one that you like best. If you are interested in learning more about the InfinitiPRO line and products, stick around for the reviews, and also make sure to check out the buying guide I added before the end of the article!
TOP PICK

Conair's InfinitiPRO line deserved praise all-around, but when it comes to the flat irons, I have to say the Conair InfinitiPRO Tourmaline Ceramic Flat Iron is my favorite. With adjustable temperature, several plate sizes, tourmaline ceramic technology, it definitely has everything you need in a flat iron and more. Once you start using it, you will find that it makes your hair much stronger, and it also protects it from breakage and frizz!
Our Conair InfinitiPRO Reviews
Now that you have seen which flat irons are included in this review, let's take a minute to go over some of their key features and their Amazon ratings before I go into the more detailed reviews:
PRODUCT
DETAILS
PRICE
#1 InfinitiPRO by Conair Tourmaline Ceramic Flat Iron



1-inch floating plates

Durable humidity protection

Reduces frizz and makes hair stronger

CHECK PRICE

#2 InfinitiPRO by Conair Rose Gold Ceramic Flat Iron



Extra-long plates

30 heat settings

6-foot swivel line cord

CHECK PRICE

#3 InfinitiPRO by Conair Rainbow Titanium Flat Iron



Uniform heat recovery

Ion generator included

Auto shut-off option

CHECK PRICE

#4 Conair InfinitiPRO 2-in-1 Stainless Curler and Flat Iron



Titanium ceramic-coated plates

Silicone removable tips

Great for straightening, curling, and waving

CHECK PRICE

#5 InfinitiPRO by Conair Ionic Steam Flat Iron



Ionic steam option

Retractable combs included

Long-lasting results

CHECK PRICE

#6 InfinitiPRO by Conair Frizz-Free Titanium Ceramic Flat Iron



Professional power handle

Adjustable heat settings

Fast heat-up

CHECK PRICE
Before I get into each of these flat irons, I would like to say that they are all amazing in their own way. They are all packed with features, durable, and reliable. They come at such an affordable price that you will not even think twice about buying one of them.
I will let you decide for yourself which one suits your hair type best. Here are my InfinitiPRO by Conair flat iron reviews:
Starting off with my best overall option, this tourmaline ceramic flat iron is suitable for just about any type of hair. If your hair is longer or more textured, you can choose the one with 1.25-inch plates. If your hair is fair or short, you can go with 1-inch plates.
Key Features
Long floating plates
Plates have even heat distribution
15-second heat-up
The way that this flat iron is designed will not only help you achieve the best hairstyles ever, but it will also help you keep your hair frizz-free and healthy. You can even use it for straightening and curling – there is literally nothing this flat iron cannot do!
Pros
Auto shut-off option
Long-lasting protection against humidity
Cons
It might be too hot for styling fine hair
Coming at a very affordable price, this flat iron will truly impress you with how effective it is. Once you start using it, you will say bye-bye to styling every day and hello to durable hairstyles that impress!
Another very impressive flat iron from Conair, the rose gold ceramic flat iron is my best budget choice for those of you who want to get more than what you pay for. Giving you the best frizz-free, silky, and shiny hair you have ever had, this flat iron is bound to give you more than you bargained for.
Key Features
Advanced heat technology
30 different heat settings
Extra-long floating plates
If you want to get the best hair styling results, Conair has created a detailed user guide for you. All you need to do is use the flat iron on small sections of your hair, pull the iron down for straight hairstyles, or twist it at a 180-degree angle if you want to make some beach waves.
Pros
Two plate sizes to choose from
Lightweight and easy to use
Cons
Might not work best on textured or very curly hair
Overall, I would say that this flat iron will give you a lot more than you pay for. The results from using it are almost professional, while the price is a lot lower than you would ever expect. If you are on a tighter budget, I suggest you take a good look at it!
If you ask me, this is one of the best-looking flat irons ever. With these amazing rainbow titanium plates, it will not only make your hair look amazing, but it will also lift your spirit!
Key Features
Ion generator included
Six temperature settings
Ceramic heated included
Adjusting the temperature on this flat iron is extra easy. The controls are easily comprehensible, and there is also a display where you can check to see which temperature setting you currently have it on. The highest possible temperature of this flat iron is an astounding 235 degrees!
Pros
You can heat the flowing ions
Easy-glide surface
Cons
Known to get a bit too hot when turned on
You will love using this rainbow titanium flat iron from Conair. It will not damage your hair at all while giving you frizz-free, smooth hair strands that will attract everyone's attention!
Tired of having to carry so many hairstyling tools when you travel? That will be a thing of the past once you invest in this amazing 2-in1 straightener and curler from Conair. It even comes in two colors, black and pink, so you can choose the one that you like best!
Key Features
Multipurpose tool
Professional swivel cord
LED heat settings
The black titanium ceramic-coated plates are designed so that you can use the same tool for straightening, waving, and curling hair. Not only will the plates heat up, but the outer barrel will heat up as well, so make sure that you do not forget about that and end up burning your fingertips!
Pros
Warp-resistant housing
Silicone cool tips included
Cons
Cool tips could sometimes fall off
This is the perfect hair styling tool for those who travel often. It will save you on space and money, but it will still give you the perfect hairstyles you love so much!
With this ionic steam flat iron from Conair, you will be able to make your hair healthier and shinier in only one use – all thanks to the ionic steam mist! On top of that, the three retractable combs on the flat iron will always contribute to a better hairstyle that is completely tangle-free!
Key Features
Hydro silk ionic steam
High-quality plates
Long-lasting results
Included in the price of the flat iron is a heat-resistant professional mat as well as a nice little pouch that you can use to safely store your flat iron.
Pros
Long swivel cord
Detangling combs included
Cons
The water reservoir might be a bit small
I love everything about this flat iron, from the amazing design to the many great features that it comes with. You will not regret purchasing it just because it will make your hair look so much better once you start using it!
Check out our list of recommended steam flat irons here.
Finally, I will finish off the list of the best InfinitiPRO flat irons with this frizz-free, high-performance flat iron that comes with titanium ceramic plates. It also has adjustable temperature settings, the highest setting going up to 205 degrees!
Key Features
Professional handle
Plates have ionic technology
LCD temperature control
Once you start using this flat iron, you will never have to worry about having any frizz in your hair. To get the most from the flat iron, you should consider dividing the hair into sections before you start straightening – that way, you will do a better, more thorough job!
Pros
High-quality ceramic heater
Extra-long plates
Cons
The swivel cord might be a bit short
Using this flat iron will make you feel like a real hairstylist by helping you achieve hairstyles that look professionally done. Who wouldn't want that?
About InfinitiPRO by Conair

Conair has been in the hair business since it began in 1959. It has truly revolutionized the hair care industry with hair care and hair styling innovations that have become global standards. Where we all be right now if Lee Rizzuto, the company's founder, hadn't invented the pistol grip hair dryer back in the 60s?
Although the company has since expanded to home electronics and cookware since then, Conair's reputation was built on hairstyling tools. This is where it continues to make waves, or straighten them out, as in the case of InfinitiPRO, Conair's line of professional grade high-heat hair styling tools.
InfinitiPRO flat irons are just some of the most effective tools out there, and can consistently give you straight shiny hair.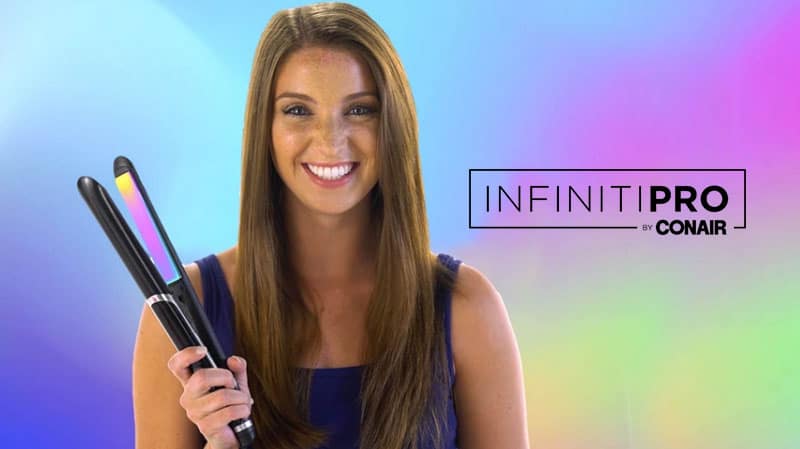 Flat Irons Buying Guide
Now that I have told you all about the best flat irons from Conair's InfinitiPRO line, I would also like to mention some crucial information that you have to take into consideration when buying a new flat iron. Here is how you can choose the best flat iron for your hair type:
Plate Material
As you might have noticed, Conair's flat irons have plates made from various materials. The flat irons with ceramic plates are recommended for people with all types of hair. Those with titanium plates are recommended for people with thicker or coarser hair, while those with tourmaline-infused plates are best for people with fine hair.
Plate Size
Most of Conair's flat irons come with more than one plate size, allowing you to choose the one that will best fit your hair type. Flat irons with 1.25-inch plates or larger ones are better for people with thicker or coarser hair, while flat irons with 1-inch plates are recommended for people with finer or shorter hair.
Flexible Heat Settings
Having an adjustable heat setting is one of the most important features to look for in flat irons. Not being able to adjust the temperature can lead to bad straightening results or too much damage to your hair.
If you have fine, short hair, you should set the temperature to a low setting. On the other hand, those of you with thicker, curlier hair or more textured hair will benefit from a little more heat. With that being said, do not forget to add heat-protective spray to your hair before straightening!
The Shape of the Flat Iron
Flat irons can have rounded or squared edges. If you want to purchase a flat iron that you will also be able to use for waving and curling, you should go for one with rounded edges. The flat irons with squared edges are good only for straightening hair.
Features Included
When purchasing a new flat iron, you will want to get one that has as many features included as possible. I personally love it when my flat iron has an auto shut-off option – that way, I know that it will turn off after some time even if I forgot to turn it off myself.
Another great feature that you should look for in a flat iron is the fast heat-up. Who has all day to wait for a flat iron to heat up? I want it hot and ready in a few seconds, and luckily, this is something that all Conair flat irons can give me!
Price of the Flat Iron
Oftentimes, spending a lot of money on a flat iron is really not necessary. A flat iron is not necessarily bad if it is cheap, and Conair can prove it to you. Even the best option that I included in this list comes at a very low price, but it can be compared to some of the most expensive, professional flat irons.
Look for something that will be durable but give you great results. That way, you will really get your money's worth!
FAQs on InfinitiPRO Flat Irons
Before I wrap things up, I would like to mention some frequently asked questions about this line of flat irons from Conair. Here are some of the questions:
Can I use Conair InfinitiPRO on wet hair?
I would advise you to use flat irons only on completely dry hair to avoid damaging your hair. If you want to try using one of the above-mentioned flat irons on damp hair, you should check the instructions first for some information or contact the company to find out more.
How much is a Conair InfinitiPRO hair straightener?
The entire Conair InfinitiPRO line is made out of high-quality yet affordable tools. If you want to know more about the prices of the hair straighteners, you should check out the company's website.
Are there other flat irons as good as the InfinitiPRO?
Bellezza, Remington, CHI, and T3 are all really good flat iron brands. 
Infinitely Gorgeous Straight Hair with InfinitiPRO
I hope that this InfinitiPro by Conair flat iron review helped you learn more about these great products from a well-loved brand. If you are in the market for a great new flat iron, you have to give the InfinitiPRO Tourmaline Ceramic Flat Iron a closer look. If you are on a tighter budget but still want to get a quality flat iron, then there is nothing better for you than the InfinitiPRO Rose Gold Ceramic Flat Iron!
Let me know in the comments if you have ever used a Conair flat iron and if there is any flat iron that should have been on my list. I look forward to reading your comments and hearing more about your experiences with the Conair InfinitiPRO line of flat irons!