Last Updated on 17th August 2023 by Chauncey Morgan
If you want to have the smoothest, silkiest, and straightest hair possible, there is only one way to go about it, and that is by using one of the best tourmaline ceramic flat irons that I will present to you in this review!
I know that it can be difficult to find the perfect flat iron for your hair. There are so many companies that make great flat irons. Some of them come with plates of different sizes or different materials; others have a ton of features that you are dying to try out. Yes, there are a lot of flat irons to consider, but none of them are more effective and efficient than the ones with tourmaline ceramic plates.
Wondering why this is the case? Well, tourmaline ceramic plates contain a lot of negative ions that can make the hair not only straight, but also shiny, smooth, frizz-free, and healthy. This alone is enough for me to be willing to try such a flat iron and ultimately even convince me to invest in one.
If you are also dying to know more about the best tourmaline ceramic flat iron, stick with me as I go over the top ten choices available on the market right now. Let's get right into the review, shall we?
TOP PICK  

My top pick is the CHI G2 Ceramic and Titanium Flat Iron. This award-winning flat iron comes with everything you need to make your hair look perfect, from the titanium-infused ceramic plates to the adjustable temperature and auto shut-off options. It is great for all hair lengths and textures, so you will not make a mistake if you decide to buy it!
Our Best Tourmaline Ceramic Flat Iron Reviews
Let's do a short overview of all ten flat irons and their key features before you and I dive into the detailed reviews of each of the flat irons:
PRODUCT
DETAILS
PRICE
#1 CHI G2 Ceramic and Titanium Flat Iron



Titanium infused ceramic plates

Extra fast ceramic heater

Professional salon model

CHECK PRICE

#2 CHI Expert Classic Tourmaline Ceramic Flat Iron



Great for traveling

High-quality floating plates

Adjustable temperature setting

CHECK PRICE

#3 RUSK Heat Freak Tourmaline Ceramic Flat Iron



No frizz, static finish

Extended plate length

Instant heat-up

CHECK PRICE

#4 Conair INFINITIPRO Tourmaline Ceramic Flat Iron



Even heat distribution

Great for straightening and curling hair

Compact size

CHECK PRICE

#5 NuMe Megastar Tourmaline Ceramic Flat Iron



Far-infrared heat protection

Great for all hair types

Auto shut-off option

CHECK PRICE

#6 NITION Pro Titanium Tourmaline Ceramic Hair Straightener



Healthy styling plates

Six different temperature settings

C-sensor feature

CHECK PRICE

#7 Bed Head Attention Grabber Tourmaline Ceramic Flat Iron



Easy handling

1-inch floating plates

Tangle-free swivel cord

CHECK PRICE

#8 T3 SinglePass X Tourmaline Ceramic Flat Iron



Single-pass technology

Audio-visual interface

CeraGloss high-quality plates

CHECK PRICE

#9 L'ange Hair Aplatir Tourmaline Ceramic Flat Iron



Ergonomic and rubber handle

Microchip temperature control

Advanced heating core

CHECK PRICE

#10 HSI Professional Glider Ionic Tourmaline Ceramic Flat Iron



HeatBalance microsensors

Great for traveling

Durable and lightweight

CHECK PRICE
Out of all the amazing flat irons in the world, I have created a list of the top ten tourmaline ceramic flat irons that you just have to check out. I think you will not regret taking a look at these amazingly effective flat irons:
If you are a hair fanatic, you must know that the original CHI flat iron used to be one of the best on the market. However, the company decided to improve on their original product and they came up with this amazing second generation flat iron.
The CHI G2 comes with two plate lengths to choose from, 1 inch for those with shorter hair and 1.25-inch plates for those with longer or thicker hair!
Key Features
Titanium infused plates with great length
1-hour auto shut-off option
Multi-purpose tool
Not only is this flat iron perfect for straightening, but the amazing plates make it great for curling, waving, and adding flips to your hair. You can even use it on slightly damp hair without having to worry about damaging it. It is really that great!
Pros
Color-coded temperature system
Ultra long swivel cord
Cons
Could be a bit too hot for some users
Overall, I think that this flat iron can do wonders for all types of hair. Thanks to the titanium-plates, you will enjoy shiny and frizz-less hair after using this CHI flat iron!
The Expert Classic flat iron from CHI with tourmaline ceramic plates is the second-best choice on my list for a very good reason: This is one of the most effective flat irons you will ever come across. Simple yet elegant and great for all hairstyles, this CHI will leave your hair with an exceptional shine for several days after you straighten it!
Key Features
Quick heat-up option
Extended curved floating plates
Far-infrared technology
Using a simple temperature dial, you can set the flat iron to any temperature you want from 180 to 410 degrees Celsius. This means that this CHI flat iron can be used on any type of hair!
Pros
Leaves the hair frizz-less
Durable and convenient to use
Cons
Slight pulling of the hair has been reported by users
It might not look very stylish, but do not let that fool you. This CHI flat iron can do wonders for your hair. Get your hands on it as soon as possible and see how the tourmaline immediately makes your hair look better!
You better believe that this flat iron lives up to its name. A true heat freak, this RUSK flat iron can heat up to 450 degrees. That makes it the perfect straightening tool for even the thickest and curliest of hairs. You will not need to damage your hair with any permanent straightening. With this flat iron, you will get practically the same results without the damage!
Key Features
Two plate sizes available
2-year manufacturer warranty included
Extra-long cord
What makes this flat iron even better is the sleek design: black overall with a touch of purple to make it more fun! The buttons are conveniently placed, while the flat iron itself feels great in your hand and will not tire you at all when using it!
Pros
Precise straightening temperature
High-quality wide and long plates
Cons
Might not be as durable as other flat irons
This Heat Freak flat iron has all the great features you could ever need from a flat iron. Make sure to adjust the heat to your liking and you can immediately get on with your straightening!
Conair is a well-known company in the world of hair styling tools. For more than 60 years, this company has come up with some of the most innovative hot tools that we all love. In today's list, I have included their tourmaline flat iron with 1-inch plates because it is definitely one of the best performers on the market!
Key Features
30 different heat settings
Extra fast heat-up
Long-lasting results
The design on this flat iron is just amazing, but the best part is the plates. Made from high-quality ceramic and conveniently sized, they can be used for all hairstyles on both men and women!
Pros
Lightweight and easy to use
Easy to maintain
Cons
Not quite suitable for thicker, curlier hair
If you are looking for something that will leave your hair frizz-less, straight, and smooth for days, look no further. This Conair flat iron will shock you with its ability to make any type of hair look professionally done!
Due to the pandemic, I know that a lot of you were stuck at home and unable to visit your favorite hair salons. At that time, what you needed was a flat iron that would help achieve that salon look at home by yourself, and this megastar flat iron is the perfect tool for the occasion!
Key Features
Beveled plate design
Digital temperature display
Fully rotating swivel cord
What makes this flat iron special is the far-infrared heat strip that protects your hair from unnecessary damage, while the negative ion condition technology helps the hair stay moist but frizz-less. On top of that, I can also mention the ion booster in the plates that can also help achieve that perfect shiny and silky hairstyle!
Pros
Suitable for all hair types
Can be used for straightening and curling
Cons
Does not have a smart memory function
There are more features in this flat iron than you can even think of, and all of them work together to give you the perfect straightening experience. You will be shocked by the amazing results you get every single time you use it!
I know that most of you want to keep your hair healthy but still use your flat iron to straighten it every day. Thanks to this flat iron from NITION, this is actually achievable – their healthy styling is an option unlike any other.
The plates on this flat iron are made from the optimal combination of argan oil, nanosilver, titanium, ceramic, and tourmaline. You will never experience any damage, breaking, or tugging if you decide to go with this healthy styling flat iron!
Key Features
Concise and compact style
Six different temperature settings
Extra-long healthy styling plates
You can use this flat iron on any kind of hair: dry, normal, oily, fine, and curly. That is not all when it comes to this flat iron. You can also use it for both straightening and curling, making it the perfect 2-in-1 tool for you!
Pros
Anti-scalding glove included in the bundle
60 minutes auto shut-off
Cons
Even the lowest heat setting might be a bit too hot for some users
If you need a 2-in-1 curling and straightening tool that you can take with you everywhere you go, then you should definitely invest in this NITION flat iron. You will get your money's worth with this one.
Living up to its name, this attention grabber from Bed Head will amaze you with its design. A bright yellow and purple flat iron with tourmaline ceramic plates, there is much more to this flat iron than just this attention-worthy design.
Key Features
Adjustable temperature settings
Ergonomic silicone grip
Comes with a style guide
This flat iron was designed to make the hair styling experience the best it can be. The company places silicone grip dots in the mid-section of the flat iron so that you can use the flat iron and not feel any tension while doing it.
Pros
Fast and high heat-up
Long-lasting results
Cons
The swivel cord might be a bit short compared to others
If you are looking for a flat iron that will spice up your hot tool collection, then this is the best option for you. This flat iron is sure to turn some heads, but so will you once you start using it!
If you are looking to splurge on a great professional flat iron, you should look into the T3 SinglePass X flat iron. It is lightweight, easy-to-use, ergonomic, and it has auto world voltage. That means that this can be your best travel buddy once you invest in it!
Key Features
Long swivel cord
Visual and auditory feedback option
Long and wide plates
In addition to the five different heat settings, the flat iron comes with a single-pass technology for eliminating frizz, as well as CeraGloss ceramic plates for shiny and smooth strands. If you purchase it from the company's official website, you will also get two sectioning clips for no additional cost!
Pros
Internal microchip for even heat
One-hour auto shut-off
Cons
More suitable for finer hair than for thicker hair
This flat iron has a lot going for it. With this amount of special features, you are bound to have an amazing hair straightening experience when you use it!
L'ange and their flat iron with curved tourmaline ceramic plates have captured the attention of many (myself included) because of the quality that they offer at an amazing price. If you are looking for something affordable but feature-packed, look no further than this straightener!
Key Features
Fast PTC heater
Long-lasting results with little effort
Ergonomic rubberized grip
This flat iron is most suitable for those with finer hair or hair that is slightly curly. However, it does heat up to 450 degrees which means that you can also use it on curlier or thicker hair if you are ready to put the work in it.
Pros
A professional long swivel cord
Comfortable and easy to maneuver
Cons
More suitable for thinner hair than thicker or curlier hair
What this flat iron offers you is a simple design, a lot of features, and amazing long-lasting results for a price that you will not want to overlook. When something this good comes at such a price, it is definitely an option worth considering!
Last but not least, I have the HSI Professional flat iron with tourmaline ceramic plates. This flat iron is one of the most popular on Amazon. It has been used by a lot of people who have had amazing experiences with it. It is also a great flat iron to get if you are on a tight budget!
Key Features
Plates with HeatBalance microsensors
Adjustable temperature settings
Dual-voltage option
To make the hairstyling experience even more convenient, this flat iron comes with some extras like a heat protective glove, travel pouch, and argan oil treatments. This mocel is very durable and the plates are made from high-quality material. Only one pass sets you apart from having the straightest hair you could ever wish for.
Pros
Great for any type and length of hair
Comes with extras for no additional price
Cons
Even though it is not the cheapest flat iron on this list, I will still list the HSI professional as my Best Budget option because it is packed with features and comes with extras. Once you try it out, you will see just why it is one of the best flat irons on the internet!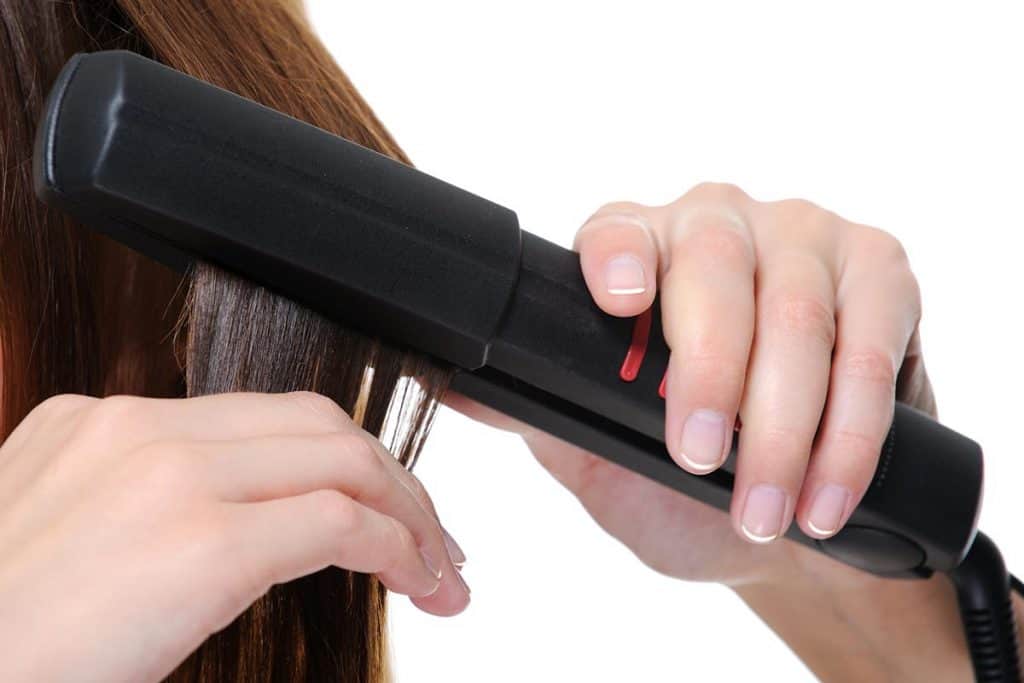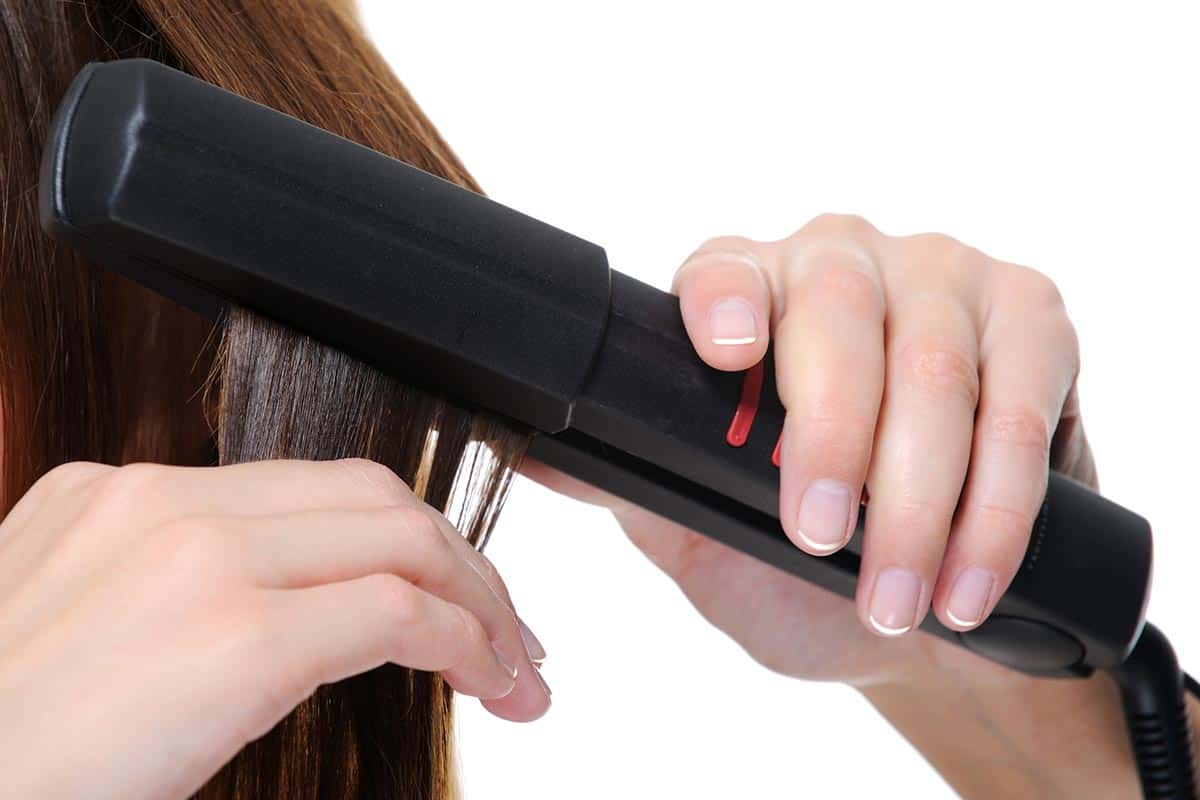 Buying the Best Tourmaline Ceramic Flat Iron
After seeing all of these amazing tourmaline ceramic flat irons, I want to tell you more about the features that you should look out for when you finally decide to add one to your hot tool collection.
Plate Size
One of the things that you should watch out for is the size of the plates. Tourmaline ceramic plates come in all sizes, so you should have no problem finding a hair straightener that will fit your hairstyle best.
If you have fine or short hair, you can go for a flat iron with smaller plates – anywhere from 1-inch to 1.25-inch should be a great plate size for you. However, if you have curly, thick, or long hair, then you will need one with larger plates – anywhere from 1.5-inch to 2-inch plate size should be great for you!
Heat Settings
Once you figure out the plate size you need, you will need to focus on another very important feature, and that is the heat settings. Yes, the tourmaline should keep the hair smooth and healthy, but using too much heat can unnecessarily damage the hair.
With that being said, you should choose a flat iron that has adjustable heat settings so that you can keep the heat at the level you desire and you can avoid damaging your hair.
For fine hair, use a temperature of 200F to 350F. For thick hair, you can set the heat as high as 450F! Of course, you can add some heat protectant to further protect the hair and give yourself peace of mind!
FAQs
Before I wrap up this review of tourmaline ceramic flat irons, let's take a look at some of the questions that often come up when it comes to this type of hair straightener:
Which is better, ceramic tourmaline or titanium?
I would say that ceramic tourmaline flat irons are better than titanium tourmaline because both ceramic and tourmaline can produce negative ions. This leads to the ceramic tourmaline plates doing a slightly better job compared to the titanium tourmaline plates.
Is tourmaline ceramic good for your hair?
It has been found that tourmaline ceramic plates can lead to straightening of the hair if used often. This is because the tourmaline and ceramic create negative ions that add moisture to the hair, smooth the cuticles, and leave the hair looking as healthy as possible.
Of course, you can always try adding a heat protectant if you are worried about damaging the hair. You can try keratin treatments every now and then, and those with poor, dry hair can even try hair Botox treatments. Trust me, you will not regret it!
Final Word on Tourmaline Ceramic Straighteners
After closely looking at all the tourmaline ceramic flat irons available on the market, I can honestly say that these ten choices are the best ones for each and every hairstyle. If you are looking to get something classic but professional, check out the CHI G2 Ceramic and Titanium Flat Iron. If you are on a tighter budget, make sure to check out the HSI Professional Ionic Tourmaline Ceramic Flat Iron.
I hope that you like my choices for today's list. If you have any comments or want to share your experience on any of these flat irons, please do so. I will be happy to read all you have to say!