Korean toners have truly taken the beauty world by storm, and let me tell you, I'm absolutely thrilled to share my personal take on them! These toners are not your run-of-the-mill ones, they're something truly special. Packed with top-notch ingredients, they work wonders for your skin in more ways than one. Korean toners are all about being lightweight, balancing your skin's pH, and giving your complexion that perfect prep for the next steps in your skincare routine.
But here's the real kicker: Korean toners don't play the harsh game of stripping your skin's natural oils. Nope, they're all about adding that extra layer of hydration. And the perks? Well, they're pretty fantastic. From brightening up dull skin to improving texture and even making those pores look smaller – Korean toners do it all.
Now, when you're out shopping for a Korean toner, don't just grab the first one you see. Take a good look at that ingredients list. Hunt for those hydrating superheroes like hyaluronic acid, glycerin, and aloe vera. If you're battling acne, keep an eye out for toners that pack a punch with exfoliating ingredients like AHAs and BHAs. And of course, always think about what your skin needs.
In this article, I've spent countless hours digging into the world of Korean toners. I will bring you the lowdown on the top five Korean toners that, in my humble opinion, work magic on your skin. So, let's jump right in and find that perfect Korean toner for you!
---
My Roundup of the Best Korean Toners
Looking for a refreshing and hydrating toner to add to your skincare routine? Look no further than Korean toners! I've personally tried and tested countless toners, and I can confidently say that Korean toners are some of the best on the market. They're packed with nourishing ingredients like green tea, rice water, and snail mucin, leaving my skin feeling incredibly soft, smooth, and glowing. I'm gonna be sharing my top picks for the best Korean toners that you absolutely need to try.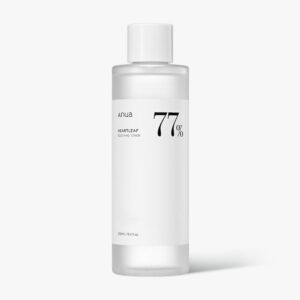 If you're looking for a natural, soothing toner that will leave your skin feeling refreshed and hydrated, Anua Heartleaf 77% Soothing Toner is definitely worth a try.
I've been using this toner for a while now, and I must say, I'm pretty impressed with how gentle and effective it is. This toner boasts a formulation with 77% heartleaf extract water. This natural ingredient works wonders in soothing my skin and helping to balance its pH levels, leaving it feeling incredibly refreshed and well-hydrated.
What I truly love about this toner is that it's suitable for all skin types, be it dry, oily, or somewhere in between. It has this amazing ability to clarify my complexion and even out my skin tone, all while being super gentle. Plus, it's also free of any irritating substances, so you won't have to worry about redness or irritation.
Pros                                          


Soothes and hydrates skin
Made with natural ingredients
Suitable for all skin types
Cons
May not be effective for severe acne
Some users may find the scent too subtle
A bit pricey compared to other toners
Now, while I find the Anua Heartleaf 77% Soothing Toner perfect for everyday use, it may not be the holy grail for severe acne concerns. If you're battling with more serious skin issues, a stronger treatment might be in order. Oh, and just a heads up, some folks might find the toner's scent a tad subtle. Personally, I appreciate the subtle fragrance, but if you're into something with a bit more oomph in the scent department, this might not be your top pick.
All in all, I genuinely believe that this toner is a fantastic choice for anyone on the hunt for a natural, soothing toner that can work its magic on hydration and balance. Admittedly, it's a smidge pricier than some other toners out there, but trust me, the quality totally justifies the investment.
---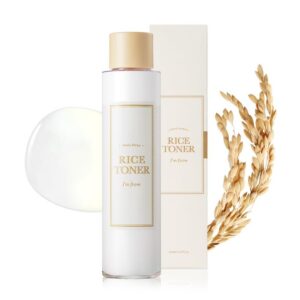 I highly recommend buying I'm from Rice Toner because it helps hydrate and moisturize ones skin while providing a lustrous, glowing effect.
This toner is packed with goodness, boasting a whopping 77.78% Goami rice extract and a blend of four vegetable-based extracts. What does it do, you ask? Well, it's all about soothing those pesky flaky dead skin cells while creating a protective moisture layer.
The magic ingredient here is the sirtuin from rice, which not only shields your skin from sun damage but also gives your stressed-out skin a break. But that's not all – this toner is a hydration hero! It works wonders for your moisture barrier and gives your skin a radiant glow. Plus, it walks the tightrope of balancing your skin's oil and water, keeping everything in check.
Pros
Improves hydration and moisture barrier
Balances oil and water levels in skin
Soothes flaky dead skin cells
Cons
May be too hydrating for oily skin
Slightly pricier than other toners
May take a few weeks to see noticeable results
The rice used in this toner is pretty special too. It's Goami rice, which happens to contain more hemicellulose than your average rice. The result? A protective shield that locks in moisture, eliminate dead skin cells, and leaves your skin looking fresh and moisturized, even if it's been feeling dry and tired.
What I absolutely love about this toner is that it's alcohol-free, fragrance-free, and vegan. It's a dream come true for a sensitive skin like mine. And the packaging? Oh, it's fantastic! You get not one, but two full-sized 150ml bottles, and a cute 30ml travel-sized one for those skincare emergencies on the go.
In a nutshell, this toner is a game-changer for anyone's skincare routine. It's a hydrating, moisturizing, and nourishing treat, especially if you're battling dry skin. Give it a try, and your skin will thank you later!
---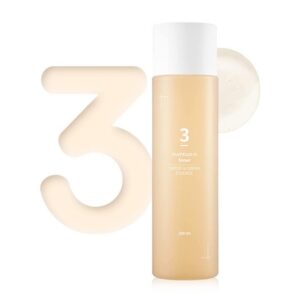 I highly recommend the Numbuzin No.3 Super Glowing Essence Toner for those looking to achieve a radiant and hydrated complexion. This toner has this fantastic lightweight texture that just glides on smoothly and gets absorbed like a dream. The best part? My skin feels like it's been treated to a hydration spa, looking all plump and radiant every time I use it.
Pros
The fermented ingredients work wonders in improving skin tone and texture.
The toner is suitable for all skin types, but especially effective for dry to oily and sensitive skin.
The product can be used in multiple ways, either as a first step skincare after cleansing, poured onto cotton pads and placed on skin for 3-5 minutes, or applied 2-3 layers for extra moisturization.
Cons
The product may not work for those who are allergic to fermented ingredients.
Some users may find the toner to be a bit pricey compared to other toners in the market.
The product may take some time to show visible results.
Now, let me spill the tea on my skincare routine. I start with the Numbuzin No.3 Super Glowing Essence Toner, followed by the No.5 Goodbye Blemish Serum, and then seal the deal with the No.5 Daily Multi-Vitamin Cream. But wait, there's more! I also sneak in the No.3 Tingle-Pore Softening Sheet Mask once a week for that extra shot of hydration.
Overall, I'm beyond thrilled with my choice to go for this toner. It's the real deal, and if you're on the hunt for a top-notch Korean toner, I highly recommend giving it a try. Your skin will thank you!
---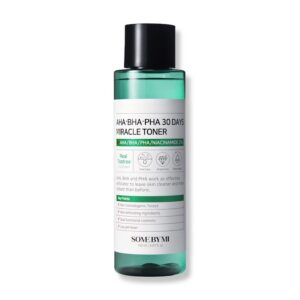 If you're on the hunt for a toner that can work wonders on your skin's texture, combat acne, and keep that sebum in check, you might want to consider giving SOME BY MI AHA BHA PHA 30 Days Miracle Toner a shot.
This toner will make your pores seem less conspicuous, and your skin feel incredibly soft and well-hydrated. What's even more reassuring is that it's formulated free of about 20 harmful ingredients and is gentle enough for those with sensitive skin.
Pros
This toner contains high-content tea tree water extract which helps to improve trouble skin quickly and mildly.
The exfoliating toner helps to remove dead skin and body wastes.
It passed dermatological testing for sensitive skin
Cons
The tea tree scent might not be for everyone.
It may take more than 30 days to see significant results.
Some users with sensitive skin may experience slight tingling or redness.
I must admit, the tea tree scent packs quite a punch, but personally, I find it rather invigorating. Plus, it hasn't caused me any discomfort like tingling or redness. Still, I'd highly recommend doing a patch test before slathering it all over your face, just to be on the safe side.
To sum it up, if you're after a toner that can elevate your skin's overall appearance and texture, this toner should definitely be on your radar. It's been a game-changer for me!
---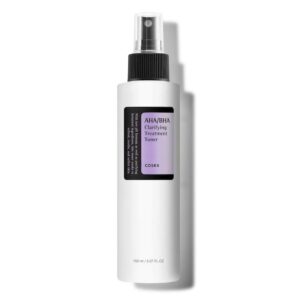 If you're looking for a Korean toner that can help with whiteheads, pores, and uneven skin, then the COSRX AHA/BHA Treatment Toner might be worth considering.
Pros
This toner is formulated with purifying botanical ingredients that can help soothe, refresh, and soften your skin.
This toner can help maintain your skin's optimal pH level, keeping your skin hydrated and healthy.
The toner is formulated with minimum ingredients to be gentle on sensitive skin.
Cons
Some users may find the toner to be a bit drying, so it's important to use a moisturizer after applying it.
The toner has a slight chemical smell, which may not be appealing to some users.
While the toner can help with whiteheads and pores, it may not be as effective for more severe acne.
The mist-type toner is easy to apply, and it doesn't leave any sticky residue on skin. I also appreciate that the toner is formulated with gentle ingredients, which is important for sensitive skin types.
One thing to keep in mind is that the toner can be a bit drying, especially if you have dry skin to begin with. I've found that using a moisturizer after applying the toner helps to counteract this effect. Additionally, some users may not like the slight chemical smell of the toner, although I personally don't find it to be too strong.
Overall, I think this toner is a solid choice for those looking for a Korean toner that can help with whiteheads, pores, and uneven skin. While it may not be the best option for severe acne, it can help improve the overall texture and hydration of your skin.
---
Buying Guide
When it comes to selecting the ideal Korean toner, there are a few key factors to keep in mind to ensure you're getting the perfect product tailored to your unique skin. Let's dive into the essential features you should consider while on the hunt for your dream Korean toner:
Skin Type:
The first and foremost factor to consider is your skin type. Whether you have dry, oily, or combination skin, rest assured there's a Korean toner designed just for you. Pay close attention to product labels, and opt for a toner that explicitly caters to your specific skin type.
Ingredients:
The ingredients list is where the magic happens. Seek out toners enriched with natural goodness like green tea, aloe vera, and chamomile. These gentle ingredients work wonders, providing soothing and hydrating benefits, leaving your skin feeling rejuvenated.
Formulation:
Next up is the toner's formulation. It's crucial to choose alcohol-free toners with a pH level ranging between 4.5 and 5.5. This ensures the toner's gentle on your skin, steering clear of any potential irritation or dryness.
Packaging:
Don't overlook the importance of packaging. Opt for toners that come in opaque or dark-colored bottles. This helps shield the precious ingredients from harmful sunlight and air exposure, keeping your toner potent and effective for longer periods.
Price:
Last but not least, consider your budget. Korean toners are renowned for their quality, and the good news is, you don't need to empty your wallet for top-notch skincare. Look for toners that strike a balance between quality and affordability, ensuring you get the best value for your money.
By keeping these factors in mind while shopping for a Korean toner, you'll be well on your way to finding the perfect match for your skin's unique needs. Your skin deserves the best, so choose wisely and glow on!
---
Frequently Asked Questions
Q: What are the benefits of using Korean toner?

A: Korean toners offer several advantages for your skincare routine. They are known for their hydrating and soothing properties, helping to balance your skin's pH levels for a brighter, more even complexion. Additionally, Korean toners prepare your skin for subsequent skincare steps, such as serums and moisturizers.
Q: What are the different types of Korean toner available?

A:There are many different types of Korean toners available, including hydrating toners, exfoliating toners, and calming toners. Hydrating toners are designed to provide your skin with extra moisture, while exfoliating toners help to remove dead skin cells and unclog pores. Calming toners are great for sensitive skin and can help to reduce redness and inflammation.
Q: How often should I use Korean toner?

A: It is generally recommended to use Korean toner twice daily – once in the morning and once at night – after cleansing your skin. However, adjust the frequency based on your skin's specific requirements. If your skin feels dry or tight, you may use a hydrating toner more frequently.
Q: What ingredients should I look for in a Korean toner?

A: When choosing a Korean toner, consider ingredients like hyaluronic acid, glycerin, and aloe vera for hydration and soothing effects. For exfoliating toners, seek out ingredients such as salicylic acid or alpha-hydroxy acids (AHAs) like glycolic acid. These ingredients cater to various skincare needs.
Q: Can Korean toner help with hyperpigmentation?

A: Korean toners can brighten your complexion, but they may not be a standalone solution for treating hyperpigmentation. However, toners containing niacinamide or vitamin C can gradually reduce the appearance of dark spots over time.
Q: Which Korean toner is best for combination skin?

A: If you have combination skin, opt for a Korean toner that offers hydration without feeling heavy. Look for toners with ingredients like green tea or chamomile to soothe inflammation, and hyaluronic acid for lightweight moisture. These choices cater to the specific needs of combination skin.
---