Last Updated on 17th August 2023 by Chauncey Morgan
Trying to find the perfect hair products is not always fun and games. Once you start your search, you will quickly find that it takes quite a lot to make your hair look good. For those of you who are keen on wearing your hair straight, you can certainly benefit from having the best ceramic flat iron in your possession!
There are several things that you have to take into consideration when buying a new flat iron, but the type of plate material is one of the most important factors. Between you and me, I have always loved using flat irons with ceramic plates because they keep frizz to a minimum while evenly straightening the hair. This will not be as easy to achieve if you have a flat iron with titanium or tourmaline plates.
Today, I will tell you more about the ceramic flat irons from some of the leading hair product brands like Revlon, Remington, CHI, ghd, and HSI. I will cover the basics about these flat irons, revealing why some of the top hairstylists from all over the world have chosen them as the best ceramic plate flat irons on the market.
No longer will you need to worry about spending money on products that will not do your hair justice and just damage it. After this review, you will know everything you need to choose a ceramic flat iron. With that being said, let's get right into it!
TOP PICK

Super straight and sleek hair is totally achievable with HSI Professional Ceramic Flat Iron. It costs a little more than most but it's so totally worth it. I have no regrets with mine.
The Best Ceramic Flat Irons Are:
Let's briefly look at the flat irons that will be mentioned in this review. Here are my five favorite ceramic flat irons:
IMAGE
BRAND
DETAILS

HSI Professional Ceramic Flat Iron

Plates with microsensors

Tourmaline infusion included

Temperature settings go up to 450º

CHECK PRICE

Remington S5500 1" Ceramic Flat Iron With Floating Plates





Adjustable temperature setting

Auto shut-off option

1-inch floating plates

CHECK PRICE

CHI Original GF1001 Ceramic Flat Iron With 1-inch Plates

Quick heating option

Extra-long cord

Dual voltage option

CHECK PRICE

Revlon RVST2175 XL Ceramic Flat Iron

Hair frizz control

A smart heat memory system

LCD heat settings

CHECK PRICE

ghd 60046 Classing Original IV Ceramic Flat Iron

Optimum styling temperature

Also good for curling hair

Floating ceramic plates

CHECK PRICE
As you can see, the five best ceramic straightening irons on my list are all rated quite high by satisfied customers from all over the world. This tells me that there is something about them that makes them so great for people with all hair types.
If you are still not sure which of these ceramic plate flat irons is the right one for you, I believe this detailed review of each one will help you make your decision. Let's get started:
I have decided to leave my favorite ceramic flat iron for last, adding it to my list like a cherry on the cream. So, the best overall ceramic flat iron on my list is the HSI professional ceramic straightener. I have chosen this straightener as the best overall because of the special features, the items included in the bundle, and the great price.
Instead of the flat iron only, you also get a heat-protective glove and a pouch for safer traveling and storage of the flat iron, as well as some travel-size argan oil hair treatments included in the price. So, you get more than you have paid for from the very beginning!
Key Features
High-quality ceramic plates with HeatBalance microsensors
The 1-inch plates are suitable for styling any hair length
Adjustable temperature settings that range from 140°F up to 450°F
Let's get back to the plates for a minute, as I have to add that they are tourmaline-infused, which means they will keep the hair frizz-free. Since the plates are also floating, they give more flexibility when it comes to styling hair.
Last but not least, I would like to add that the plates have micro-sensors with HeatBalance technology that help distribute heat evenly and protect your hair from damage. What else would you want in a flat iron?!
Pros
The dual voltage option makes it perfect for traveling
Comes with an extra-long swivel cord for easy using
Does not snag hair when straightening
Cons
Does not have an auto shut-off option
The absence of a temperature gauge might turn off some people
I consider this to be one of the best ceramic flat irons on the market right now. It works on all types and lengths of hair, always giving amazing silky results. On top of that, it comes at an affordable price, so you should give it a chance if you are on the market for a new flat iron!
If you are into hair care and often research hair products, you must have at one point come across this company. Remington has been present on the global market for years, giving people amazing hair care products. One of those products is this ceramic straight iron with floating plates.
Thanks to the anti-static technology of the straight iron, you will always have smooth and sleek hair without any frizz. The ceramic plates have a titanium protection coating, heat up in only 30 seconds, and can be set to any temperature from 310°F to 410°F.
What I also like a lot about this flat iron is that the plates are designed in such a way that they can also be used to make soft beach waves. It might seem strange to you that such a great flat iron comes at such a low price, but you should not let that fool you—this flat iron is worth looking into.
Key Features
Auto shut-off after 60 minutes of inactivity
Fast heat up in less than 30 seconds
Anti-static technology for less hair flyaway
As if all this were not enough, Remington also added a hinge lock on the flat iron for more protection during transport or storage. The iron also has a swivel cord that makes it even easier to use.
On top of that, I can mention the LCD screen with digital controls and the turbo boost function as two more great options that contributed to this model finding its spot on my list.
Pros
Long ceramic plates make it great for straightening, waving, and curling hair
Gives 50% less flyaway and static in hair
Convenient size makes it comfortable and easy to use
Cons
This flat iron is more suitable for fairer hair, but not so much for thicker hair
The flat iron could leave a bad smell if used on high heat for long
Overall, I would say that this is the best ceramic straight iron for those of you who are on a tighter budget. Also, if you just do not want to spend that much money on a flat iron, then you do not need to look any further—this is the straight iron for you!
This CHI Original ceramic straightening iron has been winning awards since it first came out several years ago. Some of the notable awards that it has won are Influencer.com's Must-Have Styling Tool For 2015 and Best Straightener For 2016, Teen Vogue's Best Flat Iron For 2017, and several other significant awards. 
So, what is it that makes this straightening iron so amazing? First off, the versatile design and high-quality ceramic plates make it a favorite among hairstylists from all over the world. The size of the plates makes them perfect not only for straightening but also for curling hair.
Key Features
Ergonomic and versatile design
Fast heat up in only 20 seconds
Can reach a maximum heat of 392°F
Aside from the plates that are simply amazing and leave the hair feeling as silky as possible, this straightening iron is also great because of the 11-foot-long swivel cord that makes it very easy to use. Add to that that the iron comes with dual voltage so you can take it with you wherever you travel.
Pros
Leaves hair with long-lasting results
Ceramic plates come with far infrared and negative ions for better hair protection
A 2-year warranty is included with the product
Cons
Does not have an auto shut-off option
Comes with only one temperature setting
This CHI ceramic straightening iron might not come with a lot of special features, but it sure does wonders for straightening hair. The ceramic plates evenly distribute the heat, and you will only need one pass to make your hair straight. I recommend taking a look at this straightening iron if you are looking for something more classic and simple.
Do not let these one-inch ceramic plates fool you—this amazing Revlon Copper Smooth flat iron will straighten even the thickest, curliest, and longest hair. The super-long plates will also give you smooth, straight hair that will last for days after initially straightening it!
Revlon prides itself on creating a flat iron that will not only leave your hair frizz-less for up to 24 hours but will also make it shinier and protect it from breaking. Users with colored or chemically-treated hair are advised to use the flat iron at a temperature setting of 400°F or maybe even less.
Key Features
Fast heat-up in only 10 seconds
A smart heat memory system that remembers your preferred heat settings
Four heat levels for various hair types
Have I mentioned the auto shut-off, auto dual-voltage settings on this flat iron? Using it is so easy thanks to these special features, while the digital display will make it even easier to check the heat settings at any time.
Pros
True Grip plates could be used for both curling and straightening hair
Very wide temperature range from 180°F to 455°F makes it suitable for all hair types
Comes with a tangle-free swivel cord
Cons
The cord might not be as long as that on other flat irons
Might be a bit large and heavy so check dimensions before purchase
This ceramic flat iron may be a bit more expensive than the ones I mentioned previously, but it is definitely worth the money. With it, you will easily make your hair look as if it were styled by a professional. It is a great, feature-packed flat iron that you should check out!
I am going back to the originals with this ceramic straightening iron from ghd. After all, I could not go any further without mentioning this classic fan-favorite flat iron.
Using an optimum styling temperature, this flat iron straightens the hair and leaves a silky, long-lasting finish without damaging the hair at all. The ceramic floating plates are placed on a round barrel, which makes this iron great for both straightening and curling hair.
Key Features
Optimum styling temperature for best styling results
Automatic shut-off option
Quick heat-up for only 30 seconds
This flat iron is the most expensive one on my list, but the price is justified once you look at all of the great features it has. Over the years, it has won more than 250 beauty awards on a global level, so this should be enough to show you how satisfied the customers who have tried it have been so far.
Pros
9-ft. extra-long cord for easier usage
Universal voltage makes it the perfect flat iron for people who often travel
Comes with a 2-year manufacturer's guarantee
Cons
Temperature is not adjustable
The temperature of the flat iron might not be suitable for thicker, more textured hair types.
You will not make a mistake if you choose to invest in this classic, award-winning ceramic straightening iron from ghd. It is the ceramic flat iron for easy and flexible styling with professional results.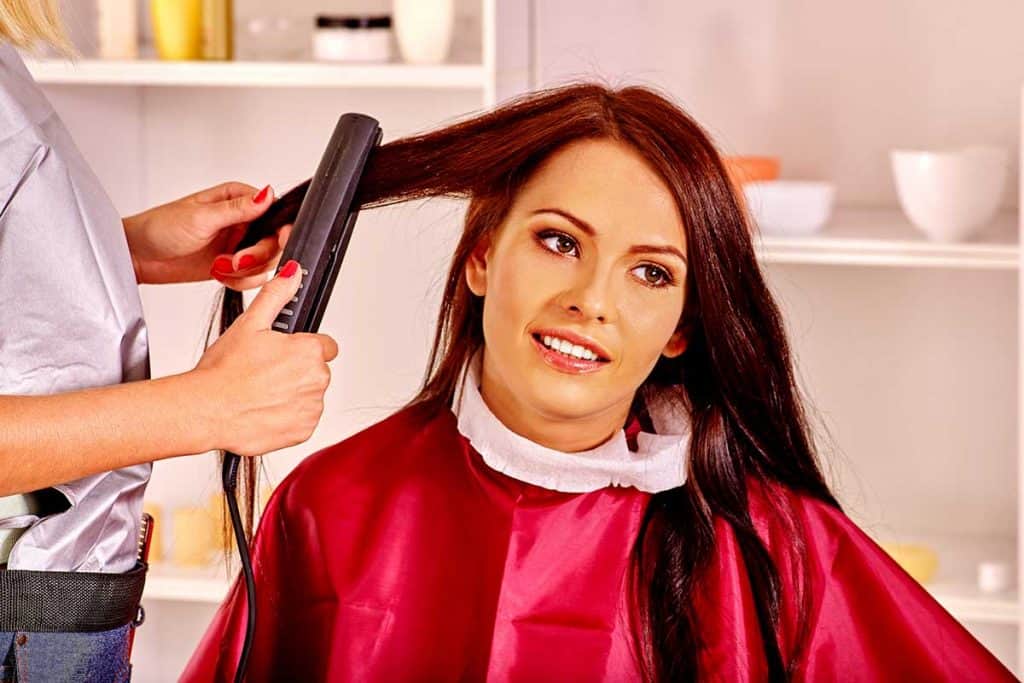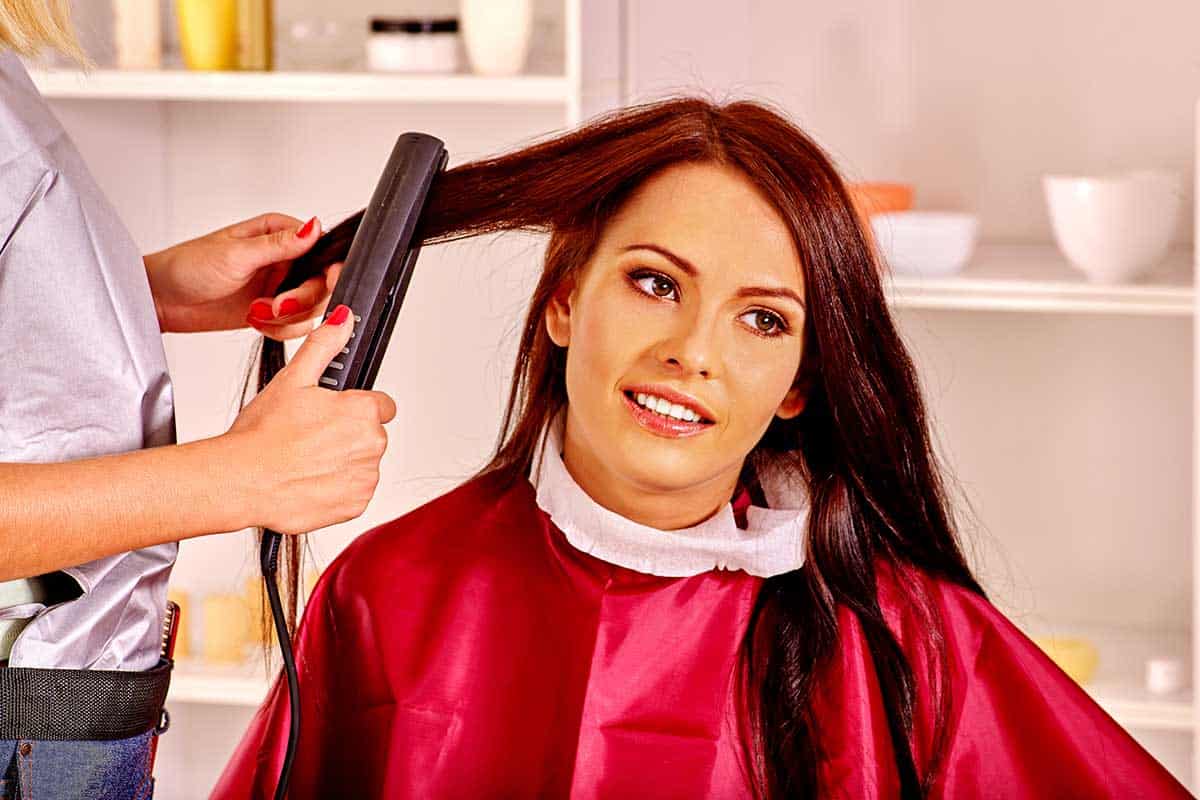 How to Choose the Best Ceramic Flat Iron
With so many companies offering flat irons with various features and options, it could be overwhelming to try to find one that will fit your needs in all aspects.
Even though I have already mentioned some of the features you should be looking for when it comes to your new flat iron, here is some more detail on how to choose the best ceramic plate flat iron:
Research Benefits of Different Plate Materials
In my humble experience with flat irons, I have found that those with ceramic plates are most suitable for all hair types, textures, lengths, and so on. Titanium and tourmaline plates are also a great choice, but ceramic plates are still the most popular choice with flat iron users worldwide.
One of the reasons why ceramic plates are great is because they can distribute the heat evenly all over the plate. This means there is less heat damage to the hair, while the hair does not lose any of its moisture.
Another great feature of ceramic plates is fast heating—it will take less than a minute for the plates to be fully heated. The plates will immediately straighten the hair, leaving it with a smooth finish and without any frizz.
Consider Plate Size
Ceramic straight iron plates come in various shapes and sizes. Depending on your hair type, you can choose the shape and size of the plates to get the most out of the iron when using it.
I advise you to use a flat iron with smaller, narrower plates if you have shorter hair that is more delicate. On the other hand, people with longer, thicker, or curlier hair can benefit from flat irons that have larger and broader plates. These types of plates will help them straighten that type of hair in no time!
Consider the Flat Iron Shape and Size
Flat irons do not always have to be flat. Some of them have edges in various shapes that can help you when styling your hair.
For example, I have found that ceramic straightening irons with rounded edges can help you make those gorgeous beach waves and look like Gisele Bundchen. The same flat iron will also be ready to straighten your hair without any problem.
To add to that, you should also check for the size of the flat iron. Smaller or mini flat irons make the best travel hair products, so you would not go wrong if you invest in one such flat iron.
Buy a Flat Iron with Adjustable Heat Setting
Do yourself a favor and buy a flat iron that has adjustable heat settings. This is an amazing feature that will help you protect your hair while still achieving that amazing smooth and straight look.
Usually, lower heat settings are better for people with natural or more delicate hair because these types of hair do not require a lot of heat to straighten. On the other hand, hair that is thicker, longer, or more textured can benefit from higher heat settings. Setting the flat iron to a higher heat setting will help you straighten your hair with only one sweep of the iron.
If you have a new flat iron and don't know which heat setting is best for your hair, you should always start with a lower heat setting and work your way up. In that way, you will not damage your hair unnecessarily while looking for the right amount of heat to straighten your hair.
Opt for a Flat Iron with Special Features
Modern flat irons have a lot more features than just turning on and shutting off. As I have mentioned, most of them come with adjustable heat settings, some can have an automatic shut-off option, and others come with fast heat-up time, longer and swivel power cords, or dual voltage option.
If you are looking to buy a flat iron, make sure you get the most for your money by purchasing one that comes with as many special features as possible. Now, it is probably easier than ever to do some research and find a great flat iron that can do wonders for your hair.
FAQs
Before finishing my roundup of ceramic flat irons, I would like to briefly mention some of the frequently asked questions to further clarify how you can choose the best flat iron for yourself.
What type of flat iron is least damaging?
If you are looking for a flat iron that will not damage your hair, you would be best off with a ceramic flat iron. Usually, ceramic plates hold heat best and can distribute it without burning your hair.
You can also research ceramic flat irons that have tourmaline infusion as they tend to also be very effective. Remember to always set the temperature to a lower setting if you want to avoid unnecessary damage to your hair!
Are expensive ceramic flat irons worth it?
It depends on the flat iron itself: if it comes from an established company, if it is made with high-quality materials, and so on. All of this can be found in ceramic flat irons that are not that expensive, but in some cases it could be smart to invest a bit more in your flat iron.
If you are planning on using it every day, or if you are a professional hairstylist, then you should consider investing in a more expensive ceramic flat iron. It will surely last longer and give better results!
You're Ready to Choose a Ceramic Flat Iron!
I hope that all I have mentioned thus far helped you understand more about how flat irons work and which one will give you the best results. If you are looking for a more affordable ceramic flat iron, give the Remington S5500 1″ Ceramic Flat Iron with Floating Plates a chance. If you want to spend a bit more money and get something that will leave you with extra-straight and shiny hair, take a closer look at the HSI E038 Professional Ceramic Flat Iron.
If you have any suggestions about other good ceramic flat irons or you just want to share your personal experience with this type of straightener, share it with me in the comments below. I appreciate all your feedback!