Last Updated on 17th August 2023 by Chauncey Morgan
Styling your fine hair means taking extra care of it as this hair type is prone to damage. This means using a lot of restraint and prudence in your use of heat when doing your hair. You've got to be really picky about the tools that you use — especially your hair straightener — which applies direct heat on your locks. So don't settle for anything less than the best flat iron for fine hair.
Buying a straightener can be a serious challenge because of the many products on the market. So, how do you choose the best hair straightener for fine hair? 
We picked the top options on the market and reviewed them. Keep reading and we'll also give you the lowdown on specs and features to help you choose what to buy.
Top Pick 

The BaBylissPro Nano Titanium Straightener is our first choice. The flat iron is designed with titanium plates and comes with advanced features that make straightening fine hair easy, fast, and safe.
Here are the Best Flat Irons for Fine Hair:
The first flat iron for fine hair on our list is this BaBylissPro Nano Titanium Straightener, which has stood out for its excellent performance. BaBylissPro used the latest technology on this flat iron to make styling fast and fun without wrecking damage on your hair. You will also like the straightener because of its sleek looks and durability. 
BaByliss designed the plates of this model using ultra-thin titanium material that heats up fast and distributes it fast for even straightening. With its 50 heat settings, you can easily select low temperatures, say around 270-300°F, for straightening fine hair. We must also mention that the titanium plates are corrosion-resistant which helps extend the life of your styling tool.
Another awesome thing about this straightener is its ergonomic design that helps to reduce fatigue when you are straightening or styling your tresses. For example, it is very light and easy to hold, allowing you to create super sleek 'do straight without tiring your arms and hands. 
Specs
Plate widths: 1 in, 1-1/2 in, and 2 in
Plate length: 5 inches
Material: Titanium and ceramic
Temperature settings: 50 heat settings for easy control 
Pros
Ergonomic design reduces fatigue 
Compact and easy to carry around 
Uses titanium plates for even heat distribution and corrosion resistance 
Comes with a three-year limited warranty 
Cons
This ghd Platinum + Hair Straightener has made a name for itself because of its advanced smart technology that makes straightening fine tresses easy, safe, and satisfying. Its features are unique, and it wins the second position on our list of the top flat iron for fine tresses. Although expensive, this flat iron has everything that you need to keep your thin locks looking smooth and shiny.
The most notable thing about this flat iron for fine hair is its ultra-predictive technology that recognizes every section of your locks and adapts appropriately to ensure the temperature remains consistent on both plates. It monitors temperatures about 250 times/second so that it remains within your preset level. Furthermore, it easily recognizes the thickness of the locks to ensure you get optimal shine and strength. 
The straightener uses ceramic floating plates with a high spec gloss finish that makes styling easy. The floating plates and advanced technology helps to make the tresses 70% stronger, 20% shinier, and then offer 2x more protection. We liked this model because, in addition to being a great option for people with thin tresses, it also works well for those with coarse hair.
Specs
Cord: 9-ft swivel cord 
Safety: Automatic sleep mode switches off the straightener after 30 minutes of non-use 
Dimensions: 11 x 1.63 x 1.75 inches
Material: Ceramic 
Pros
Uses ceramic material to protect tresses from damage 
Elegant design 
Advanced technology makes it easily adapt to your locks
Cons
This Remington Pro is a royal-hued flat iron designed with ten times more ceramic compared to other straighteners from the same brand. The effect is a smooth glide that makes it easy to straighten fine tresses without damaging them. The curved purple handles also make it beautiful and you will enjoy carrying and using it even when traveling.
The straightener boasts of Thermaluxe advanced thermal technology that smoothens hair and delivers long-lasting results without causing breakage. If you have fine strands, you only need to use a single or double pass to get glassy locks.
You will also love the floating plates that expand easily to accommodate locks of different thicknesses. They also heat up fast and evenly to allow you to start straightening your tresses immediately without wasting time. In just 15 seconds, the tool will have reached the maximum temperature of 450°F. For fine tresses, keep the heat low and stay at the cooler end of its 30 heat settings. 
Specs
Temperature control: 30 heat settings 
Material: Ceramic 
Maximum temperature: 450°F
Plates: 1-inch wide
Pros
4-year warranty 
Designed with smooth ceramic plates
Quick heat up and even heat distribution on the plates
Comes with an automatic shut off feature 
Cons
Does not have a digital display 
If you are a fan of rainbow colors, you'll love this INFINITIPRO model. Not only that, it is one of the best flat iron options on the market today. We were impressed by the straightener's floating plates that gently clamps down on the locks for straightening. It is also pretty easy to use, even if you are new to hair styling. 
If you have limited time to straighten your hair, such as during meeting breaks or lunchtime, this flat iron will come in handy because it heats up pretty fast. It only takes 30 seconds to reach maximum temperature, meaning that you can shave off time from your routine. Furthermore, its six temperature settings allow you to select low heat levels. 
To give your tresses an ultra-smooth look, the flat iron uses ceramic and titanium technology that helps to prevent tresses from damage. Furthermore, it delivers shine-boosting ions for a smooth look and minimal frizz. 
Specs
Material: Titanium 
Plate size: 1 inch 
Temperature: Maximum of 450°F
Heating: 30-second heat-up to 455°F
Pros
Easy to use six precision heat settings
Heats up fast to help you save time when styling your locks
Protects locks from damage
Create long-lasting shine 
Cons
No indicator that it has reached target temperature 
For years, CHI has been working extra hard to design products of the highest possible quality, and this PRO G2 Digital Titanium Infused Ceramic Flat Iron is a testimony to that commitment. The flat iron is consists of an elegant black shell fitted with golden plates that gives them a very classy finish. 
The flat iron is made with titanium-infused ceramic plates that heat up very fast. When you put the flat iron on, it only takes about 40 seconds for the plates to reach maximum temperatures. The plates are 1.25 inches wide, which we found very effective, especially if you have medium to long tresses.
Another outstanding feature of this styling aid is the color-coded digital temperature settings that make it pretty easy to follow. For example, simply select the blue hue if you are straightening fine tresses. This tool will be a great find if you are looking for a lightweight yet efficient straightener.
Specs
Material: Titanium 
Item Dimensions: 12.25 x 3.25 x 7 inches
Warranty: 2 years 
Temperature range: Maximum temperature of 425°F
Pros
Quick and efficient straightening 
Lightweight construction 
Looks stylish and beautiful
The new mode button with preset temperatures and LCD makes it pretty easy to use
Comes with a 2-year limited warranty 
Dual voltage for international travel 
Cons
Less durable compared to most flat irons on this list 
If you ask any hair stylist about KIPOZI brand, the chances are that they will give it thumbs up because of its high-quality products. One of the best products by KIPOZI is this Professional Titanium Flat Iron Straightener, a premium model designed for top performance. Plus, it's pretty! 
The straightener is designed with floating titanium plates that respond automatically to the thickness of your tresses to avoid damage. Furthermore, they also heat evenly and make straightening a great experience. You will also note that the plates are slightly wider, which means that you will be able to straighten your locks fast. 
Another awesome feature of this straightener is that it allows you to adjust the heat settings to as low as 270°F for fragile and fine tresses. If the straightener gets too hot, it uses an intelligent safety temperature reduction system to the preset level. And you can always see the heat levels on the LCD.
Specs
Plates: 1.75 inches wide-inch 
Cord: 8-foot swivel cord for convenient styling 
Temperature: Adjustable up to 170F/450°F 
Pros
Suitable for all types of locks, both long and short
Has Uses an easy to read LCD
Designed with a long 8-foot cord for easy styling 
Durable and easy to use
Floating plates that make it easy to maneuver when straightening
Affordable
Cons
Remington makes our list again with this S5500 1″ Anti-Static Flat Iron, another top-rated straightener that comes with advanced features yet priced affordably. Tagged less than $20, we found this flat iron one the most economical piece on the market. You will love the advanced features and snazzy purple finish that makes it irresistible. 
The flat iron is designed with a titanium protection coating that helps with fast heating and styling. When you turn it on, it only takes about 30 seconds to heat and reach maximum temperature. To straighten fine tresses with this flat iron, you should use the cooler of the heat settings preferably less than 300°F. 
The flat iron comes with digital controls that you can easily follow on its LCD screen to ensure that the temperatures do not exceed the preset levels. If you leave the straightener on for 60 minutes, it automatically turns off. So, even if you forgot to unplug the straightener, you can have the peace of mind that it will not cause accidents. 
Specs
Plates: Made with ceramic and titanium coating
Safety: Comes with a 60-minute auto shut off 
Heat settinga: Six heat settings ranging from 310°F to 410°F
Pros
Easy to use 
The ceramic and titanium plates heat fast and evenly
Uses anti-static technology to provide a smooth and shiny appearance
Affordable 
Cons
Might require an adapter to work when traveling to other countries 
This BIO IONIC model is a high-end flat iron designed with some of the best features in the industry. We liked the classy vibe of the straightener, but you will like it even more because of outstanding performance. 
One of the features that make this one stand out is the vibrating ceramic plates. They not only heat up faster but also help to keep the temperature uniform, helping you to complete styling faster. With this flat iron, you can straighten your locks in less than ten minutes because of the vibrations.
When straightening fine tresses, one of the most important things is being able to control the temperatures. BIO IONIC designed this tool with digital temperature controls that makes it easy for you to select the right temperature for your fragile hair To get the best results, consider setting the temperatures approximately 300°F. 
Specs
Heat regulation: Digital heat control up to 450° 
Plates: Vibrating ceramic plates 
Safety: Shuts off automatically after 60 minutes of non-use 
Pros 
Uses highly efficient ceramic plates 
Heating plates infused with natural minerals for negative ions generation
Light and easy to use 
Adjustable temperature setting 
Durable 
Cons
The last flat iron for fine hair on our list is this Nano Titanium Wide Plate Flat Iron from Ovonni. The straightener was designed with extra-wide plates to make it more effective in styling fine tresses. This flat iron excels in every sense, and we were surprised to realize it has a very low price tag. Its shiny blue color with vents on the edges also gives it a stylish outlook.
When you take the flat iron straight out of the box, the most awesome thing will be the wide plates. By using nano-titanium on the plates, you will realize that the flat iron heats faster and evenly than tourmaline and ceramic. The broad plates also help to protect your locks from heat damage and give it a shiny look that lasts for a longer period. 
Other notable features of this iron include the drying vents, which are used to evaporate vapor from the locks rapidly. To get better results, the straightener also comes with an adjustable temperature that ranges from 300℉ to 450℉. You should adjust the temperatures to a lower level to reduce the risk of damage to your fine tresses. 
Specs
Plates: 1.75-inch wide titanium plates 
Temperature setting: 300-450℉
Voltage/power: 100-240V, 50/60Hz, 45W
Auto shut off: After 60 minutes of non-use 
Pros
Instant heat up 
Uses drying vents to make styling more effective 
360-degree swivel power cord 
Nano titanium plates protect locks from heat damage 
Affordable 
Cons
Lack a visible LCD for digital control 
What is the Difference Between Thin and Fine Hair?
Before we can look at the main factors to consider when looking for the best straightener for fine hair, it is paramount to differentiate it from thin tresses.
So, is yours thin or fine?
While it is true that the two words, thin and fine, describe the characteristics of human tresses, it is possible to have thin hair that is not fine or fine hair that is not thin. So, let us differentiate them.
Thin Hair
The term thin is used to describe how dense your hair is. In other words, it is used to denote the number of strands on the head. Some of the reasons that can make your hair thin include genetics that limits the density, breakage, and loss. When a person has very thin hair, it might be possible to see his/her scalp. 
Fine Hair 
On the other hand, fine is used to highlight the thickness of hair follicles. If you compare a coarse and fine hair strand, the coarse one will have a greater diameter. While it is true that there is no specific rule to determine if your hair is fine, experts indicate that any hair that has a diameter of fewer than two-inch should be categorized as thin.
Note that it is possible to have fine and thin tresses at the same time. If you establish that your hair is thin and fine at the same time, it implies that it will require special care, such as using only the straighteners with very low heat settings.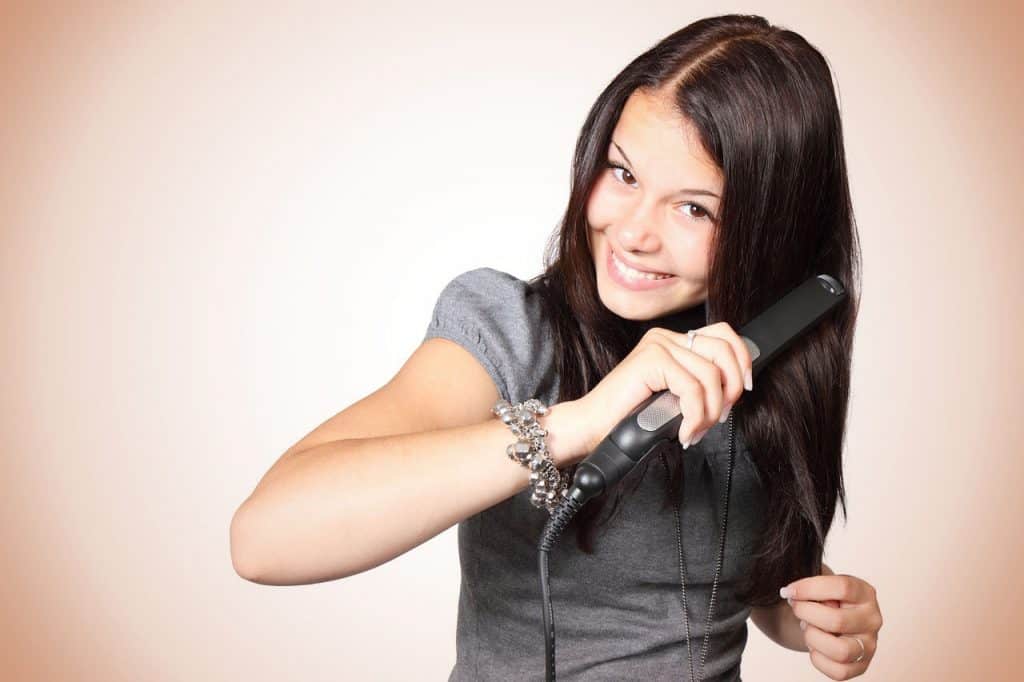 Important Features to Look for in the Best Hair Straightener for Fine Hair
When buying a straightener, you cannot afford to select randomly, especially if looking for something to use for fine hair.
There are a number of factors to consider and to get the perfect results. Keep reading to learn more about the features that the best hair straighteners for fine hair should have.
When reading through our reviews, you might have noticed a number of features that we highlighted in the different straighteners. Here, we will get deeper into some of them.
Flat Iron Material
The material used to make the flat iron that you want to buy is very important, and you should only go for the model with the best. When we talk about the material, we refer to the plates used for heating since they are the ones that do the actual straightening.
The rule of thumb is to avoid harsh materials, such as steel, that can literally fry your tresses when hot. Instead, it would be best if you only consider the straighteners that are designed with the following materials.
Ceramic
This is one of the popular materials used by manufacturers to design hair straighteners. It is preferred because it is affordable and durable. Straighteners with plates made of ceramic are recommended for fine locks because they heat fast and distribute the heat evenly. 
Tourmaline
Like ceramic, tourmaline is preferred when making flat irons because it helps to promote even heat distribution. Furthermore, the material is considered excellent in mopping moisture from the tresses. Straighteners designed with a tourmaline coating help reduce the risk of hair damage.
Titanium 
If you are looking for a flat iron that can heat really fast, it is advisable to go for the model featuring titanium plates.
Because of titanium's good heat conduction properties, flat irons with titanium plates heat faster and are long-lasting.
Temperature Adjustments
Most flat irons are designed to heat pretty fast and reach their maximum temperature range in seconds. Therefore, you should select the heat level depending on the specific requirement for your hair. For example, the flat iron temperatures for curly tresses will be different from that of hair that's only a bit wavy. 
When dealing with fine tresses, the goal is to get the temperature that is as low as possible. With this in mind, you should go for a model that comes with many adjustable heat settings. You can comfortably experiment with these levels, starting with the lowest, until you get the perfect temperature. It is advisable not to go beyond 300 to 350°F when straightening your fine hair. 
Negative Ion Technology
Today, a large number of straighteners come with ionic technology, and it is used for a good reason. The technology is used to help reduce the risk of damage to the hair. 
When negative ions are released into your hair follicles, they cut down the resistance, helping to make the heating plates glide through effortlessly. Furthermore, they help reduce the static electricity and frizz, resulting in the hair's smooth and shiny appearance.
When ion technology is combined with low heat settings, the flat iron can help to protect the hair and reduce the risks associated with high-heat levels.
Select the Flat Iron with the Right Plate Sizes
When it comes to the flat iron's plate size, there is no one-fits-all solution, and you should consider your hair specifics. The most important consideration here is the length of your tresses. If your hair is short, consider going for the flat iron with a fine plate, about one-inch, to get more control when styling.
If your hair is long, a straightener with a larger plate, about over one-inch, will be a better option. With a larger plate, it implies that you will be able to complete the process of straightening your tresses faster. However, you need to appreciate that speed should not be given a lot of priority when dealing with fine tresses to reduce the risk of damage.
Automatic Shut Off
If you are a forgetful person, especially when straightening your locks in a hurry, there is a risk of leaving your styling tool on and burning the house down. To reduce the risk, you should go for a straightener designed with an automatic shut off. The feature senses when the flat iron is left unused for some time and initiates a shutdown.
Most straighteners on the market come with an auto shut setting of 10-60 minutes. For some, it might even be possible to reset the auto shut off using the digital controls. No matter the design of preference or model, it is advisable to only order the flat iron with a good auto shut off system.
Final Thoughts
If you have fine tresses, you should carefully select the flat iron that can help straighten and boost shine without causing damage. In this post, we have looked at the best flat irons for fine hair on the market. They are not only designed using quality materials but also come with advanced features to make styling easy and enjoyable. Furthermore, they are picked from trusted brands, such as BaBylissPro, ghd, and Remington.
Although we stand with the best flat iron for fine hair options that we discussed in our reviews above (excellent choices), the BaBylissPro Nano Titanium Straightener stood out from the rest. The flat iron is made with some of the most advanced features to keep your hair safe while making it look smooth, shiny, and glam!