Last Updated on 17th August 2023 by Chauncey Morgan
If you ask me, flat irons are a godsend. I do enjoy curls and waves and all other kinds of hairstyles, but there is nothing more chic and elegant than having shiny, smooth, straight hair. And while there are a lot of great flat irons on the market, the flat irons from HSI will give you double the satisfaction for half the money. If you are interested in learning more, stay with me as I do an HSI flat iron review and tell you all about their three best products!
I have to admit that I am somewhat of a hair fanatic – even when I do not need new products or tools for my hair, I always casually browse for interesting options that I could keep in the back of my mind for when I need them. I have noticed that whenever I look up flat irons on Amazon, HSI's flat irons appear among the first and are always marked as bestseller and top choice. There is a good reason for that.
HSI's flat irons are not only packed with features, nicely designed, and very easy to use, but they are also extremely affordable, and they often come with additional bundle items for no extra charge. Essentially, you get professional hair treatment from a flat iron that costs two or three times less than the next best thing. Once I realized this, I knew that HSI was a company I had to learn more about and that I had to try out at least some of their tools and products!
With customers from more than 45 countries from all over the world, I can say with certainty that HSI has impressed a lot of people with its products. They don't just sell flat irons. They also have curling wands, hairdryers, shampoos, conditioners, masks, heat protective sprays, brushes, combs, travel pouches, and many other things. However, my review will focus only on three of their best flat irons currently available.
If you are interested in finding out what HSI's flat irons are all about, why you should consider buying one, as well as how to choose the best one for your hair, I suggest you keep reading as I will cover all of this and more about HSI and their fabulous products!
TOP PICK

HSI's Tourmaline Ceramic Ionic Professional Glider Flat Iron is my top pick in this review, and I think that the 70,000+ reviewers on Amazon will also agree with me on this one. First of all, the price is amazing. Second of all, it can be used on all types of hair, so it is a great choice for just about anyone. 

On top of that, the flat iron comes in a bundle with a travel pouch, a heat-resistant glove, one argan oil hair treatment, and a style guide that will come in handy if you are looking to experiment a bit with your hair. Honestly, everything about this flat iron is simply amazing!
My HSI Flat Iron Reviews
If you look up the company's website, you will find that they have several different flat irons to choose from. However, the three I have picked for this review impressed me the most, and I decided that I just have to tell you more about them. Let's look briefly at some of their features as well as their Amazon ratings:
PRODUCT
DETAILS
PRICE
#1 HSI Tourmaline Ceramic Professional Glider Flat Iron



HeatBalance micro sensors

Crystal ion plates

Dual voltage

CHECK PRICE

#2 HSI Gold Ceramic Professional Glider Flat Iron



Even heat distribution

Ultra-precise plates

Fast heat up

CHECK PRICE

#3 HSI Digital Tourmaline Ceramic Professional Glider Flat Iron



LCD temperature control

Infrared heat technology

Long swivel cord

CHECK PRICE
As I mentioned before, I think that it is impossible for you to research flat irons without having the name HSI pop up at some point. Flat irons from this company have gotten a lot of attention over the years because of how amazing they are and how effective they are in styling any kind of hair.
No matter if you have thin or textured, short or long, curly or wavy hair, there is a flat iron from HSI that will help you make your hair as straight as possible in no time. This is why I recommend these flat irons and why I would love to tell you more about them. Let's review them in more detail so you get a clear idea of which one would be best for you!
Being listed as the number one bestseller on the biggest shopping sites will surely get you a top spot on my list! This ionic tourmaline ceramic flat iron is the perfect flat iron for anyone. It has all the features that you would want in a flat iron, including a compact size and dual voltage that make it perfect for traveling.
On top of that, this flat iron is very easy to use. It heats up in a matter of seconds, and once it reaches your desired temperature, you can use it to straighten, curl, wave, or even flip your hair. It is essentially several tools combined into one!
Key Features
Adjustable temperature
Eliminates frizz from hair
Great for traveling
On the inside of the flat iron is where you will find the buttons to turn the flat iron on and off, as well as to adjust the temperature. The lowest temperature setting is 140°F. It goes up to 450°F, so make sure to adjust it before you start straightening.
The flat iron is not going to damage your hair at all because it has high-quality plates that are ionic and tourmaline-infused. They will reduce frizziness while making your hair smoother than ever before. On top of that, the plates have micro-sensors that distribute the heat evenly, so you will not have to fear any hot spots!
Pros
Multipurpose tool
Gives long-lasting results
Long 1-inch plates
Cons
I cannot recommend this flat iron enough. It really does wonders for all kinds of hair. If you are looking for a professional flat iron that does not cost you an arm and a leg, then this is the perfect choice for you. I bet you will not regret giving it a try!
The sleekest, most elegant flat iron from this brand… the HSI gold glider is one of the most nicely designed flat irons ever. With a black body and gold details, it looks so amazing that it will tempt you to try it out immediately.
Aside from the design, the flat iron comes with a lot of great features that you will love. The temperature is completely adjustable and setting it is extra easy. Once you set the temperature, the flat iron will adjust to it in just a few seconds, so you will not spend any extra time waiting around for it to heat up!
Key Features
Temperature regulating sensors
Curved plates
Fast heat-up
Just like I mentioned for the previous flat iron, this one also has high-quality plates that are designed to protect the hair from damage and eliminate frizz. Thanks to the sensors in the plates as well as the ionic tourmaline coating, you will find that just one pass with the flat iron is enough to make the hair sleek and gorgeous.
This flat iron has curved edges which make it perfect for doing curls and waves. You will not need any extra tools when you go somewhere or are getting ready for a night out – this flat iron will help you achieve any kind of hairstyle!
Pros
Easy to use
Quick styling results
Ergonomic design
Cons
Might be more suitable for finer hair than for thicker hair
I recommend this flat iron if you are going for something that looks more expensive than it actually is. Those gold details had me sold from the moment I saw them; I hope they had the same effect on you!
If you ask me, I would call this a slightly improved version of the above-mentioned ceramic professional glider. It has many great features added to it, all of which would make your hairstyling experience level up. These same features justify the higher price and make this flat iron worth every penny!
The most noticeable feature on this flat iron that was not included in the previous two flat irons is the digital display. With a dial (as the previous two flat irons had), you can only adjust the temperature, but you never know exactly what temperature the iron is set on. When you have an LCD display, you can easily check and adjust the temperature on the fly!
Key Features
Digital temperature control
Round body shape
Infrared technology in plates
I do not have to tell you much about the plates on this flat iron. As always, HSI outdid themselves by making the plates reflexive, floating, and ionic tourmaline-infused. Of course, their famous HeatBalance infrared technology is also included. You will need nothing more than just one pass with this flat iron to make your hair smooth!
And don't stress about turning this straightener off. This one has an auto shut-off option that comes into effect 20 minutes after you are finished with your styling. How amazing is that?
Pros
Automatically shuts off
Long swivel cord
Helps reduce frizz
Cons
Might not heat as fast as other flat irons
If you want to splurge on a flat iron, this one from HSI could just be the perfect choice for you. With all the great features that it has and with the great results that it always gives, there is nothing better to treat yourself with!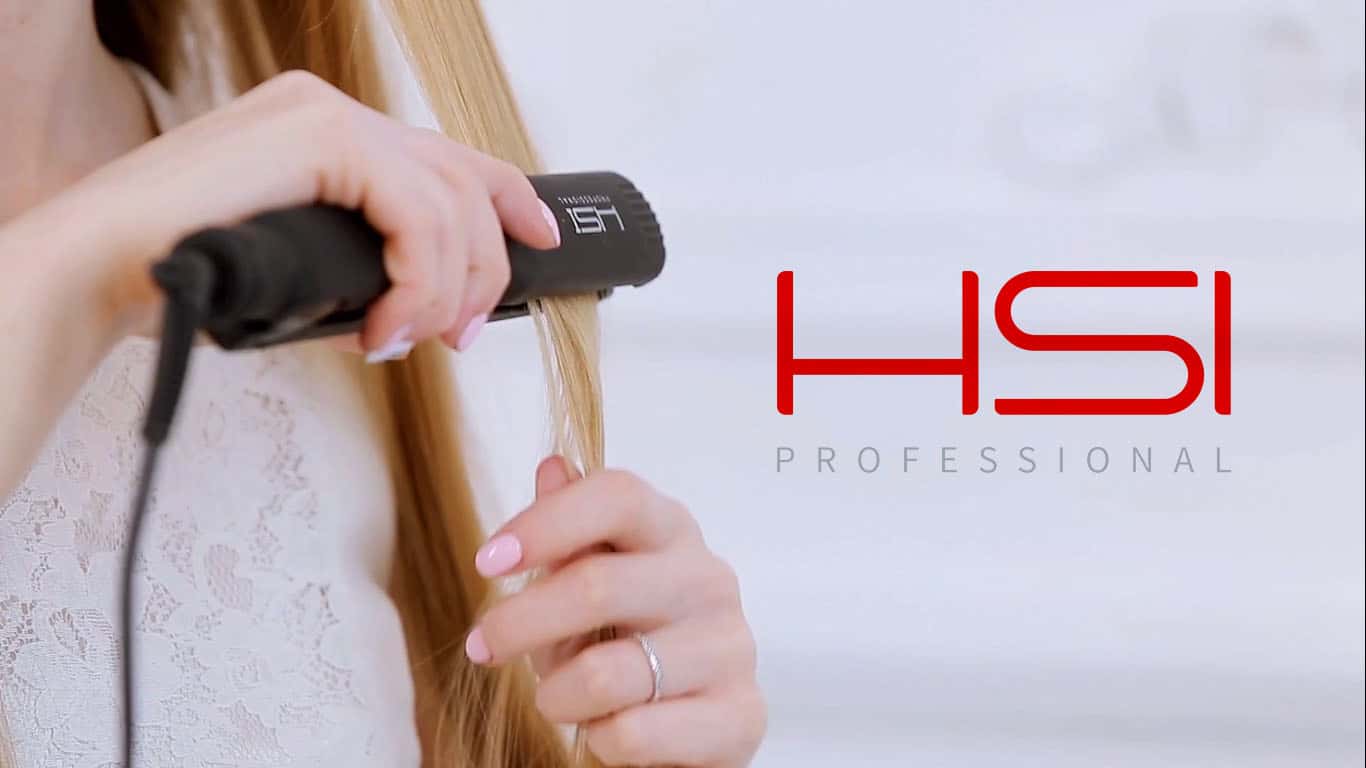 How to Choose an HSI Flat Iron
When purchasing a flat iron, you might find yourself wondering about what size plates you need or what material they should be made from, as well as what features to look for in a flat iron or how important it is to have an adjustable temperature. I know how worried you can get if you do not know what kind of flat iron you actually need, so I am here to help you out with all that!
Plate Material
Nowadays, flat irons come with all types of plates. Some have ceramic and others have titanium. Another group of flat irons has plates with tourmaline or ionic coating. You can easily decide what kind of plates you need depending on your type of hair.
Ceramic plates are recommended for people with all types of hair — short or long, thin or curly — because they distribute heat evenly and hold it for a long time, meaning that you will not have any difficulties using the flat iron, even for longer periods of time
Titanium plates are recommended for people with curlier, thicker, or more textured hair as this type of plate can heat up really fast and distribute the heat even faster (however, be ready to pay a higher price for a flat iron that has titanium plates)
As for tourmaline-infused plates, they are great for all types of hair as well, and the gemstone coating will actually help you keep your hair healthy even if you straighten it every day (which is why it is smart to invest in a flat iron with tourmaline-coated plates)
Plate Size
Having the right plate size is also very important. Imagine having curly, wild hair and using a flat iron with mini-sized plates. It would take all day to straighten the hair, and the process would be a total nightmare.
If you have longer, curlier, or thicker hair, I recommend getting a flat iron that has 1.5-inch plates or maybe even those extra-large 2-inch plates that are not that common (the wider and longer the plates, the better your styling experience will be)
Those of you who have thin or short hair will need a flat iron with smaller plates, so 1-inch plates will do the trick, especially if you have a short haircut with bangs.
Flat Iron Shape
If you are something like me, you use your flat iron both for straightening and curling your hair (depending on the occasion). In that case, you need a flat iron that has a shape similar to a curling iron so that you can also make those nice waves that we all love.
The shape of the flat iron should be rounded if you are planning on using it for curling and waving hair as well. If you want to use it only to straighten your hair, you can also get a flat iron that has a square shape.
While I am on the topic of shapes, the plate shape is also going to contribute to how effective your flat iron is at making waves. Plates can be rectangular or curved. Rectangular ones are better for straightening, while curved ones are great for straightening and curling. On top of that, you can also go for floating plates if you are planning on curling your hair with a flat iron.
Adjustable Temperature
A flat iron can have an adjustable or fixed temperature. Fixed temperature flat irons can be great for certain types of hair, but my recommendation is to always go for a flat iron that has an adjustable temperature setting. That way, you can set it to your desired temperature and avoid damaging your hair or having to style it over and over due to the temperature being too low.
If you have hair that is healthy, short, fragile, and not chemically processed whatsoever, then you will need to protect it from unnecessary damage, which means straightening it at a lower temperature and always adding heat-protective spray to it before straightening (the recommended temperature, in this case, is anywhere from 250° to 300°F)
If your hair is medium length, not that thick or curly but not completely fine, then you will need to set the temperature anywhere between 300° and 380°F (try a lower temperature setting, and if that does not work, then move it up a bit)
Finally, if your hair is coarse, textured, very curly, or very long, you will definitely need to set your flat iron to a higher temperature, meaning that you can set the temperature anywhere between 350° and 410°F (some flat irons can get even hotter, but if you ask me that could be a bit too much for any type of hair)
Features
If there is something I learned from HSI's flat irons, it is that you can get quite a lot of features included in a flat iron for no special price at all. Some of the features that you should always look to get in a flat iron include the auto shut-off option, fast heat-up, longer swivel cord, and so on.
If you are planning on traveling with your flat iron often, it wouldn't hurt to have dual voltage on it. In that case, you will not have to worry about purchasing additional adapters and similar things!
FAQs on HSI Flat Irons
Before I wrap up this review, I would like to mention some questions that other users have found themselves wondering about. Even though you can easily find a lot of information on this company and their flat irons, it is always nice to know some of the most important things before you go out and purchase one!
Does the HSI straightener turn off automatically?
Some HSI straighteners do not turn off automatically, and I think that this is one of the biggest setbacks of these flat irons. They are so amazing, but not having this option could prevent some users from buying them.
Luckily, with some of the newer flat irons, HSI has added the auto shut-off option. If you are interested in which flat irons have the option and which do not, I suggest you contact the company and find out for sure before you make your purchase!
Which is the best HSI flat iron?
Even though different people might have different opinions on this question, I personally would say that the HSI Tourmaline Ceramic Professional Glider Flat Iron is the best one because of the price, the features, the high-quality materials, and the bundle products that come for no additional price!
Final Word on HSI Straighteners
Well, I hope that this HSI flat iron review taught you everything you should know about the brand's bestsellers. If you are looking for something professional but affordable, take a closer look at the HSI Tourmaline Ceramic Professional Glider Flat Iron. If you want to splurge and get something fancier, then the HSI Digital Tourmaline Ceramic Professional Glider Flat Iron might be the right tool for you!
Please let me know if you have ever tried out a flat iron from HSI and what your experience was like. I would love to know more about your hairstyling journey, so make sure to leave a comment below!