Did you know that your damaged hair has positive ions that cause it to appear dry, frizzy, and static? To offset the effects of positive ions, you need to choose a high-quality flat iron that produces natural negative ions. This way, you will be able to remove the frizz and moisturize the tresses for a smooth, shiny look.
There are many options out there with all kinds of features. But you wouldn't know for sure what's best for your tresses unless you do a little research. So, in my search for the best flat iron for damaged hair, I took into account all the important features you would want your unique flat iron to have.
My Top Pick

T3 Lucea ID 1-Inch Flat Iron is my top pick. This new release sports the brand's interactive HeatID technology that offers automatic heat setting personalization. It delivers the right amount of heat and negative ions for your damaged hair. Not to mention that it has an auto world voltage design that allows you to use it anywhere in the world.
The Best Flat Irons for Damaged Hair Are:
Get the next-gen heat that is tailored to your damaged tresses with the T3 Lucea ID 1-Inch Flat Iron. First of its kind styling technology.
Specs
T3 heat ID technology
Nine heat settings
Smart microchip
CeraGloss ceramic plates
T3 CeraSync heaters
This innovatively designed flat iron comes with the brand's revolutionary T3 HeatID technology and smart-touch interface. With these advanced features, the device intelligently adjusts heat to meet the specific needs of your tresses. So, your tresses are not overexposed to unnecessary heat. All you have to do is enter your color treatment type, length, and texture inputs, and the device will do the rest.
I appreciate the smart microchip that T3 comes with, considering how good it is at monitoring heat fluctuations. It helps maintain temperature consistency while the uniquely engineered heaters distribute and synchronize heat evenly across the plates for effective styling. The plates glide slickly through your tresses for a smooth, shiny style.
What I don't like; however, is the price. It is a little bit overpriced.
Pros
It is ergonomically made for ease of use
Multiple heat settings for different hair types and texture
Delivers even and consistent heat during styling
The CeraSync heaters allow for fast one-pass styling
Ceramic plates guarantee frizz-free, shiny styles
Cons
It is slightly overpriced
The touch screen interface may take longer for some people to get used to
Verdict
Nothing can go wrong with the T3 Lucea, considering that it automatically lowers the temperature to meet the specific needs of your hair.
Overall Rating: 4.8
 

Have you been looking for the best straightener for damaged hair that comes with all the important hair tools? Nition Professional Salon Straightening Flat Iron is what you have been looking for.
Specs
Metal ceramic heater (MCH)
Microchip temperature sensor
One-step operation
5-in-1 heating plate
Anti-scald styling
The most impressive thing about this flat iron from Nition is the fact that it comes with all the important hair tools you will need on the go. The set includes the straightener, salon clips, salon comb, heat-resistant glove, and travel pouch bag.
The 5-in-1 ceramic coated heating plates are infused with titanium, tourmaline, argan oil, and nanosilver, which is great because these elements help prevent pulling and do a good job of removing frizz. The plates heat up remarkably fast to distribute heat evenly for fast styling. Once you are done styling, your tresses will be anti-static, sleek, shiny, and healthy.
MCH technology provides uniform heating and fast thermal conductivity. The C-sensor; on the other hand, auto-detects temperature thirty times per second to make sure that the plate heats optimally for the best styling effects.
But the thing is, this straightener may not be the easiest for curl styling.
Pros
Comes complete with resourceful hair tools
Super easy to operate, just revolve the end of the unit
It automatically detects the temperature to deliver optimum heating
The heat-resistant glove allows for anti-scald styling
The 3D flexible heating plate helps prevent pinching and snagging
Cons
May require some practice for curl styling
Could be better with a slightly longer cord
Verdict
With this flat iron, you get 5-in-1 heating plates, advanced technologies, one-step operation, and anti-scald styling performance.
Overall Rating: 4.8
Do you want to straighten or style your damaged hair? Remington Pearl Pro Ceramic Flat Iron is one of the best tools to use.
Specs
Pearl ceramic technology
One-inch floating plates
Up to 450 degrees Fahrenheit
Heats up in about thirty seconds
Swivel cord
The very first thing that I like about this model is the Pearl ceramic technology that features crushed pearls for an easy, smooth glide. The ceramic irons protect your damaged hair by minimizing the need to iron the hair repeatedly. Unlike conventional irons, this Remington model doesn't produce hot spots or lose its heat over time.
It is equipped with one-inch floating plates, which allow for superior straightening and styling without losing contact with the tresses. You can easily get professional results at the comfort of your home with high-temperature settings of up to 450 degrees Fahrenheit.
What I don't like; however, is the inconsistent quality control from one model to another. It is possible to receive a straightener with a poorly attached plate coating.
Pros
The cord swivels, allowing you to straighten and style in different angles
The crushed pearls allow for an easy and smooth glide
Doesn't lose heat or produce hot spots over time
Temperature lock keeps the iron in your design temperature setting
Shuts off automatically after sixty seconds of inactivity
Cons
Some models may come with poorly attached plate coating
Some designs may produce a crackling sound
Verdict
This model combines Pearl ceramic technology and constant heating performance to produce faster and safer salon results on your damaged hair.
Overall Rating: 4.7
Make your hair curly or straight without damaging it with this incredible ceramic flat iron from Paul Mitchell.
Specs
High-quality ceramic plates
Slim plate design
Large digital display
Dual voltage design
Express iron complex
The tool comes with one and a quarter-inch ceramic plates with beveled edges. The good thing about the beveled edges is that they are going to help you create those splits, waves, or curls very easily. The design is integrated with premium heaters, which is great because they even out the heat distribution and quickly heat up to the desired levels in about sixty seconds. They also have an every ten seconds recovery time, making sure that the heat is always consistent.
You've got a one-hour shut-off feature that will automatically switch off the tool in case you forget to do so after straightening and styling your hair.
The express-ion complex smoothes the hair from the inside out, reviving your damaged hair with a healthy shine that you desire so much. But what I love most about this flat iron is the intuitive LCD that displays the exact temperature setting.
But the thing is, there is a possibility of receiving a used product that has quality control issues.
Pros
Beveled edges allow for easy straightening and styling
Distributes heat evenly and quickly heats up to the selected setting
The recovery time of ten seconds allows for consistent heating
Shuts off automatically after one hour when left unattended
Intuitive LCD makes temperature reading easy
Cons
It is possible to receive a used tool
Some models may take multiple passes to straighten hair
Verdict
With an adjustable temperature setting of up to 410 degrees Fahrenheit, this tool will help fine, medium, or coarse damaged hair shine once more.
Overall Rating: 4.7
 

Give your damaged hair direction and style without causing any further damage with AUX Hair Straightener Flat Iron.
Specs
Rounded edge plates
Adjustable temperature
Smart auto shut-off
Dual voltage compatible
360-degree swivel cord
This is a two-in-one flat iron, which is great because you can use it for straightening or styling for added convenience. You can easily create curls by rotating it to wrap the tresses.
It comes with one-inch double ceramic rounded edge plates that allow for easy straightening and styling of bouncy dreamy curls. The 3D floating plates are perfect for your damaged hair because they distribute heat evenly to reduce hair damage. I appreciate the anti-static technology, considering how effectively it reduces negatively charged particles to eliminate flyaways and static.
You've got four temperature settings for effortless customization. So, you can easily adjust the heat level to suit your hair type whether it is thin, color-treated, fine, medium, wavy, curly, thick, or coarse.
But the thing is, it may take some practice to effectively work on curly and frizzy tresses.
Pros
Floating 3D heating plates reduce hair damage
Anti-static eliminates static and flyaways
Takes roughly 15 seconds to heat up and maintain the desired temperature
Adjustable temperature settings allow for easy customization
It shuts off automatically after sixty minutes
Cons
It may require some practice to be able to use it on frizzy hair
It is a little bulky and challenging to manage around roots
Verdict
Make your hair less frizzy, shinier, and healthier with this amazing flat iron from AUX.
Overall Rating: 4.6
 

Do you want to transform your damaged hair into super bouncy and shiny tresses? Hauea Hair Straightener Flat Iron is the perfect tool for the job.
Specs
Advanced ionic technology
Ceramic heating plates
360-degree swivel cord
13 heating settings
Dual voltage design
This is a 2-in-1 flat iron (straightener and curler), which is great because it allows you to achieve different styling techniques for thin, thick, long, or short tresses. This iron features advanced ionic technology that produces more than enough negative ions to offset the positive ions in your damaged hair. This gives you shiny, soft tresses without any frizz.
The ceramic heating plates are creatively crafted to heat up in under thirty seconds. Then they distribute the heat evenly to minimize moisture loss and heat damage.
I truly admire the safety lock feature that allows you to lock the plates for safe storage. You've also got a 60 minutes automatic off just in case you accidentally leave the iron on after use.
What I don't like about the Hauea; however, is the inability of the brand to maintain consistent quality control from one model to another.
Pros
It can achieve up to twelve styling techniques
Generates more negative ions to help restore damaged hair
The ceramic plates heat pretty fast and distribute heat evenly
The cord swivels effortlessly for easy control
Designed to shut off automatically when not in use
Cons
Possible quality control issues with some models
The safety lock feature may malfunction
Verdict
The perfect straightener and curler you have been looking for all this time. It is uniquely made to restore shine to your damaged hair.
Overall Rating: 4.6
This high performing flat iron from Kipozi combines advanced technology, luxury, and versatility to give your damaged body and shine.
Specs
Titanium plates
170 to 450 degrees Fahrenheit
Dual voltage (100-240V)
Intuitive LCD
8-foot swivel cord
The plates are made from titanium, which is great because they distribute heat evenly and give a tighter press. The plates heat incredibly fast and they maintain a consistent temperature longer. This allows you to flat iron your tresses with less frizz, making it suitable for wavy, curly, and thick hair.
It features adjustable heat settings, allowing you to adjust the heat level accordingly. You can set the temperature at 270 degrees Fahrenheit for fragile tresses, 350 degrees Fahrenheit for colored or damaged tresses, and 410 degrees Fahrenheit for healthy tresses.
The ergonomically designed handle offers a strong and comfortable grip and superior styling flexibility. The 8-foot power cable; on the other hand, swivels three hundred and sixty degrees at the point where it connects to the iron for superior maneuverability. Another good thing is the dual voltage design that makes this model travel-friendly.
But the thing is, it is possible to receive a model with a defective power cord connection.
Pros
Distributes heat evenly without creating hot spots
Adjustable settings allow you to choose the perfect heat level
Comfortable grip handle makes for easy styling flexibility
Dual voltage design makes this model travel-friendly
Intuitive LCD is easy to read and interpret
Cons
Can receive a unit with a defective power cord connection
Some models may snag the bottom of your tresses
Verdict
Give your damaged tresses a professional hairdo and transform them into beautiful curls with this amazing straightener and curler.
Overall Rating: 4.6
Are you tired of frizz and straight but your hair is damaged? The Infinitipro By Conair can help you achieve your desired styling without causing any more damage to your tresses.
Specs
One-inch floating plate
Thirty heat settings
Tourmaline ceramic technology
455F ultra-high ceramic heat
Auto-off feature
This innovative tourmaline ceramic straightener will have your tresses straight, soft, and silky within minutes. This model comes with extra-long floating plates that straighten longer tresses with speed and efficiency.
The state-of-the-art ceramic heaters reach professional heat levels of up to four hundred and fifty-five degrees Fahrenheit for superior versatility. The instant heat technology; on the other hand, works in about fifteen seconds. So, you are ready to give your damaged curls body and shine right away. The plates heat evenly; so, there are no damaging hot spots. The tourmaline ceramic technology provides an ultra-smooth styling surface.
This unique model incorporates argan oil that conditions and adds shine as you style. Not to mention that it emits an abundance of negative ions to help restore your damaged hair.
But here is the thing ladies, some models may come defective out of the box.
Pros
Tourmaline ceramic plates eliminate frizz and increase shine
Allows you to select the ideal heat level for damaged curls
Extra-long floating plates improve styling flexibility
Heats up in about fifteen seconds and distributes heat evenly
Argan oil strips improve conditioning and shine
Cons
Possible to get a faulty iron out of the box
The auto shut-off feature may fail
Verdict
For a high-performance straightener and curler with professional capabilities, this model is the right tool for your damaged tresses.
Overall Rating: 4.6
 

This innovatively designed straightener can help give your damaged curls smooth, ultra-shiny, curling, and pin-point styles.
Specs
MCH heating technology
Intelligent temperature memory
Fifteen-second instant heating up
Thirty minutes non-use shut-off
Five seconds auto temperature lock
This straightener features MCH heating technology, which is great because it heats up in roughly fifteen seconds and delivers heat evenly.
The wider plates straighten longer tresses with speed and efficiency without causing any further damage. The plates are coated with nano titanium and tourmaline to emit negative ions that help to offset positive ions in damaged tresses. Apart from the coating, you've got argan oil strips that help condition the tresses to increase volume and create better shapes.
What truly takes my breath away out of the box is the intuitive LCD and advanced touch screen control, which allows you to adjust the heat level by simply tapping the (+) or (-) sign. The tool locks on the selected temperature after five seconds.
What I don't like is the fact that there is a possibility of receiving a model with a defective touch screen control panel.
Pros
Wider plates straighten longer tresses with speed and efficiency
It heats up to the desired heat level in fifteen seconds
Floating 3D plates offer even heat distribution
Tourmaline and nano titanium coating improve styling performance
Shuts off automatically after thirty minutes of non-use
Cons
It may come with a faulty touch panel
May take several passes to get the job done
Verdict
This is an intelligent flat iron that allows you to adjust the temperature by tapping. Just make sure you don't get a faulty design.
Overall Rating: 4.4
This uniquely made flat iron will so easily hydrate your damaged tresses to effectively control frizz and smooth flyaways.
Specs
Bioceramic MCH heater
Far infrared heat
Adjustable heat levels
One hour auto shut-off
Universal voltage
This innovatively made straightener uses silicone speed strips to gently smooth, shine, and seal the tresses in a single pass. With bioceramic heaters nano-ionic mineral complexes, this model can harness the power of natural negative ions to add more shine and impart moisture so you can get a longer-lasting curl or smoothness.
With variable heat control of up to four hundred and fifty degrees Fahrenheit, you have the power and gentleness to use on all hair types. And in case you forget to switch it off, it will automatically go off on its own after thirty minutes.
But the thing is, the Bio Ionic Onepass may produce an electrical humming sound.
Pros
Hair glides freely for superior smoothness in one stroke
Rounded edges create beautiful curls without creasing
Has a soft-touch finish for strong grip and comfort
The wide temperature range allows you to use it on different hair types
Temperature memory restarts at desired heat levels
Cons
Some models may produce an electrical humming sound
Possible quality control issues with some products
Verdict
Smooth, shine, and seal in just one pass will make this iron your favorite. But be on the lookout for faulty models.
Overall Rating: 4.4
 

This high performing ionic flat iron from HSI Professional is packed with the most advanced technology to give your damaged curls shinier, smoother results that last longer.
Specs
Ceramic and tourmaline crystal ion plates
heat balance technology
wide temperature range
An extra-long 360-degree swivel cord
Dual voltage design
The Glider is fitted with one-inch heating plates made of high-quality durable ceramic that provides an ultra-smooth surface. This allows your tresses to glide through with ease. The plates are coated with tourmaline gemstones that release negative ions that help remove frizz and boost shine. The ions work by breaking down water molecules so they more easily hydrate your cuticle.
The Glider is designed to protect your curls with integrated heat balance microprocessors that continuously monitor the exact temperature across the surface and the plates. It also automatically adjusts the temperature for evenly distributed heat.
What I don't like about the Glider; however, is the fact that it doesn't do a very good job on thick hair.
Pros
Has a wide temperature range for added versatility
Distributes heat evenly for quick styling
High-quality ceramic plates glide smoothly through the tresses
Tourmaline coated plates remove frizz and add shine
The swivel cord adds styling flexibility
Cons
May not be the best choice for thick tresses
Possible to receive a defective design
Verdict
Get the best flat iron features without breaking the bank with the Glider from HSI Professional. But be on the lookout for defective models.
Overall Rating: 4.3
Things to Consider When Looking for Flat Iron for Damaged Hair
Flat irons are the tools of choice in many hair care regimens and are convenient for straightening textured and damaged tresses. Your selection criteria have to be precise to find the best straightener for damaged hair.
Here are the most important factors you need to consider:
Ceramic vs. Titanium
Your choice for the best flat iron for damaged hair can either be titanium or ceramic. One design is always better than the other for different people. Let's find out why!
Ceramic Flat Irons
You've got three main types of ceramic straighteners in the market: full ceramic plates, ceramic coated plates, and tourmaline plates.
Full Ceramic
The full ceramic plate design was the first one to be introduced into the market.
The full ceramic is generally regarded as the best material that does the least amount of damage to your curls. They are perfect for procuring the positive benefits of ceramic technology. 
But these ceramic plates are soft and can be quite fragile. So, dropping the straightener or closing it abruptly can damage the full ceramic plates. Full ceramic plates are suitable for thin, fine, sensitive, and damaged tresses. The most renowned full-plate ceramic brands cost more than ceramic-coated straighteners.
Ceramic-Coated
Ceramic-coated plates have a suspension or floating system. They are usually referred to as 3D floating ceramic plates. The plates tend to get hot quickly because of the metal that is beneath the ceramic coating.
Compared to full-plate ceramic designs, coated plates don't stay hot for longer, and some conventional models may not have even-heat distribution.
Regardless of the notion that ceramic-coated irons are cheaply made, you can still find a great straightener with coated plates.
Ceramic Coated with Tourmaline
The latest technology in hair straightening and curling is tourmaline. The term tourmaline refers to a gemstone or crystal that is crushed into a fine powder. The fine powder is used to coat the ceramic plates. The best flat iron for damaged hair with infused tourmaline is said to give glossier and smoother results. The main advantage of tourmaline is the fact that it generates a lot of natural negative ions that are very effective at reviving damaged tresses. The only downside to this design is the higher price range.
Titanium Flat Irons
When it comes to professional salons, titanium flat irons are the favorite. A titanium straightener has excellent smoothing capability. It can heat up pretty fast compared when compared to a ceramic version. 
Titanium plates are exceptional at maintaining consistent heat levels. They deliver a powerful ionic charge that helps impart smoothness and shine to your damaged tresses. Titanium plates are best suited for keratin-treated hair.
The Ideal Size for Your Hair
Flat irons for damaged hair are available in many sizes from mini to larger designs depending on the size of hair. Here are a few questions you have to ask yourself: What is the length of your hair? Is it long, medium length, or short? Are you looking to straighten or curl your hair? How long do you wish to spend straightening and styling?
The answer to all the above questions lies in the size of the flat iron you choose. Here are the various sizes you can consider:
1/2-inch plates: This size is ideal for bangs and pixie cuts
1-inch plates: This size is suitable for fine, short hair
1-1/4-inch plates: This is the size to look for if you have medium-thick or shoulder-length tresses
1-1/2-inch plates: If you have curly, coarse, or thick hair that is longer than your shoulder, then this is the right size
2-inch plates: This size is reserved for very long, thick hair
The Ideal Temperature 
You can straighten and style your tresses with nearly any flat iron out there. But a higher heat level could so easily cause more damage to your already damaged hair. Higher temperatures can also damage fine hair. The solution here is to choose a unit that has adjustable heat levels (temperature settings).
Always consider an adjustable unit with a low-temperature setting of about 180 degrees Fahrenheit and a high-temperature rating of about 455 degrees Fahrenheit.
The lower heat level is suitable for finer hair textures. A medium setting, which is around 392 degrees Fahrenheit is a safe temperature for damaged and color-treated hair. A high setting, which is about 410 degrees Fahrenheit is best suited for very resistant hair that is thick and coarse. Heat levels at 450F ranges should only be considered when dealing with chemical services.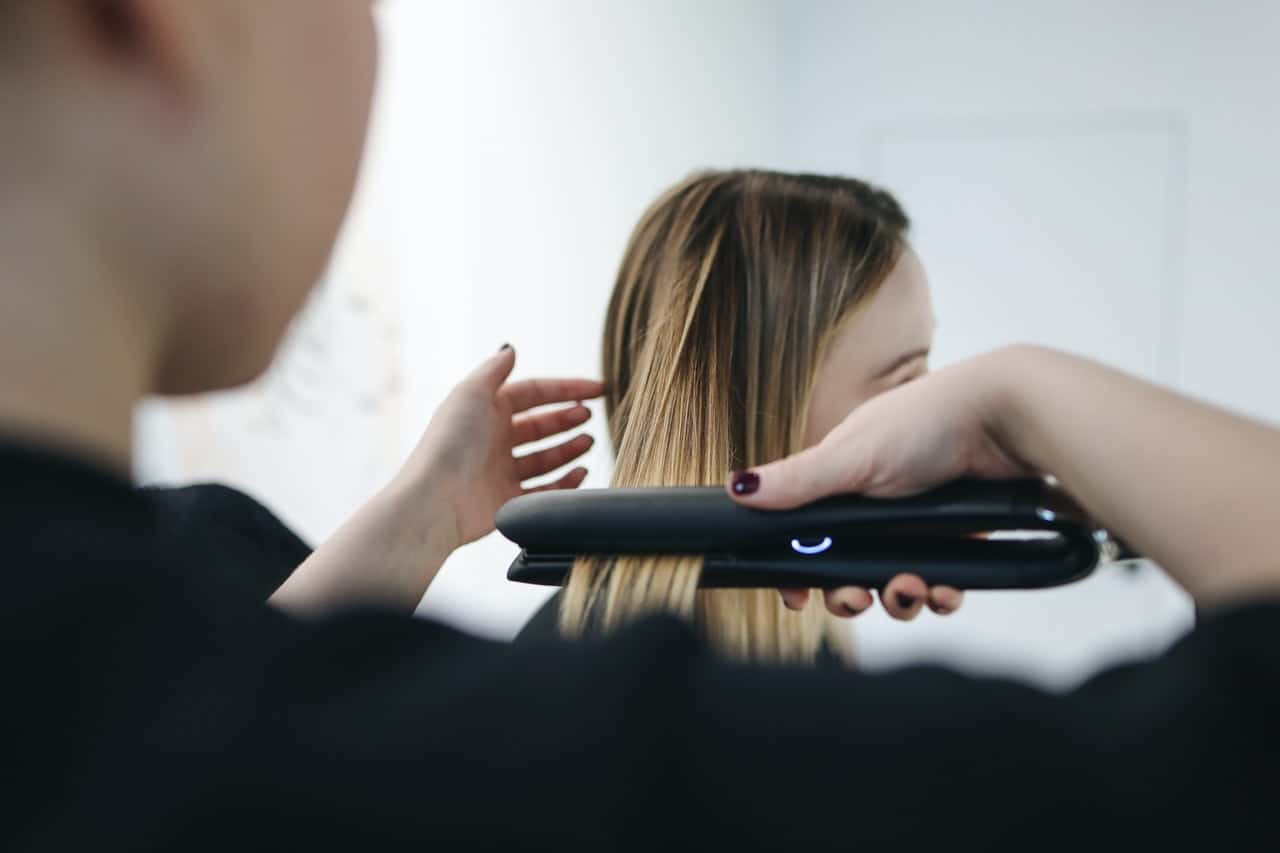 Special Features
The aforementioned things are the most important ones to consider when looking for a befitting straightener/curler for your damaged hair. But other features can make a flat iron more useful and versatile, such as:
Round vs. Bevel Edge Plates
Round edge plates are the best for styling curls.
The rounded edges allow for smoother maneuvers with little to no irritation. Bevel edge plates; on the other hand, can easily be manipulated to cup or bend on the ends.
Dual Voltage Design
Most flat irons (older and newer versions) are single voltage rated at either 120V or 220V. But the trend has changed nowadays and we have dual voltage designs out there. A dual voltage, world voltage, or universal voltage straightener is one that is engineered to accept both 220 to 240-volt and 110 to 120-volt outlets.
With a dual voltage model, you can straighten or style your hair from anywhere across the globe.
Handling and Maneuverability
It doesn't matter how good the straightener performs on your tresses if you cannot handle it comfortably. So, you need to choose a model with an anti-skid handle. This design will provide a strong one-hand grip for superior straightening and styling flexibility. With a strong grip, you will not have to hold the tip of the tool and risk touching the hot plates.
You need to choose a straightening tool that is easily maneuverable and flexible.
I truly appreciate a model that comes with a swivel cord that rotates three hundred and sixty degrees. Also, consider a longer cord that is at least eight feet long. This will allow you to style your hair at convenient angles without tangling or damaging the cord in the process. 
Microsensor Technology
Even though not all flat irons come with microsensor technology, those which do are highly efficient and reliable. The smart sensors are normally implanted into the plates to monitor the amount of moisture in your hair. Then the sensors automatically adjust the heat level to offer the best straightening and styling results. Smart sensors also help to distribute heat evenly across the plates. 
Different brands will have their own technological innovation to ensure heat distribution and damage protection. Belleza flat irons, for example, have what they call microprocessing technology.
Digital Controls and Temperature Lock
In addition to the easy to use buttons, choose a design that has digital controls with an intuitive LCD. Digital controls allow for easy temperature adjustments. You just have to tap on the positive or negative sign. The LCD readout displays the exact heat level you have selected. Also, you can consider a temperature lock. This unique feature locks on the selected heat level after about five seconds.
Safety Precautions
Safety is extremely important when looking for a high performing flat iron.
As a rule of thumb, always make sure you get a detailed manual that clearly states all the safety precautions you have to take.
The next important safety feature is the automatic shut-off. Make sure the unit is designed to go off on its own after 30 or 60 minutes of left unattended, in case you forgot to switch it off.
Additional Accessories
I don't know about you, but I would prefer a model that comes with extra accessories. Some of the most important fixtures to look for are a heat-resistant glove, argan oil treatment, and a travel pouch. 
Final Thoughts
The winner of this roundup is T3 Lucea ID 1-Inch Flat Iron. This innovative design offers smart performance at your fingertips. What makes this model stand out is the smart sensor technology, which regulates the temperature to meet the specific needs of your damaged hair. This means you have even consistent heat with each pass.
This model has full ceramic plates, making it extremely safe for damaged hair. It comes with a dual voltage design that you can use worldwide. The handle provides an anti-skid grip for easy handling, while the 360-degree swivel cord allows for superior styling flexibility from different angles. You've also got nine temperature settings for maximum versatility. You won't go wrong with this tool!