Last Updated on 17th August 2023 by Chauncey Morgan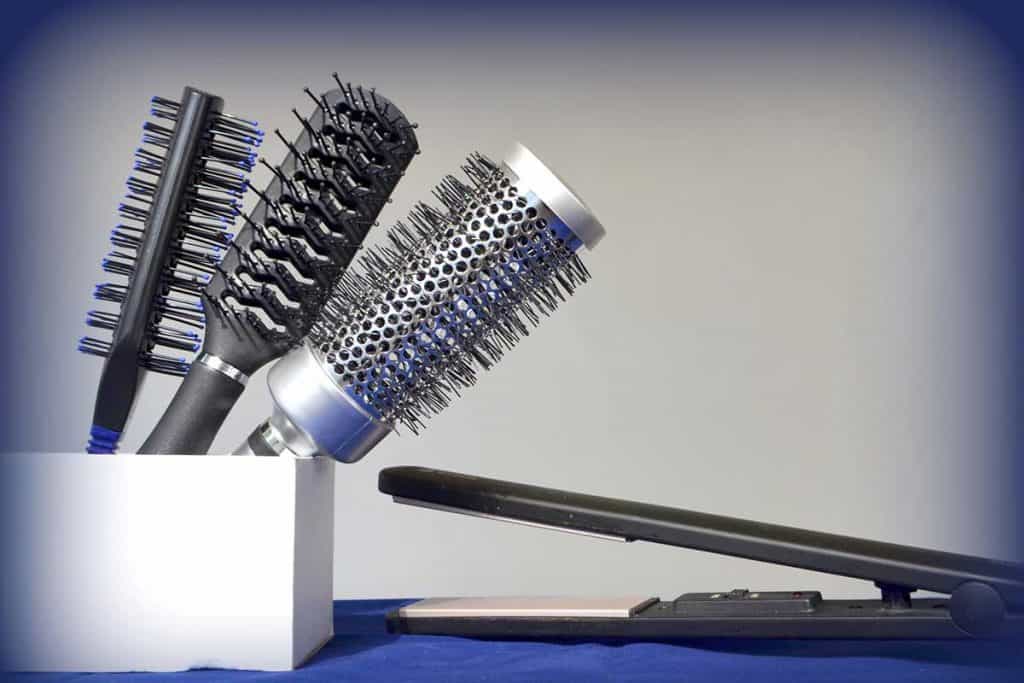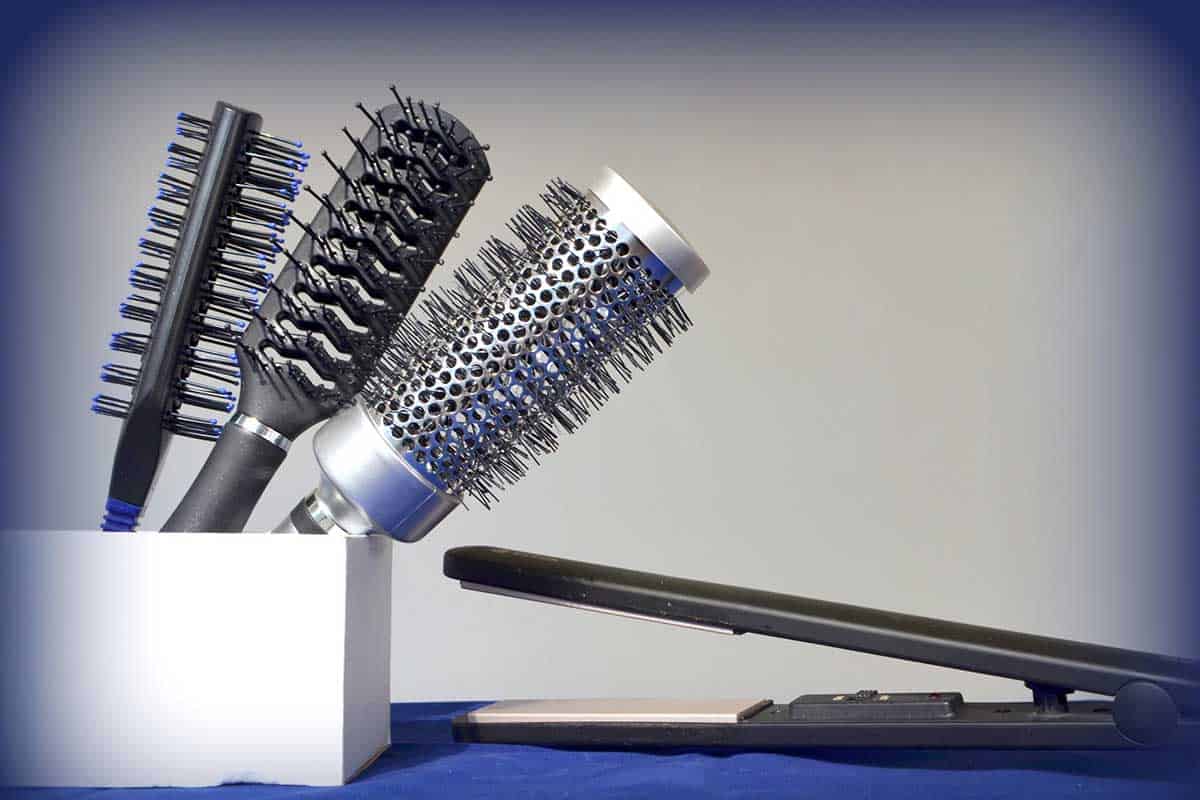 For years, people have been coming up with different ways to straighten their hair. From smoothing masks and sprays to special blow dryers, flat irons, and one of the newer trends—hot combs—there are a lot of products to choose from. I bet you are familiar with all of these, but are you truly familiar with the differences between hot combs vs flat irons?
To be honest, I had heard of hot combs but had never used one until recently. I was not familiar with what the differences between a hot comb and a flat iron were, but once I got to it and understood it, I was glad I took the time to learn about it.
To save you a lot of time and effort, I would like to tell you more about the differences between a hot comb vs a flat iron and also help you learn more about the hot combs and flat irons that you should consider adding to your hair products collection!
Stick with me as I go over the best hot combs and flat irons available on the market right now according to user experience, effectiveness, and their special features. By the time you and I get to the end of this review, you will know exactly which product you need to treat yourself with. So, without further ado, let's get right into the review! 
The Main Differences Between Hot Combs vs Flat Irons
The main differences between hot combs vs flat irons are: 
A hot comb has one heating comb and one flat plate, whereas a flat iron has two flat plates that are used to straighten the hair.
A hot comb combs the hair itself, whereas before using a flat iron, you have to carefully comb the hair and then put it between the plates.
A hot comb can get to the base of your hair and straighten from there, whereas a flat iron cannot straighten the hair from the root.
Flat irons are a bit more popular than hot combs, which is why people are more used to the idea of straightening hair with a flat iron. Over the years, companies worked on developing flat irons with adjustable temperature settings and strong plates that do not damage hair. 
With flat irons, you have to pay attention to the plate material, size, and shape. Depending on the type of hair that you have, you can purchase a flat iron with different features. As a final reminder, I would like to mention that you should always use flat irons on dry hair only. 
On the other hand, hot combs are usually used by people who have coarse hair. You put the hair between one flat plate and one heated comb, and then you essentially comb it to make it straight. Just like I mentioned with the flat iron, you should use the hot comb with dry hair only. 
Depending on the coarseness and texture of your hair, you can choose between hot combs with wider or denser comb teeth. There are a lot of good companies that create hot combs, so you should do some research before choosing which one you will buy. 
When it comes to hot combs, my personal favorite is the Andis 38300 Professional Hot Comb because it is a great feature-packed, conveniently sized, easy-to-use tool that can be suitable for styling all types of hair.
If you are more into flat irons than hot combs, I advise you to take a look at the Kipozi Professional Titanium Flat Iron, which is a perfect combination of technology, luxury, and versatility all in one small hair styling tool!
Hot Combs vs Flat Irons: Product Reviews
After covering some of the basic differences between hot combs and flat irons, let me share with you some of my favorite representatives from both groups. I hope this will also help you narrow down your search for a new hot comb or flat iron!
Hot Combs
Starting with a brand that has been creating hot combs for years, this Andis professional hot comb will leave you with smooth hair in no time. The ceramic wide-tooth comb does wonders even to the most unruly of hair. 
Key Features: 
Heat can reach up to 450 degrees 
It has 20 heat settings 
The comb is made from gold ceramic
What I love about this hot comb is that it comes with a tangle-free swivel cord that makes it very easy to use. To top it off, the automatic shut-off feature has you covered even when your mind wanders off somewhere.
Pros:
Quick heating options
Auto-off feature
Long swivel cord
Cons:  
An inconvenient placing of some buttons
Might heat up a bit too much for some people
Overall Rating: 
4.6 on Amazon
Conclusion: 
I recommend this product for people with all hair types but most of all for those with thicker, more textured hair. It is definitely worth the money. 
Unlike some of the modern feature-packed hot combs, this hot comb from Gold N Hot looks like a blast from the past. It is simple but does its job quite nicely and precisely. 
Key Features: 
Precise comb with wedge-shaped teeth
It can reach overall heat of 500 degrees
Long swivel cord
What I love most about this hot comb is the adjustable temperature setting that makes it perfect for people with all types of hair. You can read on the back of the box which temperature setting fits which hair type so that you avoid unnecessary damage to your hair. 
Pros: 
Simple design
Lifts and straightens hair perfectly
Has built-in safety stand
Cons: 
The comb can get a bit too hot to use
Comes at a higher cost compared to other combs
Overall Rating: 
4.0 on Amazon
Conclusion: 
If you are looking for a simpler hot comb, this is a great choice for you. The multi-temperature settings make it the perfect option for all hair types, but this one comes at a higher price than the other hot combs on the list. 
If you are looking for an electric hot comb that is not made from ceramic but instead is plastic, this one from Conair is worth looking into. With 30 heat settings and a turbo heat feature, it can straighten your hair in only a few minutes.
Key Features: 
Heat recovery system
Various heat settings for all hair types
Quick heat-up option
What I love most about this hot comb is that it can make styling African American hair as easy as possible. Even though it comes at a very affordable price, it is as good as the ones that professional hairstylists use, so you should look into it. 
Pros:
15 high-heat modes for coarse hair
Convenient and easy to use
Auto shut-off option
Cons:
Might not heat up to a very high temperature
Some of the buttons might be confusing
Overall Rating:
4.1 on Amazon
Conclusion:
I recommend this hot comb for people with coarser hair since it not only straightens but also boosts the hair, making it look professionally done. However, I advise you to be careful when using the quick heat-up option so you don't burn yourself. 
Flat Irons
Moving on from hot combs to flat irons, I'll start with one of the best flat irons from BaBylissPRO. This flat iron has 1-inch Nano titanium plates that you can use to style your hair however you wish—curly or straight.
Key Features: 
Various temperature settings 
Plates come in three widths
Corrosion-resistant
What I love about this flat iron is that the one-inch plates are so convenient that you can use them to straighten the hair from the root. The design also ensures that you will not burn your scalp while straightening!
Pros:
Easy to use and long-lasting
Comes in a very nice color
Offers styling flexibility
Cons: 
Might be a bit too pricey for some people
Does not have an auto shut-off option
Overall Rating: 
4.6 on Amazon
Conclusion:
I recommend this flat iron for people with shorter hair because of the convenient size of the plates. You can easily straighten the hair from the root to the ends, but beware of damage to the hair since the plates are made from titanium and not ceramic.
Great for both thick and thin hair, this flat iron from Kipozi is the best choice for you if you are looking for something more luxurious. The flat iron not only looks amazing but also has all the features you might want in a straightening tool! 
Key Features: 
Adjustable temperature setting 
Precise plates for effortless straightening
Instant heating option
What I love about this flat iron from Kipozi is that the company paid a lot of attention to detail when it comes to the plates—no matter what kind of hair you use this flat iron on, you will never see any frizz or static! The plates distribute the heat evenly, which helps avoid damage to the hair. 
Pros:
Durable and convenient design
A long, heavy-duty swivel cord
Has safety temperature reduction feature
Cons:
Some buttons require a stronger push
Could get too hot when at maximum temperature
Overall Rating: 
4.6 on Amazon
Conclusion: 
A flat iron that works like magic on all types of hair, the Kipozi professional titanium flat iron is just what you need to get silky, natural-looking hair that will be as straight as it has ever been!
This is the second time that I mention Conair on my short list, but there is a reason: This company has outdone themselves, not only with their hot combs but also with their flat irons! This flat iron with one-inch ceramic plates will deliver the perfect results without much trouble!
Key Features: 
High-quality floating plates
5 different heat settings 
Uniform heat recovery
What I love about this flat irons is that it is very affordable but packed with all the great features you need in a hair styling tool. In addition to the amazing plates, it has a quick heat-up option and a professional swivel cord for easy maneuvering. 
Pros:
Auto shut-off option
Ergonomic handle
Handle lock for safer storage
Cons: 
The power cord is a bit short compared to others
Plates might not fully press together
Overall Rating:
4.5 / 4.5 on Amazon
Conclusion:
Whether you want your hair wavy or sleek, this flat iron will help you achieve the perfect look. Conair Hair Care has been creating top hair tools for years and they nailed it with this great ceramic flat iron.
Flat Iron vs Electric Hot Comb Buying Guide
Now, I will tell you more about the difference between electric hot comb and flat irons when it comes to daily use. 
Daily Use
Back in the day, I used to straighten my hair every single day. Soon after, I saw that my hair was getting damaged, and I came to the conclusion that using a flat iron daily was not advisable. 
I wondered if hot combs also damaged hair if used every day, so I did some research on that as well. Generally, neither should be used too often because they both apply a lot of heat to your hair. However, there is a slight difference in the damage they do to the hair.
Daily Use of Hot Comb
Hot combs are safe to use but not daily. You should not use them every day, let alone a few times daily. Try to use the hot comb only after you wash your hair, using it only for touch-ups on the days between your last and your next wash. 
If possible, try to leave at least a couple of days in between using the hot comb. Make sure that you do not use too high a temperature to comb your hair or you will contribute to the damage. 
Daily Use of Flat Iron
Just like hot combs, flat irons should not be used a few times a day or every single day. I would advise you to use it only a few times a week, at a mild temperature. Maybe you can add a heat protectant to your hair before using the flat iron, to avoid unnecessary damage. 
When it comes to how often you should use an electric hot comb vs a flat iron, I would say that it is a tie. Both should be used only a few times a week, with at least one day between uses. That is how you will keep your hair healthy and still looking good!
FAQs
Before coming to the end of my review, you and I will take a look at some of the frequently asked questions regarding the difference between a pressing comb vs a flat iron. 
Which is better, a pressing comb or a flat iron?
Even though both the pressing comb and the flat iron have many of the same features, I would still suggest using flat irons for thicker, unruly hair and using pressing combs for naturally straight, sensitive hair. 
With that being said, you can also use a flat iron for sensitive hair by setting it at a lower temperature or using a heat protectant on the hair when straightening it. You can also use heat protectants with pressing combs. 
Is ceramic or titanium better for natural hair?
Both pressing combs and flat irons can have parts made from either ceramic or titanium. While both materials are great for all kinds of hair, I advise you to use a ceramic-based flat iron or pressing comb if you have fair, sensitive hair. 
On the other hand, if your hair is generally hard to straighten, more textured, or thicker, it would be better to use a flat iron with titanium plates or titanium pressing comb. You should keep in mind that the risk of damaging your hair is greater with titanium, which is something to consider when choosing a flat iron or pressing comb.
Final Thoughts Flat Irons vs Hot Combs
Thank you for sticking with me this far! I hope that this guide gave you all the important information on hot combs and flat irons that you need.
If you're looking for speed and ease of use, go for a hair straightener like BaBylissPRO. But if you want to be able to straighten your hair from the root all away to the tip, you have to go for a hot comb — check out the Andis 38300.
If you are still on the market for a good hot comb or flat iron, make sure to check out the ones that I have reviewed above! Feel free to tell me which ones are your favorite hot combs and flat irons in the comment section. I look forward to reading your comments!