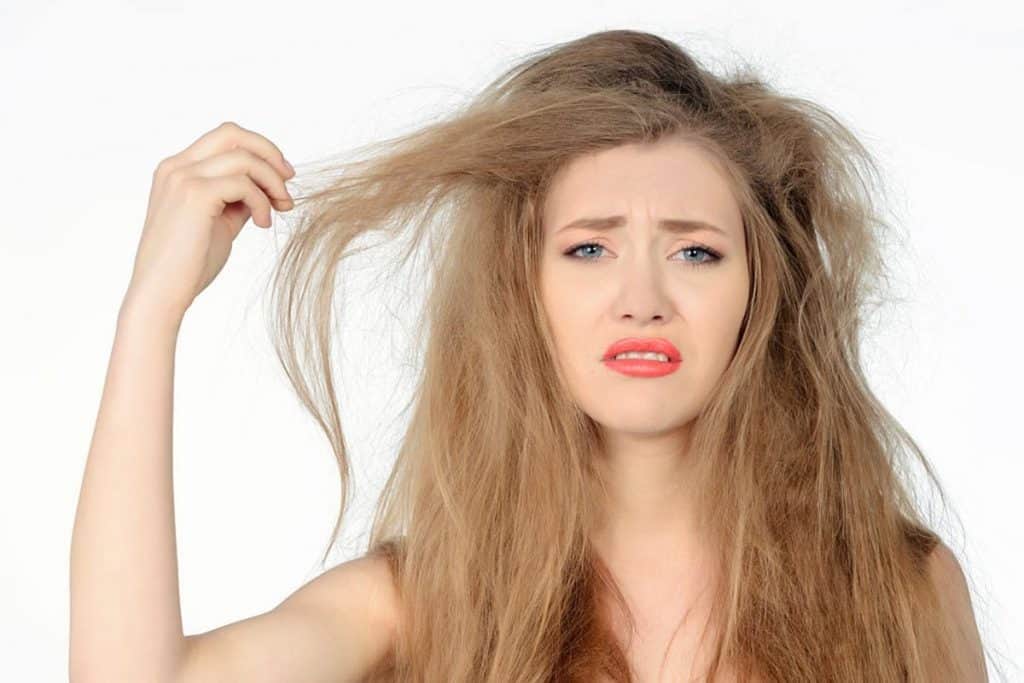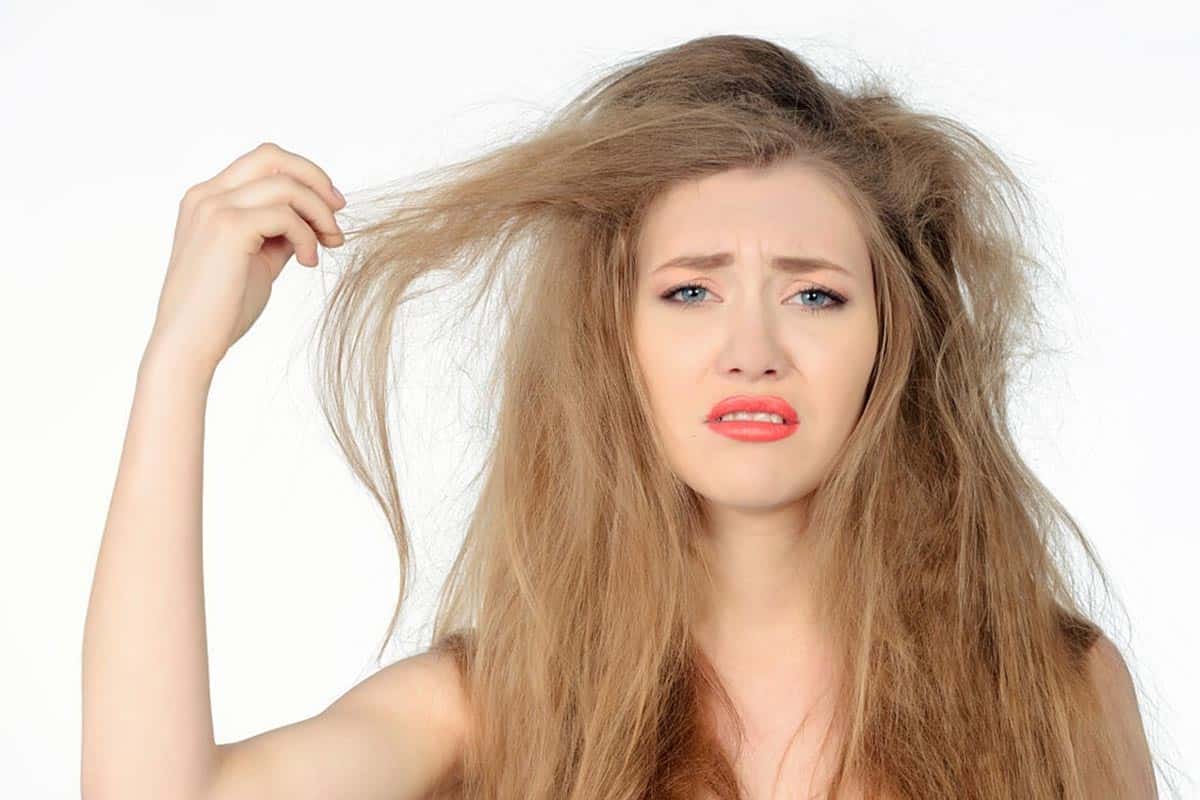 Frizzy hair can be the hardest type of hair to tame or keep straight for a long period of time. I know that a lot of you must be wondering how to straighten frizzy hair and get the results you want, so I am coming to your rescue with this guide in which I will discuss simple yet effective ways to straighten frizzy hair and maintain the look!
In case you are not sure what frizzy hair is, that is when every single hair strand takes its own direction and makes the hair look unruly and all over the place. Some girls have naturally frizzy hair, but others unknowingly do things that make their hair frizzier than it naturally is.
One of the factors that can cause your hair to become frizzier is the environment. You can do little to save your hairdo from unexpected weather changes or moisture in the air, I'll give you that. But if you want to keep your hair frizz-free, you can help it by giving it a trim every few months, not washing it every day, not using too many hot tools or traditional hairbrushes, and so on.
If you want to learn more about making your hair frizz-free and making it stay that way for a certain period, you have come to the right place. I will tell you everything you need to know about styling and maintaining a frizz-free hairstyle!
How to Straighten Frizzy Hair with Little Heat
Those of you with curlier, more textured hair will have a tougher time making it straight with natural straightening methods only. Chances are that you will need to use a blow dryer and flat iron. Chemicals are also a possibility if you are going for a method with longer-lasting results.
I will tell you an easy way to straighten your frizzy or curly hair with little heat and without any chemicals. Here are the steps that you have to closely follow if you want this method to be a success:
1. Wash the Hair
First off, you need to wash your hair, and you should do that with lukewarm water. Using water that is too hot can lead to dryness of the scalp and hair strands, which will then lead to more frizz.
While washing your hair, you can use a smoothing shampoo as well as a leave-in conditioner, preferably one that has smoothing abilities. Make sure that the products are alcohol-free. Usually, the hair benefits from products that contain keratin, coconut oil, argan oil, or any kind of essential oil.
2. Towel Dry the Hair


When you finish with the washing, you should wrap your hair with a microfiber towel or maybe even a cotton t-shirt. These materials are gentler and can help the hair stay frizz-free. Towel dry the hair until it becomes damp.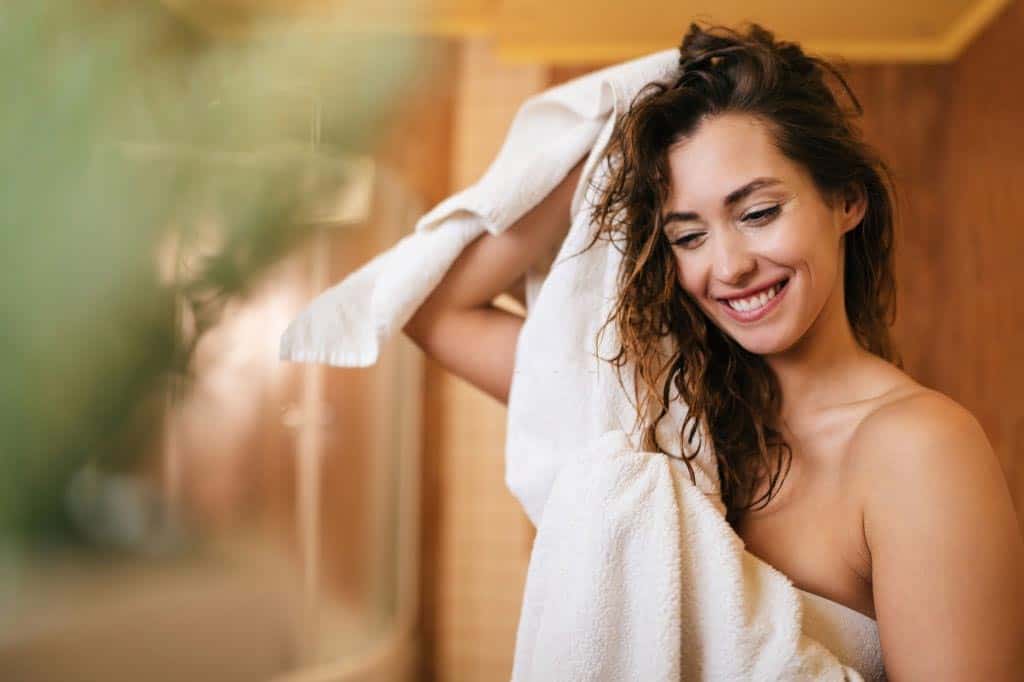 3. Add Straightening Cream


Once you are done with the towel drying, you should add just a tiny bit of straightening cream or lotion to the hair. Do not overdo it with the straightening products because that can lead to hair that looks limp.
4. Blow-Dry at Low Heat


At this point, you should get your blow dryer and dry the hair completely. When blow-drying the hair, use less heat so that you avoid damaging the hair. As you are drying, you should also use a round bristle brush and go over the hair section by section. When you are sure that the hair is completely dry, you can move on to the next step.
5. Straighten at Low Heat


After blow-drying the hair on a low heat setting, you should be seeing your hair get straighter and less frizzy than usual. If there are still some sections that are frizzier, you can get a flat iron, set it on low heat, and go over those sections to tame them to perfection. You can go over one section several times or even go over your entire hair with the flat iron if you want to be completely sure the frizz will not come back.
6. Put the Finishing Touches


You should be pretty happy with your hair once you have dried and straightened it with a flat iron. The last thing that you can do is add a few drops of silicone serum or spray on the midsections and ends to get that perfect, polished look. Do not use the serum on the roots as that can make the hair look a bit limp or lifeless.
I admit that this low heat method works better on hair that is not too frizzy or curly. To achieve that fully flat look, you might need to turn up the heat on your hot tools. As you probably know, that can be damaging for the hair, so it is not really a great long-term solution (especially if you tend to wash your hair often).
Ultimately, what I would advise you to do is use natural straightening methods that will leave your hair less frizzy than before and as healthy as ever. After all, it is better to have hair that is only a bit frizzy than to have hair that is dry and damaged.
How to Straighten Frizzy Hair Naturally
Considering how much damage you do to your hair every time you use a hot tool on it, it is definitely worth it to look into some natural methods to stretch or straighten hair without heat. I am the type of person that encourages wearing natural hair, but there are some days when even I want to style my hair. On those days, I turn to natural styling methods that require no heat or chemicals whatsoever.
If you have frizzy hair and you want to make it straighter, there are six great ways to achieve the look you are going for. The best part is that these methods are completely natural and will only improve the state and health of your hair. Here is what you can do:
Brushing
This brushing method should be done on hair that has just been washed. While the hair is still wet, you should only towel dry it gently and then get to brushing.
Leave the hair to air-dry, occasionally going in with the hairbrush to make sure that there is no frizz in the hair. You will love this simple and fast method that will also cost you absolutely nothing! Your hair will thank you for it, and so will your wallet!
Wrapping
Wrapping is a method that should also be done on wet hair. Once you finish washing the hair, give it a quick towel dry, add some conditioner, and then go over it with a brush to make sure there are no tangles in it.
Once you do all that, you can section the hair in as many sections as you need. Going section by section, pull on the hair slightly as you wrap it around your head and secure it with some bobby pins. You can add a silk scarf on top of the hair or just let it sit like that until it is completely dry.
Banding
Hair banding is simple and very fun! If you have a child with unruly, frizzy hair, this is a great way to keep their hair tame and straight. You can use the method on freshly washed hair that has been towel-dried and detangled.
Before you add your hair bands to the hair, section it and use elastics to turn every section into a ponytail. Then, add as many hairbands as you want on the length of each section. Make sure that they are loose because you will want to avoid making indents on your hair.
You can keep the hair bands on the hair until it dries completely. If you take them out when the hair is still wet, you will not get the results you are hoping for.
Bunning
If your hair is too frizzy or stubborn, the bunning methods will not really work for you. However, hair that is a bit frizzy can definitely be made straighter with this method.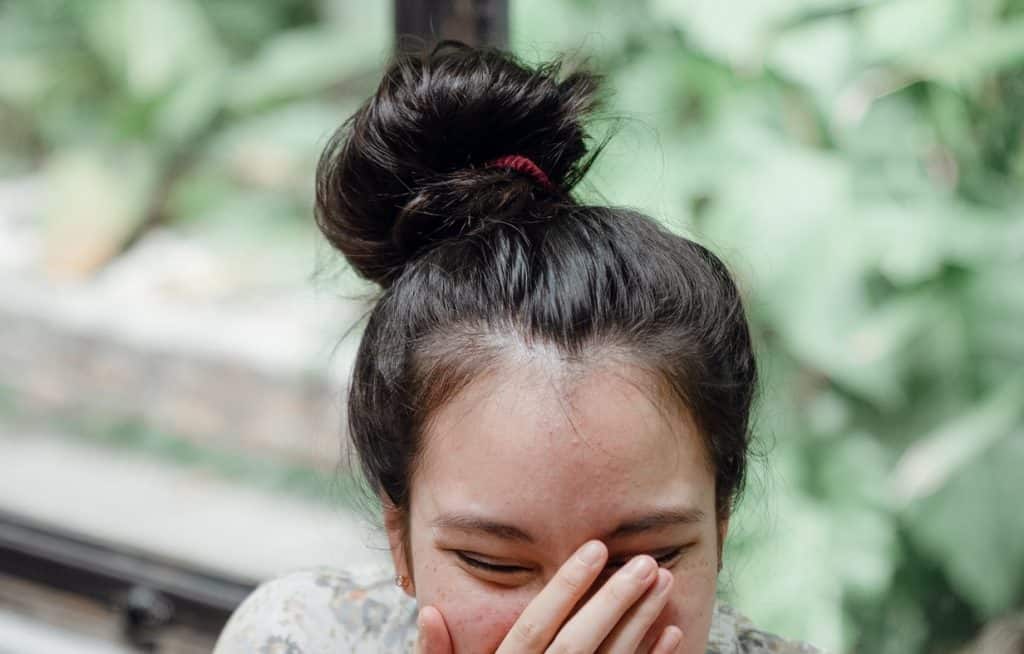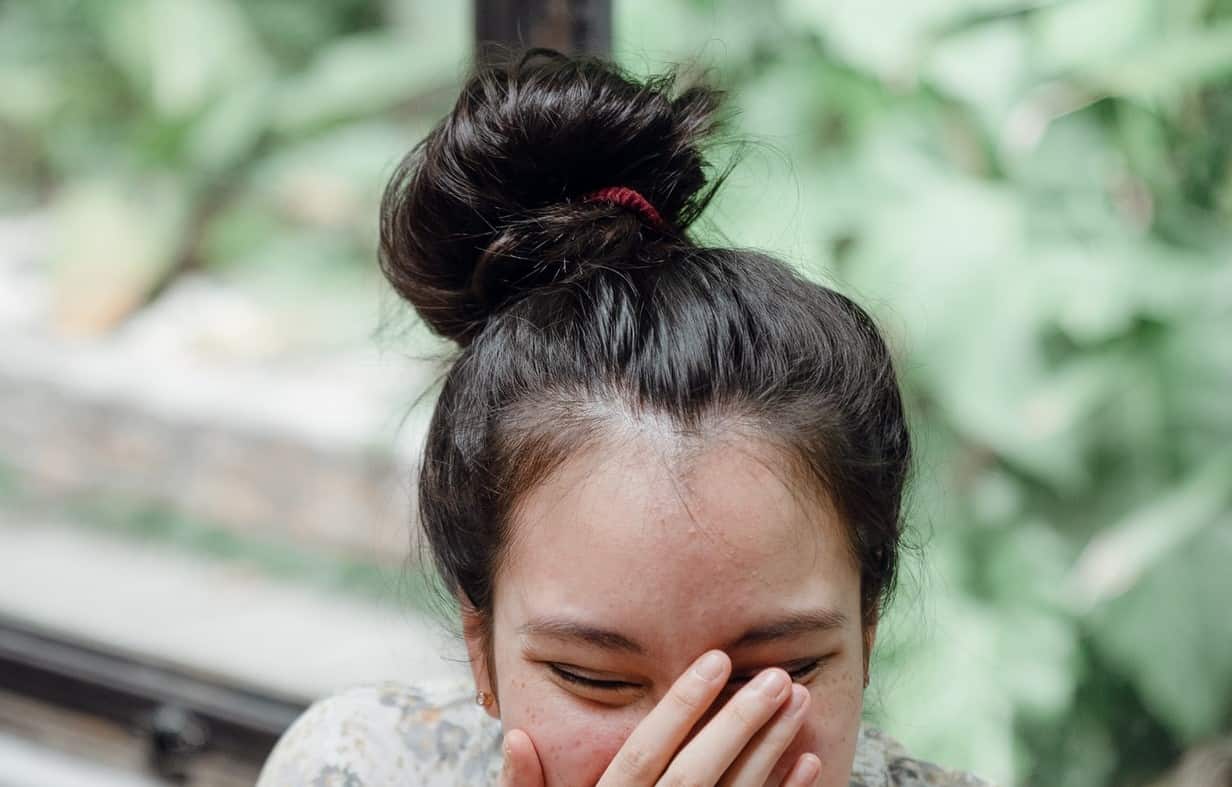 While the hair is still wet, you should detangle it and put it in a ponytail. Then, wrap the rest of the hair into a bun and secure it with another hairband or some pins. Once the hair is completely dry, you can take the bun down and enjoy your straight hair.
Using a Natural Straightening Mask
If none of the methods so far have worked for you or if you are not keen on using them, you can always try straightening your frizzy hair with a DIY hair mask. I do my favorite homemade straightening mask with one tablespoon of honey and a cup of coconut milk. This mixture makes my hair so smooth and straight after leaving it to work its magic for about an hour.
Using Essential Oils
Essential oils are also great for straightening frizzy hair! Rosemary oil, peppermint oil, tea tree oil, lavender oil, and other essential oils can be used to make the hair straighter while also making it healthier. They will also help promote new hair growth, which is a great side effect when you think about it!
How to Keep Your Hair Frizz-Free
I hope that whatever method you chose to go with helped you straighten your frizzy hair and make it seem smooth, shiny, and completely tame. Now that you know how to make your hair straight, you should also learn how to keep it that way! Here are some of the most effective ways to keep your hair frizz-free:
Do Not Shampoo Every Day
This is a general rule for all types of hair, not only frizzy hair. If you wash your hair too often, you will cause damage to it by stripping the natural oils from it.
Ideally, you should wash your hair two or three times per week. If you have an oily scalp and you have to wash your hair often, I advise you to turn to the natural straightening methods after washing it.
Treat Your Scalp
Frizzy hair is usually hair with a low level of moisture. Once you treat your hair and straighten it, you should allow the scalp to stay moist at all times if you want to keep the frizz away.
To keep the scalp moist, you should use shampoos or hair masks that contain essential oils or shea butter, coconut oil, and argan oil.
Use Boar Bristle Brushes
I advise using a boar bristle brush because it can massage the scalp and distribute hair oils all over the hair strands. Remember not to go too hard on the hair while brushing it as that can lead to damage. If the hair is too tangled, use your fingers first and then your brush to detangle it.
Use Microfiber Towels
I mentioned this previously: Using harsher materials on the hair will cause it to have more friction and ultimately become frizzier than it actually is. So to avoid making your hair frizzy, you should use towels made of smoother materials, or you can try wrapping the hair in a cotton towel for even better results!
Use Satin Pillowcases
Satin pillowcases are always a good idea, but they can be especially helpful for keeping hair frizz-free. The material prevents damage and friction in the hair, while it also allows the hair to maintain its moisture!
Use Alcohol-Free Products
All hair products that contain alcohol can cause the hair to lose its moisture and become frizzier. So if you want to keep your hair smooth and frizz-free, steer clear of those hair products made with alcohol.
FAQs on Frizzy Hair
How do I fix extremely frizzy hair?
If your hair is extremely frizzy and some of the natural straightening methods do not work for you, chances are that your hair is damaged or dry. With that being said, you can try trimming your ends and keeping the hair moist at all times to tame the frizz.
Under no circumstance should you use hot tools on your hair if it is too frizzy because this can lead to more damage and dryness. Try wearing your hair natural more often and avoid washing or styling it too frequently. That should help fix your problem.
How do I get rid of frizz in five minutes?
If you are in a hurry and do not have time to go through multiple-step processes to straighten your hair, the best thing you could do is use some coconut oil on the frizziest strands. The coconut oil will not damage the strands, only keep them in place.
Another product that you can use to tame frizzy hair is hairspray. You should spray some of the hairspray on your palms, then rub it on your fingers and add it gently to the hair. That should be enough to help with flyaway strands or those strands that are just too frizzy for your taste.
Is frizzy hair damaged hair?
This is not necessarily true because some hair is naturally frizzy. Your hair could be healthy but still frizzy if your hair strands are textured that way. However, you can always use some of the previously mentioned techniques to make that frizzy hair straighter and tamer.
If nothing works on your frizzy hair, it might be time to go to the hair salon and give the hair a trim. Again, try to keep the hair moist and avoid using hot tools on it after the trim. This will help the hair come back to life and hopefully become tamer.
Conclusion
All types of natural hair are gorgeous – even hair that is more on the unruly, frizzy side. There is no need to hide the texture of your hair or be ashamed of it, but I get how you sometimes want to style your hair differently.
If you want to make your hair straighter, please try to use some of the natural straightening methods that I mentioned above. Once you do that, follow my tips on keeping straightened hair frizz-free. You will find yourself looking like an entirely new person in no time!
I hope that my guide and styling tips helped you learn more about how to straighten frizzy hair. If you have some tips or tricks on the topic that you think I should add to my list, please share them with me in the comments and I will keep them in mind for next time!