Last Updated on 17th August 2023 by Chauncey Morgan
There are a lot of well-established names in the world of hair care tools, and the market for hair tools is getting more and more competitive by the minute. While I bet all of you know the leading hair tool companies, you might have not heard of a little company called Soleil and the great products and tools they offer. Today, I will do a Soleil flat irons review to tell you what this company's products are all about.
I have to say that I am a hair fanatic, and I always do research on new hair products and tools that I can try out. In my search, I often come across the same names: CHI, ghd, Revlon, Conair, BaByliss, and others. There is a reason why these companies are so well known, but I am also interested in giving a chance to the less famous companies – for example, Soleil!
Let's get reviewing!
TOP PICK 

My top pick in today's review is Soleil's silkiest tool: the Soleil IR2 Flat Iron. It might be a bit pricey, but it comes with a lot of great features that make it great for all types of hair. If you are looking for something that is nicely designed with an ionic generator, infrared technology, digital temperature control, a long swivel cord, and a metal-ceramic heater, then this flat iron is the one for you!
My Soleil Flat Iron Reviews
Even though there are a number of good hair products and tools from Soleil, I will be talking in greater detail about only two flat irons. Before I get into the reviews, I would like to briefly mention some of their features as well as their ratings on Amazon:
PRODUCT
DETAILS
PRICE
#1 Soleil IR2 Flat Iron



Ionic generator included

Infrared technology

Metal-ceramic heater

CHECK PRICE

#2 Soleil Basic Flat Iron



Magnetized ceramic plates

Dual voltage

Temperature control

CHECK PRICE
There are so many flat irons for you to choose from that it can be intimidating to try and find the perfect one. With so many companies creating amazing hair tools, your choice is not going to be simple unless you know exactly what you are looking for in a flat iron.
To help you decide if one of Soleil's flat irons is the perfect one for you, I will do a detailed review of the top two choices and tell you more about them. In the end, it will be easier for you to decide if you are willing to try one of them or if you would rather go with a hair tool from another company.
The IR2 is my top choice for this Soleil flat iron review because it has a lot of great features that can help make your hair look amazing. The design of this flat iron is also amazing – it is black with rose gold plates, the buttons are nicely positioned, and the flat iron fits nicely in the hand of the user.
Key Features:
Comes with an ionic generator
Infrared technology prevents hair damage
Heats up fast
Another nice thing about this flat iron is that it comes with a high-quality metal-ceramic heater that heats the flat iron up really fast and also helps save energy. There is a heat recovery option as well, so you will not have to adjust the temperature each time you turn on the flat iron.
Thanks to the digital display, you can easily check the temperature and regulate it if you need the straightener to be cooler or hotter. The maximum temperature that the flat iron can reach is 450°F, but if you have finer, thinner hair, you should avoid using the iron on the highest setting.
Pros:
Cons:
It can be a bit pricey for some people
No auto shut-off option
This is a great flat iron, but it comes at a price. If you are not willing to spend a lot of money on a hair tool, I suggest looking at some other products. For infrared flat irons, you should definitely check out CROC's flat irons as they are much more affordable.
Soleil's basic flat iron is a bit more affordable than the IR2, but as a result, it comes with fewer features. One good thing is that this flat iron comes in four colors, so you can choose the one that would best fit your hair tools collection. The colors available are black, pink, purple, and turquoise.
Key Features:
Adjustable temperature settings
Magnetized floating plates
Dual voltage
The plates on this flat iron are what impressed me the most about it. They are made from 100% solid ceramic and are not only magnetized but also floating. This means that you can use them to both straighten the hair and curl it (or even make it wavy).
Pros:
Cons:
Plates could pull the hair
Causes frizz in hair
No auto shut-off option
Even though it is a bit more affordable than the IR2, this flat iron from Soleil still comes at a pretty high price considering the features and options that it includes. I suggest looking for a flat iron that comes at a lower price but with a lot more features – for example, these professional hair straighteners from Paul Mitchell that you are bound to love!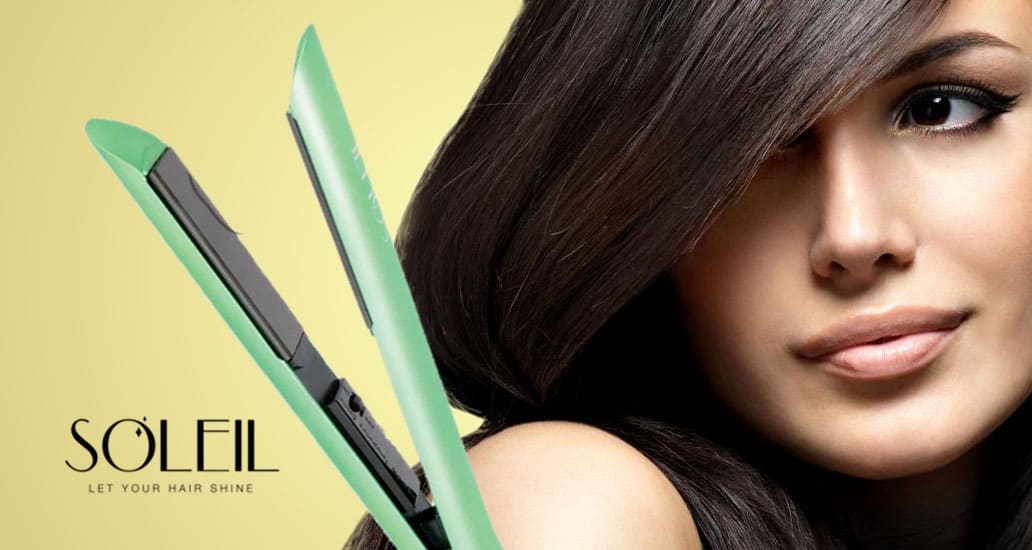 About Soleil
Soleil was initially established by hair professionals that wanted to design the best hair tools on the market. They put all their knowledge towards making the best cutting-edge tools and products. With the help of customers, they were able to improve the existing products and were inspired to create new, better ones.
Today, Soleil has a wide range of hair tools that they offer on their website – flat irons, curling irons, blow dryers, styling brushes, combs, shampoos, conditioners, oils, hair masks, and heat-protective sprays. Probably one of the best things about the company is that they offer a lifetime warranty on all their flat irons and curling irons, as well as a one-year warranty on the rest of the hair tools.
Soleil's products might not be that famous, but they definitely deserve a closer look. In this review, I will tell you about the top two flat irons from the company, their features, and what kind of hair they should be used on.
Things to Consider Before Buying Your Soleil
Before you commit to buying one flat iron, there are certain things that you have to know. For example, you should look for a couple of key features in a flat iron if you want to keep your hair looking great. Here are those key features!
Adjustable Temperature
It is very important to have a flat iron with an adjustable temperature as this can help avoid unnecessary damage. If your hair is fine and thin, you should always set the temperature to a low setting. If your hair is thicker or curlier, you can set the temperature to a higher setting, but remember to use heat-protective spray before straightening it!
Plate Material
Most of Soleil's flat irons come with ceramic plates. This type of plate material is recommended for people with frizzier, thinner hair. If your hair is textured or thicker, then you will need a flat iron with titanium plates.
Soleil Flat Irons FAQs
Before I wrap up this review, let's just look at some of the frequently asked questions about the flat irons from this company. Here is what other people have wondered about Soleil's flat irons.
Can you use a Soleil flat iron on wet hair?
Most of Soleil's hair styling tools are recommended for completely dry hair because using them on wet hair can lead to a lot of damage. However, there is one flat iron that has been specially designed for wet hair. That is Soleil's Wet-To-Dry flat iron.
This flat iron is completely safe to use on wet hair. It has even heat distribution as well as adjustable temperature. On top of that, it has an ergonomic handle which makes it comfortable and easy to use. You should definitely give it a closer look if you want a good wet-to-dry straightener.
Which Soleil Flat Iron Is the Best One for You?
I know that Soleil's flat irons might not be as famous as some other flat irons, but they are worth taking a closer look at. If you are looking to splurge on something nice for yourself, you should look at the Soleil IR2 Flat Iron, but if you want to save some money and buy something simpler, then the Soleil Basic Flat Iron is a great choice for you.
I am curious to know if you have had any experience with this company and its tools before. If you have any stories worth telling or any experiences you would like to share, please feel free to do so in the comments, and I will be happy to read all of them!