Last Updated on 17th August 2023 by Chauncey Morgan
I know that some of you must be wondering if there is anything else besides your trusted flat iron that you can use to straighten your hair to perfection. Well, straightening brushes are becoming popular these days because of how amazing they are at straightening hair. So today, I am going to tell you more about the best straightening brushes that you have to consider adding to your hair tool collection.
Straightening brushes are a godsend! No longer will you need to have a flat iron in one hand and a brush in the other, anxiously trying to work with both of them at the same time while also trying not to burn yourself or your hair. This is a thing of the past thanks to the invention of the amazing straightening brush.
Coming in various shapes, sizes, colors, and prices, there are a ton of straightening brushes that you will come across on the internet. However, I have come up with my picks of the best brushes that you must know about. So if you want to know what they are all about and what features they come with, I suggest you keep on reading!
TOP PICK

My top pick for straightening brush is the MiroPure 2-in-1 Ionic Enhanced Hair Straightening brush. With more than 12,000 reviews on Amazon, it is obvious that there are a lot of satisfied customers that have loved using this ionic straightening brush on their hair!
The Best Straightening Brushes Are:
PRODUCT
DETAILS
PRICE
#1 MiroPure 2-in-1 Ionic Enhanced Hair Straightening Brush



Ionic generator included

Auto temperature lock

MCH heating

CHECK PRICE

#2 TYMO RING Hair Straightening Brush



3D heating teeth

Auto shut-off

5 heat settings

CHECK PRICE

#3 GHD Glide Smoothing Hair Straightening Brush



Long swivel cord

Universal voltage

Optimum styling temperature

CHECK PRICE

#4 CONAIR INFINITIPRO Hair Straightening Brush



Detangling bristles

Can be used on wet hair

Various temperature settings

CHECK PRICE

#5 L'Ange Le Vite Hair Straightening Brush



Negative ion technology

Far-infrared heat

Precise temperature control

CHECK PRICE

#6 Revlon Salon One-Step Straight and Shine Hair Straightening Brush



Dual voltage

Multi-dimensional combs

Lightweight design

CHECK PRICE
The amazing MiroPure straightening brush is my best overall choice because of how effective it is at making any kind of hair smooth and shiny. It is suitable for all types of hair, no matter how thick, thin, wavy, or frizzy it is!
Key Features
Anti-static technology
Long swivel cord
Anti-scald comb
There are 16 different heat settings on this straightening brush which means that you will be able to adjust the temperature to fit your kind of hair best. Once you turn it on, the brush will heat up and be ready for use in just a matter of seconds!
Pros
Temperature lock option
Auto shut-off option
Cons
Auto shut-off might be a bit too quick
If you want your hair to look like it's been professionally straightened in just a few minutes, you should get this amazing hair straightening brush from MiroPure that also comes at a very affordable price!
This straightening brush from TYMP has been known as one of the top-selling hair tools of its kind for several years now. It gives professional straightening results, leaving the hair looking shiny, smooth, silky, and even more voluminous than before!
Key Features
5 different temperature settings
Fast heat-up
Dual voltage
The five different temperature ranges make it so easy for you to adjust the temperature. On the company's website, you can also find a comprehensible guide that tells you what temperature is recommended for different hair types, so make sure to check that out as well!
Pros
Comes in two color options
High-quality comb teeth
Cons
Does not work that well on tangled hair
This straightening brush is just amazing for any type of hair. What makes it even better is the fact that it comes with a bag, heat protective glove, and two hair clips that you can use to section your hair!
Known as Harper's Bazaar Editor's Choice, this straightening brush from GHD has received praises from everyone that has tried it out so far. If you are looking for something that will tame your hair and relieve it from all the frizz, then this is the perfect choice for you!
Key Features
Optimum styling temperature
High-density bristles
Universal voltage
This straightening brush comes with ceramic and ionic technology that will help you style your hair in just a couple of strokes. Once you are done with it, you won't have to worry about turning it off as it can turn itself off after 60 minutes of inactivity.
Pros
9 ft cable
2-year warranty included
Cons
Might not heat up as fast as other brushes
GHD has always come up with amazing hair tools, and this straightening brush is no exception. With the elegant and ergonomic design, you will love using this tool every day!
If you have frizzy, curly hair that is very hard to detangle and straighten, then this Conair straightening brush will change your life. It has heat-activated bristles made just for detangling hair. They also add shine to your strands when you straighten your hair!
Key Features
Helps reduce frizz
2 heat temperature settings + 1 cool temperature setting
Can be used on wet hair
Unlike the other brushes I have mentioned so far, this one can also be used on damp hair. All you need to do is towel-dry the hair after washing it, and then you can use the brush to dry and style it!
Pros
Has silicone bristles
Can be used between shampoos
Cons
Might take a while to dry hair
This is a great straightening brush for all kinds of hair – not only will it dry and straighten your hair, but it will also add volume to your hair and give your roots a nice little lift!
Talk about a game changer! This Le Vite straightening brush from L'Ange is just the thing you need if you are looking for a single-stoke straightener that is powerful yet simple. The design is ergonomic, while the controls on the brush are very easy to understand and use.
Key Features
Nylon cool-tipped bristles
Features temperature lock
Adjustable temperature settings
What I love about this brush is that it has an LCD interface that you can use to adjust your temperature. You can easily set it anywhere from 170°F to 450°F and let the temperature lock before you start using it on your hair.
Pros
Great for travel
Heat-proof cord
Cons
Default start-up temperature might be a bit too high for some users
I recommend this straightening brush for people who have natural medium to straight hair that they style often. If you want to use it on curlier or more textured hair, you will have to set the temperature to maximum heat and section the hair before you start brushing!
Learn more about L'ange Le Vite and other L'ange products here.
One of the largest straightening brushes that you will find on the market, this Revlon brush is going to straighten even the frizziest, curliest hair. With the long plates and detangling bristles, you will have no problem getting your hair under control!
Key Features
10 different heat settings
Lightweight ergonomic design
Multidimensional bristles
The brush is made with such nice bristles that just one pass will be enough to straighten your hair completely. Once you are finished, you will see that your hair is shinier and healthier than before!
Pros
Extra-large brush heat
Heat memory system
Cons
Does not have the best button position
This straightening brush is amazing even for second-day hair! Thanks to the high-quality design, you will never have to worry about damaging your hair.
Runners-Up: I'd also like to give a special shoutout to Simply Straight, Head Kandy and DAFNI, which are quickly rising up in the ranks! They're going to make this list real soon.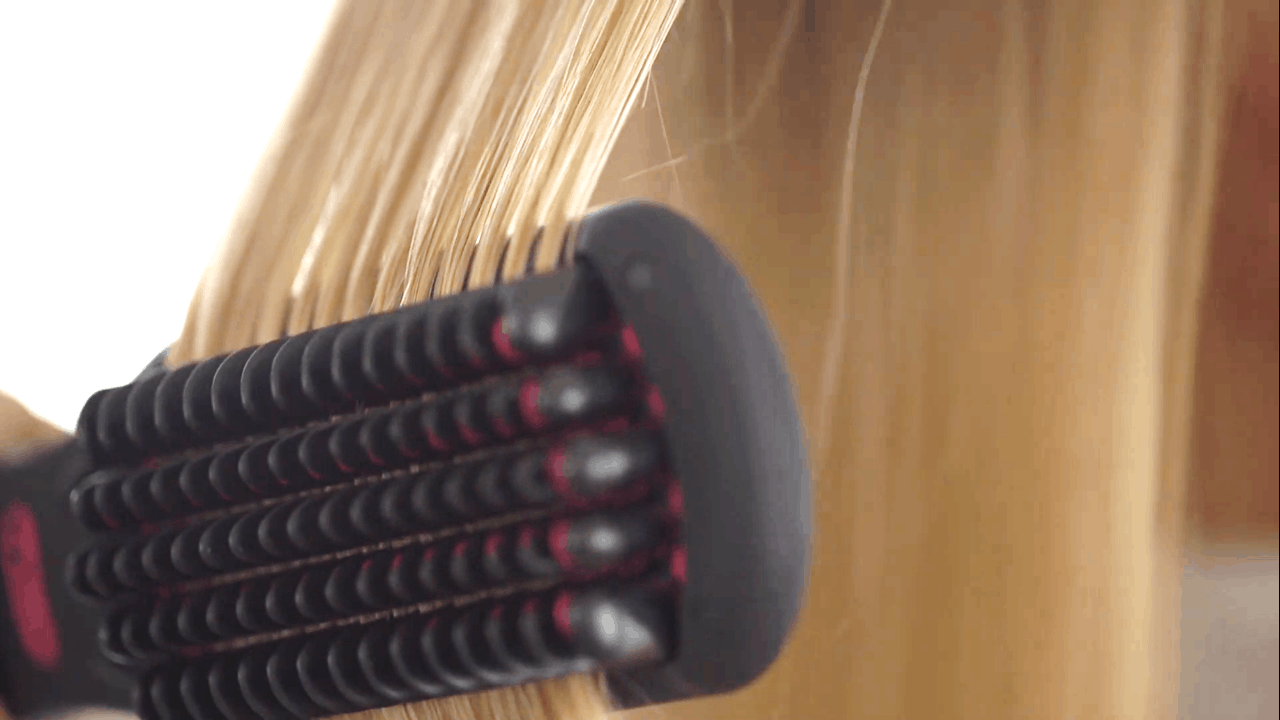 How to Pick the Best Hair Straightening Brush
The straightening brush is essentially a hybrid of a brush and a straightener. I love using this kind of brush because it does the straightening job thoroughly, easily, and in practically no time at all!
Since these brushes are becoming so popular, companies are working on making them even more practical and effective by adding so many great options to them.
If you have never used a straightening brush, you can benefit from some information on what to look for in a brush of this kind. Let me tell you what the perfect straightening brush should have:
Ceramic or Tourmaline Heating Surface
Just like in flat irons, you want a smooth glide and even heat as you're running the tool through your hair strands. You might have realized from your experience with straighteners that ceramic and tourmaline plates are so great at providing just that, and thus helping avoid unnecessary friction and heat damage.  
Also, you might want to look for a wide plate design if you want to cover more hair and style the hair quickly.
Round Bristle Tips
The brush you pick should look have high-quality round-tipped bristles that are firmly attached to the base. Round tips are a huge help in detangling and feel really good on your scalp. Big plus if they're made with nylon which is gentle on sensitive skin.
The Right Shape for Your Hair
Straightening brushes can be wide and shaped like paddles, narrow like wands, or anything in between.
If you have short or medium-length hair, go for a flat and narrow shape so you can go as close to the scalp as you can, and if you have longer hair, then go for a wider shape so you can cover more ground quicker.
Adjustable Temperature Settings
We need options! The wider the temperature range, the better, because it will help you find precisely the right temperature that will let you straighten your hair while not damaging it.
Auto Shut-Off
I believe this should be a standard safety feature for all heating tools to avoid disasters, like short circuits and fires. We don't want to stress out over whether we've left the thing on after we've gone out of the house.
So not having this feature would definitely be a red flag and I wouldn't recommend getting it.
Ergonomic Design
And tool that you use should be comfortable and there should be a certain fluidity and ease as you handle it. You should be able to work with it for a sustained period and not feel like you're at the gym lifting weights. Say no to cramps!
These are some of the most important things that you would want your straightening brush to have. Take your time and do your research before you commit to only one brush. Sometimes the price is not a good indicator of how good a brush is. You will need to cross-check the specification and features to see if a brush is worth the money or not.
FAQs
Before I wrap up this straightening brush review, I would like to point out some frequently asked questions about these tools.
Are straightening brushes damaging?
Straightening brushes are actually a lot less damaging compared to flat irons. They are also much easier to use and generally come at more affordable prices. However, I do recommend blow-drying your hair completely before you use the straightening brush and even adding some heat-protective spray to it just to be on the safe side!
Will my hair be as straight as when I use a flat iron?
No. The thing with straightener brushes is that because of the fact that they have bristles, your hair won't have direct contact with the heat source, and you won't get to the part of your hair that is closest to the scalp. The cushion of space will prevent you from getting stick-straight hair.
But the advantage of this is that you would retain some body in your hair, and that can be a good look too.
Can I use it on short hair?
Why ever not? Yes, you can! Here's a tip, though: use the smallest and narrowest model you can find.
Straightening Brushes Rock!
Straightening brushes are going to make your hair look silky smooth without damaging it at all. That is why you need to buy one for yourself, and you need to do it fast! The MiroPure 2-in-1 Ionic Enhanced Hair Straightening Brush is a great choice if you have a bit more money on your hands, but if you are on a tighter budget, the CONAIR INFINITIPRO Hair Straightening Brush is also amazing.
I hope that after reading this review, you have a clearer idea of what straightening brushes are, how they work, and some of the best options on the market right now. If you have any recommendations, please mention them in the comments, and I will gladly keep them in mind for the next review!