Last Updated on 17th August 2023 by Chauncey Morgan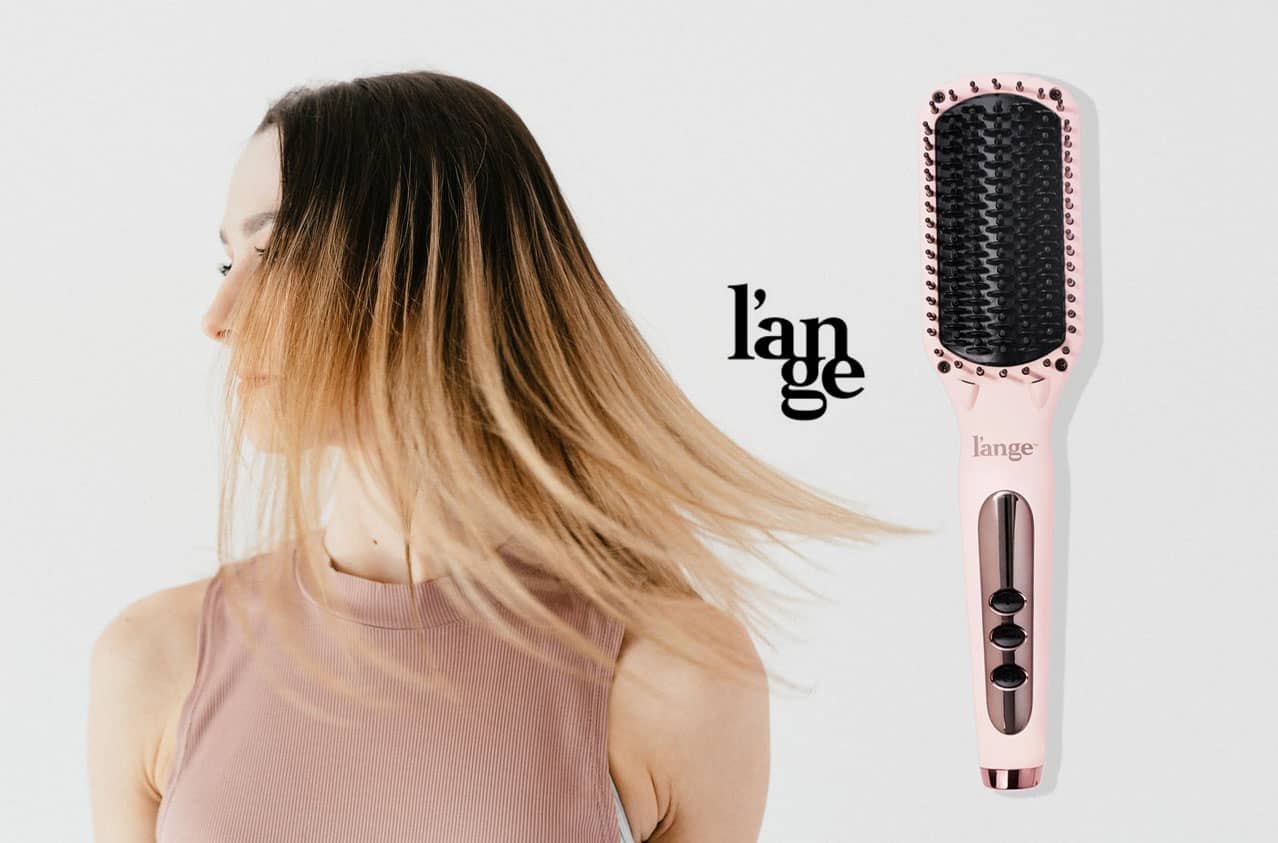 The Le Vite Hair Straightening Brush by innovative hair care company L'ange is a cutting-edge product that promises to brush your hair into smooth, lustrous locks. Its secret is double negative ion technology and far infrared heat which instantly penetrate hair cuticles.
But does it really work, and is it worth the money? In this Le Vite straightening brush review, we attempt to answer those questions by taking a careful look at Le Vite's many features, pros, and cons.
The L'ange Le Vite Straightening Brush
Some people purchase L'ange's Le Vite Straightening Brush in an attempt to save time during their normal morning routine. Other people like that its innovative technology is less damaging to hair than other heat-based hair care products. Though motivations vary, the general consensus amongst those that have purchased the Le Vite is that it works as advertised and is worth the price tag.
Still, some users with especially thick and/or curly hair report that it takes multiple glides per strand to achieve sleek, straight hair. This is likely because Le Vite is ceramic, which is best suited for thinner hair.
Le Vite is best for anyone with long hair, medium-length hair, and hair that curls and straightens easily. It also works best for those who only style their hair every two to three days.
Because of its double negative ion technology, Le Vite is recommended for — and works best on — hair that is fully dry. Though this separates it from similar products that promise to straighten hair whether wet or dry, many users find that Le Vite simply works better than those brushes which claim to do it all.
Standout Features of the Le Vite Straightening Brush
Ceramic Bristles and Far Infrared Heat
One clear reason for Le Vite's popularity is its innovative design, the crème de la crème of which is the ceramic bristles and far infrared heat.
Ceramic allows for an even heat distribution, while the far infrared technology quickly penetrates the hair's cuticles. This way, your hair is straightened from the core outwards, locking in moisture and ensuring a sleek and shiny finish.
If you have hair that is perpetually dry or damaged, then the gentle, even heat produced by the ceramic bristles will keep your hair from becoming further damaged.
The ceramic bristles are also ball-tipped and are capable of detangling snarls with each stroke.
Double Negative Ionic Technology
Like many of L'ange's flat irons, the Le Vite straightening brush boasts double negative ionic technology. The negative ions released by this technology counter the positive ions present in water and moisture.
The result is hair that is free from static and frizz.
Some users with hair that is coarse or curly have reported that Le Vite is not able to entirely rid their hair of frizz. In this case, L'ange's Botanical Smoothing Balm may help tame any leftover frizzies.
Cool Tips
Another unique feature of the Le Vite straightening brush is its cool tips. The brush's ceramic bristles stay cool at their ends, minimizing the risk of burning your fingers or scalp.
LCD Digital Interface
Located on the brush's handle is a light-up LCD digital interface. The interface counts up in real time so you always know just how hot the brush is.
Temperature Control
Because different hair types respond best to different temperatures, the Le Vite straightening brush offers a series of preset heat settings ranging from 180 degrees Fahrenheit to 450 degrees Fahrenheit. You can either choose your preferred heat setting or go with Le Vite's default temp of 370 degrees.
You will need to set your preferred temperature with every use, which some users have found to be a little annoying.
One especially important temperature control feature of the Le Vite straightening brush is the temperature lock. This ensures that the straightening plates warm evenly, which helps to protect your hair from damage caused by fluctuating temperatures.
And when hair is evenly heated, it not only straightens faster, but also holds longer. Therefore, Le Vite's temperature control function has far-reaching benefits.
Regardless of your choice of temperature, the brush heats up very quickly.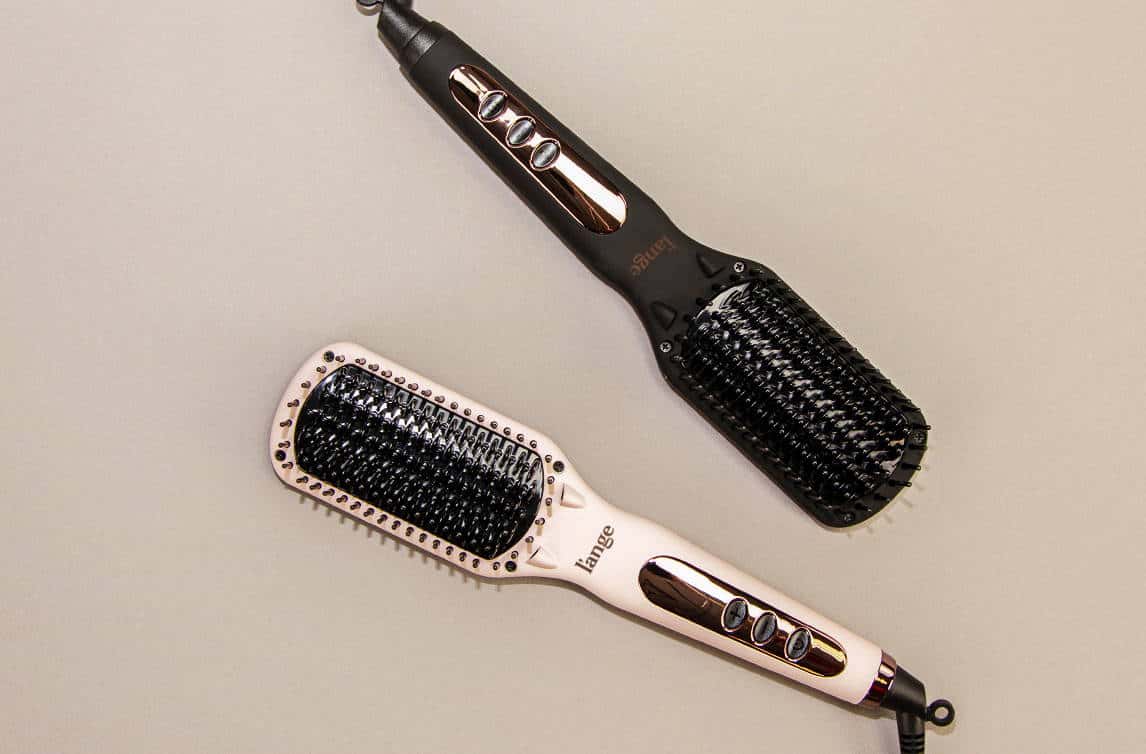 Swivel Cord
Though it seems like such a simple concept, Le Vite's swivel cord is a unique and standout feature.
The straightening brush's cord can move at whatever angle you need it to, meaning you can style your hair holding the brush whichever way you like without wrenching your wrist.
Furthermore, the cord is made of a heat-proof material capable of withstanding temperatures of up to 450 degrees Fahrenheit.
Automatic Shut-Off
Here is a feature that can literally save lives! After 30 minutes, the Le Vite's automatic shut-off feature kicks in to turn off the straightening brush's power. This helpful feature means you will not need to question if you've left your house without turning off your hot hair care tool.
User-Friendly Design
The L'ange company's Le Vite straightening brush is thoughtfully designed for comfort and user-friendliness. Plus, it looks very cute — whether you choose the blush, shadow, or black color option that it comes in.
The brush is easy to hold thanks to its tapered handle. Three buttons are situated right on the handle, so it is easy to set the temperature and turn the straightener on and off while holding the brush.
Attached to Le Vite is a nine-foot swivel cord that allows you to straighten your hair at any angle without kinking the cord or straining your wrist. This unique feature is well-liked among Le Vite hair straightening brush reviews by avid users.
Finally, the brush includes a hang loop that makes it easy to store on a hook or drawer pull.
How to Use the Le Vite Straightening Brush
Using the Le Vite is very easy.
If you are using it on thick or curly hair, then you may find it helpful to first divide your hair into sections to prevent the brush's bristles from getting caught in any tangles or curls.
Start the straightening process by plugging the swivel cord into the nearest electrical out and pressing the power button located on the handle of the brush.
Le Vite has a default temperature of 370 degrees Fahrenheit, but if you prefer another temperature between 180 and 450, you can set it via the LCD digital interface also located on the handle. Depending on your desired temp, the brush should take just a couple of minutes to completely heat up.
Once fully heated, you are ready to straighten! Simply brush your hand from root to end at a slow to moderate pace. Most strands will straighten in one glide, but if you find you need two or three, that is okay.
If you're looking for a straight style with a little more body, maybe you could try using a hot air brush next.
Taking Care of Your Le Vite Straightening Brush
Maintaining good habits through your day-to-day use will go a long way in extending the life of your Le Vite straightening brush.
Brushes can trap and build up hair, dirt, and bacteria faster than other styling tools. To clean your Le Vite, start by removing any loose hairs with your fingers or a pair of tweezers. Then use a tissue to wipe away any visible dust or grime.
To deep clean, fill your bathroom sink with lukewarm water, add a few drops of shampoo, and stir until the shampoo is thoroughly mixed in. Then let the straightening brush soak for no longer than 30 minutes. When it is done, the Le Vite can be further cleaned with a damp cloth, tissue, toothpick, or Q-tip, depending on what needs to be cleaned.
An alternative cleaning method is a dishwasher! Because Le Vite is made of ceramic, it is dishwasher-safe.
To keep your straightening brush extra clean and bacteria-free, wash it at least once every two months.
When you are finished straightening your hair each day, protect the Le Vite's cord by unplugging and wrapping it. The brush even includes a handy loop for hanging.
Following these simple steps for maintenance will help keep your straightening brush free of harmful bacteria and have it looking and performing like new anytime you need it.
Le Vite Straightening Brush Review Summary
Pros
Boasts multiple features designed to ensure an even heat for healthy hair
A wide range of temperatures allows you to choose the right heat level for your hair type
Automatically shuts off after 30 minutes — a great safety feature!
Dual voltage (100 to 130 V or 220 to 240 V AC) means you can take your Le Vite with you when you travel
Cool tips minimize the risk of burns
A nine-foot swivel cord allows you to straighten your hair at any angle without wrenching your wrist
Can be cleaned in the dishwasher
Mid-range price tag
Cons
Requires you to set your preferred temperature with every use
Double negative ionic technology may not fully de-frizz hair that is coarse or curly
Not as effective on hair that is thicker, coarse, or curly
Although some users with curly hair have reported successful results, we would not recommend this straightening brush to those with hair that is coarse or thick, as a titanium straightener would be better suited. Because the Le Vite maintains the hair's volume, we also wouldn't recommend this particular straightening brush to those who prefer a straight, slicked look.
Frequently Asked Questions:
Are straightening brushes better than flat irons?
Even though straightening brushes and flat irons are both meant to straighten hair, there are quite a few differences between the two. Most notably, straightening brushes are safer for your hair. Because they don't apply direct heat to both sides of hair strands, they are less damaging over time. Plus, brushes detangle snags while flat irons sometimes cause them.
Can you use the Le Vite straightening brush on wet hair?
Per the product's directions, the Le Vite hair straightening brush should only be used on dry hair.
Can you use the Le Vite straightening brush on short hair?
Based on its size, the Le Vite straightening brush works best for hairstyles that are bob-length or longer.
Is L'ange's Le Vite straightening brush safe for kids?
Like any tool that uses electricity, children and young teens should be supervised while using the Le Vite. However, this product is safe to use on children's hair, and in fact, it is less damaging than traditional flat irons.
Where is the L'ange Le Vite brush made?
Though designed in California, the Le Vite straightening brush is made in China.
Final Verdict
L'ange's Le Vite Hair Straightening Brush is ideal for anyone with fine or wavy hair who needs a mid-range straightening tool.
Le Vite is thoughtfully designed with many standout features. These range from performance-enhancing features like the double negative ion technology, ceramic bristles, and far infrared technology, to user-friendly features like a swivel cord and LCD Digital Interface.
We also really appreciate the automatic shut-off and the cord that is heat resistant — two unique details added with safety in mind.
L'ange has a wide variety of styling tools, so Le Vite does not try to be something that it is not. In the right conditions, this best-selling straightening brush works well and as advertised.
Still, if for some reason the Le Vite straightening brush is not what you had hoped, then L'ange offers a generous money-back guarantee that they insist is free of any hassle.