Last Updated on 17th August 2023 by Chauncey Morgan
I have spent years looking for the best hair tool that would straighten my hair to perfection without making it look damaged and lifeless. Believe me when I say I tried everything in hopes of finding the perfect hairbrush for my hair type, which is how I came across a great little hair tool company called DAFNI. Today, I will do a DAFNI hair brush review and tell you all about what makes them so great!
I personally love hair straightening brushes because they are so easy to use and they straighten my hair in no time, leaving it smooth and shiny for days to come. However, I would love to be able to straighten my hair without causing it too much damage, and that is finally possible thanks to DAFNI's hairbrushes. These brushes are essentially heat-dissipating brushes that do not damage the hair but encourage it to grow longer and stronger.
If you are looking to change things up and add a new cool hair tool to your collection, I strongly suggest giving DAFNI's hair brushes a closer look. They have several brushes currently available for purchase, including the Classic, the limited edition Rose Gold Classic, the Go, the Rose Go, and the amazing cordless Allure brush. I will talk about all of these brushes in much more detail below.
If you would like to know more about DAFNI's tools and what they are all about, this is the best guide for you. By the time you reach the end of it, you will know exactly which DAFNI brush is the perfect one to spice up your hair routine. Let's get right into it!
TOP PICK 

My top pick for this DAFNI hair straightening brush review is the DAFNI Classic. This is the one that made the brand famous, and there is a very good reason why there is such a buzz around it. This ceramic brush has a smart 3D structure as well as optimal hairstyling temperature. It is easy to use, has a great design, and it is completely safe for the hair. Using leaves your hair smooth and gorgeous!
My DAFNI Hair Straightening Brush Reviews
You might be surprised by how great these straightening brushes from DAFNI are. Maybe you are asking yourself why you haven't heard more about them. If that is the case, do not worry — I will tell you all about them in the detailed reviews. But as a preview, I will give you this comparison chart with the brushes' key features and Amazon ratings. Take a look!
PRODUCT
DETAILS
PRICE
#1 DAFNI Classic Ceramic Hair Straightening Brush



Optimal temperature setting

Fast heat-up

Fast straightening results

CHECK PRICE

#2 DAFNI Go Ceramic Hair Straightening Brush



Compact design

Has a smart 3D structure

Made from high-quality materials

CHECK PRICE

#3 DAFNI Allure Cordless Hair Straightening Brush



Cordless

Portable

Extra bristles included

CHECK PRICE
This brush review is going to tell you everything you need to know about my top three hair straightening brushes from DAFNI. Even though there are so many different brushes out there (including some that are listed at a much lower price than these), I think that these brushes are definitely worth looking into because of the great designs, the uncompromised materials, and the patented technology. Let's see what these three brushes are all about!
For my first DAFNI hair brush review, I'll be doing the DAFNI Classic, which for me is the best one overall because of how simple and easy it is to use. It is also one of the most effective straightening tools you'll ever try.
This brush has a large plate made from ceramic and 3D smart bristles that make straightening a lot easier. The bristles are in different sizes, helping you straighten all of your hair perfectly.
Key Features
Made with top-quality materials
Optimal temperature — 185°C (365°F)
Ergonomic design
Unlike other straightening brushes, this one does not have an adjustable temperature. It comes with only one temperature setting which is considered optimal – that is 185 degrees Celsius. This temperature should be perfect to straighten all kinds of hair, no matter how thick or thin.
There are several color options for you to choose from, but there is also a limited edition DAFNI Rose Gold brush with the same design as the Classic. So if you are looking for something a bit more unique but still very effective, you can also look into this limited edition brush.
Pros
Styles quickly
Does not damage hair
Cons
Temperature is not adjustable
It is always a good idea to be safe with your hair and avoid damaging it. This is where this DAFNI Classic can really help you, as this brush was designed to make your hair healthier and smoother. I bet you will love using it, no matter what length or texture your natural hair is!
The DAFNI Go is very similar to the DAFNI Classic, with one of the biggest differences being the size of the brush plate. As you can see from the name of the brush, this brush was created for those who travel often and need a good hairstyling tool they can take with them wherever they go. This brush is compact and can fit just about anywhere, so you will love taking it with you whenever you travel.
Key Features
Compact design
Great for traveling
Comes with a thermal bag and cover
Heats up to 185°C (365°F)
This brush also has smart 3D bristles that make the straightening process so much easier. There is even heat distribution all over the brush plate, meaning that you will be able to brush your hair straight without having to worry about hot spots.
As I mentioned previously, this brush can be your best travel companion. Not only is it compact, but it also comes with dual voltage and a detachable cable. You can use it and then store it neatly in the heat-resistant travel case that comes with the brush for no additional cost!
Pros
Dual voltage
Detachable cord
Cons
More suitable for fine hair than for coarse hair
This brush is not only your best travel companion, but it also comes at a very affordable price. I strongly urge you to give it a shot. You will not regret it!
There are not a lot of cordless straightening tools that can actually do a good job. Most of them are overpriced and do not give good styling results, but that is not the case with the amazing DAFNI Allure. Cordless and portable, this straightening brush is just the thing you need to make your hair look amazing.
Key Features
Damage-free hair styling
Suitable for all hair types
Cordless and portable
Heats up to 185°C (365°F)
Just like I mentioned with the previous two DAFNI brushes, this Allure brush does not come with an adjustable temperature. This is nothing to worry about because the brush has an optimal styling temperature that keeps your hair healthy. Just a few strokes of this brush and your hair will be as straight as possible!
Pros
Auto shut-off option
Easy to use
Cons
Battery life can be a bit short
Cordless straighteners are always a good idea, and if you are looking for a great straightening brush that is also cordless and portable, the DAFNI Allure is the perfect choice for you. If you have a bit more money on your hands and you want to splurge on yourself, I suggest you give this brush a closer look!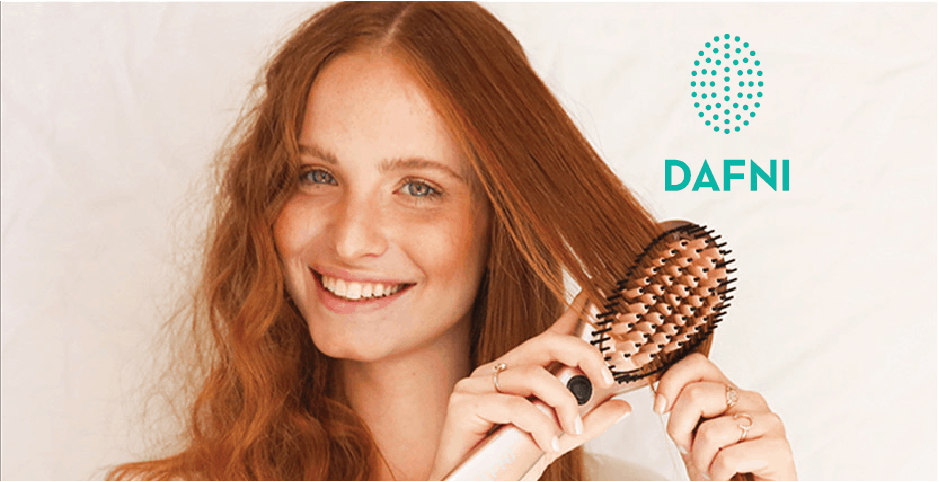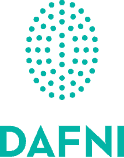 DAFNI is a company with quite a long history. Created by Sharon Rabi and her father years ago, all they wanted to do was give people the best hair tools they would be able to use on all hair types and all hair lengths. The idea was Rabi's and she came up with the concept for the hair tools after being criticized for having an unflattering haircut.
Going from only an idea to a business that sells its products all over the world, Rabi even managed to get to Forbes' 30 Under 30 list because of her amazing business. There's a good reason why DAFNI's products have received so much praise once you try one of their products, you will know exactly why!
DAFNI Straightening Brushes Comparison
All of DAFNI's hair straightening brushes are amazing and have some great features that you cannot find in other straightening brushes.
Now that we've gone over those detailed reviews of my top three DAFNI brushes, I would like to point out what differentiates these brushes from each other. This should be of great help if you are still wondering which one to buy for yourself!
DAFNI Classic
DAFNI Go
DAFNI Allure

3D smart bristle technology
Large ceramic brush plate
Optimal styling temperature: 185°C (365°F)
More suitable for finer hair
Fast heat-up
Easy to use
Not that expensive



3D smart bristle technology
Smaller brush plate
Optimal styling temperature: 185°C (365°F)
More suitable for finer hair
Compact design
Dual voltage
Great for traveling
Affordable

Cordless
Portable
Optimal styling temperature: 185°C (365°F)
Suitable for all hair types
A bit more expensive
~30-minute battery life
Automatically shuts off after 30 minutes
Cannot be used while charging
Great for traveling
FAQs
Before I wrap up this DAFNI Hair Brush review, I would also like to point out another question that some people have found themselves asking. Here is the most frequently asked question about DAFNI's brushes!
Can you use a DAFNI brush on wet hair?
I do not recommend using any straightening brush from DAFNI on wet hair as that can lead to a lot of unnecessary damage to the hair and cause the brush to malfunction. These brushes should only be used on dry, detangled hair.
That's All You Need to Know about DAFNI Brushes!
I hope that this DAFNI straightening brush review helped you learn more about what the hype is all about. If you are looking for a great straightening brush, I suggest looking into the DAFNI Classic. For a more affordable option, check out the DAFNI Go.
Let me know if you have had any experience with DAFNI hairbrushes in the past and if you liked using them. I look forward to reading your comments!