Last Updated on 17th August 2023 by Chauncey Morgan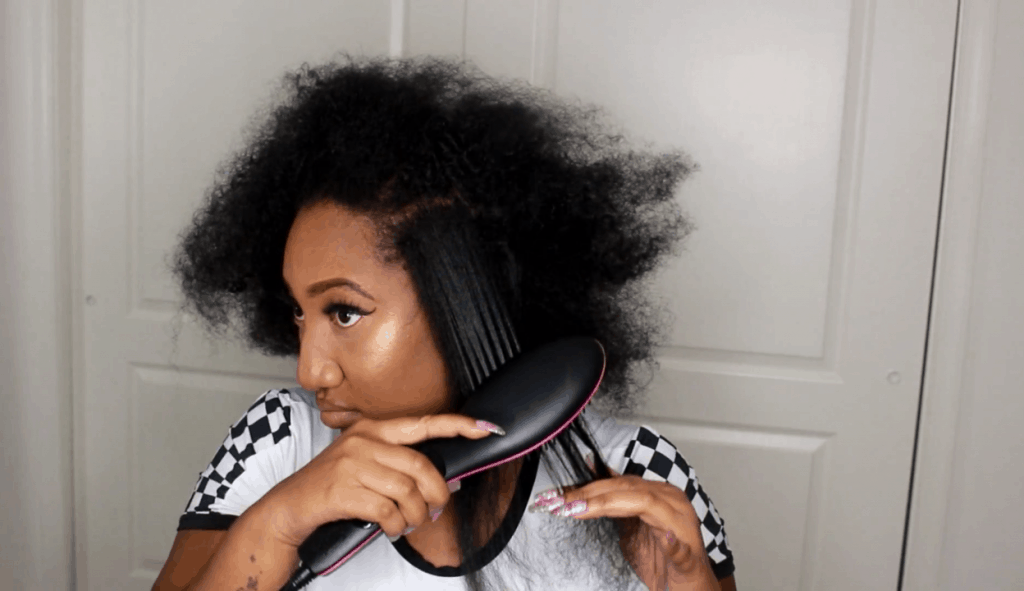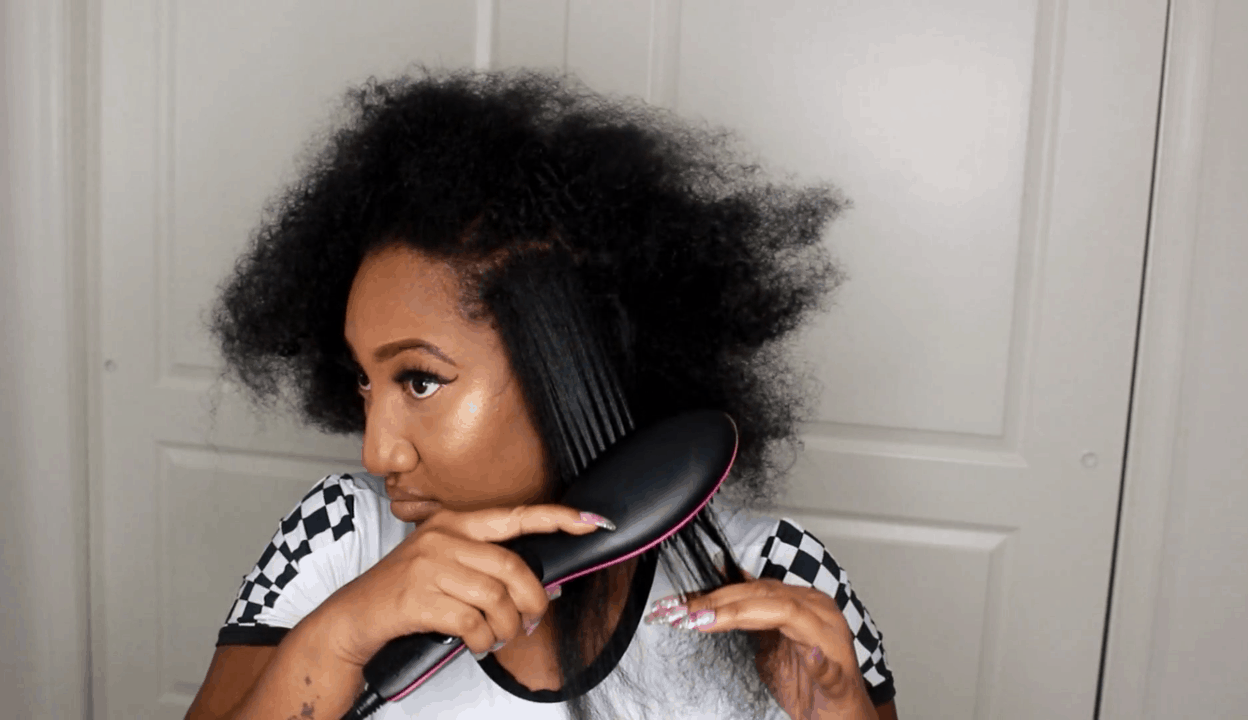 If you are something like me, you love styling your hair. I often straighten my hair and usually do it with a hair straightener. However, I recently tried out a straightening brush called the Simply Straight Brush and was so impressed by it that I decided I just had to review it and tell you all about it.
Straightening brushes are nothing new. They have been on the market for decades, and they come in various shapes and sizes with different features, adjustable heat settings, and more. What sets the Simply Straight Brush aside from all other straightening brushes is the price. The Simply Straight Brush is very affordable but still gives great straightening results if you use it properly.
I have tried out and read about numerous hot tools, straightening brushes included, and I can honestly say I consider myself a good judge on these kinds of tools. So today, I am going to give you a detailed Simply Straight Ceramic Brush review in which I will tell you all about it, how to use it, and why you should consider buying it for yourself. I hope that this will help you make a decision on whether this tool is something you should invest in or if there is another one that will fit your needs better.
Before Buying the Simply Straight Brush
The Simply Straight Brush is a type of hair styling tool that is very similar to a flat iron or hair straightener. The main difference between the two is that a flat iron has two flat surfaces that you put the hair between to make it straight, while the straightening brush can be used as a regular brush that straightens the hair as you comb it.
The Simply Straight Brush is something you definitely need to consider buying for several reasons: It is very affordable, it comes with a ton of great features, and it does wonders to even the thickest of hair. However, you should still consider certain things before purchasing it. I will tell you all about the pros and cons of the Simply Straight Brush as I go on with the review.
Presenting… The Simply Straight Ceramic Hair Straightening Brush
As I understand it, the Simply Straight Brush has been on the market for quite some time. In fact, it is considered one of the most well-known straightening brushes ever created, and that is for a good reason!
The Simply Straight Brush is one of those as-seen-on-tv products that seem too good to be true, but actually do work. It has been sold in numerous countries all over the world and thousands swear by it. This is because it is super simple to use, very stylish, compact, and packed with all the features you would ever need. It also does not cause that much damage to your hair when you use it. Honestly, I consider it to be a great alternative to flat irons.
After using the tool for some time, I found that it works best on medium to long hair, but although it straightens pretty well, it doesn't seem to make a difference in the texture at all. You can use it on the curliest of hair and on the finest of hair. The only difference you will notice is that curlier hair needs to be sectioned while fine hair does not require sectioning.
Overall, I would say that this straightening brush is definitely something you should look into if you are on the market for a good product that comes at an affordable price. The chances of you not liking it are very slim, I can guarantee that!
Simply Straight Brush Features
I might have mentioned several times so far that the Simply Straight Brush is packed with all the best features you would ever need in a hair straightening tool. All these features can actually benefit you and your hair. You can set the brush to fit your needs. As I go over the features, you will see exactly what I am talking about!
Adjustable Temperature
One of the most important features of all hot tools is the adjustable temperature. If the tool is pre-set to one temperature only, you might damage your hair in one of two ways. Temperature that is too high will burn the hair, while temperature that is too low will lead to you over-using the tool.
This is why you need a straightening tool that has adjustable temperature, and luckily for you, the Simply Straight Brush has that! There are 185 different temperatures that you can set your brush to depending on your specific hair type.
If your hair is finer, you will need to lower the temperature when using the brush. If your hair is thick or curly, you will benefit from a higher temperature. Whatever you do, make sure you adjust the temperature before you begin straightening, and do not forget to add some heat protective spray as well!
LCD Temperature Display
This is another great feature of this straightening brush that is actually connected to the previous feature. Once you adjust the temperature, you can check it on the LCD display. This will keep you from making a mistake regarding the temperature settings of the brush.
Stylish Design
The design of the brush is also very nice. The brush is a compact size that makes it perfect for traveling. It will take up less storage space at home as well! It also comes in two colors: the handle is black while the bristles are pink.
The colors might be a bit limiting and might turn you off from this straightening brush, especially if you are not into pink things. I confess I had a bit of a problem with the colors as well, but in the end, the features and price made me overlook the colors. Who cares about the color of the brush if it gives you the hairstyle of your dreams, right?
Automatic Shut-Off
This is another very important feature that you will love, especially if you are a bit forgetful. After 30 minutes of inactivity, the Simply Straight Brush will turn itself off. This means that even if you forget to turn off the brush once you are done using it, it will not damage its surroundings or overheat.
With that being said, the auto shut-off can happen a bit too quickly for some people. Then again, it is easy to turn it back on if you need to.
Long Swivel Cord
Nowadays, most corded hot tools come with long swivel cords that make them very easy to use. This type of cord will not get tangled but will be extra easy to use. You will not need to stand too close to the wall socket while styling your hair as the cord is long enough for you to position yourself comfortably.
For those of you looking for a specific length, the Simply Straight Brush has an 8-meter long cord. The disadvantage here would be that you have to keep the brush plugged in to be able to use it.
One-Year Manufacturer Guarantee
The Simply Straight Brush comes with a one-year warranty. Once you purchase the brush, make sure to read through the manual and read the warranty so that you know which problems it covers and which it does not.
My Simply Straight Ceramic Brush Review
Now that I have covered some of the basics about the Simply Straight Brush, I would like to mention what I liked most about the brush and what I was not fond of. Remember that this is my opinion only and it should not influence your opinion of the straightening brush – I suggest that you try it out before judging it!
What We Like
What I like about the Simply Straight Brush is that it gives you the most bang for your buck. I did not expect to find a good straightening tool in this price range, but I was pleasantly surprised by its effectiveness once I gave it a shot.
The design of the brush is very compact but simple. You will not face any problems when using it, and you will find that all of the features it has come in handy at some point. You will be able to set the temperature you want and leave the brush without worrying about shutting it off.
What We Don't Like
What I did not like about this brush was the fact that it took too long to heat up. Most of the modern flat irons have extra fast heat-up, heating up the tool in only a matter of seconds. With the Simply Straight Brush, you can reach your desired temperature, but it will take about three minutes for that to happen.
Aside from that, I did not like the fact that it just doesn't reach into the roots.  while it does straighten hair, the area bear the roots will retain its curl.
General User Impression
Simply Straight Brush reviews by customers seem show that it is very effective, especially for the price. People love the features that it includes; most praises were connected to the adjustable temperature and that long swivel cord.
Then again, there are some recurring problems that users have reported. One of the biggest is the fact that it does not heat up that fast and it actually does not work well on shorter hair. The limited color options have also been mentioned, while some users say that the brush got too hot for their hair and ended up damaging it.
What I would suggest is reading the instructions thoroughly before using the brush, applying some heat-protective spray to your hair, and also trying it out on one strand just to make sure that it is not too hot.
Simply Straight Brush Review Summary
I would certainly say that there are way more advantages of using the Simply Straight Brush than disadvantages. This straightening brush is definitely one of the best on the market, and using it is very pleasant. I'm very impressed with it, and I would recommend it!
Different straightening brushes can be used with different types of hair, but the Simply Straight Brush works best on medium to long hair. You will find that it is not quite that effective on short hair, but it is suitable for all hair textures. Whether you have fine or really textured hair, you can use the straightening brush to make it completely flat.
For those with shorter hair, I would recommend investing in a mini flat iron. It makes a great traveling companion, it will probably come at an affordable price, and it will help you make your hair look gorgeous without much issue.
Before I wrap up my thoughts on this straightening tool, I want to briefly point to its pros and cons. I hope that after reading this Simply Straight Ceramic Brush review, you will make a more educated decision on whether you want to invest in it or not.
Pros
Affordable
Very effective
Compact design
Easy to use
Suitable for most hair types
Fast results
Adjustable temperature settings
Auto shut-off option
Long swivel cord
Great for traveling
Cons
Heats up slowly
Could be a bit heavy
Cannot be used for waving or curling
Cannot be used on wet hair
Can't reach the roots
FAQs
A lot of people have tried this straightening brush before, often asking some of the same questions in regards to it. Now, I would like to point to some of the most frequently asked questions when it comes to this straightening brush:
How do you use a Simply Straight Brush?
You can use the Simply Straight Brush after plugging it in and turning it on. It will take a couple of minutes before it heats up completely, but then, you only need to brush the hair with it to make it straighter.
You should set the temperature, use heat-protective spray, and get to straightening. If your hair is thicker, you should section the hair so that the straightening is more effective.
Is a straightening brush less damaging?
Straightening brushes like the Simply Straight Brush tend to be less damaging than regular hair straighteners. On this particular type of straightening brush, the bristles are made from ceramic, and no matter how hot they are, they do not have a strong impact on the hair as you just glide the brush over the hair and do not keep it in one place for a long time.
With that being said, you do have to dry your hair completely before using the brush, possibly even adding heat-protective spray on your hair to avoid damaging it.
Finals Thoughts on the Simply Straight Brush
If you tend to straighten your hair often and you want to avoid damaging it, I suggest you leave your flat iron behind and get a new straightening brush – preferably the Simply Straight Brush which is one of the most affordable yet most efficient straightening brushes on the market.
This straightening brush is great for all types of hair except shorter hair. It has some great features like adjustable temperature, auto shut-off, long swivel cord, and so on. This makes it a perfect choice for just about anyone.
I hope that this Simply Straight Ceramic Brush review has convinced you that this straightening brush is worth considering. If you want to check it out for yourself, click here.