Last Updated on 17th August 2023 by Chauncey Morgan
There are a lot of flat irons brands on the market, and most of them promise the greatest hairstyling experience ever. While some of them fail to live up to this promise, that is never the case with Paul Mitchell flat irons. Today, I am going to do detailed Paul Mitchecll flat iron reviews to show you why this brand is so special!
I love a brand with a good story, and this is why Paul Mitchell is one of my favorite brands. Did you know that back in 1980, John Paul DeJoria and Paul Mitchell started this brand from scratch with just $700?!
They had a vision, and they committed to it fully, building the brand up and turning it into one of the most famous hair brands of all time. Now, not only do they sell high-quality hair products, they have haircare lines and schools that train the future generations of professional hairstylists!
There are so many great things that I would love to tell you about this brand, but for today, I will stick with reviewing their five best-rated straighteners.
TOP PICK 

I can't recommend the Ion Style+ enough. This baby is hardworking and brings awesome results, and fast. I haven't come across a professional hairstylist who doesn't love it.
Our Best Paul Mitchell Flat Iron Reviews
Let's take a closer look at the five best Paul Mitchell straighteners, their top features, as well as their customer ratings:


BRAND
DETAILS
PRICE
#1 Paul Mitchell ProTools Express Ion Style+ Flat Iron



Ceramic plates with express ion complex

Customizable temperature settings

Nine-inch (23cm) swivel cord

CHECK PRICE

#2 Paul Mitchell ProTools Express Ion Smooth+ Flat Iron



1.25-inch (3cm) high-quality ceramic plates

Heats up to 410F (210C) in a minute

Auto shut-off option

CHECK PRICE

#3 Paul Mitchell NEURO Smooth Flat Iron



Lightning-fast heat recovery

Dual voltage option

Two plate sizes available

CHECK PRICE

#4 Paul Mitchell NEURO Halo Flat Iron



Great for straightening and curling

Interior touch screen with backlight

High-quality titanium plates

CHECK PRICE

#5 Paul Mitchell ProTools Mini Flat Iron



Perfect size for travel

Fast heat-up

Ideal for short hair and bangs

CHECK PRICE
Want to learn even more about these Paul Mitchell irons? No need to look any further — here is a detailed review of all five straighteners, their key features, pros, and cons! Let's get started with the reviews!
First up on my list is the Express Ion Style+, which I consider to be the best overall flat iron from this brand. I just love how amazing it looks and how many features it has, and I should also mention that I recommend it for those who have frizzy, wild hair!
Key Features
One-inch (2.5cm) ceramic plates
Far-infrared and negative-ion technology
Rounded ceramic plates
To get the best straightening experience, I recommend that you hold the straightener horizontally and gently slide it down the hair section to section. You can also use it to make curls by holding it vertically!
Pros
Adjustable temperature
Quick heating and cooling
Cons
Might not be suitable for people with very thick hair
Overall, I think that this is one of the best flat irons I have ever come across — with those high-quality ion plates and the options to both curl and straighten hair, it is one of my go-to's for any hairstyle!
If you want your hair pin-straight and smooth, this is the best hair straightening tool for you! There is a reason why even the legendary Winnie Harlow uses the Express Ion Smooth+ from Paul Mitchell — because it gives the best results!
Key Features
Four plate size options available
Ceramic rounded plates for straightening and curling
Three color options available
The 1.25-inch (3cm) plates on this flat iron make it great for all types of hair, including that thick, textured hair that can be hard to tackle. Just adjust the temperature and get to straightening!
Pros
Auto shut-off option
Superior straightening abilities
Cons
It might be more suitable for thicker rather than finer hair
If you are looking for something that will help you turn your curls into perfectly smooth strands, this is the flat iron for you!
So far, I have talked about two great straighteners that have ceramic plates, but now, it is time to look into a great styling iron with titanium plates. The Paul Mitchell NEURO Smooth does wonders for all types of hair, no matter how curly or thick!
Key Features
Heat recovery option
Rounded IsoTherm titanium plates
Dual voltage option
I love that you can choose between two plate sizes — one is 1.25 inches (3cm), which is great for all hair types, and the other is 1.5 inches (3.8cm), perfect for thick, textured, and long hair!
Pros
Customizable auto shut-down option
Adjustable temperature up to 450F (232C)
Cons
Plates need to be cleaned often
The NEURO Smooth from Paul Mitchell is a wonderful styling device by itself, but if you want to get the best experience possible, make sure to add some NEURO heat protectant before you start straightening!
With a simple and elegant design, your eye will immediately be drawn to this amazing hairstyling iron that can be used for a variety of hairstyles. Not only does it look good, but it will also feel good in your hand, thanks to its ergonomic design!
Key Features
Backlit display for better precision
Heats up in only 45 seconds
SmartSense microchip for better heat recovery
If you want to make your hair as smooth as possible, start straightening one or two inches from the scalp and then go back to straighten that part as well. You can also use it to make effortless beach waves!
Pros
One-pass straightening
Extended plate length
Cons
It might be too hot for some people's taste
What I love most about this product is the design — if you are looking for something simple yet effective, you have to give this NEURO Halo a chance!
Last but not least, I will talk about the best travel companion for hairstyling addicts — that is this mini smooth flat iron from Paul Mitchell! Do not let the size fool you — the flat iron has all the features you could possibly need!
Key Features
Lightweight and compact
High-quality ceramic plates
Light speed heat up
The size is not the only thing that makes it perfect for traveling. This flat iron has dual voltage, which means that you can use it all over the world without any problem!
Pros
Cons
Might be more suitable for short hair than long hair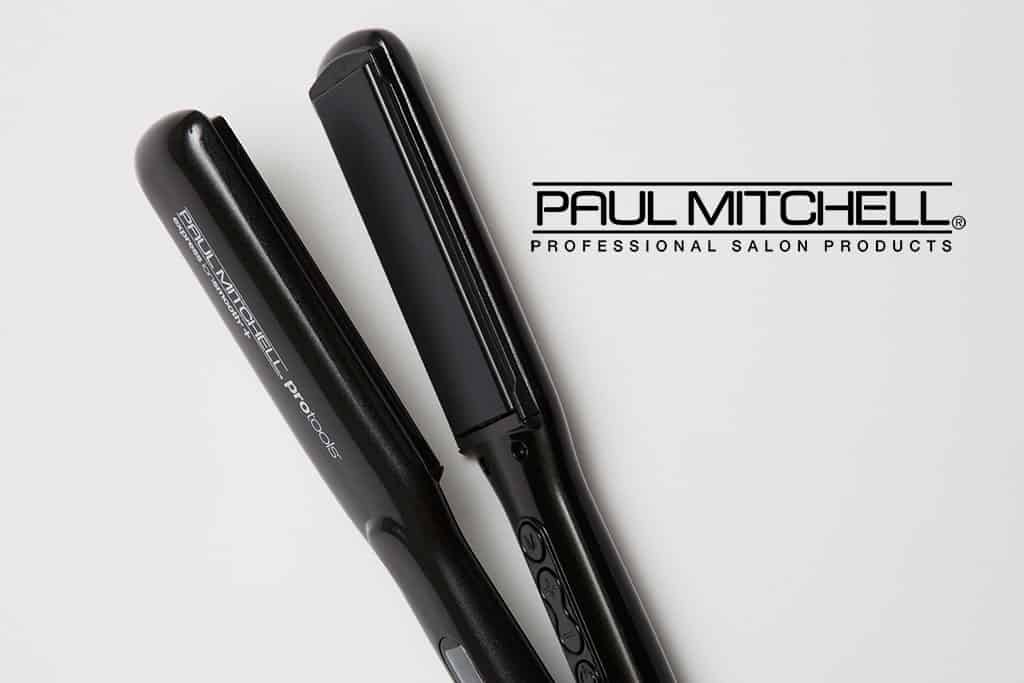 Paul Mitchell Straighteners Buying Guide


To ensure that you know which Paul Mitchell iron to buy, I would like to tell you more about the features to check when choosing the best straightening tool for your hair. Let's get into it:
Plate Material
Styling irons from Paul Mitchell come with either ceramic or titanium plates. Ceramic plates are best for those who have frizzy hair, as they can make the hair shiny, frizz-free, and healthy. On the other hand, titanium plates are best for those who have thicker or more textured hair.
Plate Size
You can find flat irons with various plate sizes when it comes to this brand. The 1.5-inch (3.8cm) plates are best for thicker hair, the 1.25-inch (3cm) plates are great for all types of hair, while there are also models with 1-inch (2.5 cm) plates that are recommended for shorter hair or those who like to style their bangs often.
Customizable Temperature
If you are buying a new styling iron, make sure that it has customizable temperature settings. This is a must because different hair textures require different temperatures.
Fragile and fine hair should be straightened at a temperature of 250F to 330F (121C to 166C), medium hair can be straightened at 370F (188C), while those who have thick and coarse hair can set the temperature up to 450F (232C). Make sure to follow these rules when straightening your hair to avoid unnecessarily damaging your hair!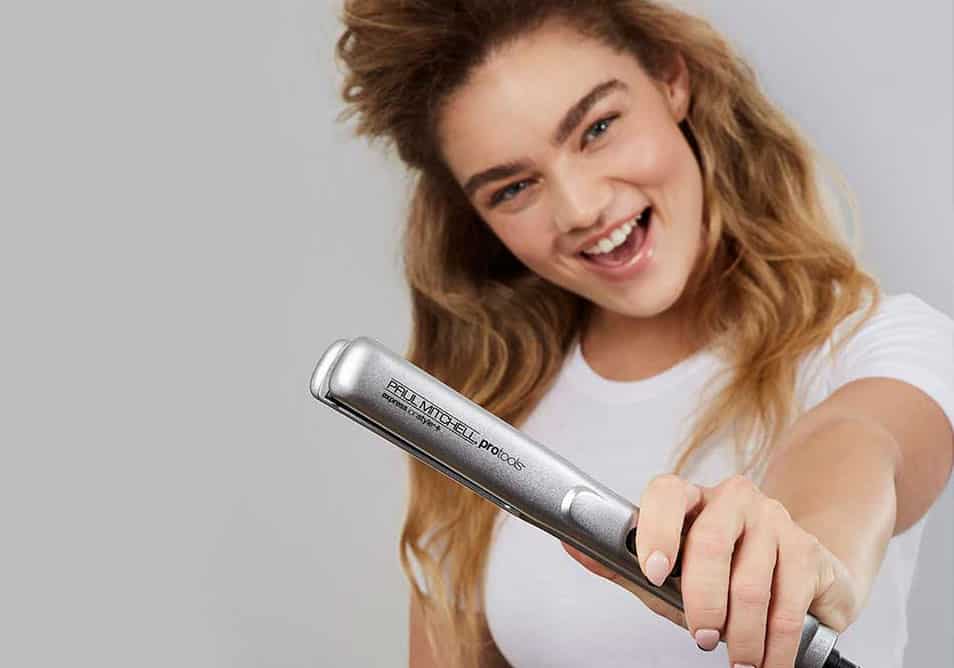 FAQs
If you have a Paul Mitchell hair straightener, chances are that you will have certain questions regarding the flat iron at some point. I would like to save you time by telling you more about the frequently asked questions about these flat irons. Let's see what people have asked:
How do you clean a Paul Mitchell flat iron?
The best way to clean a Paul Mitchell flat iron is by using water only. You should heat the plates a bit so that the residue loosens, then use a cloth to gently wipe the plates clean. I would recommend cleaning the device at least once a week to get the best results when using it.
Do Paul Mitchell straighteners have warranties?
Paul Mitchell Pro tools, including some of the straighteners I have mentioned above, come with a 12-month warranty. To learn more about the warranty on the products you like, make sure to check out the company's website and find more information on the specific products!
Check out other flat irons from up and coming brands like Soleil and T3.
Achieve Your Dream Hair with Paul Mitchell Flat Irons!
I hope you learned something from my Paul Mitchell flat iron reviews! If you are looking to purchase a feature-packed, professional flat iron, look into the ProTools Express Ion Style+ Flat Iron. If you are looking for something that comes at a more affordable price, check out the brand's Express Mini Flat Iron!
Leave a comment below if you have any experience with straighteners of this brand, and tell people why they should consider buying one of them! I look forward to reading your comments and confessions!