Last Updated on 17th August 2023 by Chauncey Morgan
Have you ever been annoyed by the fact that you just cannot master using two hair tools on yourself at the same time? This is going to be the least of your worries if you only invest in one of the best hot air brushes for fine hair. In this review, I will give you my top picks and tell you what it is that makes them so great!
When I first heard of hot air brushes, I was skeptical of how effective they would be in styling my fine hair. It is not that my hair is too frizzy or anything, but the idea of having one tool that I would use as a blow dryer, flat iron, and curling iron was somewhat concerning. I did not believe in their ability to style hair until I actually tried one out.
Let me tell you this: If you are not someone who likes spending a lot of time on their hair or if you detest using two hair tools at the same time, this will be your game-changer. The hot air brush styles the hair quite nicely in only a few minutes. To add to that, these brushes come at a very affordable price, so you will not have to spend a fortune to get one.
Hot air brushes are the best modern solution to styling any kind of hair. They come in all shapes and sizes with various features that can make the styling process that much easier. I definitely recommend trying one out, and if you do not know which one to buy, take a closer look at this review and the top ten options that are currently available on the market!
TOP PICK

I love the Revlon Salon One-Step Drying and Volumizing Hot Air Brush. It can dry and style your hair in only a matter of minutes, it has high-quality bristles that heat to three different optimal temperatures, and it has a cool setting as well. If you are looking for a brush that comes at a great price but will still style your hair flawlessly, this is the right one for you!
The Best Hot Air Brushes for Fine Hair Are…
PRODUCT
DETAILS
PRICE
#1 Revlon Salon One-Step Drying and Volumizing Hot Air Brush



Innovative airflow vents

Tangle-free bristles

Cool tip

CHECK PRICE

#2 Hot Tools Professional 24K Gold One-Step Blowout Hot Air Brush



Fast drying ability

Charcoal-infused bristles

Various heat settings

CHECK PRICE

#3 Bed Head One-Step Hair Dryer and Volumizer Hot Air Brush



Ego boost mixed bristles

Gives volume

Unique oval design

CHECK PRICE

#4 L'ange Le Volume 2-in-1 Volumizing Dryer Hot Air Brush



Easy-twist handle

Extra quick styling

Powerful DC motor

CHECK PRICE

#5 CHI Volumizer 4-in-1 Blowout Hot Air Brush



4-in-1 hair tool

Tangle-free cord

Detangling bristles

CHECK PRICE

#6 ghd Rise Volumizing Hot Air Brush



Root lifting option

Optimum styling temperature

Ergonomic design

CHECK PRICE

#7 Hot Tools Professional 1'' Hot Air Brush



Curl release switch

Gentle hair grip

Ball-tipped bristles

CHECK PRICE

#8 Dyson Airwrap Volume + Shape Hot Air Brush



Intelligent heat control

A few attachments included

Air wrapping included

CHECK PRICE

#9 Conair Supreme Styling 2-in-1 Hot Air Brush



Superior heat transfer

Two brush attachments

High-quality nylon bristles

CHECK PRICE

#10 Conair INFINITIPRO Spin Hot Air Brush



Two direction rotation

Eliminates frizz

Customizable heat settings

CHECK PRICE
Coming in first place as my best overall choice is the Revlon One-Step hot air brush. What I love most about this brush is that it will dry your hair, style it, and even contribute to making it more voluminous than ever before – all of this in a single step!
Key Features
Ion generator for shinier hair
Ceramic-coated bristles
Airflow vents for faster drying
Everything about this brush is so great, from the ergonomic design to the innovative brush head with a cool tip and tangle-free bristles. By using this brush, you will not only save on time, but you will also make your hair less frizzy and less damaged.
Pros
Adjustable heat settings
Safe to use on all types of hair
Cons
Brush head is not detachable
I recommend this brush for all hair types, but mostly for people with fine hair because it will give you the fastest, best styling experience of your life. You can even choose which color you want the brush to be, and what is better than that?
This hot air brush from Hot Tools Professional has a very similar design and almost all the same features as the Revlon One-Step brush. One of the biggest differences is the actual color of the brush. This 24K gold brush does wonders for styling hair and gives great results that last a long, long time.
Key Features
Long swivel cord
Reduces frizz in hair
Various speed settings
If you use this brush on fine hair, you will see that the hair becomes smooth and silky to the touch without any frizz or damage at all. Your roots will be voluminous while the hair strands will look beautifully straight or curly, depending on the look you are going for!
Pros
Safety plug included
Great for styling second-day hair
Cons
Might be a bit heavier than some users like
This brush is a great choice if you are looking for something that looks expensive and gives professional results. You will not make a mistake if you invest in it!
If you are looking for a hot air brush that is colorful and fun, then look no further than this Bed Head brush. Coming in a couple of color options, this brush has an amazing design that leaves the hair frizz-free and smooth.
Key Features
Tourmaline ceramic technology
One-step hair styling
Lightweight design
Thanks to the ego boost mixed bristles, you will be able to style your hair easily and however you like. Everything is possible – you can make your hair straight, curly, wavy, and voluminous!
Pros
Quick styling results
Three temperature settings
Cons
If you want to ditch your regular trips to the hairdresser and give yourself a nice professional blowout at home, this is the best product for you! At this price, you will not regret getting this brush for yourself.
This 2-in-1 volumizing hot air brush from L'ange comes in two different sizes. Depending on the length of your hair, you can choose the 60 mm or the 75 mm one. Everything aside from the size is the same in both brushes. There are also three color options for you to choose from.
Key Features
Heat and airflow control
Tug-resistant bristles
Professional swivel cord
What I love about this brush is that it comes with a protective cover and a cleaning brush. Thanks to the protective cover, you will not have to worry about damaging the bristles when the brush is in storage. On the other hand, the cleaning brush comes in handy when you need to remove hair that is stuck to the bristles.
Pros
Compact, lightweight design
Adjustable heat setting
Cons
Doesn't dry hair that quickly
This L'ange brush is something you have to look into if you have fine hair. Thanks to the adjustable temperature and the high-quality bristles, you will have no problem getting the desired look in only a matter of minutes!
This CHI hot air brush comes with four attachments. Aside from the round brush attachment, you get a diffuser, a nozzle attachment like the ones for regular blow dryers, and a paddle brush attachment. You can easily switch them and use the tool with whatever attachment you need.
Key Features
Ion ceramic technology for shinier, moisturized hair
Detangling bristles included
1000W powerful motor
This brush has three settings: low, high, and cool. If you have fine hair, I recommend using it on the low setting as the high one is known to be a bit too hot for fine hair.
Pros
Versatile and convenient styling
Reduces hair frizz
Cons
The round brush comes in only one size
No need to use more than one tool on your hair to make it look gorgeous – this tool proves that! Not only can you use it with four different attachments, but you can also make your hair extremely shiny and silky with only a few passes of the round brush.
ghd always comes up with some great hair tools, and this hot air brush is no exception. With a very elegant black design, the hot air brush looks great, and it styles fine hair even better!
Key Features
Because of the barrel size, I recommend this brush for people who have fine hair. If you have thicker hair, you will need to divide your hair into many sections, and that can get a bit complicated.
Pros
Auto shut-off after 30 minutes
Cool tip included
Cons
Temperature is not adjustable
If you are looking for a feature-packed hot air brush that will give you volume and a lasting hairstyle, this is the perfect tool for you. It might be a bit pricey compared to other brushes, but it is worth every penny!
This is the second brush from Hot Tools Professional that I mention in this review, and there is a good reason for that! This brush is the perfect size for people with fine hair, and the ergonomic lightweight design is a plus!
Key Features
Removable brush sleeve
Professional swivel cord
Ball-tipped bristles
The barrel of this hot air brush has air vents that can help dry hair a bit faster, while the temperature can always be regulated and set on high or low. If you fear that it will burn your fingers, you can also add a cool tip.
Pros
Comes with a seven-year warranty
Great for straightening and curling hair
Cons
Curl release switch might malfunction
This versatile tool can do wonders for your fine hair. The beautiful styling results are something I cannot forget, so I recommend giving it a try as soon as you can!
Whoever designed the Dyson Airwrap deserves a lot of recognition – everything about this tool is amazing, from the nice little case that it comes in, to the actual tool and the attachments. In addition to the round brush attachment, you will also get a few Airwrap barrels, a smoothing brush, and an attachment that you can use for fast blow-drying.
Key Features
Quick-release switch
Cool-touch tip on attachments
Cool shot included
This hair tool is so popular because it uses air to style the hair instead of extreme heat. This feature makes it the perfect choice for people with fine hair and those who want to protect their hair from too much damage.
Pros
Negative ion technology reduces frizz
Intelligent heat control included
Cons
A bit more pricey compared to the other tools on this list
Considering how many different attachments there are for this tool and how many different hairstyles you can achieve with it, I would say it is worth every penny and even more!
This great hot air brush from Conair comes with two round brushes that you can easily switch out. One of the barrels is 1-inch while the other is 3/4-inch and is more suitable for creating tighter curls.
Key Features
High-quality aluminum barrels
Tangle-free long cord
Even heat distribution
Thanks to the high-quality barrels on this hot air brush, you will be able to style your hair quickly and enjoy the curls for days to come.
Pros
Dual voltage
Versatile styling tool
Cons
This hot air brush can be your best travel buddy – with the convenient size, versatile styling options, and dual voltage, it seems like the perfect tool to take with you on all your trips!
Last but not least is the Conair Spin hot air brush. Even though the previously mentioned brushes were also great, this one is specifically designed for people with longer hair. Thanks to the 2-inch barrel, you will be able to dry and style even the longest of hair in a matter of minutes.
Key Features
Antistatic heating bristles
Brushes rotate in two directions
Reduces frizz and smooths hair out
I recommend using the smaller brush when you want to make waves or natural-looking curls and the larger brush when you want to create voluminous curls. Both these brushes style the hair and dry it at the same time.
Pros
Can be used to refresh hair between washes
Various temperature settings included
Cons
Not as suitable for thick hair as it is for fine hair
This hot air brush comes at a very affordable price, but it still includes two brush heads as well as two protective brush covers. That is definitely something to consider when choosing your next hot air brush.
Want to see more? Check out our roundup of the best hot air brushes for most hair types here.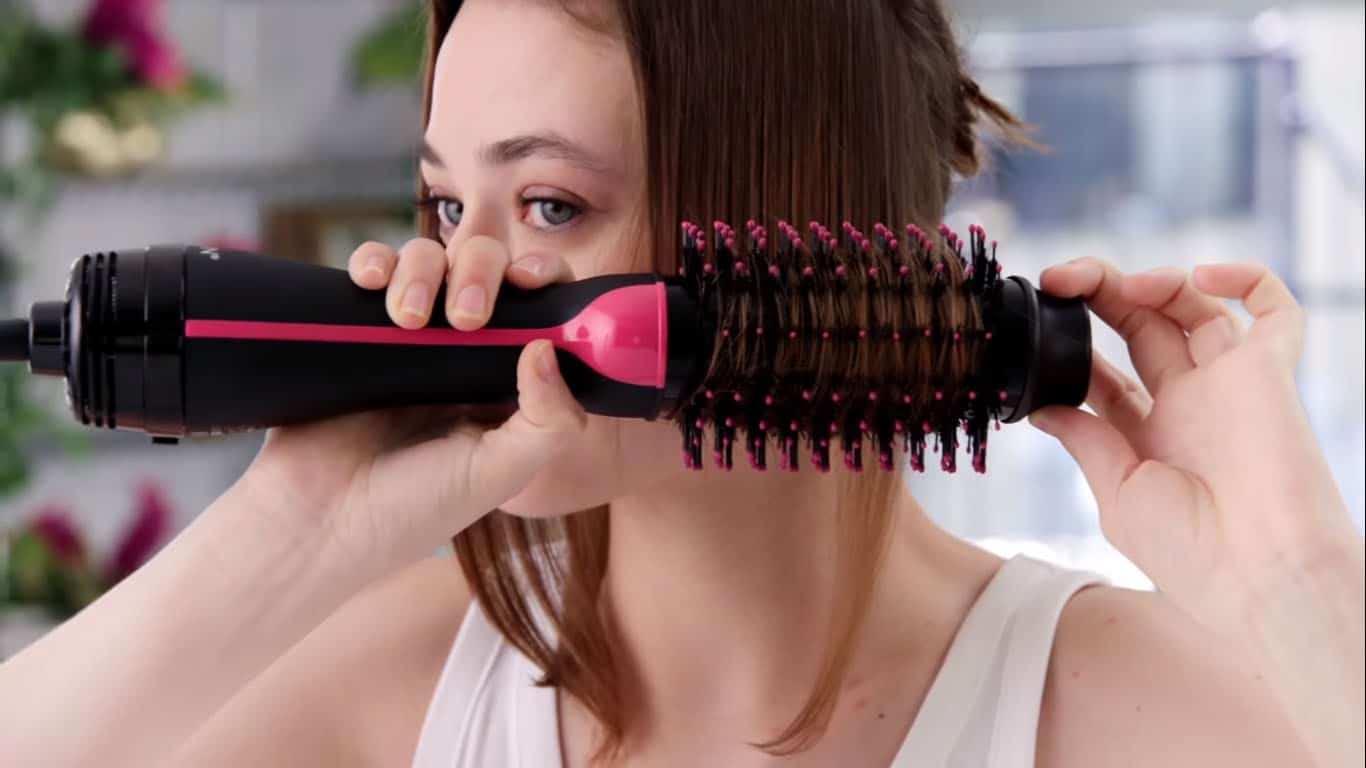 How to Pick the Best Hot Air Brush for Fine Hair
With so many options available on the market, I know it can be hard to choose a good hot air brush that will style your fine hair perfectly. Before you actually make a purchase, you need to do your research and find out what you should look for in a hot air brush.
I am here to help you out with that! In this buying guide, I will tell you exactly what your new hot air brush should include. So let's get right into it!
Bristles
Hot air brushes can have several types of bristles, but they usually come with either nylon or plastic bristles. Now, nylon bristles are great for styling hair, but they are usually recommended for coarse hair.
For fine hair, I would recommend getting a brush that has plastic bristles. They transfer heat quite nicely and evenly, and they can be great at keeping the hair tangle-free during styling.
Temperature Settings
Hot air brushes are generally a great idea for people with fine hair because they do a great job at lifting the hair and making it look more voluminous. However, your fine hair should not be styled with a brush that is too hot as that can lead to unnecessary damage.
When buying a hot air brush, get one that comes with an adjustable temperature that has several low-temperature settings. That will be very helpful when styling fine hair. But remember – even on lower settings, you should still use some heat-protective spray before styling your hair!
Cord Length
A lot of people think that cord length is not that important, but it actually is! If your cord is too short, you will have difficulties while styling your hair, and you might not even be able to reach some parts of it.
I would recommend getting a hot air brush that comes with at least a 7-foot long cord. You should also look for a cord that is swivel- and tangle-free. Usually, all professional hair tools come with this type of cord, so you might want to look into them.
Additional Features
There are a ton of features that you will come across, but only several of them are an absolute must when styling fine hair. First of all, you will need a hot air brush that has quality heat transfer and high-quality bristles because they will help you avoid doing unnecessary damage to the hair.
As I already mentioned, you should get one that has adjustable temperature and a long swivel cord, but you should also try to find one that has at least two different brush attachments. They will help you create different types of curls without having to spend money on an additional hair tool!
Another interesting feature would be a rotating action, and you'll find that in these rotating hot air brushes.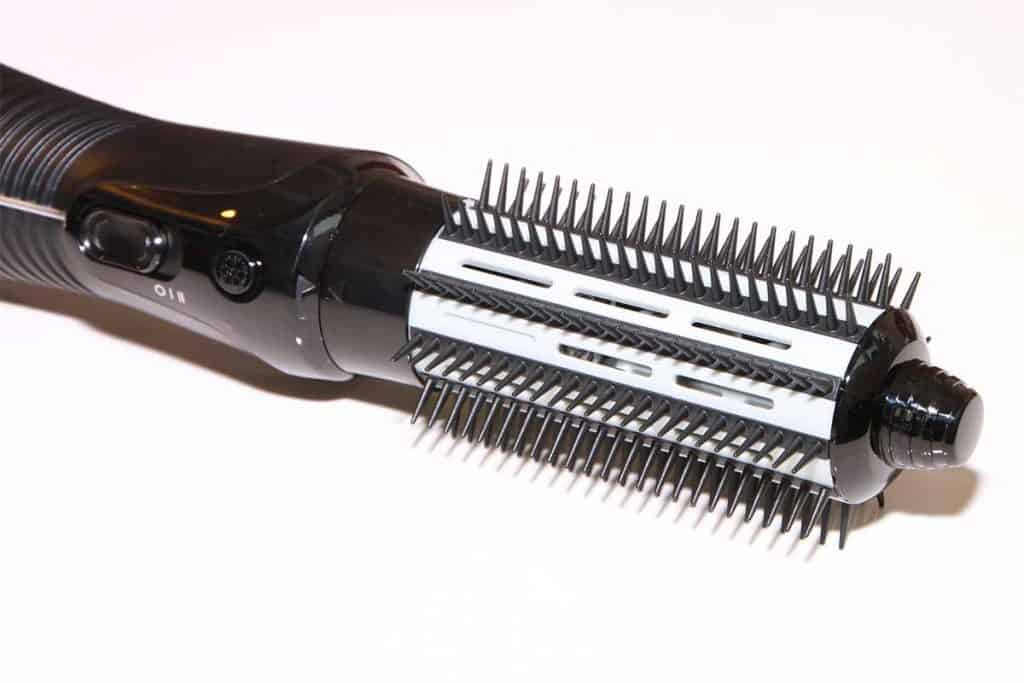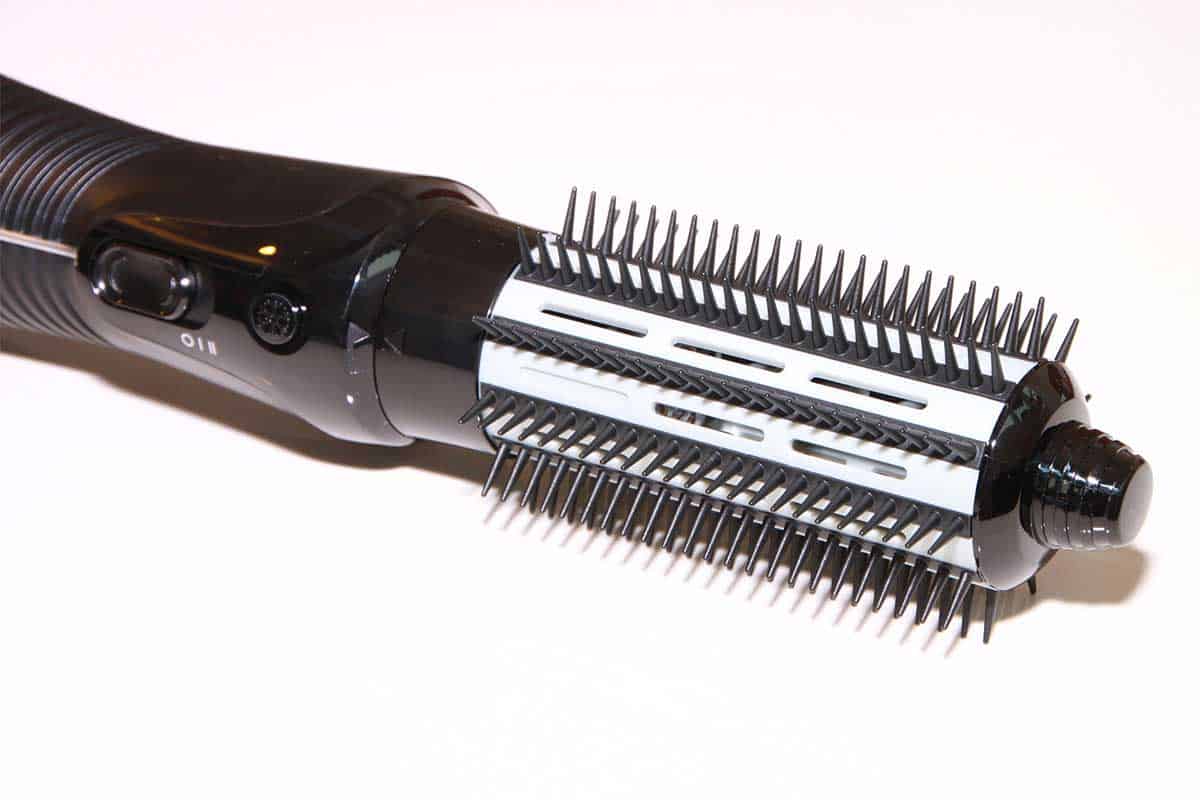 FAQs
To put the finishing touches on this review means to give you the final information that you need to buy a hot air brush for your fine hair. So here are two more questions that other people often ask in relation to this type of hair tool:
Are hot air brushes bad for your hair?
Hot air brushes are not bad for your hair, no matter if it is fine, thick, coarse, or otherwise. They style the hair quickly and nicely without damaging it. You will find that they only make your hair look more voluminous and healthy once you start using a hot air brush daily!
How do you get the hair out of a hot brush?
Getting hair out of your hot air brush is very important because leaving the hair on the brush can lead to it malfunctioning. After each styling session, you should remove all the tangled hair from the brush with either your fingers or a smaller comb. Before cleaning the hair out, you should make sure that the brush is not too hot and that it will not burn your fingers or melt the comb.
Go Style Your Fine Hair with a Hot Air Brush!
That's all you need to know about the best hot air brushes for fine hair. Even though I gave you ten different options, I recommend looking into the Revlon Salon One-Step Drying and Volumizing Hot Air Brush as this is my favorite option. The Conair INFINITIPRO Spin Hot Air Brush will give you nearly the same quality for a lot less money.
What I want to say is that no matter which one of these brushes you end up buying for yourself, you will not regret it. They are all great for their own reasons, and I would love for you to try them out and see that for yourself. Let me know in the comments if you have any experience with any of these brushes and what it was like – I cannot wait to read all about it!