Are you tired of doing all the hard work and rotating your brush with your hands for half an hour each day? Do you wish there was a better tool for the job? If these thoughts have been on your mind, you have to read all about the best rotating hot air brush.
Rotating hot air brushes are multi-purpose hair tools that rotate in a single direction or two directions, drying and styling the hair. They're easy to use, and almost all owners brag about how these tools cut their hair styling time in half.
If you're ready to find out more about the features, pros, and cons of five highly-rated tools, you have to go over the reviews below. You should also take a peek at the buying guide to get familiar with a good tool's essential features.
TOP PICK

If you haven't heard of the Dyson Airwrap Styler, where have you been? Thanks to the innovative technology, multiple attachments, ease of use, and the ability to style hair multiple ways, it's our top recommendation.
The Best Rotating Hot Air Brushes Reviews
PRODUCT
DETAILS
PRICE
#1 Dyson Airwrap Styler Volume and Shape



Multiple attachments

Intelligent heat control that goes up to 150 degrees

Negative ion technology for a frizz-free hairstyle

CHECK PRICE

#2 INFINITIPRO BY CONAIR Spin Air Rotating Styler



2-inch rotating barrel

Tangle-free nylon and boar bristles

Tourmaline ceramic material

CHECK PRICE

#3 INFINITIPRO BY CONAIR Hot Air Spin Brush



Two styling brushes: 2 inches and 1 ½-inch

Multi-directional rotation

Three heat settings: low, high, cool

CHECK PRICE

#4 Tru Beauty Rotating Ceramic-Coated 2-in-1 Ionic Hot Hairbrush



2-inch ceramic-coated barrel

Three heat settings

Tangle-free 350-degree swivel cord

CHECK PRICE

#5 John Frieda Hot Air Brush



Two barrels: 1 ½-inch and 2-inch

Three heat settings

Tangle-free boar and nylon bristles

CHECK PRICE
Meet the Dyson Airwrap, the king of tools and my top pick for this roundup. Dyson made everyone go crazy over this rotating hair tool the second they released it.
Key Features
Multiple attachments
Intelligent heat control that goes up to 150 degrees
Negative ion technology for a frizz-free hairstyle
If you're wondering why this tool is so fantastic, let's start with the multiple attachments. You'll find several different brushes for voluminous and curly hairstyles and a pre-styling dryer. Then, with a single click, you can switch between attachments, and your fingers will be safe thanks to the cool tips.
The tool is powerful but quiet. The temperature only goes up to 150 degrees Celsius to prevent damage. In addition, the negative ion technology reduces hair frizz and leaves your hair silky smooth.
Pros
Various attachments including Airwrap barrels, soft smoothing brush, round volumizing brush, and a pre-styling dryer that can be removed with a single click
Cool tips on all attachments
Extremely easy to use because the barrels attract the hair and wrap it
Ideal for hair straightening, curling, and drying with no damage
Cons
The Dyson Airwrap is worth all the money in the world. It's the easiest tool to use and gets the job done.
The runner-up on our list is the INFINITIPRO BY CONAIR Spin Rotating Styler. The tourmaline ceramic barrel minimizes hair damage, and the tangle-free boar and nylon bristles detangle even the most stubborn knots.
Key Features
2-inch rotating barrel
Tangle-free nylon and boar bristles
Tourmaline ceramic material
This Conair spinning brush might be significantly cheaper than our top pick, but it packs impressive features. Thanks to the on/off rotator feature, you can use it still or while it's spinning.
Pros
Detangles, straightens, curls, and dries hair with ease
On/off rotator button that makes the barrel rotate when you hold it and stops when you release it
Leaves the hair silky smooth
Rotates in both directions
Cons
Barrel size is not the best for very short hair
If you're looking for a compromise between quality and price, this rotating hot air brush should be the next item in your shopping cart.
This is the second Conair product we loved, mostly because of the surprisingly low price and the fact that it comes with two attachments.
Key Features
Two styling brushes: 2 inches and 1 ½-inch
Multi-directional rotation
Three heat settings: low, high, cool
This Conair brush might be more affordable than the previous one, but it exceeded all our expectations. The packaging includes two tourmaline brush barrels, one with a diameter of 2 inches and one with a diameter of 1 1/2-inch.
Pros
Very easy to use
Brush rotates in both directions
Creates a frizz-free, silky smooth hairstyle
Very affordable
Cons
Not as high-quality as other finds on the list
Everyone who's on a budget but desperately wants to try a rotating brush or needs a replacement for their old one should go for this Conair spin brush.
The gorgeous Tru Beauty Ionic Hairbrush is much more than just gorgeous. This tool is lightweight, easy to use, and great for people who want a salon-like experience at home.
Key Features
2-inch ceramic-coated barrel
Three heat settings
Tangle-free 350-degree swivel cord
This gorgeous pink rotating brush is another great find that detangles hair, dries it, and styles it at the same time. The titanium ceramic-coated barrel is 2 inches in diameter and the best size for people with medium and long hair.
Pros
Easy to use and hold
Heats up quickly and dries hair efficiently
Provides a frizz-free finish
Cons
Can be a little tricky for people with short hair
The hairbrush by Tru Beauty uses three different heat settings to style and dry your hair. If you need a multi-purpose tool at a reasonable price, this one is it.
The John Frieda tool is powerful, inexpensive, and includes all the essential features you need.
Key Features
Two barrels: 1 ½-inch and 2-inch
Three heat settings
Tangle-free boar and nylon bristles
Pros
Advanced ionic conditioning for a glowing, silky hair finish and minimum damage
Boar and nylon bristles provide a frizz-free, smooth finish
Can be used for a voluminous blowout, bouncy curls, or straightening
Cons
Last but not least, the John Frieda Hot Air Brush is a great choice for all hair lengths. It has two barrels that are great for those who want to experiment with hairstyles.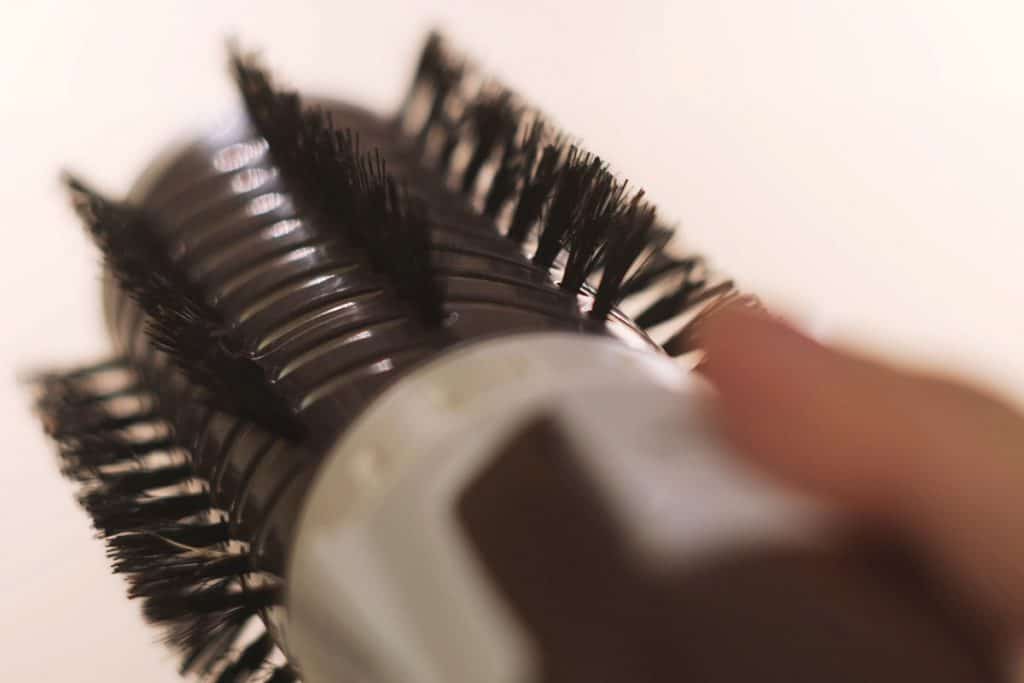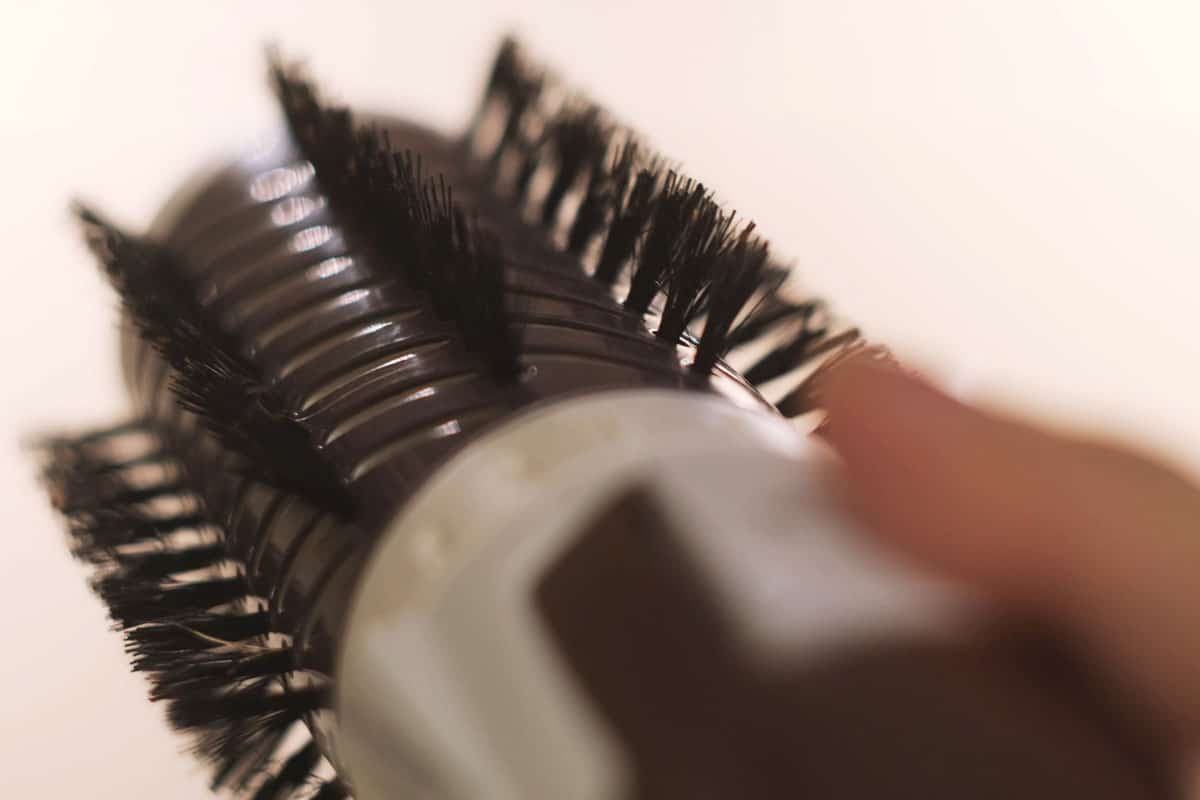 What to Look for in Rotating Hot Air Brushes
What are the features you should look for in a spin brush hair dryer? Should you purchase the cheapest or the most expensive option? After reading the reviews, if you're still unsure which tool is the best for you, this buying guide will help you close the deal.
Temperature Settings
Multiple heat settings are essential for all types of hot air brushes, regardless if they're rotating or not. When a brush has multiple temperature settings, users will find it easier to adapt the heat to their hair type. If a rotating hair brush dryer only has two heat settings, it means that you can only use low if you have thin, damaged hair and high if you have healthy, thick hair.
Multiple heat settings can be beneficial for in-between hair types, like people with thick hair who want to protect it and opt for a medium setting.
Another huge plus is a brush with an added cool setting. This setting is meant for securing the finished hairstyle because it helps close the hair follicles and locks the volume.
Barrel Size
Another factor to take into consideration when purchasing a rotating brush is the barrel size. This should be mostly influenced by your hair length and the type of hairstyle you want to create.
Those with long hair can opt for the biggest barrel size for volume, but they can also purchase a hot air brush with a smaller diameter for tighter curls.
Short hairstyles are trickier to style and usually require a smaller barrel size. Working with a large barrel might not yield the results you expect, but if you want a lot of volume, they're perfect.
Rotator Switch
Switching rotation on and off is an extremely useful feature. Unfortunately, some rotating brushes don't have an off rotator switch, so they rotate the second you plug them in.
The ones that come with both on and off options are more versatile. For example, if you don't like the way the brush rotates, you can quickly turn the rotation off and use it as a classic hot air brush. When the tool has the on/off feature, it's even easier to use it as a comb, straightener, curler, and dryer.
Price
How much are you ready to splurge for one of these tools? Rotating hair brushes that use hot air come at different prices, so you can find them to be very affordable, but you will also see many premium alternatives.
To make your life much easier, we included tools that come at different price ranges so that you can first set your budget, then find a product that falls in that category.
Generally, more expensive hair tools have multiple advanced and useful features that can make the experience even faster and the tool easier to use. For example, you can expect several heat settings, various attachments, an on/off rotate feature, and more.
Multi-Direction
If you're set on finding the best rotating hot air brush, you should go for the one that comes with a multi-direction feature. It means that the barrel can rotate in both directions, clockwise and counterclockwise.
A brush that can do both is so helpful in creating a range of hairstyles. It can help you curl your hair in any direction you want, add volume, straighten it, and dry it. Of course, straightening hair with a brush that isn't moving is slightly more manageable.
FAQs on Rotating Hot Air Brushes
How do you use a rotating hot air brush?
These brushes are so simple to use! The first step is to apply them only on damp hair, never on wet or dry. Then, once you plug the brush in, you need to decide what kind of hairstyle you want to go for.
When you want a bouncy, voluminous blowout, you should start from the roots of your hair, let the brush rotate in that area for a few seconds, then start moving it towards the tips.
If you want to curl your hair, start at the tips and let the brush wrap the hair around. Wait for a few seconds, then release the hair from the barrel.
Do hot air brushes damage hair?
It's no secret that all hair tools that use heat can cause damage to your hair. However, hot air brushes are among the tools that cause the least damage, especially when compared to curling irons and hair straighteners.
Traditional hair straighteners use plates made of various materials (titanium, ceramic, tourmaline) that heat up. To straighten your hair. you need to place each hair strand between the plates, press, then pull down. Hot air brushes evenly apply heat while gliding through your hair instead of pressing on it.
Get Rolling
How can you find the best spin brush hair dryer? These hair tools are so useful and can cut your hair styling time in half. The features that make a product excellent are various temperature settings, the right barrel size for your hair length, reasonable price, rotator switch, multi-direction option, and more.
The Dyson Airwrap Styler is not only one of the best rotating brushes on the market, but it's also one of the best tools overall. This company uses some of the most advanced technologies to protect your hair while giving it volume, straightening it, or curling it. What's even more important is that the Airwrap comes with multiple attachments that substitute an entire range of tools!