Last Updated on 17th August 2023 by Chauncey Morgan
The hot air brush is one of the most popular hairstyling tools at the moment. It is affordable, convenient, and it can be used to create amazing hairstyles on all types of hair. However, to get all of these benefits, you need more than just a regular hot air brush – you need the best hot air brush!
There are quite a lot of manufacturers that create hot air brushes nowadays. You can find them in all sizes, shapes, and colors. Some are packed with features and others are made with the best materials, but there are also those few that come with both the features and the materials wrapped up together with a nice bow on top!
In today's review, I will talk about this third group of brushes – the ones that have everything you would ever need to style your hair. I will share the eight options that all experts swear by, and hopefully, by the end of the article, you will know which one of those eight brushes you want to get for yourself!
TOP PICK

My top pick for the best hot air brush is the Revlon One-Step Hair Dryer and Volumizer Hot Air Brush. This brush offers a 2-in-1 combo for the best hairstyling – it can dry your hair and style it to perfection. Thanks to the high-quality materials used for the handle and the bristles, the brush is quite durable as well as suitable for styling all types of hair.
In addition to all this, I have to mention that this brush comes at a very affordable price, so nothing is standing between you and the brush! I strongly urge you to get it, use it, and see how amazing it is for yourself!
Reviews of the Best Hot Air Brushes
PRODUCT
DETAILS
PRICE
#1 Revlon One-Step Hair Dryer and Volumizer Hot Air Brush



3 heat settings

3 speed settings

Cool option

CHECK PRICE

#2 Bed Head One-Step Hair Dryer and Volumizer Hot Air Brush



Mixed pattern bristles

Heat settings manipulation

Tourmaline coating

CHECK PRICE

#3 L'ANGE HAIR Le Volume 2-in-1 Volumizing Hot Air Brush



Lightweight design

Powerful DC motor

Long professional cord

CHECK PRICE

#4 MiroPure One-Step Hair Dryer & Volumizer Hot Air Brush



Fast hairstyling

Tangle-free bristles

Swivel cord

CHECK PRICE

#5 HAMSWAN Professional Hair Dryer and Volumizer Hot Air Brush



Anti-scalding comb

Ergonomic handle

Unique airflow vents

CHECK PRICE

#6 Remington Pro Wet 2 Style Hot Air Brush



Ceramic titanium barrel

Powerful airflow

20% faster hairstyling

CHECK PRICE

#7 HOT TOOLS Professional Hot Air Brush



Ball-tipped bristles

Various barrel sizes

Cool tip

CHECK PRICE

#8 Conair INFINITIPRO Titanium Ceramic Hot Air Brush



Salon-worthy blowout

Even heat distribution

3x more frizz control

CHECK PRICE
After going over the comparison chart, you should have a clearer idea about the strongest features of these eight hot air brushes. To make it even easier for you to choose the one most suitable for your needs, I will go right into the detailed reviews now. Let's see what else you should know about these brushes!
The best overall choice for this review article is going to be the Revlon One-Step Hot Air Brush. You can use this brush to dry the hair, style it, give it more volume, and so much more. If you get it, you will no longer need to visit the hair salon – you will achieve the best hairstyles at home with this one affordable tool!
Key Features
Ion generator makes hair shinier
High-quality bristles
Adjustable heat settings
To style your hair with ease, you need a brush with good bristles. Thanks to the nylon pin and tufted bristles, you will be able to style your hair without any tangles or frizz. This will make you love the brush even more!
Pros
Unique oval design
ETL certified
Cons
Comes with a non-detachable head
This is a powerful brush with customizable heat and speed. It will not only dry your hair and style it within a few minutes, but it will also make it shiny and full of volume. You certainly have to try it and see for yourself how amazing it is!
If you are looking for a cool and colorful hair styling tool, you need to check out this hot air brush from Bed Head. The design of it is so vibrant that your eye will inevitably be drawn to it.
Key Features
Ego boost mixed pattern bristles
Tangle-free cord
Cool tip
For the best results, you should divide your hair into sections and use the hot air brush on the sections one by one. The brush will dry your hair and help you style it to perfection.
Pros
Styles the hair quickly
Adjustable heat settings
Cons
This is a great hair styling brush that has an excellent design and even better features. However, keep in mind that you will need an adapter if you are planning on taking it with you on a trip outside of the US. Since it does not have dual voltage, you will not be able to use it without the adapter!
This company might not have been around that long, but they sure have a lot of amazing hair styling products that I would love to tell you about. However, I will focus on this Volumizing hot air brush for now which just happens to be one of the best things they have ever created. Even though this one is 75mm wide, you can also find a 60mm one that is better for shorter hair.
Key Features
Ergonomic, easy-twist handle
LED indicator light
Powerful DC motor
What I love about this brush is that it comes with a protective cover as well as a cleaning brush. That means that once you are done styling, you can remove all stuck hair with the cleaning brush and then store the brush safely using the protective cover.
Pros
360-degree airflow
Lightweight design
Cons
A bit more expensive than other brushes of the same quality
With this brush, you can customize the temperature and speed of airflow, and you can also style your hair quickly and efficiently. There is nothing that you will love more than using this brush to dry, curl, or straighten your hair.
This hot air brush from MiroPure can help you dry and straighten your hair faster than ever. No longer will you have to stand in front of a mirror for hours to style your hair. With this brush, you will be ready to hit the town in just a few minutes!
Key Features
Non-detachable brush head
Professional swivel cord
Cool tip included
This brush features three heat settings – the lowest is suitable for fine hair, the medium one is great for all hairstyles, and the high setting should only be used for thick, very curly hair. Thanks to the built-in heat protector, the brush will not damage your hair at all!
Pros
Anti-scald brush
Ergonomic design
Cons
Handle might be too wide and not comfortable
The MiroPure hot air brush is great for everyone looking for quick hair styling with great results. Make sure you adjust the temperature before using it and you will be good to go!
This HAMSWAN brush is essentially a combination of four different hair styling tools in one compact, ergonomic, lightweight design. You can use it as a hairdryer, straightener, curler, or comb. This type of design can save you a lot of money and space!
Key Features
Three different temperature and speed settings
Anti-scalding comb
Unique airflow vents
There are two types of bristles on this brush. You have nylon pins and tufted bristles that can protect the hair from tangles. At the same time, they will not cause any frizz to your hair, leaving it smooth and soft for days to come.
Pros
Professional swivel cord
Ergonomic design
Cons
Should not be used with a voltage converter
This brush comes with a lot of great features, an excellent design, and an awesome price. The only thing to worry about is the fact that it only has a US plug, so you would not be able to use it outside of the US.
I would recommend this Remington Pro Hot Air Brush to everyone looking to straighten their hair to perfection but still add a bit of volume to the roots. Thanks to the oval design of the brush, you can easily smooth the hair, adding volume and shine to it.
Key Features
Separate heat and speed controls
Cool shot
Powerful airflow
The barrel of the brush has a ceramic and titanium coating that can help protect from heat damage. However, I still recommend against using this brush at the highest setting – that setting is reserved only for those with very thick and textured hair.
Pros
Protects from heat damage
Offers 20% faster hairstyling
Cons
Brush head lock might malfunction quickly
Achieve the perfect blowout using this one affordable tool. Trust me, once you start using it, your hair will start looking healthier and shinier than ever before!
This amazing hot air brush from HOT TOOLS comes in three different brush sizes: the 1-inch one is best for fine but long hair, the 1.5-inch one is most suitable for thick and long hair, and the 0.75-inch one works best on short and fine hair.
Key Features
Curl release switch
Ball-tipped bristles
Multi-vent tool
This brush comes at a shockingly affordable price, especially when you think about all the great features that it comes with. On top of that, you get a seven-year warranty with it, so you will be able to rest assured that the company has you covered in case your tool malfunctions.
Pros
Does not tangle hair
Professional swivel cord
Cons
The best thing about this brush is the unique barrel with high-quality bristles. It offers quick but also versatile hairstyling that you cannot easily achieve with most other brushes.
Finally, the last brush on my list comes from Conair, a well-known company that has designed hundreds of amazing hair products. If you want to trust your hair with someone, you can surely do it with Conair. This hot air brush proves that once again!
Key Features
When it comes to this brush, you can rely on the nylon detangling and antistatic bristles to give you the easiest hairstyling ever. You can easily achieve smooth or curly hair that will be shiny and full of volume.
Pros
Powerful motor
High-quality barrel
Cons
Might not be that durable
If you want to get frizz-less, shiny hair that has volume and body, you can achieve that using this brush. The brush head might not be large enough to tackle thick hair without any problem, so styling that type of hair will take a bit more time than you would expect.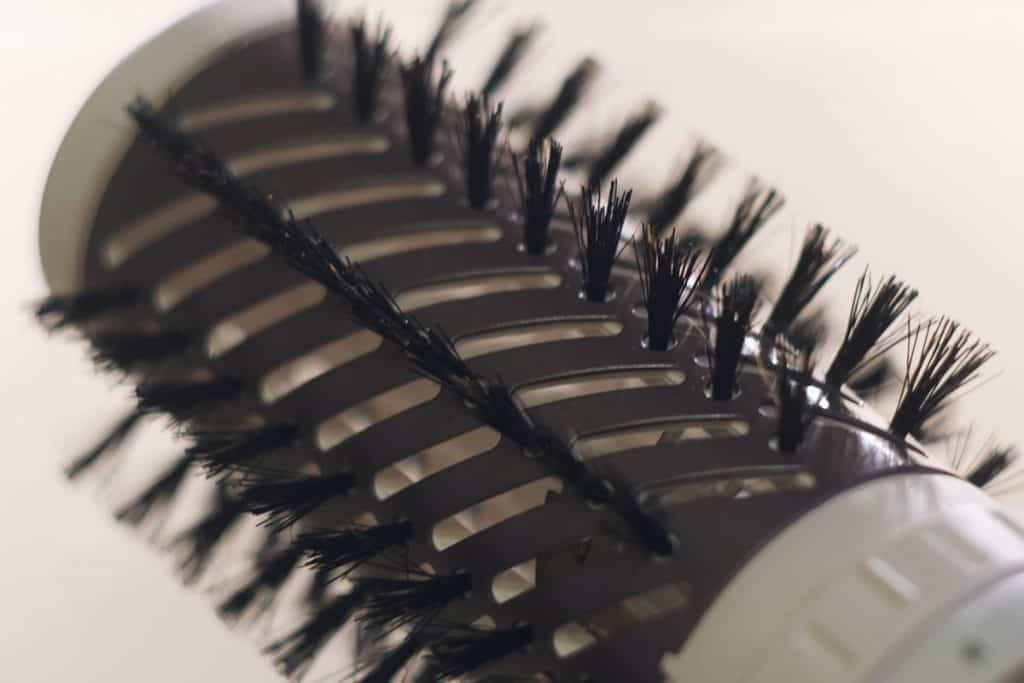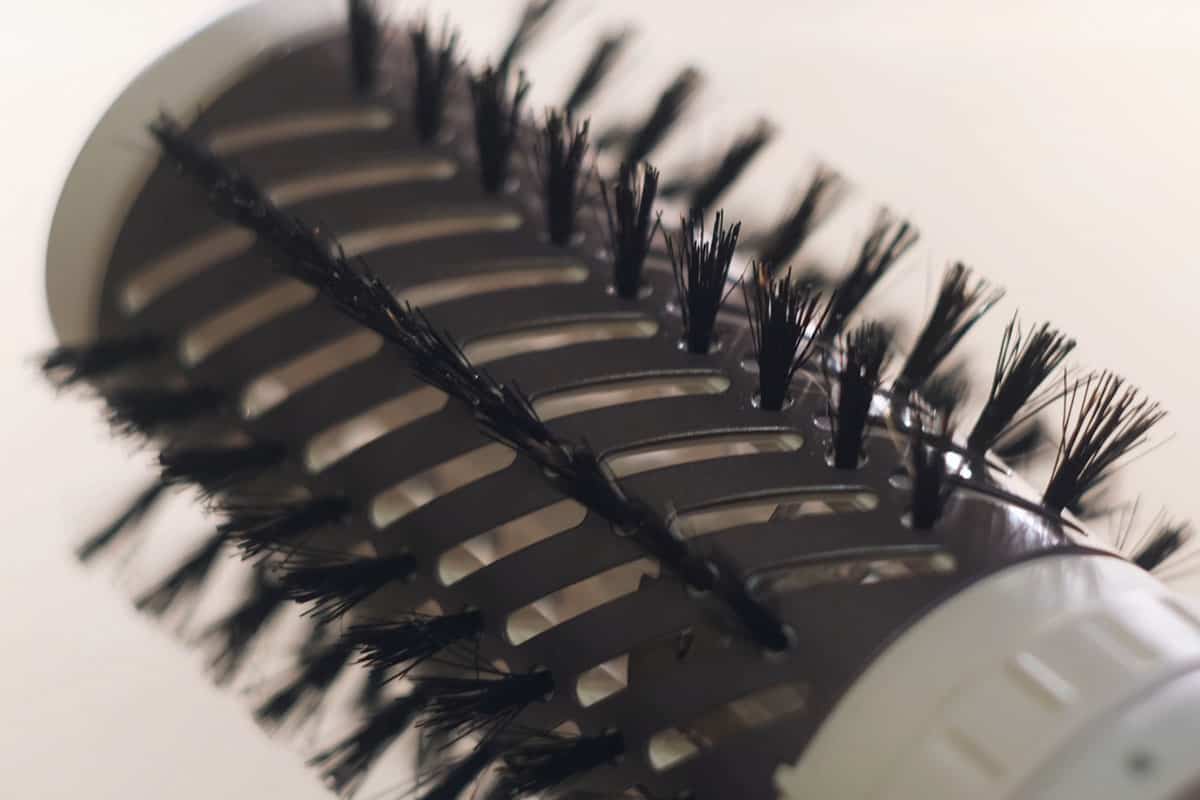 Picking the Best Hot Air Brush
There are quite a lot of hot air brushes on the market right now. With so many different features, materials, and options to consider, you might feel a bit overwhelmed when you try to find the perfect one for your hair.
However, I want to help you make a good decision, so I will point out everything you should look for in a hot air brush. So let's see what you should include on your shopping list:
Bristles
First of all, you need good bristles that will not tangle your hair but keep it smooth and shiny. You should look for a brush that has nylon ball-tipped bristles. Those will do wonders for all types of hair.
Barrel Size
In this list, I went over quite a few different barrel sizes. In case I did not mention what type of hair they are most suitable for, let me do that now.
Smaller barrels are more suitable for shorter, finer hair. The larger your barrel is, the better it will style your hair if it is long, thick, or textured. Depending on the type of hair you have, you can determine which size barrel is most suitable for you.
Additional Features
You should get a hot air brush that has adjustable temperature settings as well as adjustable speed settings. This will help protect your hair from too much damage.
Other features you need include a detachable brush head that can easily be cleaned, a swivel cord that is at least 8 feet long, an auto shut-off option, dual voltage, and so on. The more features your brush comes with, the easier the hairstyling will be!
Can You Use a Hot Air Brush Every Day?
If you have hair that is healthy and not chemically treated, you can certainly style it every day using a hot air brush. I would recommend that you use heat protective spray on your hair before using the hot tool, just to be safe. However, if you can put off hairstyling for one or two days, please do that because it can protect your hair from damage, frizz, and excessive scalp oil.
It's All About Easy Styling
Thank you for sticking with me through this guide. I have to say that these eight hot air brushes left me speechless when I first tried them out, so I hope they have the same effect on you once you try them out!
For those looking for pristine hairstyling, I recommend the Revlon One-Step Hair Dryer and Volumizer Hot Air Brush. If you are on a tighter budget or do not want to splurge on a hot air brush, you should look into the HOT TOOLS Professional Hot Air Brush. In the comments below, let me know what you think of these two brushes as well as the others that were included in this list!