Last Updated on 17th August 2023 by Chauncey Morgan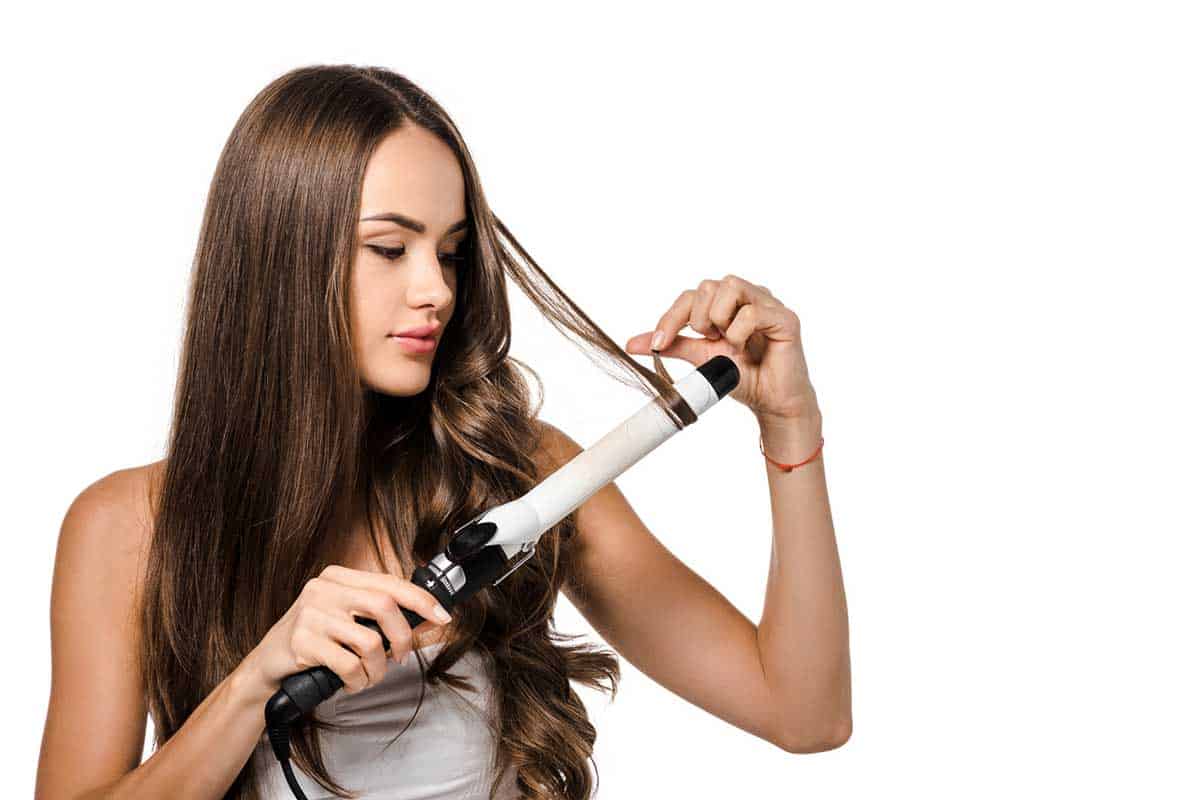 Are you scrolling online trying to find a decent curling wand, but you're completely confused by all the numbers? 25mm vs 32mm curling wand — which one should you opt for?
If this question has been on your mind and you want to spend your money right, you must read this comprehensive guide.
We listed the differences between the two tool sizes, together with a few best-selling tools we love using, creating a comprehensive guide to make your shopping experience effortless.
Main Differences Between a 25mm vs 32mm Curling Wand
The main differences between a 25mm vs a 32mm curling wand are:
A 25mm curling wand is perfect for short and medium-length hair, whereas a 32mm curling iron is more suitable for long hair.
A 25mm curling wand will help you create tighter curls, whereas a 32mm wand creates more relaxed curls, beach waves, and messy, curly hairstyles.
Curls created with a 25mm curling iron will last longer because they're tighter, whereas curls created with a 32mm wand will lose their shape faster because they're looser from the start.
Choosing Between 25mm vs 32mm Curling Wands
The 32mm curling wand has a barrel diameter of 1.25 inches, while a 25mm barrel is around an inch in diameter.
Should you get a 25mm or 32mm curling iron? Please note that bigger isn't always better. Your final purchase should depend on the curl type you want to achieve, your hair length, and type.
We prepared a detailed comparison of the two curling wand sizes, together with a few best-sellers that will make your choice even more straightforward.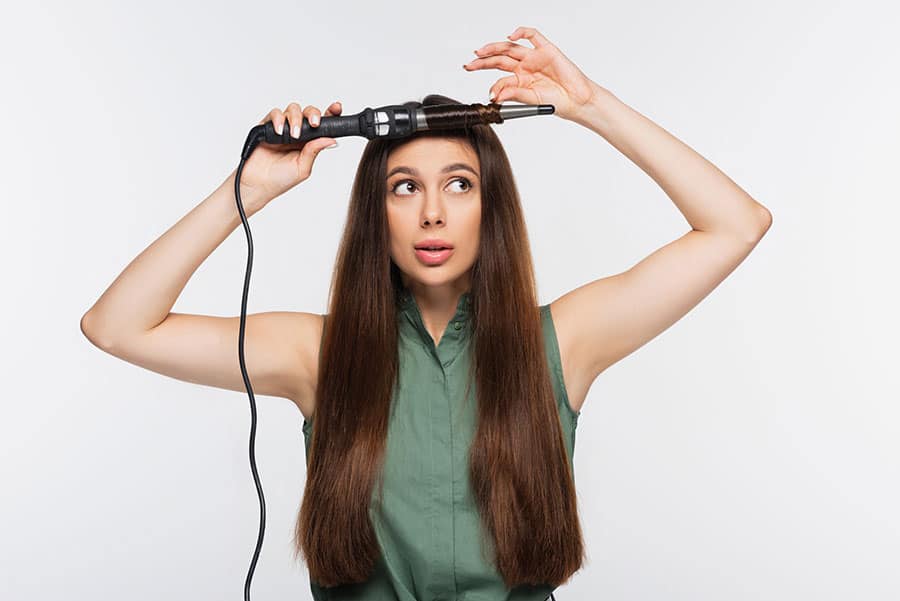 Your Hair Length
How can you determine which barrel size you need according to your hair length? It's fairly easy: Short hair requires a smaller barrel, while medium-length and long hair
can be curled with larger barrel sizes.
25mm for Short Hair
Curling short hair with a large barrel (such as a 32mm one) will be tough. The diameter of a 32mm wand is around 1.25 inches, which will make it quite challenging for people with short manes to wrap a strand around such a large barrel. You might be able to do it; however, it will definitely be a time-consuming task because you'll have to hold each strand tight, and you can end up with straight tips.
Skinnier barrels are much more suitable and simpler to use for short hairdos. In addition, the 25mm barrel is an inch in diameter, making it more suitable for hairdos that fall around the shoulders and even shorter than that.
Most people are under the impression that short hair is difficult to style, primarily because they choose the wrong tool size. With a thin barrel of 25mm, you won't have any trouble wrapping your short bob or lob around it, plus you'll get extra volume and stunning curls.
25mm for Medium Length
Medium hair lengths will benefit from all barrel sizes; your final decision depends on what kind of curl you want to achieve, your hair type, and your expertise. If you're a beginner, you'll find it much easier to style your medium-length hair with a thinner barrel such as the 25mm. However, more experienced users won't have trouble using any barrel size for this hair length—they'll be happier with the 32mm barrel for looser curls and beach waves and the 25mm size for tighter, more defined curls.
So, if you have long hair, you'll find it much easier and faster to curl with a 32mm wand. That doesn't mean it's the only barrel size you can use, though. The 25mm wand will be an option too, but only when you don't have very long hair and have strands that don't fit around the barrel.
32mm for Long and Very Long Hair
A 32mm curling wand is ideal for long and very long manes because it creates a larger surface for you to wrap each strand so that the hair is equally exposed to heat without it overlapping. If you don't lay the hair down adequately (and use a smaller wand than necessary), you'll struggle with crooked curls that don't have a uniform look.
The L'ange Hair Ondulé Curling Wand is at the top of our shopping list for long-haired folks, because it's a user-friendly, high-quality tool that many hair professionals have in their salons.
In general, the 25mm wand is a more preferred size because it works for most hair lengths, except for very long manes. This tool size will be a great addition to the cabinets of those with short, shoulder-length, medium, and long hair, as long as they love having tight, structured curls.
Your Hair Type
25mm for Thin Hair
If you're struggling with thin, delicate hair that needs a boost of volume, then a thinner barrel such as the 25mm should be your go-to choice. The curls you'll achieve with this tool will be much bouncier, meaning that it will create the illusion of a thicker, fuller mane.
Our favorite wand in the 25 mm category is the FoxyBae WANDERLUX 25mm Curling Wand because it has various heat settings that start from 300 degrees F and go up to 450 degrees. In other words, you can curl your thin, delicate mane at a lower temperature and prevent damage thanks to the advanced rose-gold titanium technology the wand uses.
25mm and 32mm for Thick Hair
Thick hair types have it much easier. Thick, coarse hair has significantly more volume, so you can style it with both barrel sizes, depending on the length and curls you want to achieve.
Using a larger barrel for thick hair can be slightly more challenging, but with a bit of practice, you'll get used to it. In addition, most curling wands come with specialized gloves that protect you from the heat and make the curling process simpler. A great example is the INFINITIPRO BY CONAIR Rainbow Titanium 1.25-Inch Curling Wand that includes a thermal glove, plus heats up to 400 degrees, making it an excellent tool for thick hair types.
Resulting Curls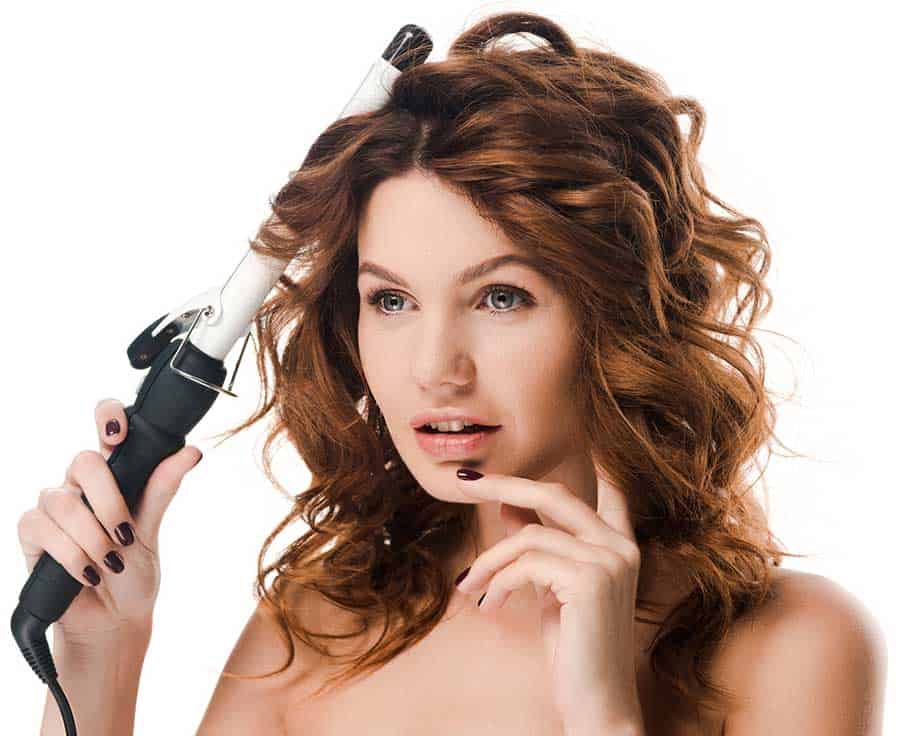 22mm Curls
As we mentioned before, curls created with a 25mm wand are more polished, tighter, and bouncier. Since it's smaller in diameter, this barrel size will achieve more spiral curls. You'll be wrapping each strand multiple times around this tool, resulting in defined curls and waves that don't require frequent touch ups.
In general, both beginners and professionals are obsessed with this barrel size because it offers a lot of versatility when styling your hair. The L'Ange Hair Lustré Curling Wand is also one of our favorite 25mm curlers because of its gorgeous appearance, high-quality, multiple heat settings, automatic shut-off feature, and 360-degree swivel cord. If you're looking for an affordable alternative, we highly recommend the Le Angelique Ceramic Curling Wand.
With a 25mm tool, you can practice a range of curls and waves, including spiral, textured, vintage, defined curls, Hollywood, and effortless waves. The barrel size is the same—the only difference is in the way you position the curler and wrap the hair around it.
A big advantage of the 25mm curling wand is that the hairstyles you'll create will last longer. That's primarily because the curls and waves are tighter, so regardless of the hair type, it will take longer for them to loosen up. The finished look is polished, long-lasting, and more uniform.
32mm Curls
Unfortunately, a 32mm wand doesn't offer the same versatility as a 25mm wand. It's larger in diameter, so as you can probably already guess, the curls will be looser and the waves will be more relaxed.
Although you can't use it to create as many hairstyles as the 25mm size, this tool will still help you achieve the very luxurious Hollywood waves that you see in movies.
The beachy waves with the 32mm barrel will be more effortless and tousled, so it'll appear as though you got right out of bed looking fabulous. Some of the potential hairstyles to try with this tool include blowout waves, messy beachy waves, classic waves, relaxed curls, large curls, etc.
Another thing you need to know about this barrel size is that the curls and waves won't last as long as those that are created with a thinner barrel. These hairstyles will be looser right from the start, so it's understandable that the hair weight makes them looser and even more undone as the day goes by.
Conclusion
Professionals love the 25mm curling barrel because it's one of the most common sizes and works fantastic for most people. It's a tool that can help you create a wider range of hairstyles; it's more versatile to use and achieves a long-lasting result. This size is ideal for ladies with short and medium hair length but isn't always great for long hair.
The 32mm barrel is slightly bigger and ideal for people with long hair who prefer tousled, messier looks and beachy waves. This curling wand size is more suitable for ladies with medium, long, and very long hair. Unfortunately, it doesn't offer the same variety of hairstyles that a 25mm curling wand does.
When it comes to versatility, the clear winner for most folks seeking to curl their hair would be the 25mm curling iron — it's great for short and medium-length hair, whether it's thin or thick. It also delivers the defined curls that most folks want. For this type of curling wand, I highly recommend the FoxyBae WANDERLUX.
However, for those who have long hair and prefer loose curls for an effortless vibe, do go for the best 32mm option, the L'ange Hair Ondulé.