Last Updated on 17th August 2023 by Chauncey Morgan
Let's be honest – if you had to name the hairstyle that marked the last decade, it probably would be beach waves. Nice, soft, and natural-looking, beach waves look good on everyone, which is why we all love them so much. However, to achieve this hairstyle, you need to have the best curling iron for beach waves.
If that is something that you are still looking for, you have come to the right place. I am a professional when it comes to beach waves, especially because I spent years trying to find the best tool for exactly this purpose. I will tell you this: Once you have the right tool, everything else will fall into place, and you will be walking around with the hair of a goddess in no time.
Still, there is a decent amount of research that you need to do before you decide which curling iron you want to purchase. They come in various sizes with a ton of extra features. Some have only one barrel while others have three. This all should be taken into consideration before you choose a curling iron for your hair – but I am here to help you make that choice.
Luckily for you, I have come up with a list of the ten best beach wave curlers that you need to know about. You cannot go wrong with any of these curlers because they are perfect for all types of hair, and they make the best beach waves you have ever seen. With one of these tools, you will have no problem achieving the hairstyle of your dreams.
If you are interested in learning more about these tools, I suggest you keep on reading. In this review, I will talk about each of the ten tools in great detail. So settle in, and let's get right into it!
TOP PICK

My ultimate favorite is the BaBylissPRO Nano Titanium 1 1/4'' Spring Curling Iron for Beach Waves. It has the ceramic barrel with Sol-Gel Nano titanium technology, the adjustable temperature, the fast heating option, and the long swivel cord. It contains everything you would ever need from a curling iron at quite an affordable price, so I believe it would be easy for everyone to get it and try it out for themselves!
The Best Curling Irons for Beach Waves: The Reveal
PRODUCT
DETAILS
PRICE
#1 BaBylissPRO Nano Titanium 1 1/4'' Spring Curling Iron



Sol-Gel technology

Turbo heat button

Various barrel sizes

CHECK PRICE

#2 Bed Head Curlipops 1'' Tourmaline Ceramic Curling Wand



Clamp-free styling

Cool tip included

Comes with a heat-protective glove

CHECK PRICE

#3 Bed Head Wave Artist Ceramic Deep Hair Waver



Multiple head settings

Auto shut-off

Tourmaline ceramic technology

CHECK PRICE

#4 CHI Spin N Curl 



Ceramic rotating barrel

Optimal styling temperature

Tangle-free function

CHECK PRICE

#5 Hot Tools Professional Nano Ceramic Deep Waver 



Micro shine plates

Pulse technology

Professional swivel cord

CHECK PRICE

#6 Alure Triple Barrel Curling Iron 



Non-slip handle

LCD temperature display

Fast heat-up

CHECK PRICE

#7 Conair Double Ceramic Triple Barrel Waver



30 different heat settings

Turbo temperature boost

Higher ceramic content

CHECK PRICE

#8 Revlon Salon 3/4'' Ceramic Hair Waver 



Constant heat monitors

Lightweight design

Locking switch

CHECK PRICE

#9 Revlon Three Barrel Ceramic Jumbo Waver



Jumbo-sized barrels

Locking ring

Tourmaline coating

CHECK PRICE

#10 Bed Head Swerve and Curve Hair Waver 



Heat recovery

Waver and wand in one

Reduces hair frizz

CHECK PRICE
The time has come to dive into the most fun part of this review – the detailed reviews of each one of these ten amazing curling irons for beach waves. Let's see what they are all about and what makes them so great:
Coming in first place and as my Best Overall choice is this amazing curling iron from BabylissPRO. What I love most about it is the high-quality barrel made with Sol-Gel technology. The barrel also has far-infrared heat which means that it will not damage your hair at all during the styling process.
Key Features
Ceramic barrel with Sol-Gel technology
Adjustable temperature
Turbo heat button
The company has created variations of this curling iron. Depending on your type of hair, you can choose the barrel size you like best. They come in sizes from ¾ inches up to 1 ½ inches.
Pros
Long swivel cord
Far-infrared heat
Cons
This curling iron comes with so many great features that will help you create the perfect beach waves, so I recommend you look into it. It also comes at an affordable price, so that is a big plus as well!
Unlike the previous curling iron, this curling iron from Bed Head offers hairstyling without the use of a clamp. All you need to do is wrap your hair strand around the barrel of the tool, wait for a few seconds, and then let go of it!
Key Features
Dual voltage
Rapid heat recovery
High heat setting for easier styling
No need to worry about burning your fingertips with this tool – it comes with both a cool tip at the end of the barrel and a heat protective glove for your hand. Styling your hair will be easy and safe!
Pros
Makes hair shinier
Reduces frizz
Cons
Temperature is not adjustable
This curling iron works like a charm when it comes to creating beach waves. The high temperature might not be as suitable for people with fair hair, but with a few sprays of heat protectant, even they would be able to use it!
I know that when you think of a curling iron, you usually think of those long, round barrels. However, Bed Head came up with a curling iron that has a unique barrel shape. It turns out that this barrel shape can help you create the perfect beach waves!
Key Features
Dual voltage
Adjustable temperature settings
Auto shut-off
Not only will this tool give you perfectly shaped waves, but it will also help you create lasting waves. Your beach waves will stay perfect for days before you need to re-touch them.
Pros
Simple and fast hairstyling
Cons
More suitable for long hair than short hair
Do not let the unique shape of the barrel hold you from giving this curling iron a try. If you have longer hair, this type of barrel will work perfectly on your hair and will make it look better than ever!
Let's look at another curling iron with a very unique shape! This one comes from CHI, a well-known company for all types of hair tools. If you ask me, their Spin N Curl , an automatic curling iron, looks almost like a flower which makes hairstyling much more fun!
Key Features
Curl direction button
Preset curling time
Dual voltage
This curling iron might look like it is difficult to use, but it is exactly the opposite. All you need to do is adjust the temperature and preset the curling time, then place one section of hair in the curler, wait for it to beep, and your curl will be all done!
Pros
Comes with a cleaning tool
Auto shut-off option
Cons
Curling thicker and longer hair takes a lot of time
With this CHI curler, you will not need to curl your hair – the tool will do that for you. All you need to do is adjust it according to your needs and let it work its magic!
Check out this post to see more of these rotating curling irons. 
Also known as the "deep waver," this curling iron from Hot Tools has a similarly shaped barrel as the Bed Head Wave Artist. With features like adjustable temperature and pulse technology, this curling iron will style your hair perfectly without causing damage!
Key Features
Temperature control dial
Pulse technology
Shag-free styling surface
Thanks to the Nano-ceramic surface, you will be able to style your hair without any pulling. Your hair will look smooth and shiny afterward with a great beach wave pattern throughout your strands.
Pros
Reduces hair frizz
Long-lasting beach waves
Cons
Does not have an auto shut-off option
If you are looking for something that will style your hair quickly and easily, you have found your tool. Remember to adjust the temperature and use some heat protectant on your hair if you have to avoid damaging it at all.
If you think you've seen every possible curling iron shape thus far, think again! Let me introduce you to this Alure triple barrel curling iron, one of the best tools that can help you achieve beachy mermaid waves!
Key Features
Suitable for all hair types
Extra fast heat-up
LCD temperature display
It is very useful to have a temperature display like this curling iron. Once you adjust the temperature, you can check to see if the tool holds that temperature or if it changes. This feature makes styling that much easier!
Pros
Temperature is adjustable
Barrels have a protective coating
Cons
Power button has a problematic position
If you are looking for a curler that can speed up the whole curling process, this triple barrel curler might just be the perfect thing for you. It comes at a very affordable price, so you do not even have to think twice about buying it for yourself!
This is the first time I am mentioning a hair tool from Conair even though this company has created some of the most iconic hairstyling tools. Their double ceramic curling iron with three barrels is the perfect tool for people with all hair types and textures.
Key Features
Triple barrel gives continuous waves
Consistent heat
Adjustable temperature settings
So what does double ceramic mean exactly? This means that the curling iron has a higher ceramic content, so it offers faster hairstyling and waves that last for days!
Pros
Long-lasting results
Turbo boost option
Cons
Does not have a dual voltage
This triple barrel curler is the real deal if you want great beach waves. All you need to do is plug it in, adjust the temperature, and get right to curling!
If you are looking for a tool that will give you long-lasting beach waves that look professionally done, then you need this Revlon Salon ceramic curling iron. With a cute black and pink design, it is bound to amaze you.
Key Features
Tourmaline ceramic coating on the barrel
Adjustable heat option
Constant heat on barrel
This curling iron is very easy to use and will make you feel like a true hairstylist. It does not damage the hair at all, leaving it smooth and shiny for days to come.
Pros
Cool tip included
Lightweight ergonomic design
Cons
Might not work as well on shorter hair
This tool is perfect for everyone looking for some easy hairstyling with no tugging, tangling, or extra effort. It also comes at a superb price, so there is nothing that will keep you from giving it a try!
You probably know that curling iron barrels come in various shapes. I have mentioned several different barrel sizes and shapes this far, and now, I will tell you more about a great jumbo size curling iron that is perfect for those with thicker, curlier hair – the Revlon Jumbo hair waver!
Key Features
Up to 30 heat settings
Tangle-free swivel cord
Locking ring
As I mentioned, the size of the barrel on this curling iron is perfect for styling thicker hair. However, you can also use it on finer hair if you want to curl larger sections at the same time. The effort will be minimal, but the results will still be amazing.
Pros
On/off indicator light
Barrels have tourmaline ceramic coating
Cons
This curling iron will give you natural-looking beach waves in only a matter of minutes and with nearly no effort at all. There is nothing better if you are looking for easy and quick hairstyling!
Are you into beach waves as much as you are into tousled curls? With this great curling iron from Bed Head, you will be able to get both with just one tool!
Key Features
Multiple heat settings
Heats up to 400 degrees
Features rapid heat recovery
The plates on this curler have a locking option, so your hands will not get tired when you use the waver to make your favorite waves.
Pros
Cons
Might get a bit too hot while styling
If you want to have a tool that you will be able to use for versatile styling, then this is the perfect one for you. It comes at a very affordable price, and it is packed with features that you are bound to love!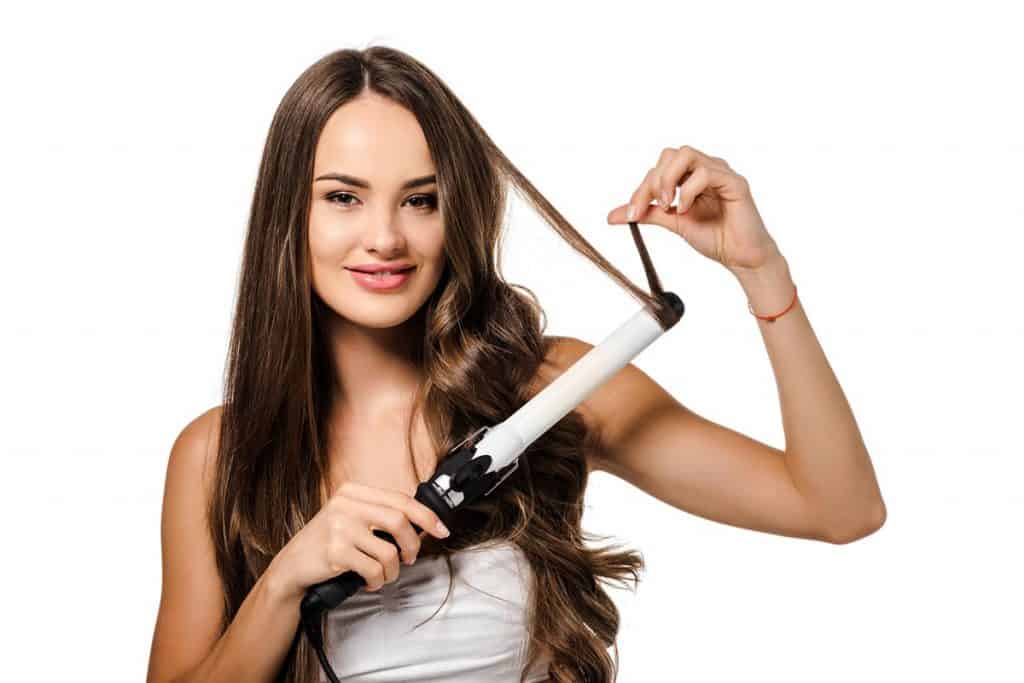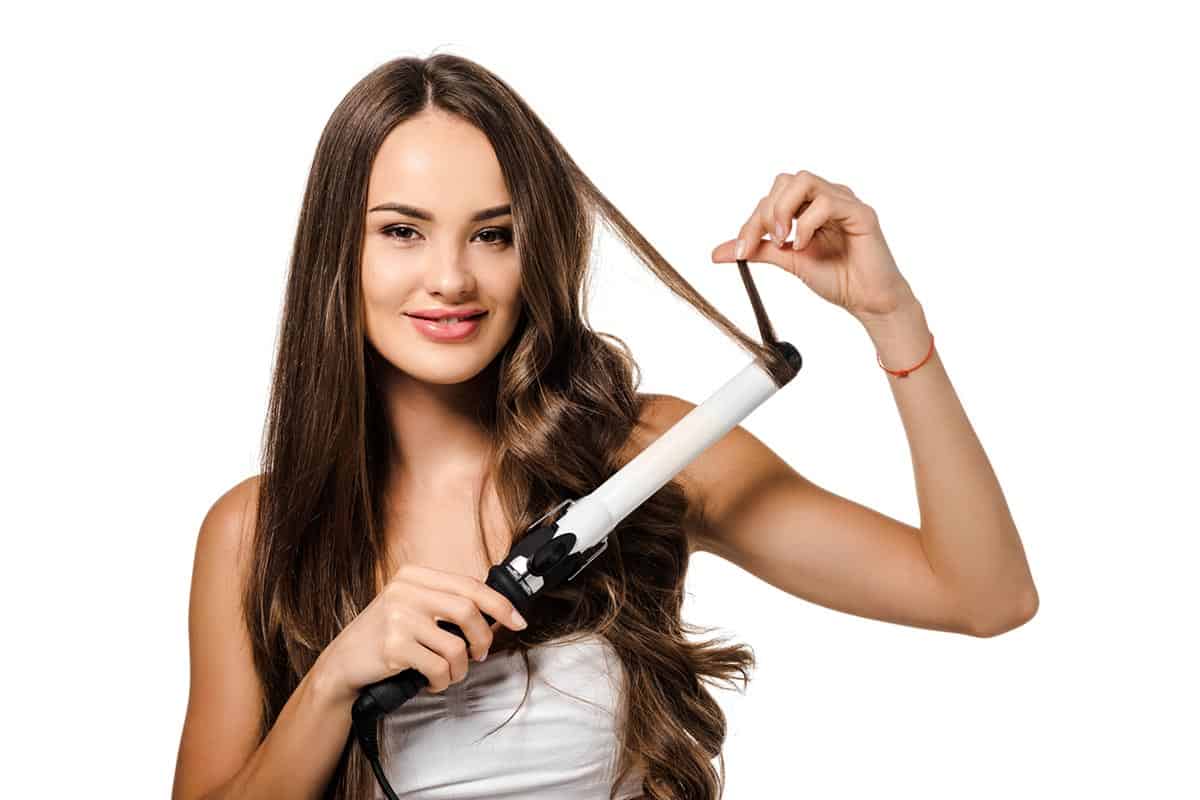 How to Pick the Best Curling Irons for Beach Waves
We've got our best picks, but you also need to know how to choose the best one for your type of hair. Here are a few pointers to help you make a better, more educated decision:
Barrel Material
I suggest that you get a curling iron that has a ceramic barrel. With this material, you will get an even heat distribution throughout the barrel, and the material will hold the heat at a constant temperature as well.
If you can find a curling iron that also has a tourmaline-infused coating on the barrel, that is a great addition. This type of coating can help eliminate frizz and give shine to the hair.
Barrel Size
When it comes to barrel size, you can make the perfect beach waves with barrels that are between 1 ½ inches and 2 inches. The first one is more suitable for thinner and finer hair, while the second is better for thicker, textured hair.
Depending on the type of curl you are going for, you can choose between the differently-shaped curling irons. You might have noticed that the list contains hair wavers, triple barrel curlers, clamp curling irons, and curling wands. Let me tell you which shape and configuration is most suitable for your hair!
Deep Wavers
Hair wavers can give you the best natural beach waves. These deep wavers can be used on all types of hair—if you have thick hair, you will have to spend a bit more time styling it, but the end results will make the process worth it!
Rods
And then you have the curling irons which have clamps and curling wands which often have a tapered shape. The clamps in curling irons make these tools most suitable for tighter curls and waves, while the lack of clamps and the tapered shape of curling wands are better for loose waves.
Is a curling iron or wand better for beach waves?

It depends on the type of wave you are going for. If you want something that looks more natural, then the curling wand will be better. If you want a more controlled wave look, you will be better off using a curling iron.
Triple Barrel
Finally, you have the triple barrel curlers. These are also suitable for styling all types of hair and can give you the best mermaid waves. Out of all these, the triple barrel curlers are the easiest to use, so that is something to keep in mind if you are not up for a challenge!
Additional Features
As for the features, you should look for a curling iron that comes with as many features as possible. There are so many companies that make such irons nowadays, so you will have plenty to choose from.
Some of the features that you could benefit from are adjustable temperature, long swivel cord, dual voltage, lightweight and compact design, ergonomic handle, and a cool tip for the barrel. Anything that the curling iron has aside from this is always a plus!
Get the Right Tool for Your Beachy Waves
I hope this review helped you learn a lot about beach waves and the best tool that you can use to achieve them. If you are looking to splurge and get a professional curling iron, I suggest you look into the BaBylissPRO Nano Titanium 1 1/4'' Spring Curling Iron for Beach Waves. If you are on a tighter budget, then you should check out the Bed Head Curlipops 1'' Tourmaline Ceramic Curling Iron for Beach Waves.
Thank you for sticking with me through this review. Let me know your thoughts on my selection. I would love to hear if I convinced you to try one of these curling irons out!