Last Updated on 17th August 2023 by Chauncey Morgan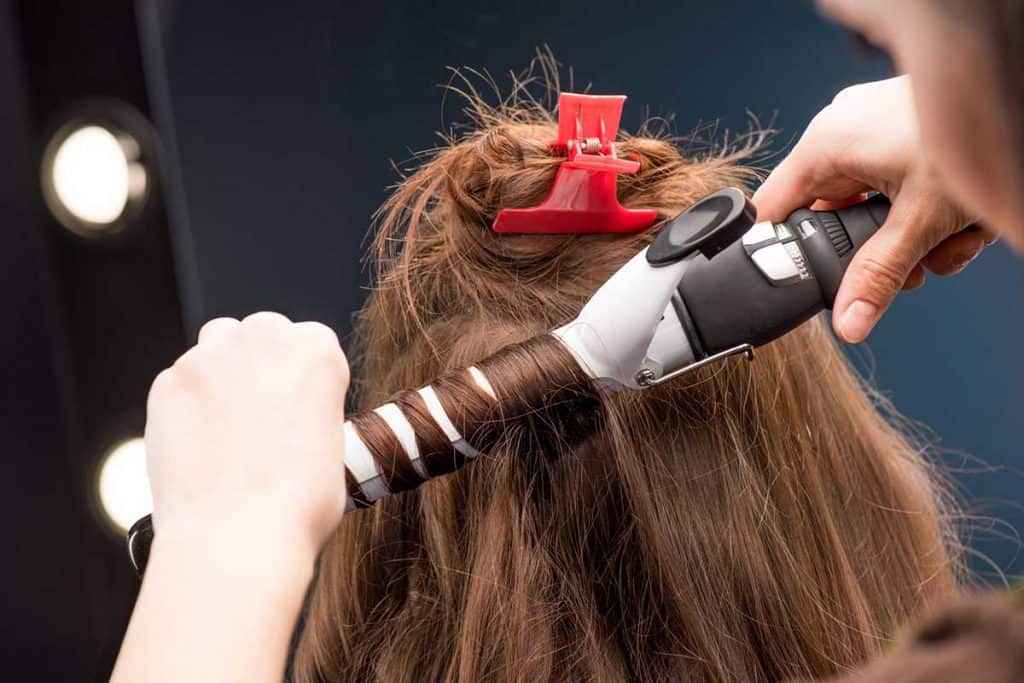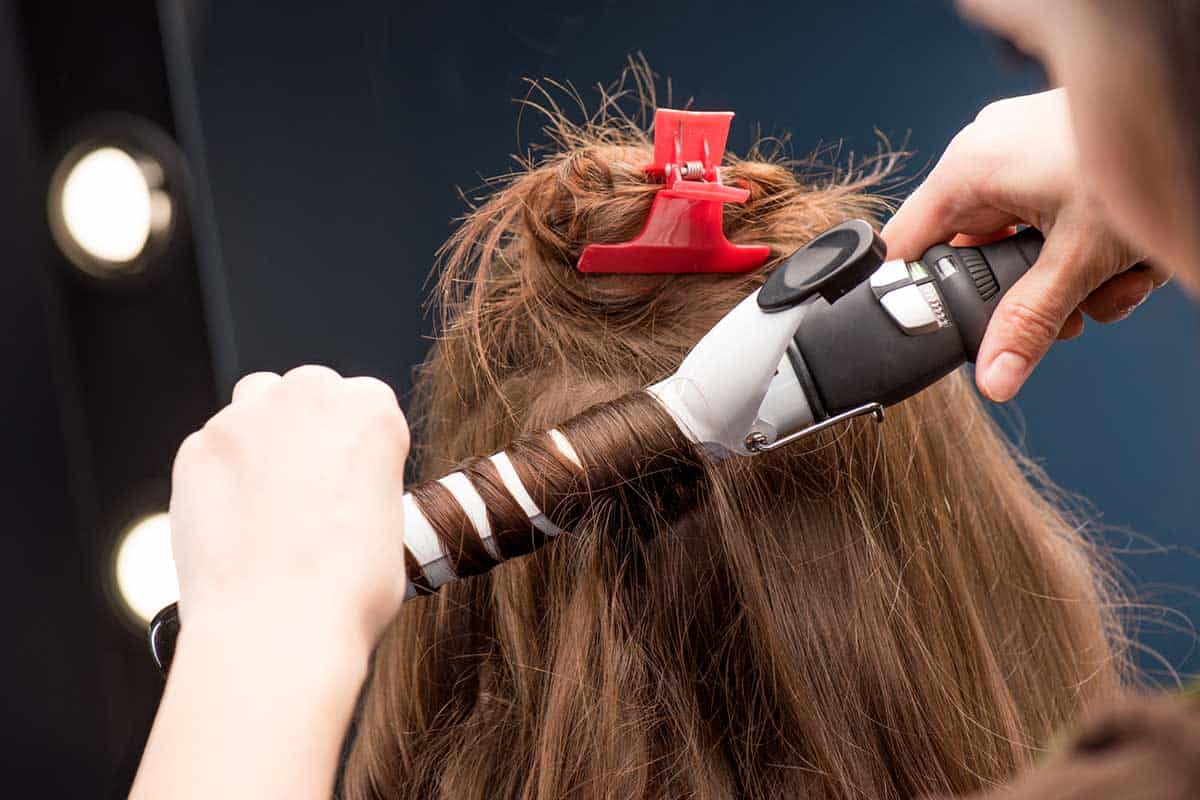 Whether you are after tight ringlets or beach-ready waves, you can achieve it with a curling iron! Though curling irons may seem overwhelming (How does it hold onto your hair? Will you burn your fingers?), these popular styling tools are actually very easy to use. In this article, we walk you through how to use a curling iron wand and offer tips for curling different hair types.
What is the Difference Between a Curling Wand and a Curling Iron?
You may be wondering: What is the difference between a curling wand and a curling iron?
The most notable difference between the two is that a curling iron has a clamp, while a wand does not. While this may suggest a wand is more challenging to use, the lack of a clamp means your curls won't have any annoying and unsightly creases.
In terms of function, a curling iron is more limited. Curling irons are best for creating loose, classic curls while curling wands are capable of creating a variety of curls and styles.
That being said, you also have the option of getting one of those straightening and curling iron combos.
How to Use a Curling Iron: Step-by-Step
Using a curling iron to style your hair is a lot easier than you might think. Simply follow the steps below!
1. Choose the Right Curling Iron
Your first step is to choose the right curling iron for the look you are trying to achieve. For bouncy, natural-looking curls and waves, choose a curling iron that has a barrel wider than one inch.
It's pretty easy so far, right?
2. Prepare Your Hair for Curling
Heat can be damaging to hair. If you plan on curling your hair regularly, then it will be important to prepare your hair properly.
If you aren't already using one, switch to an ultra-moisturizing shampoo and conditioner. These will specifically target dry patches in your hair and prepare them to accept heat and curl.
If you plan on curling your hair after a shower, then towel dry your hair before adding a bit of mousse. Mousse smooths hair cuticles, which makes it easier for them to accept heat and curl.
Finally, spray a heat protectant on your hair before exposing it to direct heat.
3. Set the Right Temperature
Next, you will need to set the right temperature.
If you are new to curling your hair, then start with the iron's lowest heat setting. You will know if you need to increase the heat if your curls are too loose and continuously fall out.
Oftentimes, very thick hair will need a higher heat setting, while thinner hair can get away with lower temps.
4. Start Curling
Finally, you are ready to start curling! To begin, take a small section of hair and wrap it around the curling iron's barrel, from the base towards the tip.
Hold the iron in place for five to seven seconds to allow the heat to penetrate your hair and set the curl.
To release each curl, simply rotate your wrist in the opposite direction.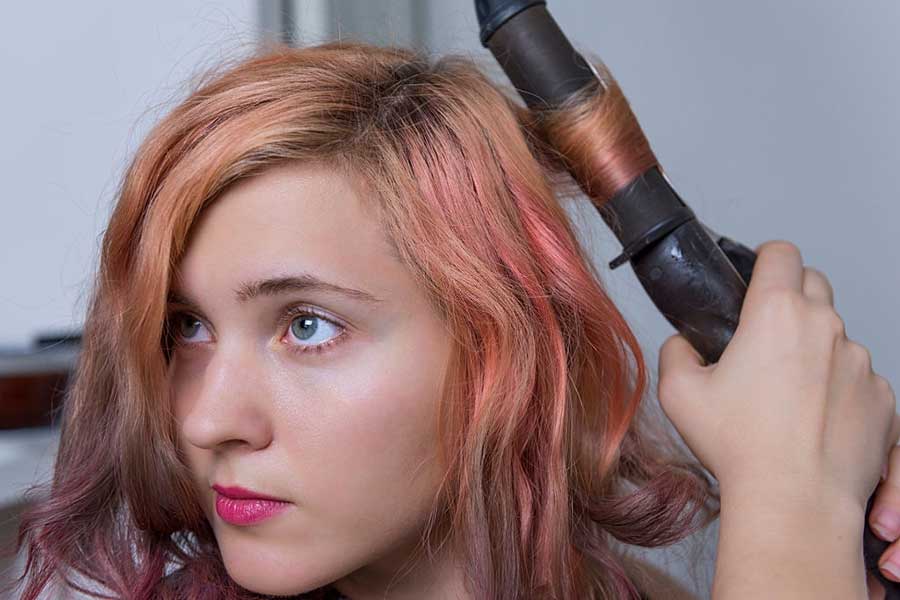 How to Curl for Voluminous Waves
Voluminous waves are always a popular style, and they are easily achievable using a curling iron. Simply curl each section of hair while holding the iron horizontally. This will give the appearance of curls that are larger and more voluminous.
How to Curl for Ringlets
If it is ringlets you are after, then the key is in how you hold your curling wand. Take a section of hair — a large section for bigger ringlets or a small section for smaller ringlets — and wrap it around the wand while it is angled straight up.
How to Curl for a Natural Look
To achieve those effortless, natural-looking curls, focus on curling just the bottom half of your hair. That is, instead of curling from your hair's roots, curl from about the length of your ear. This will leave your roots mostly straight and add a nice, bouncy curl towards the ends.
5. Shake Your Curls
Your last step is to shake out your curls. Once you have curled your entire head of hair, flip your head over and shake it a little. But don't use your fingers! Between gravity and a little shake, your new curls will loosen into natural, attractive waves.
Simple Tricks for Better Curls
Curl Day-Old Hair
Believe it or not, hair that is a little oily will curl and hold a lot better than freshly washed hair. For this reason, you may find it helpful to skip getting your hair wet in the 24 hours before you intend to curl.
To make sure your hair's natural oils are evenly spread across your head, run a brush through your hair while your curling iron heats up.
Bigger Curls
A bigger  barrel equals bigger curls and waves. For more volume, look for a curling iron that has at least a two-inch barrel. Some curling irons and wands even come with multiple attachments, so you can choose which barrel best suits that day's intended look.
The Ponytail Trick
If you are still getting the hang of styling your hair with a curling iron, then you may find the ponytail trick to be helpful.
The ponytail trick is also helpful for hair that is very thin.
To start, pull your hair into a high ponytail and secure it with a hairband. Then curl the end of your ponytail small section by small section.
Depending on the thickness of your hair, you may need to leave each strand of hair wrapped around the barrel for a few more seconds than normal.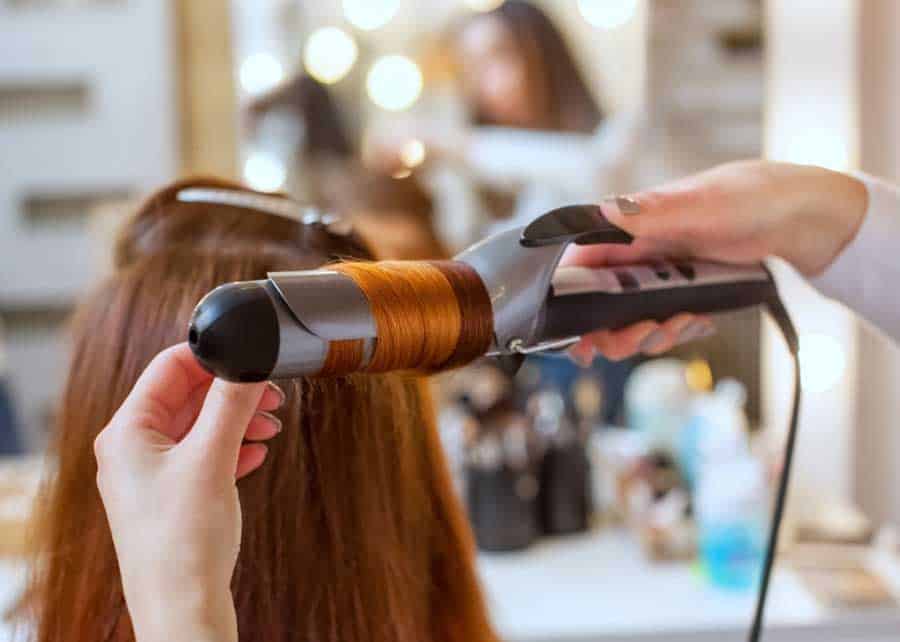 Tips for Curling Short Hair
Granted, most people who cut their hair short do so to avoid having to style it each day. However, if you are in the mood for something new, then a curling iron is a helpful tool to have on hand.
Short hair looks great with tousled curls, and these are easily achievable by holding your iron in a vertical position. Ensure your curls stick around by finishing them up with a spritz of hairspray.
Tips for Curling Medium-Length Hair
If your hair is about shoulder length, then you have lots of options when it comes to styling your hair. For the best results regardless of your chosen style:
start with hair that hasn't been washed for about 24 hours
begin curling your hair ear-level downward
don't worry if each curl looks different — this will add to the natural look
a quick application of dry shampoo at the roots can add a little volume to limp hair
when you are done, lightly brush out each section and add some hair spray
Tips for Curling Long Hair
Long, long, mermaid-style hair is all the rage right now, and there may be no length that is more fun to curl. Long hair looks great with lots of volume! Of course, longer hair means more hair, so it can be helpful to enlist the help of a product like a blow-dry balm, which will tame any frizz and make it easy to control your hair as you curl.
When you are curling long hair, begin with the bottom sections. Twist hair around the wand's barrel, then turn the wand itself away from your face.
Just like with medium-length hair, you will likely find that curling from ear-height down results in the look you want.
When you are done, you can use your fingers to gently separate the curls to achieve a softer look.
FAQs
Which way do you curl your hair?
You should always curl your hair away from your face. This will look more natural and will even make your face appear brighter.
How can I keep from burning my fingers on a curling wand or iron?
As you use your curling iron more and more, burning your fingers will become less likely. In the meantime, you can do what the pros do and use a heat-resistant glove specially designed for working with hair and heat. With the glove, you can accidentally touch the barrel and you won't feel anything.
The Bottom Line
Learning how to use a curling iron or wand is not nearly as challenging as it may seem. Unlike a curling iron, which has a clamp, curling wands require you to wrap strands of hair around the wand. Tilting the wand in different directions can determine the look of your curls.
For example, tilting the curling iron vertically results in ringlets, while tilting horizontally leads to loose waves. Simple steps like preparing your hair for heat and shaking your curls round out the steps required for the easy task of curling your hair with a curling iron.