Last Updated on 17th August 2023 by Chauncey Morgan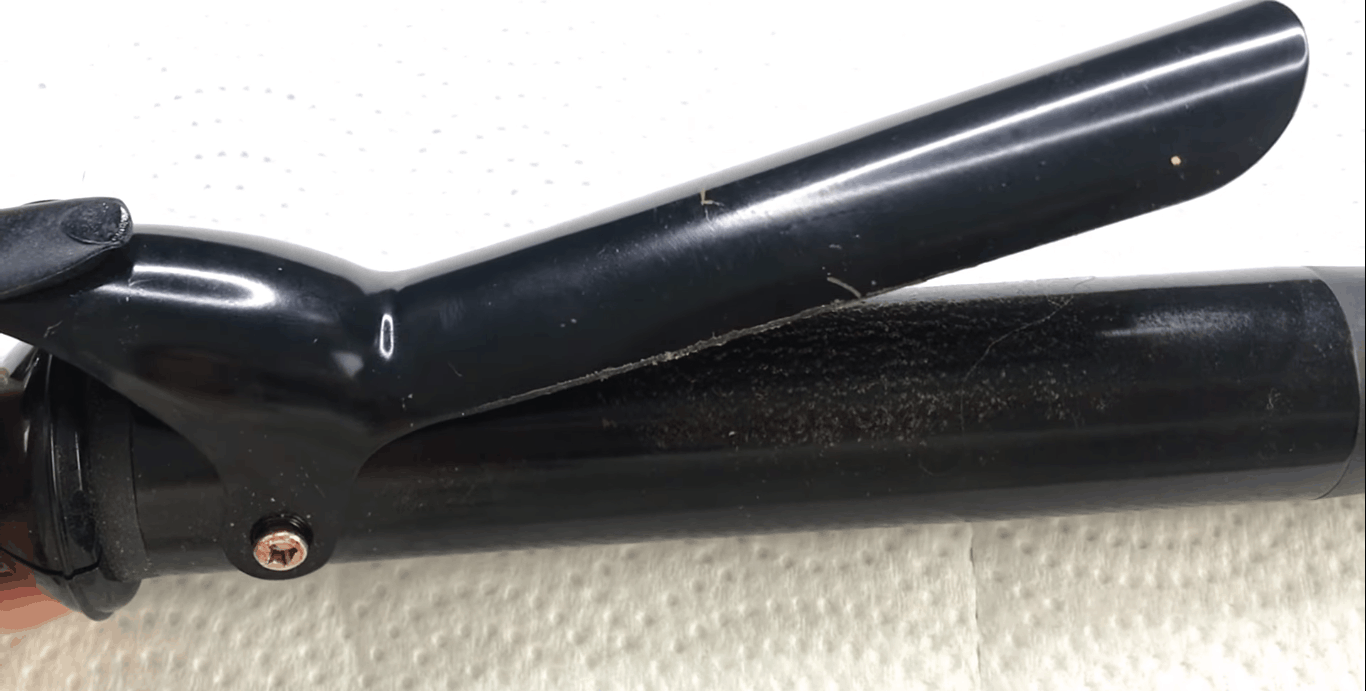 Have you ever found yourself wondering why your curling iron stops working as it did when you first got it? One of the main reasons why curling irons and all other types of hair tools malfunction after some time is because we do not do our best to keep them clean. Today, I will tell you more about the importance of cleaning as well as how to clean a curling iron!
It is safe to assume that most of you have at least one hair tool at home, whether it is a flat or curling iron, a straightening brush or another type of tool. The simple rule is that if you want your hair tools to work to the best of their ability, style your hair with precision, and without damaging it at all, you will need to clean those tools and keep them on their A game!
Cleaning hair tools is not something that has been popular for a long time, but it is so important that you should not avoid it any longer. It only takes a few minutes and some products that you probably already have at home to make your hair tools spotless. It will not only save you the trouble of buying new tools, but it will also contribute to your hair looking much nicer.
Now that I have established the importance of cleaning hair tools (curling irons included), I would like to tell you everything you should know on the topic. In this guide, you will learn how to clean your curling iron, what to use, how often to do it, and why you need to do it. If this sounds like information you could use, I suggest you keep reading!
Why Do I Need to Clean My Curling Iron?
All hair tools should be cleaned often – the more you use them, the more you will need to clean them. When it comes to curling irons, there are two main reasons why you should consider cleaning them after you style your hair.
The first reason is that the products you use on your hair will end up on the curling iron, forming grime that will then get stuck on the surface of the iron. This happens with flat irons and all other types of hair tools.
It is very important to remove the grime and buildup from the surface of your tools or they will not style your hair as well as they did before.
The second reason is that all that grime that forms on the curling iron will eventually lead to its demise. All of the dirt, grime, and dust attached to the curling iron will make it stop working, and you will find yourself having to spend extra money to buy a new one. It would be so much easier to just clean the iron and have it around for much longer.
How to Clean a Curling Iron: 2 Methods
It takes only a few things and a few minutes to take a dirty curling iron and turn it into a spotless one. You can clean it with a special curling iron cleaner, but it is not necessary to spend money on such a cleaner when you can use things that you probably have in your home.
Preparation
Here is what you will need if you are planning on using my methods for cleaning curling irons:
some cotton pads or a paper towel

rubbing alcohol — this will usually remove most of the grime

an old soft toothbrush that you no longer need — make sure it's soft so it won't scratch your tool

some water

toothpaste

baking soda — this is great for tough gunk
Once you have gathered these things, you can start cleaning!
I recommend that you clean the iron when it is warm but not too hot. You can clean the curling iron after using it or you can plug it in, leave it to warm up for a few seconds, unplug it, and get to the cleaning.
If the curling iron is at least a bit warm, then that will loosen up some of the grime and dirt and make it easier to clean. If you'd rather clean the curling iron while it's cold, you will have to do a bit more scrubbing to remove the dirt.
Method 1: Remove Loose Stains with Rubbing Alcohol


Add some rubbing alcohol to a cotton pad or paper towel, and gently wipe the curling iron. You will see that after just a few wipes, the pad or towel will start looking nasty as all that dirt starts coming off!
Since you also touch the handle and cord a lot, they will need to be cleaned and disinfected as well. Take another cotton pad or a paper towel and gently wipe over the handle and cord with some rubbing alcohol.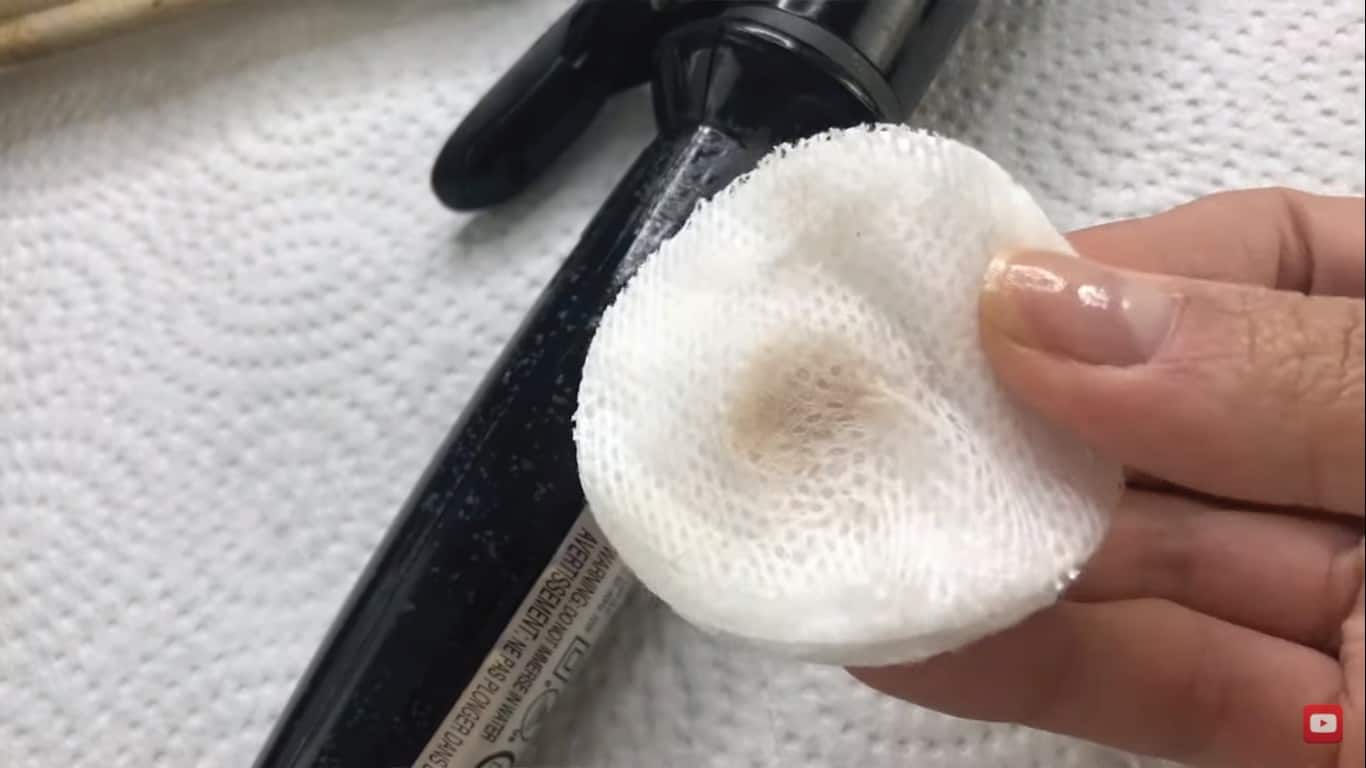 Method 2: Remove Tough Stains with a Special Cleaning Paste


After months and months of searching for the perfect solution to removing tough stains, I found this special paste made from baking soda, water, and toothpaste that you can make in just a matter of seconds and use to remove the tougher stains from the curling iron.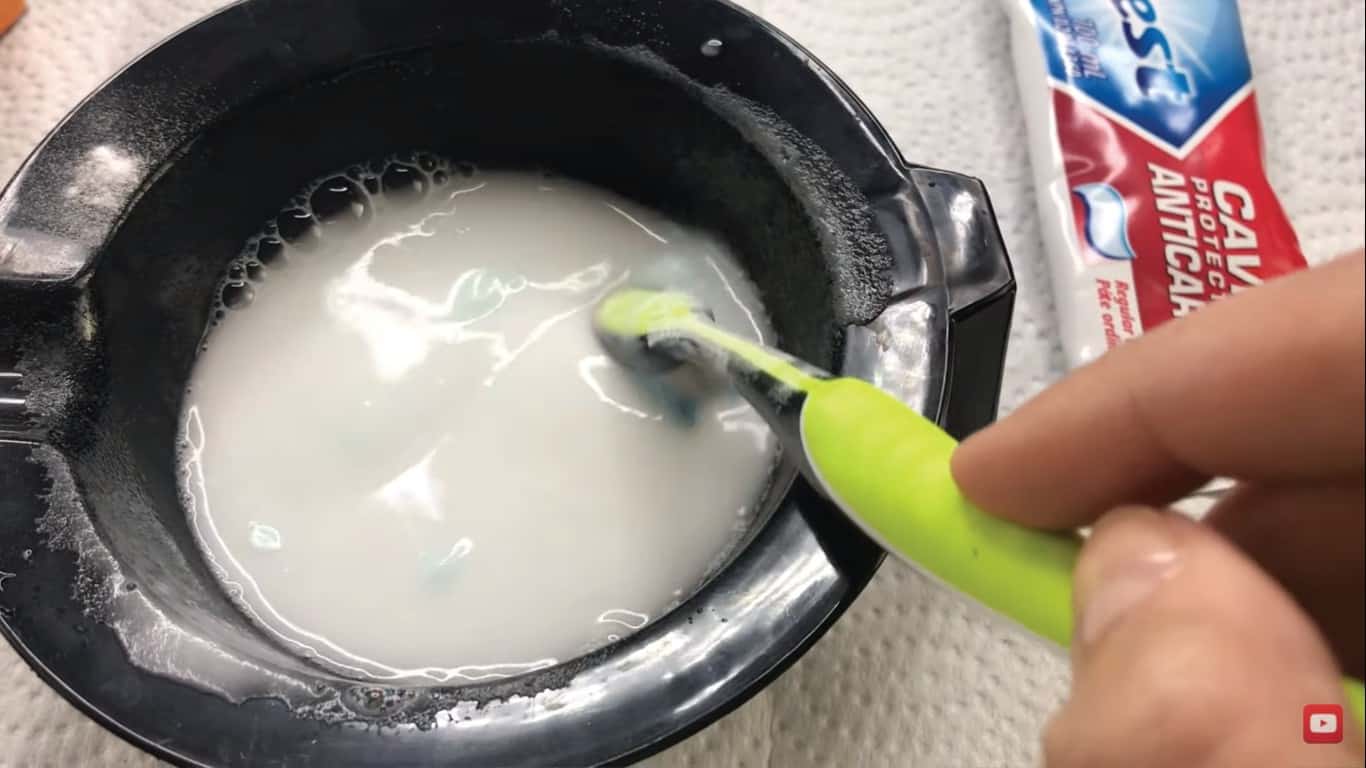 In a small bowl, mix a bit of lukewarm water with some baking soda and toothpaste. Start by using a little bit of the products, and add more as you go until you see the mixture turning into a thicker paste.
When it starts looking like paste, you can apply it to the curling iron and use the old toothbrush to remove the buildup from the iron.
Make sure that you are not pressing too hard on the plates of the iron as the toothbrush can damage them. You will want to be gentle but still thorough. Keep scrubbing until all of the buildup comes off of the curling iron.
Finally, you can use a clean cotton pad or paper towel, dip it in water, and wipe over the entire curling iron to make sure that none of the cleaning agents stay on the iron and damage it. When you are completely positive that the curling iron is clean, you can leave it to dry and store it neatly, keeping it clean and ready for the next use!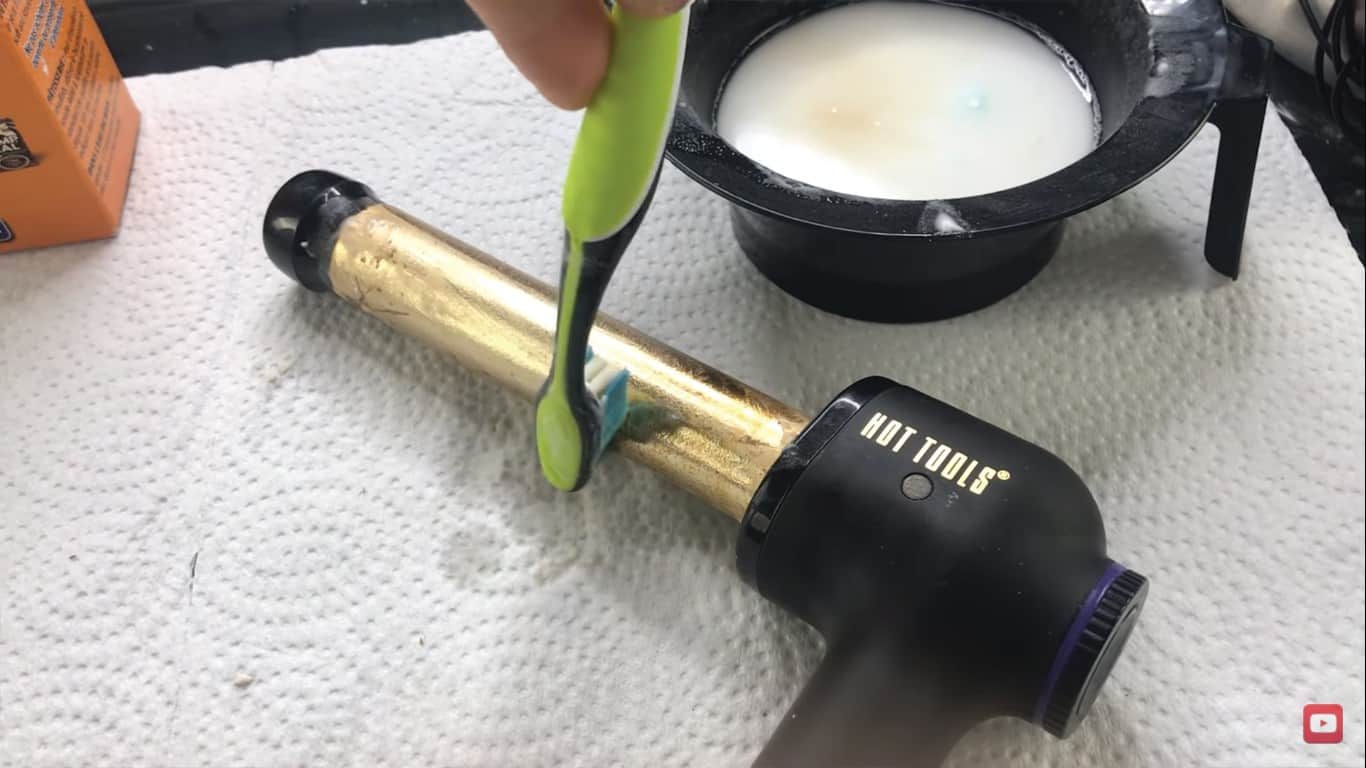 How Often Do I Need to Clean My Curling Iron?
This is a very good question, but there is no simple answer to it. I cannot tell you to clean your curling iron every day or once every month. How often you clean your curling iron actually depends on how often you use it!
If you ask me, I am a flat iron fanatic, and I use my flat iron more often than my curling iron. Since I use my flat iron daily, I clean it once every week or two weeks. On the other hand, I clean my curling iron once a month because I tend to use it only a couple of times every month, so it does not really get that dirty. However, if you tend to curl your hair more often than I do, then you will need to clean your curling iron more often as well.
I would advise giving your curling iron a thorough scrub anywhere from once a month to once a week. The grime will come off like a charm, and the curling iron will do a good job when you use it. No longer will you need to spend hours going over and over your strands – one pull with the clean curling iron will do the job!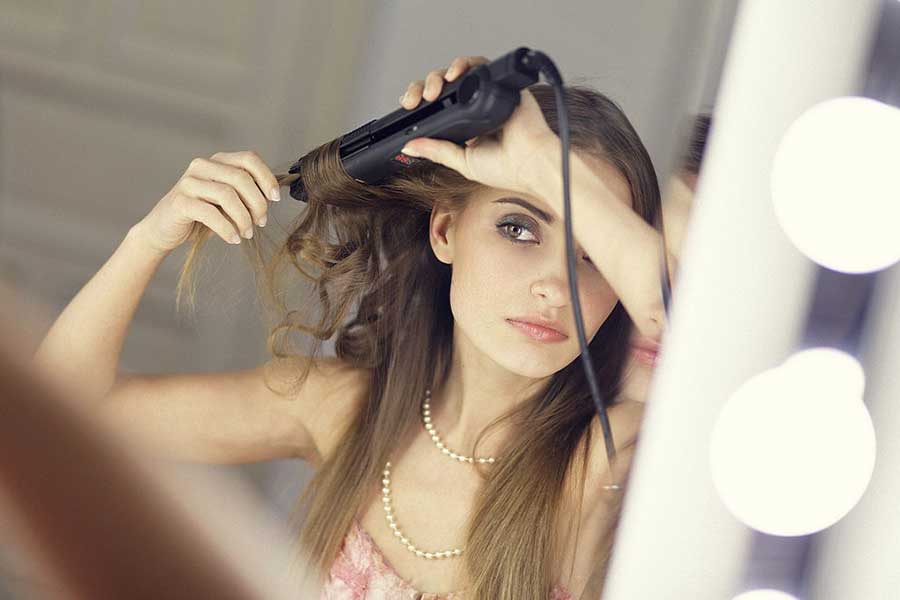 FAQs on Cleaning Curling Irons
Before I wrap up this guide on how to clean curling irons, I would like to mention a question on this topic that other people have often found themselves asking. A bit more information on the topic can't hurt, and maybe it will come in handy!
How do I make my curling iron not smell?
If your curling iron has an odor when you plug it in, chances are that it actually needs a thorough cleanup. There might be a lot of buildup from the hair products you use or even some stuck hair on the curling iron that gives it a faulty smell.
I think that cleanup should be enough to remove the odor, but if that is not the case, you should check with an electrician and see if there might be another underlying problem with the iron!
That's Everything You Need to Know about Cleaning Curling Irons!
Cleaning a curling iron can be so quick and easy if you know what to use and how to go about the cleanup. With this guide, you should know exactly what you need to do to keep your curling iron in the best shape possible!
Let me know if you have any tips or tricks on cleaning curling irons that could come in handy for others. I look forward to reading what your thoughts are on this guide and what suggestions you might have about it!