Last Updated on 17th August 2023 by Chauncey Morgan
Can you imagine what it would be like if you had the best automatic curling iron to help you style your hair? No longer will you have to worry about burning your fingertips or struggling to make curls only to see them looking like anything but! The automatic curling iron is the best thing that you can use to end your hairstyling struggles.
With automatic curling irons, you are not the one who needs to wrap the hair around the device. Some of these curling irons have an automatic rotating barrel that wraps the hair for you, while other curling irons have an open chamber in which the hair curls by itself. Both types of curling irons will give you perfect curls with hardly any effort!
I am here to tell you all about the ten best options that you have to look into. With the detailed reviews that I will get to in a minute, you will easily be able to choose the curler that best fits your needs. So let's get right into the reviews – I'm ready when you are!
TOP PICK

When it comes to automatic curling irons, my top pick is the Melophy Cordless Rotating Ceramic Automatic Curling Iron. I love everything about this curler, from the modern cordless design to the many features it comes with.

Not only are you able to adjust the styling temperature, but you are also able to set the curl direction as well. There are six temperature options as well as 11 different time settings that you can adjust to fit your hair best. Stye your hair in only a few minutes and then leave the tool to recharge before the next use!
The Best Automatic Curling Irons Are…
PRODUCT
DETAILS
PRICE
#1 Melophy Cordless Rotating Ceramic Automatic Curling Iron



Six different temperature settings

11 different timing settings

Cordless and portable

CHECK PRICE

#2 SalonTech Spinstyle PRO Automatic Curling Iron



Nano-diamond coating

Far-infrared heating

Fast heat-up

CHECK PRICE

#3 CHI Spin N Curl Rotating Ceramic Automatic Curling Iron



Pre-set temperatures

Temperature lock

Long swivel cord

CHECK PRICE

#4 Kiss Instawave 101 Automatic Curling Iron



Adjustable curl direction

Prevents hair tangles

Auto shut-off

CHECK PRICE

#5 BaBylissPRO Miracurl 3-in-1 Professional Automatic Curling Iron



Curl management system

Safety clutch function

Suitable for three types of curls

CHECK PRICE

#6 Prizm Professional Rotating Automatic Curling Iron



Lightweight design

Dual voltage

Tangle-free cord

CHECK PRICE

#7 Lena Geniecurl Automatic Curling Iron



Heat protection cover

Anti-stuck mechanism

Lasting curls

CHECK PRICE

#8 Conair INFINITIPRO Curl Secret Automatic Curling Iron



Tourmaline ceramic barrel

Brushless motor

Reduces hair frizz

CHECK PRICE

#9 Conair UNBOUND Cordless Automatic Curling Iron



LCD display

USB charging

Compact and portable

CHECK PRICE

#10 Conair FashionCurl Automatic Curling Iron



Automatic timer

Lightweight and compact

Unique curl chamber

CHECK PRICE
As promised, I am going to do a detailed review of each of these ten automatic curlers to show you exactly what they are all about. I urge you to go over all of the curlers before you decide which one you want to get. Let's get right into the first one!
Starting with my best overall choice, this Melophy automatic curler is undoubtedly one of the best you can find on the market. Not only is it packed with all the features you will ever need, but it also comes at a very affordable price!
Key Features
Heat insulating chamber
Ceramic-coated barrel
Rechargeable
One of the things that I love most about this curler is the fact that it has a lightweight design and that it is cordless and portable. This means that you can leave it to charge, and once it is ready, you can take it with you wherever you like.
Pros
Curl rotation option
Adjustable temperature
Cons
Must be used with batteries
Wireless and easy-to-use with adjustable temperature, dual curl direction, and adjustable timing settings, this automatic curler is everything that you want combined into one. It comes at a very affordable price, so you must give it a closer look!
This second automatic curler is a lot different than the first one I mentioned. Instead of a chamber that curls the hair, you have a rotating barrel that does the curl for you. It is very easy to use, and you don't have to worry about burning your fingers.
Key Features
Far infrared heat
Fast heat-up
Cool tip included
This curler also has the option to create curls in both directions. Just press the button for the direction that you would like and the barrel will wrap the hair itself. Then, you wait for the timer to go off before you loosen up the curl.
Pros
Diamond-coated barrel
Does not damage the hair
Cons
Might tangle up long hair
I recommend this automatic curler if you are looking for something that will not damage the hair but still style it perfectly. The barrel does not pull the hair, so you do not have to fear that your hair will get burned while styling.
CHI is a well-known company that you have probably heard of if you are into hair styling tools. In addition to their many curling and straightening irons, they came up with this Spin N Curl automatic curler that can style the hair in a hot chamber without causing any damage.
Key Features
Automatic shut-off
Digital temperature display
Directional buttons
In the chamber, there is a ceramic barrel that is 1-inch in diameter. When you push the directional button, the barrel grabs the hair and wraps it, holding it until the curl is done. There is a timer that tells you when the curl is ready.
Pros
Adjustable curling timer
Tangle protection
Cons
Might not be suitable for thicker hair
This curler is amazing and will create perfect curls if your hair is fine and medium length. If you have longer or thicker hair, it might take you a bit longer to style it, but the perfect curls are definitely worth the time and effort!
Another great curler, this Kiss Instawave curling iron is very similar to the SalonTech one in the way it curls hair. There is a patented spinner that wraps the hair around the barrel for you, while the ceramic ionic barrel keeps the hair damage-free and tangle-free.
Key Features
Temperature control
Professional swivel cord
Power indicator light
The only thing that you need to worry about with this tool is whether your hair is completely dry or not. The tool should not be used on wet hair. Your hair should be clean, dry, and detangled before you start styling it.
Pros
Suitable for all hair types
Fast styling
Cons
Might not work that well on shorter hair
Automatic curling has never been so easy! It might take you some time to master using this curler, but once you do, you will never go back to a regular curling iron.
This BaByliss automatic curling iron is one of the original curling irons that I cannot leave out. The Miracurl is suitable for all hair types, extra easy to use, and it can give you curls that are tangle-free and frizz-free.
Key Features
Nano titanium curling chamber
Instant heat-up
Heat recovery
You can create various types of curls with this tool. You will see that the curls you make last for up to a day, and your hair will look shiny and smooth for the same amount of time.
Pros
Does not pull hair
Long-lasting styles
Cons
Everything about this tool is amazing, from the consistent heat to the brushless motor and smart tech guard. If you are looking for something that will create lasting gorgeous curls, look no further than the BaByliss MiraCurl!
This Prizm automatic curling iron does not look any different than a regular curling iron. However, when you turn it on and see that the barrel can rotate and wrap the hair by itself, you will see that styling your hair is much easier with a tool like this!
Key Features
Fast heat-up
Two-direction auto-rotating barrel
Lightweight design
This automatic curler is great for traveling. It has dual voltage and the design is very lightweight. That means that you can carry it anywhere with you!
Pros
Anti-scalp tip
LCD temperature display
Cons
Direction buttons might be confusing to some
I recommend this automatic curler for anyone looking for a curler with a nice barrel. This barrel can style your hair perfectly, is corrosion-resistant, and produces negative ions that protect the hair from damage.
The Lena GenieCurl curler is a great tool that can be used to curl any type of hair. What I love about it is the fact that it has a double-layered heat protection cover that helps prevent burns on your fingers, face, and hair!
Key Features
Heat protection cover
Anti-stuck mechanism
Auto shut-off
Curling your hair using this tool is extra simple. All you need to do is take a section of hair, put it in the chamber, and wait until the timer goes off. Then, take the hair strand out and enjoy your curl. Repeat this for your entire head of hair!
Pros
Various styling temperatures are available
Minimizes hair damage
Cons
Might take a long time to style long hair
With one of the sleekest designs on the market right now, this Lena GenieCurl will not only style your hair perfectly but also help make it healthier and shinier. It does not pull or tangle the hair either, so there is no reason why you should not try it out!
As a hair fanatic, I would say that whenever I hear Conair come into the conversation, I know that we are about to talk about a great hair styling tool. The Curl Secret automatic curler is one of those great tools – it comes at quite an affordable price, yet it gives professional-looking curls that will turn heads!
Key Features
Two different heat levels
Three different timer settings
Suitable for several types of curls
This tool has a tourmaline ceramic barrel that can curl your hair on its own. When you take out the section, you will find a perfectly styled curl with no frizz but a lot of shine.
Pros
Comes with a brushless motor
Protects hair from damage
Cons
Tool might be a bit bulky
If you get this tool, you will also get a chamber cleaning tool that comes with it. That means that you will be able to clean your tool without damaging it, making it work perfectly for quite a long time.
Conair recently came up with their cordless automatic curler, and it does wonders for all types of hair. With this revolutionary tool, you will be able to style your hair whenever you want and wherever you want!
Key Features
Ceramic curl chamber
LCD display
Smart auto shut-off option
This cordless curler should be charged overnight so you can use it during the day. When the battery is fully charged, you can get 60 minutes of uninterrupted styling which should be just enough for any type of hair.
Pros
Adjustable heat
Protects hair from tangles
Cons
Has to be recharged often
I love this cordless automatic curler. If you are someone who travels a lot or is very busy during the day, this may be the perfect styling tool for you – you can take it anywhere and style your hair whenever you want!
I think that the Conair FashionCurl is the ultimate girly curler – this raspberry color is just so vibrant and amazing that you will not want to put the tool down from the minute you get it!
Key Features
Instant heat-up
Safety curling sensor
Lightweight and compact design
The curling chamber on this tool is made from tourmaline ceramic material. Ceramic tools are largely considered the best when it comes to hairstyling because they can style hair without causing any damage or making it frizzy.
Pros
Professional swivel cord
Auto-sleep mode that saves energy
Cons
Power cord might be a bit short
Even though the tool might look intimidating at first, it styles the hair easily and in a matter of seconds. You are bound to love it once you try it!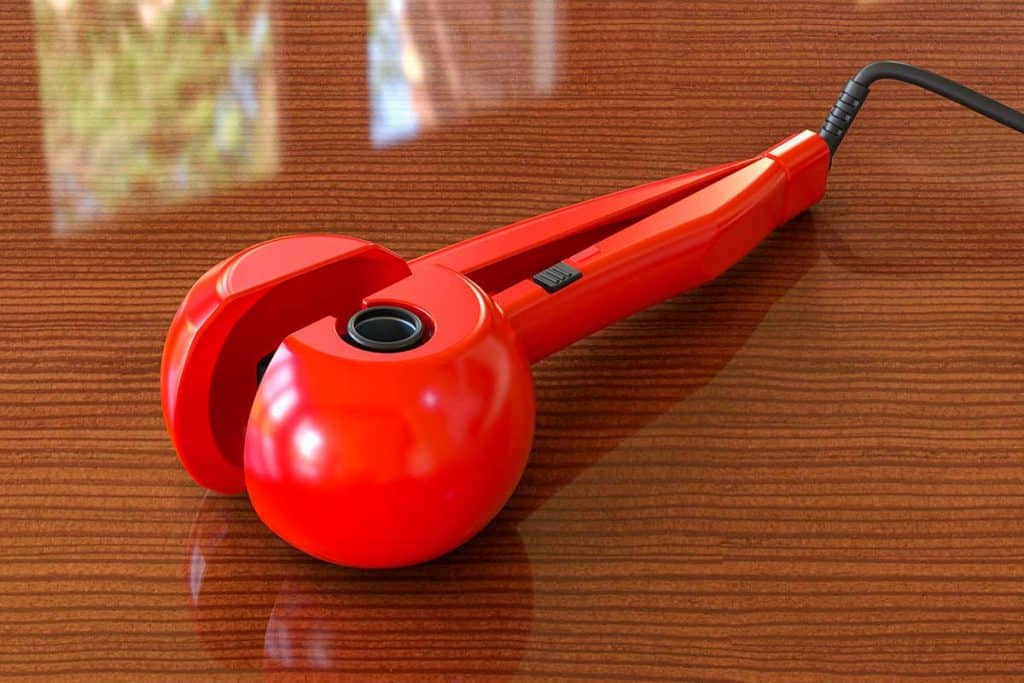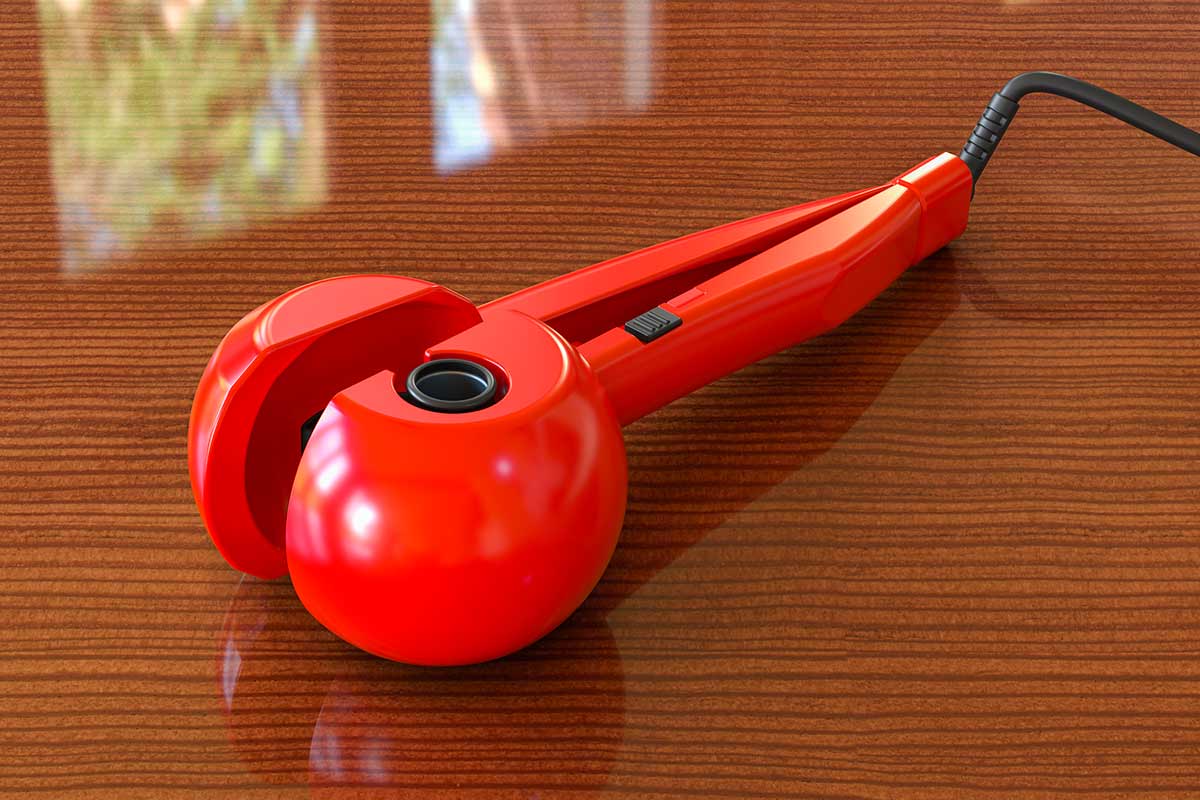 Picking the Best Automatic Curling Iron
Now that you have seen the ten best automatic hair curlers, I want to tell you more about how you can choose the best one for your hair. You see, curling hair with the automatic curler is only easy if you have one that works well and is suitable for your hair. Here is what you should look for in the curler:
Weight
While many focus on the design of the curling iron, I am here to tell you that the design does not matter nearly as much as the weight of the tool. When you think of it, it makes so much sense – a tool that is bulky and does not fit in your hand well will be much tougher to use than something small and lightweight.
Luckily for you, there are a ton of curlers that have lightweight and compact designs. You should look for an automatic curler like that. If there is one that also has an ergonomic handle, then that is a plus!
Barrel
Another thing that you should think about is the barrel size and your type of hair. If you have finer and shorter hair, you will be able to style the hair perfectly with a barrel that is smaller in diameter. A larger barrel might not give you the curls you are imagining.
On the other hand, curlers that come with larger barrels are perfect for people with very long or very thick hair. The larger barrel allows you to style larger sections of hair, and that will cut down on the time you spend curling the hair.
Design
Automatic curlers can have different designs. Some have curling chambers with barrels inside, while others have a simple barrel just like a regular curling iron. Depending on your preference, you can choose the curling iron design you like best. All are very easy to use!
Nevertheless, I recommend the ones with curling chambers because they can help protect your hands and head from burns. That makes them easy to use and very safe at the same time.
How to Clean an Automatic Hair Curler
Some automatic curlers come with their cleaning tools, like the Conair INFINITIPRO Curl Secret Automatic Curling Iron. However, if your automatic curler does not have such a cleaning tool, you can always clean it with things you have at home.
I would recommend using a cotton pad and some acetone or rubbing alcohol to clean the gunk from your curler. If there are parts that you cannot access easily, you can use an old toothbrush to clean them. However, you should be gentle and careful not to damage the barrel!
Auto Curl? Atta Girl!
I hope you liked my picks of best automatic curling irons that I chose for this review. The Melophy Cordless Rotating Ceramic Automatic Curling Iron is perfect for all types of hair, while the Conair FashionCurl Automatic Curling Iron is better for those who are on a tight budget.
Let me know in the comments if you have ever tried one of these automatic curlers and what you think of them. I cannot wait to read all about your experiences!