If you ask me, some of the best flat irons that I have ever used come from a company called Bellezza. So today, I will give you a list of the top five Bellezza flat irons and their detailed reviews!
Having high-quality hair styling tools is essential if you want to look your best. You cannot go out with a cute outfit, killer shoes, and great makeup if you still have unruly, frizzy hair. Your hair is such a big part of how you present yourself and how others perceive you, so you have to take proper care of it.
From titanium- and ceramic tourmaline-infused plates to ergonomic designs, adjustable temperatures, and more, the Bellezza hair straightening irons come with many great features, amazing designs, and an affordable price. All these make them the perfect choice for just about anyone!
If you are interested in learning more about the top flat irons from this company, stick with me! I'll present to you all the information on these styling tools, the frequently asked questions connected to them, as well as the reasons why you must consider buying one. Let's get right into the review and see what makes the Bellezza hair straighteners so great!
TOP PICK

I love the Bellezza Lumino Ceramic Flat Iron for its versatility and great value. That it comes in cute colors is a bonus!
My Belleza Flat Iron Reviews 
Let's look into the key features and ratings of each of these products that I have mentioned so that you could have a better idea of which one would fit your hairstyle and hair type best!
BRAND
DETAILS
PRICE
#1 Bellezza Lumino Ceramic Flat Iron



Tourmaline gemstone ceramic plates

Ergonomic design

Adjustable temperature setting

CHECK PRICE

#2 Bellezza Pro Beauty Digital Flat Iron



Great for straightening and curling

Floating titanium plates

Heats up quickly

CHECK PRICE

#3 Bellezza Duet Flat Irons



Two straighteners for the price of one

Long swivel cord

Compact and convenient

CHECK PRICE

#4 Bellezza Lumino Wet-to-Dry Professional Flat Iron



Can be used on wet hair

Gemstone-infused ceramic plates

Dual voltage system

CHECK PRICE

#5 Bellezza Versa Styler Titanium Flat Iron



Plates with ionic technology

Multiple temperature settings

Automatic shut-off

CHECK PRICE
Let's take a closer look at the top-rated straightening irons from Bellezza, so you can make a more educated choice when picking your next straightener. Here is a detailed review of each of these devices:
This is one of the straighteners from the company's Lumino line. It comes in several color options, including ballet pink, black, and baby blue. You can choose the one that best matches your hairstyling tools at no additional cost!
Key Features
Plates with powerful ionic and far-infrared technology
Compact and easy to use
Temperature control settings
I love this styling tool because you can easily get creative with it. Thanks to the amazing plates, it is great for straightening and creating all kinds of curls. Perfect for all hair types and textures, it also comes with a limited lifetime warranty that will give you peace of mind!
Pros
Ergonomic non-slip design
Long swivel cord
Cons
Might be more suitable for fine hair than for textured, thick hair
Even though Bellezza makes a lot of hair styling tools, this one takes first place in my view because of its versatile features. On top of that, it also comes at a very affordable price, making it a great buy for anyone!
Another awesome model from Bellezza is the Pro Beauty TI. It provides stunning final results, and reviewers love using it. Reduce the frizz in your hair and make it look as silky as possible!
Key Features
High quality floating titanium plates
Sleek, ergonomic grip
Auto shut-off option
You will not have to wait at all for the straightener to reach the desired temperature. It needs only 30 seconds to heat up to a temperature of 450 degrees Fahrenheit (232 degrees Celsius). Of course, for those of you who do not want to use that much heat on your hair, you can easily lower the temperature.
Pros
Great for all types of hair
Fast heating option
Cons
Might get a bit too hot to hold
Overall, I would say that this is a great flat iron used even by professionals all over the world, so you should check it out!
I have listed this as my best budget option from Bellezza because you ultimately get two flat irons for an amazing price. There are a lot of professional flat irons that cost several hundred dollars, but with this duet set with one full-size and one mini straightener, you can have amazing quality for nearly half the price!
Key Features
Set of two: one regular flat iron and one mini styler
High quality floating plates on both straighteners
Dual voltage option
There are three color options: metallic red, lavender, and black. The set is just amazing because you can use the big one to straighten long hair and use the mini device to straighten short hair or bangs!
Pros
Ergonomic design on both flat irons
Compact and lightweight
Cons
Does not have an auto shut-off option
If you are looking to get two great products for the price of one, look no further than this duet set! You can get twice the quality for half the price.
Usually, a piece of advice that I give when it comes to flat irons is to only use them on completely dry hair to avoid damaging it. With this hair straightening iron, there is no need to air dry or blow-dry your hair before you get to straighten it — the flat iron does both things for you!
Key Features
Gemstone-infused ceramic plates
Rapid and consistent heating
Dual voltage options
You will love using this for your hair. Not only will it leave your hair looking smooth and silky, but it will also give you volume and shine. It is great for both straightening and curling any type of hair!
Pros
Large plates for drying and straightening hair
Stylish and easy to use design
Cons
Might have to make several passes to get the best results
What makes this Bellezza product stand out is that it can be used on both wet and dry hair. If you do not want to go through the trouble of drying and straightening your hair, get this flat iron and save a lot of your time!
Last but not least, let's talk about the Bellezza Versa Styler — one of the cutest straighteners I have ever seen! It has four color options that you can choose from: blush pink, blue smoke, lavender, and rose gold.
Key Features
A multipurpose tool with great design
Titanium plates with ionic and far-infrared technology
Multiple temperature settings
Not only will you be able to straighten your hair with this tool, but thanks to the rounded plates, you can also create gorgeous curls of every type and size. In addition, the non-slip ergonomic design will make sure that your hand feels rested once you are done with the hairstyling!
Pros
Digital temperature readout
Suitable for all hair types, for both men and women
Cons
Plates might not heat up very fast
If you want to style your hair like a real professional, I suggest you give this flat iron a try — you will not be disappointed!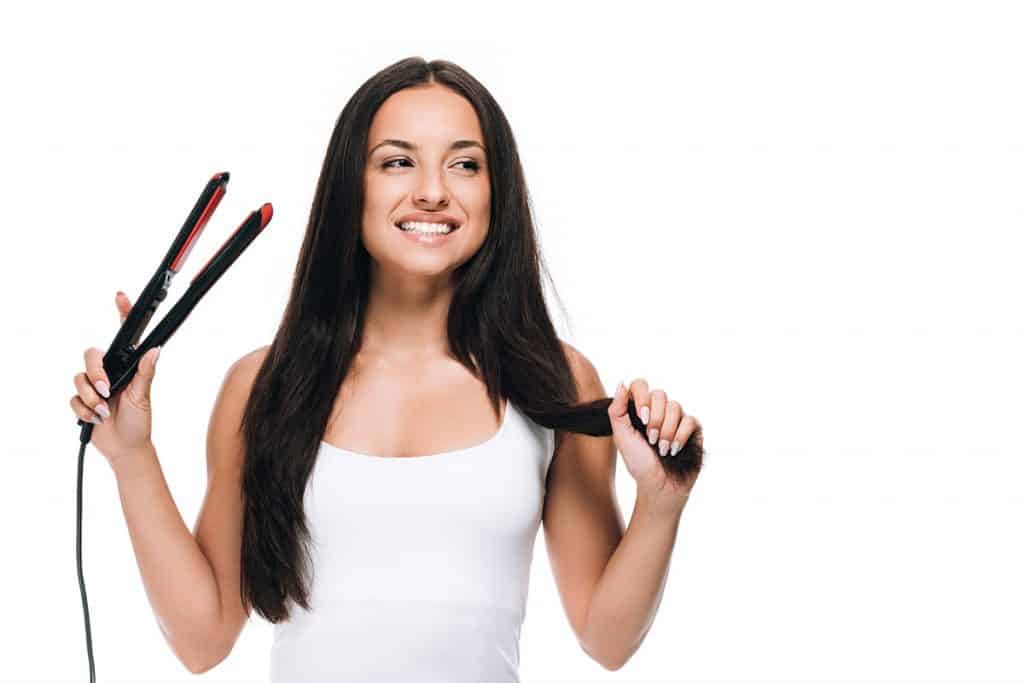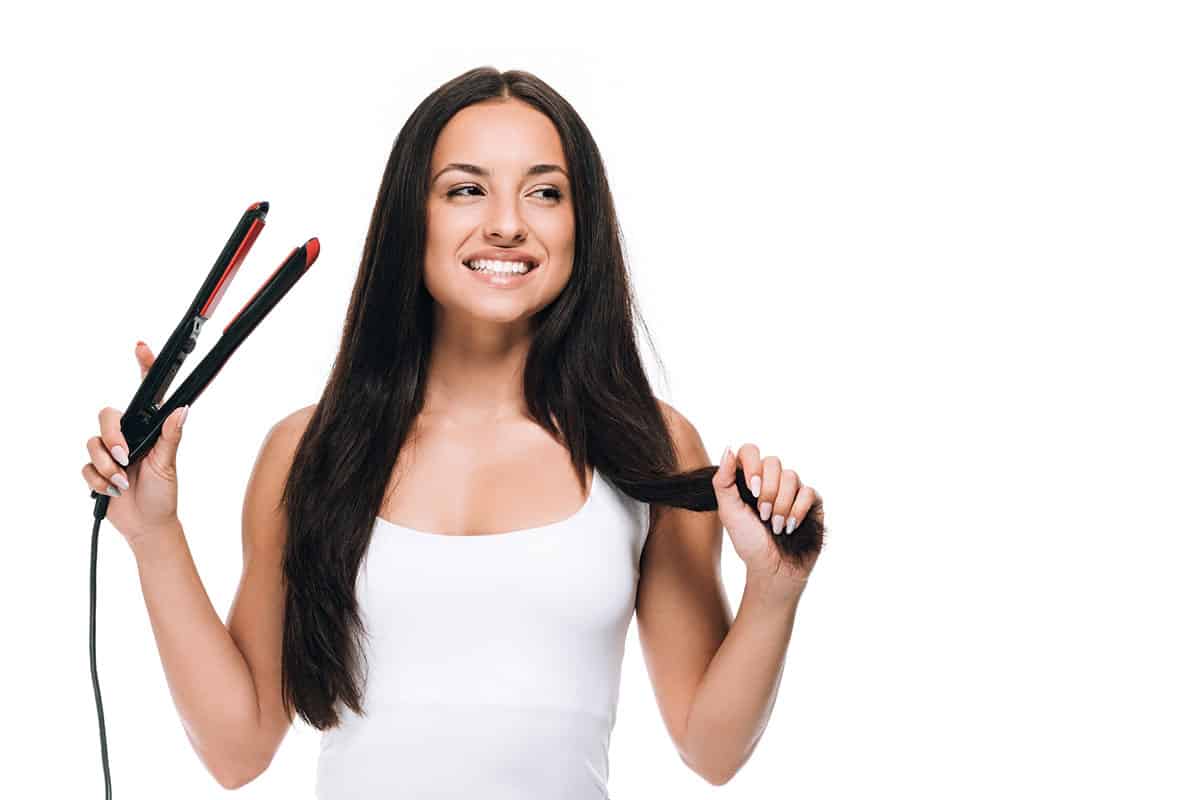 About Belleza Flat Irons
Bellezza might not be the most talked-about company in the hairstyling industry, but they design their straighteners with a lot of thought and effort. Their flat irons are made from high-quality materials and are packed with features, which makes them a great option for anyone who is in the market for a new flat iron. Here are some of the reasons why it's worth having a flat iron from Bellezza:
Floating Plates
As I have mentioned, Bellezza produces hair straightening irons with both ceramic and titanium plates. Most of their flat irons have floating plates that flex and move with the straightening motion to style your hair even more easily. Thanks to these durable, self-adjusting plates, you will find your hair looking professionally done in no time!
Adjustable Temperature Settings
It is very important to have a flat iron with adjustable temperature settings, and most of Bellezza's straighteners come with this feature included. You can easily set the temperature to high if you have thicker, longer hair and put it back to low if you need to straighten fine or shorter hair.
Bellezza's flat irons have temperature settings that go from 140 to 450 degrees Fahrenheit (60 to 232 degrees Celsius), which means that you can adjust the temperature to fit any kind of hair texture. How amazing is that?!
Microprocessing Technology
Some of Bellezza's straightening irons come with microprocessing technology that evenly distributes heat throughout the length of the plate. At the same time, this technology makes sure that the plates will not damage the hair — only make it healthier and shinier, and that is what all of us want in the end!
Frequently Asked Questions
Everything that I have said so far should have given you a clear idea of what makes Bellezza's flat irons great. But before you make your final decision on which one of these you want to purchase, let's look at some of the questions that you might find yourself asking about the company and its products!
Is Bellezza a good hair straightener?
Reviewers have found that the Bellezza's straighteners work better than most other flat irons currently on the market at the same price. It is not only the high-quality plates that make them great; it is the great shapes and sizes, the comfortable yet cute designs, and all the other features they come with!
How do you turn on a Bellezza straightener?
The power button works great on all Bellezza hair straighteners, but the trick is to press it for about three seconds to turn the power on! This nifty feature helps prevent turning the tool on accidentally, which could be a fire hazard.
Now You Can Choose the Best Bellezza Flat Iron for Your Hair!
After closely looking at the five best hair straighteners from Bellezza, you should be able to decide which one fits your needs best! If you are ready to spend a bit more money on something more professional, you should consider the Bellezza Lumino Ceramic Flat Iron. If you want to save up some money but still get a great straightener, I suggest you look into the Bellezza Duet Flat Irons and get two straighteners for the price of one!
I hope that you found the information in this review article helpful. If you have any interesting experiences or advice about Bellezza straightening irons, feel free to share them with me in the comment section below!