Last Updated on 17th August 2023 by Chauncey Morgan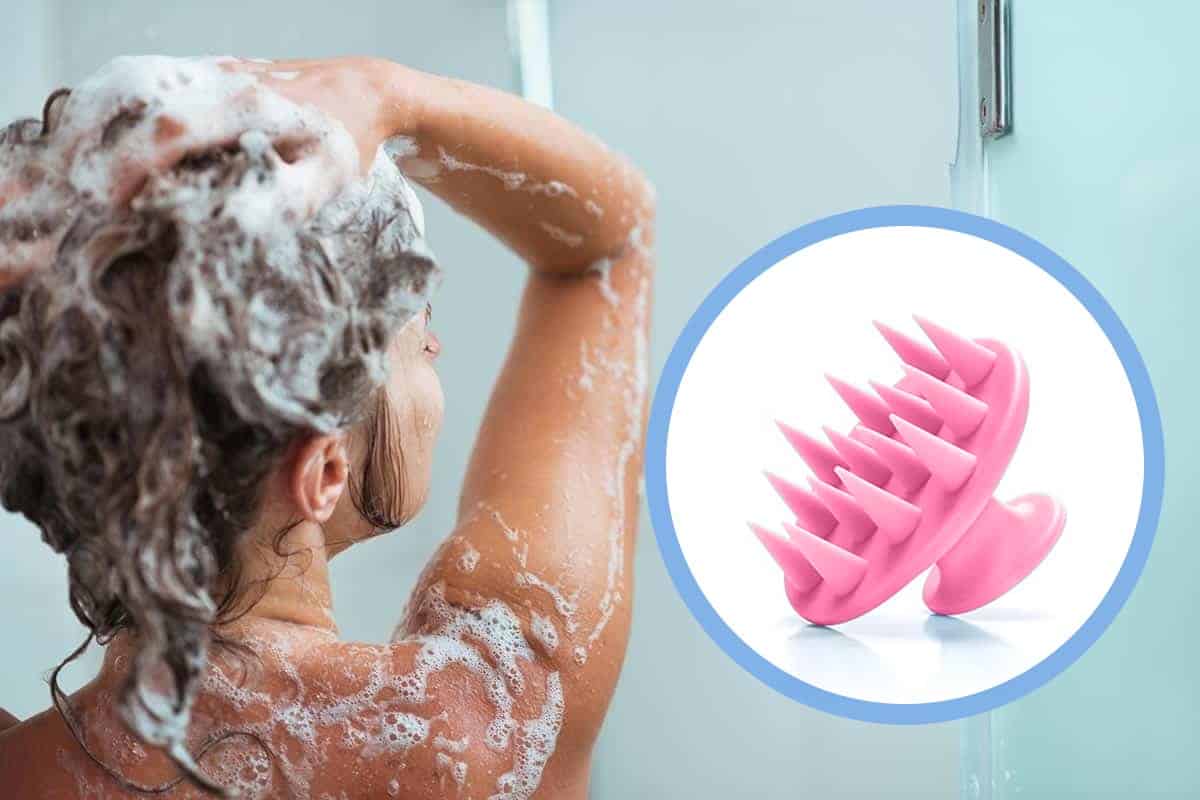 We spend our entire lives washing our hair without even thinking if we are doing it right or not. Recently, I found out that I can make my hair and my scalp healthier by washing my hair with a shampoo brush. Because of this, I want to tell you exactly how to use the shampoo brush and the benefits you can get from using it.
Once you know its benefits and have experienced how it massages your scalp, you will quickly become addicted to this brush, and you will never want to stop using it. Still, you need to learn how to use it properly, which is something that I will discuss in this guide. So if you are interested, I suggest you keep on reading!
Important Shampoo Brush Benefits
I know that many of you are wondering what a shampoo brush is and why you need to use it. To put it shortly, the shampoo brush, also known as a scalp brush, is a type of brush that you use to spread the shampoo around while washing your hair. It helps spread the shampoo evenly on your hair and massages the scalp at the same time.
However, these are not the only two uses of the shampoo/scalp brush. This brush can actually be used to exfoliate the scalp and make it a lot healthier. At the same time, the brush can stimulate the scalp and encourage hair growth.
You will see that once you start using the scalp brush, your hair will look a lot healthier and grow a lot faster. This is all because of this one amazing brush that you can easily find in a lot of shops, and it only costs a few dollars! I encourage you to go out and get one immediately if you do not already have one.
How to Use a Shampoo Brush
Shampoo brushes are usually made from silicone which makes them extra soft and comfortable for both your hands and your head. The brush has small silicone bristles that you use to exfoliate your scalp and remove dead skin or product build-up. This only makes your scalp and hair healthier. There are no negative side effects.
Something that I know a lot of you will be excited about is the fact that the scalp brush can stimulate new hair growth. When you massage the scalp with it, the blood flow to your scalp increases, and that helps the development of new hair strands and growth.
Now, I know all this sounds very nice, but to get these effects on your hair, you do need to actually know the basics of how to use a scalp brush. So here are the four quick and easy steps to get all these benefits!
Step 1 – Detangle Hair
I always suggest detangling your hair before you wash it and massage it with a shampoo brush. If your hair is smooth and tangle-free, the shampoo will not get snagged in the tangles. For detangling, you can use any type of comb or brush that you usually use on your hair.
Step 2 – Start Shampooing
Using lukewarm water only, wet your hair entirely and then apply some shampoo to it. You can use any kind of shampoo that you like, preferably one that is made from natural ingredients that will keep your hair healthy and repair the damage on the strands.
I have to mention that you can either apply the shampoo directly to your hair or you can apply it to the brush and let the brush transfer it to the hair. Both are great solutions, so it does not matter which one you use.
Step 3 – Massage Scalp with the Shampoo Brush
Once your hair is ready, you should grab your shampoo brush. Depending on the length and texture of your hair, you can expect to massage the hair anywhere from 5 to 15 minutes.
With gentle circular motions, move the scalp brush all around the head and massage it as you go along. You should not press on your hair too much as that can lead to breakage and possible scalp pain.
Step 4 – Rinse and Condition
When you are sure that you have covered your entire head with the brush, you can move on to rinsing. Make sure to rinse out the shampoo completely. If you want to, you can apply some conditioner to the hair to make it smoother.
FAQs on Shampoo Scrubbers
Now that you know how to use a shampoo brush on your hair, you should know a few other things as well before you start brushing. Here is something I think you should know about these brushes!
How often should you use a shampoo brush?
I would say that this depends on your specific type of hair and your hair care routine. If you use more products on your hair and scalp, then you might need to use the brush more often. However, if you do not use anything more than shampoo and conditioner, you should only use the brush a few times every month.
So that is once or twice per week for people who use a lot of hair products and twice or three times per month for those who do not use a lot of hair products.
Final Thoughts on Shampoo Brushes
Shampoo brushes are a real game-changer for people who tend to use a lot of hair products. They will clean your scalp quickly and easily, helping it stay healthy and stimulating new hair growth at the same time. Doesn't that sound so nice?
I urge everyone to try out a shampoo brush as soon as possible – they are very affordable, easy to use, and they come with a ton of benefits. So go out and get yourself a nice little shampoo brush. You can thank me later!