Good hair care starts with a good shampoo. It strips away all the gunk and grease that have collected in your hair from exposure to pollutants and due to the oil produced by the hair follicles. There are different types of shampoos out there. There are shampoos for colored hair, for keratin-treated hair, for curly hair and so on. But if you are looking for the best shampoo for natural hair, this article is for you. Find out below which of the products out there we recommend adding to your hair care routine.
Best Shampoo for Natural Hair Reviews for 2019
These are the best shampoos for natural hair you can get today:
Why should you buy these shampoos instead of your regular grocery store or drugstore shampoo?
1. Maple Holistics Degrease Moisture Control Shampoo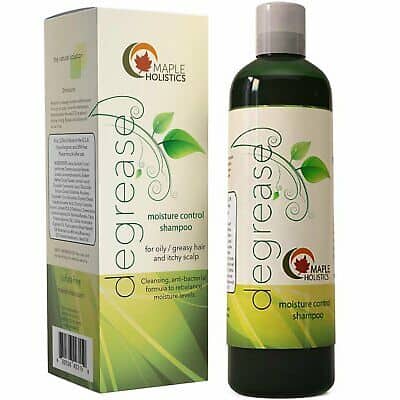 Hate all the oil and gunk that builds up on your hair after a few days of washing? Regular shampoos often don't work that well in getting rid of all of them. Your hair might still look greasy and heavy afterwards. If you have such a problem get this shampoo that is specifically used to keep the grease out of your hair.
Unlike other clarifying shampoos, this one is natural. It is sulfate free, silicone free, paraben free and cruelty-free. What it contains are rejuvenating and refreshing ingredient such as lemon oil, which is known for its ability to control the production of oil. It also contains basil oil, an ingredient effective when it comes to controlling dandruff. This product also has natural hair-growing benefits, thanks to its cypress oil and rosemary oil content.
Pros:
It is one of the most effective clarifying shampoos out there. It effectively cuts through days of grease build up so you can freshen up your hair effectively. There were those who battled greasy hair for years because of internal factors like hormonal imbalance and said this is the only product that worked for them.
This product brings back the volume of your hair. You don't have to deal with flat and lifeless hair anymore.
It is one of the most natural products out there. This shampoo is devoid of parabens, silicone and sulfate. It is also cruelty-free or not tested on animals.
This contains a good amount of rosemary, which is not just known for its intrinsic health benefits but also for its ability to soothe the hair, alleviate itchiness, get rid of dandruff and prevent hair loss.
It gets rid of unwanted grease while restoring natural oils and shine to the hair through its peach kernel and jojoba oil content. This can help people suffering from dry and damaged hair.
The Provitamin B5 content of this shampoo helps treat weak hair.
It is suitable for all hair types but it is also safe to use on color-treated hair.
A little bit goes a long way. Some said a bottle of this lasted them longer than a same-sized bottle of a commercial shampoo.
Cons:
You need to leave it on your hair for a couple of minutes for best results. Some people might not like to wait that long.
2. Shea Moisture Jamaican Black Castor Oil Strengthen & Restore Shampoo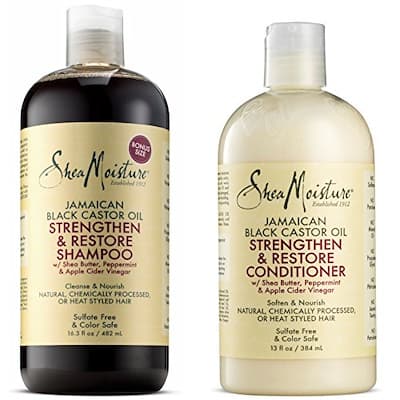 Do you have fine natural hair that tends to break easily? We recommend getting this one. Featuring Jamaican Black Castor Oil, this will guarantee stronger hair. It can prevent split ends and also reduce the likelihood of breakages. As a result, you get thicker hair when you use this shampoo.
As a natural everyday shampoo, it works in cleansing the scalp and hair and getting rid of buildup. It contains apple cider vinegar, which promises to restore the natural pH balance of the hair, allowing you to get softer and more manageable hair.
Pros:
This contains organic ingredients. The castor seeds used are all organic. They are also processed naturally, so you can get the best results.
According to users, this is the only shampoo that helped them prevent brittle hair. It prevented hair fall and also helped them grow their hair longer.
This is a set, so it comes with a conditioner. The conditioner also suffices in keeping the hair soft and more manageable. In fact, some people said they did not need to use the conditioner because the shampoo alone is already effective in keeping the hair soft.
It is more natural. It doesn't contain unwanted ingredients like sulfate. If you are concerned about all the chemicals in your shampoo, you can try switching to this one.
It also alleviated the itchiness of the scalp, according to many users.
The packaging is nice. It doesn't look like the commercial ones out there.
It is not heavy on the hair. Your hair will even look bouncy and volumized after using it as if you just used a hair dryer.
These products have a natural scent to them. The shampoo has minty notes while the conditioner smells a lot like cocoa butter.
Cons:
There were those who did not like the consistency of the shampoo. It is thinner than what they are used to.
3. Carol's Daughter Black Vanilla Moisture & Shine Shampoo and Conditioner Set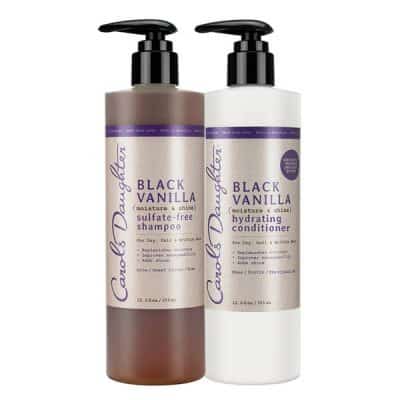 This isn't your regular grocery shampoo. This shampoo is a product of years of formulating and tweaking natural ingredients in the kitchen. It doesn't contain the usual harmful stuff you can find in regular shampoos such as sulfates, mineral oil, artificial ingredients and petrolatum.
The combination of black sulfate and shea butter works in keeping the hair moisturized and getting rid of dryness. You get shiny and sleek hair after each wash. It also works in removing tangles, so it is easier to comb your hair. This is great for natural hair but the natural ingredients also make this an ideal choice for treated hair. It contains sweet clover extract as well as aloe leaf extract to make the hair softer and shinier.
Pros:
The packaging is nice. The pump dispenses a liberal amount of product.
This is one of the best products out there when it comes to solving dry hair problems.
It is affordable. You are getting a 12-ounce shampoo and the same amount of conditioner.
There were those who dealt with lackluster hair for years and said this is the only product that brought back the shine in their hair.
It has effective moisturizing properties. It seems to get deeper into the hair and doesn't just coat the hair.
Many people commented on how nice-smelling this is. Some even said this product is the best-smelling shampoo they have tried.
Cons:
If you don't have dry hair, this might seem too heavy and moisturizing for your hair.
4. Cantu Sulfate-Free Cleansing Cream Shampoo
Whether you have naturally wavy hair, naturally curly hair or naturally coily hair, this shampoo will work for you. This sulfate-free product is better for the hair as it doesn't contain harmful chemicals that can cause more damage to the hair. It is effective when it comes to removing build up so you can freshen up greasy hair. This product contains shea butter that deeply penetrates and moisturizes the hair. It prevents hair fall due to breakages.
Pros:
Many people said this took care of their static and frizzy hair problems. You don't need to do a lot of styling because this already helps in keeping the hair more manageable.
A little bit goes a long way. Just a small amount of it works in cleansing the hair. There were those who said a bottle of this lasted them longer than the commercial products.
It does not contain sulfate, making this an ideal product even for people with treated hair. It also minimizes exposure to chemical.
It forms a good lather. You will have an easier time distributing it in your hair and getting the cleansing effect you want.
It doesn't dry the scalp and the hair like some strong shampoos out there. It is also gentle enough that it prevents irritation.
It has a nice scent. Your hair will really smell and feel clean after a wash.
Cons:
There were those who said it is not as effective on their fine hair.
5. OGX Hydrating + Tea Tree Mint Shampoo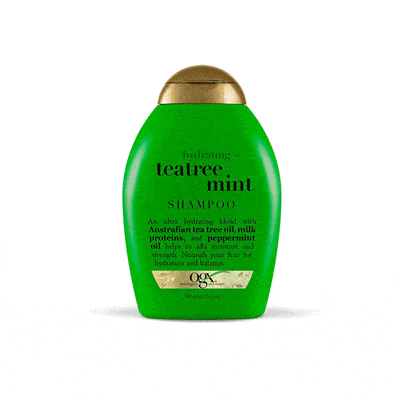 Made from a proprietary blend of milk proteins and Australian tea tree oil and infused with peppermint, this is the refreshing and rejuvenating shampoo that will make washing your hair a lot more pleasurable. Its Australian tea tree oil content helps in nourishing the hair and in keeping the hair shaft and follicles moisturized.
Its peppermint oil content wakes up your senses, so if you need a nice pick-me-upper when you are feeling tired or sleepy, using this should give you the jolt and boost you need. It is ideal for all types of hair including, fine, frizzy, oily and thick hair.
Pros:
It smells nice and leaves the hair and scalp feeling refreshed and clean.
It actually leaves the hair looking shiny and feeling soft. Many also commented that it took care of their split end problems.
It is easier to comb the hair after using this one. Even if you have curly or thick hair, this will make your hair more manageable.
It is easy to rinse it out. It doesn't leave white streaks like other products out there.
The price is nice and reasonable.
There were those with dermatitis who tried this out and said this really worked for them. It has amazing results.
This product also took care of the clogging issues some people experienced with their hair follicles.
It helps alleviate itchiness of the scalp.
Many people said their hair fall drastically reduced after using this product.
Cons:
There were those who said it left their hair looking dull.
Which of These Shampoos for Natural Hair is the Best Choice for You?
Best in Degreasing Hair: Maple Holistics Degrease Moisture Control Shampoo. Have you had issues with heavy grease for quite some time now and nothing else seems to work? Get this one. This completely natural shampoo for natural hair can revive your limp and greasy hair by allowing this to cut through the grease and dissolve them for more effective cleaning.
Best in Preventing Hair Loss: Shea Moisture Jamaican Black Castor Oil Strengthen & Restore Shampoo. If you have dry and brittle hair and you are prone to hair fall and thinning hair all the time, this shampoo might offer you a lot of benefits. Its castor oil content works in strengthening the hair follicles and minimizing damages so you can grow your hair longer.
Excellent Moisturizing Benefits: Carol's Daughter Black Vanilla Moisture & Shine Shampoo and Conditioner Set. We think this is the best shampoo if you have natural hair riddled with dryness. It restores the shine in the hair and makes it softer and more manageable. It seems to nourish the hair on a deeper level.
Great for Different Hair Types: Cantu Sulfate-Free Cleansing Cream Shampoo. If you have different hair types in your family, you can choose this product. It does not discriminate and it works for a variety of hair types. It is effective in deeply cleansing the hair without causing it to dry out.
Most Refreshing: OGX Hydrating + Tea Tree Mint Shampoo. The minty feel and smell of this product work well in providing a refreshing feeling. It is great for the scalp and seems to do great job alleviating itchiness and irritation. We recommend this for people who might have scalp irritation issues.
Which one is our favorite? We like the Maple Holistics Degrease Moisture Control Shampoo best although the others have their strengths as well. This one seems to be a great all-around shampoo. Most people deal with a lot of hair grease and this is the shampoo that takes care of that problem while still leaving the hair soft and shiny.
Conclusion
Need more help finding the best hair care product? You can see all the best shampoos for all hair types here!