Last Updated on 7th November 2021 by Chauncey Morgan
A lot of people like to wear their hair straight all the time. If you are one of them, you know that straightening it over and over again is not going to cut it — you will need to use something else, something that will be effective and will not damage your hair. This is where the best hair straightening creams come into the conversation.
I know that some people are still skeptical about using this type of cream. They worry about not applying it properly, damaging their hair more than necessary, or maybe even causing hair loss in some cases. While these are reasonable concerns, I'm here to assure you that little can go wrong when using hair straightening creams!
Companies have worked on these creams for years, coming up with the perfect formula to make hair look shiny and smooth. Once you learn how to combine them with heated styling tools to get the best results, you will never look back!
In today's guide, I will give you detailed reviews of my eight favorite straightening creams, to show you what makes them great and if they are suitable for your hair. So if this is something that you are interested in, keep on reading and see why hair straightening creams are something everyone needs in their home.
TOP PICK

When it comes to hair straightening creams, my absolute favorite is the Oribe Straight Away Blowout Hair Straightening Cream just because it can transform any kind of hair into the straightest and smoothest hair. On top of that, it will not cause any flyaways or frizz, it will not damage your hair, and it will make your hair voluminous and easy to manage. It is everything that you would want to get from a simple hair straightening cream!
Presenting… The Best Hair Straightening Creams
PRODUCT
DETAILS
PRICE
#1 Oribe Straight Away Smoothing Blowout Cream


Suitable for all hair types

Restores hair fiber

Gives hair UV protection

CHECK PRICE

#2 KERATHERAPY Daily Smoothing Cream


Keratin-infused cream

Eliminates frizz

Suitable for daily use

CHECK PRICE

#3 Marc Anthony Argan Oil 3-Day Smoothing Cream


Protects against heat styling

Leave-in cream

Long-lasting hairstyles

CHECK PRICE

#4 Regis DESIGNLINE Press it Straightening Cream


Offers flexible hold

High-quality ingredients

Not tested on animals

CHECK PRICE

#5 CHI Straight Guard Hair Smoothing Styling Cream


Easy brush glide formula

Gives the hair shine

Ionic and Cationic Hydration Interlink technology

CHECK PRICE

#6 John Frieda Frizz Ease Straight Fixation Hair Styling Creme


Easy hairstyling

Improves hair manageability

Suitable for colored hair

CHECK PRICE

#7 MATRIX Mega Sleek Blow Down Smoothing Leave-In Cream


De-frizzes hair

Hydrates and nourishes hair

Shea butter-based cream

CHECK PRICE

#8 TIGI Bed Head Straighten Out Hair Straightening Cream


Cream with hydrating glycerin

Smoothing polymers included

Lasting smoothness

CHECK PRICE
Oribe is a company with a long tradition, one that was started with the idea of creating hair products that would fit any type of hair and help achieve all types of hairstyles. Their smoothing blowout cream is the perfect thing to straighten hair without all that unnecessary heat damage!
Key Features
Medium hold cream
Shiny satin finish
Controls frizz and flyaways
To add this cream to your hair, you need only a small amount of it to add to damp hair. Go section by section with the cream, and once you are finished, blow your hair out. Enjoy your smooth, straight hair!
Pros
Gives your hair volume
Leaves your hair smelling wonderful
Cons
Might not be that suitable for colored hair
If you are looking for a great straightening cream that will make your hair gorgeous and shiny, you have to try out this cream! I recommend it to everyone that is looking to have a hair-changing and life-changing experience!
One of the best things about this straightening cream is that you can apply it by yourself. You do not need to go to a hair salon and spend a ton of money to make your hair look good – you can also do it at home and by using this product only.
Key Features
Improves hair elasticity and strength
Heat-activated cream
Repels humidity
Do you know how your hair can sometimes become extra frizzy if the weather is more humid than usual? If this happens to your hair, you have to try this cream. The formula is specifically made to repel humidity and keep the hair as smooth as possible.
Pros
Lasting hairstyles
No re-touching necessary
Cons
Might feel a bit heavy when applied to fine hair
This is a great keratin-based cream that you have to try out if your hair feels dry and damaged from all that heat styling. This cream will change all that and make your hair smooth and straight.
Unlike some of the other creams that I will mention in this review, this cream from Marc Anthony is very lightweight. When you apply it to your hair, you will not feel it wear your hair down, but it will still be very effective in straightening the hair.
Key Features
Straightening lasts up to three days
Glossy finish
Argan oil-based cream
You only need a small amount of cream to straighten your hair entirely. If your hair is very damaged or dry, you should apply the cream before bedtime and leave it to do its thing – no rinsing necessary!
Pros
Helps rejuvenate hair
Makes the hair very soft to the touch
Cons
This is one of the most affordable creams on the list, so if you are looking for something that will benefit your hair and save you some money, this is a great choice for you.
With so many straightening creams currently available, you need to look for one that will truly provide you with great results and keep your hair healthy. You can find these two things combined in this great cream from Regis!
Key Features
Made from high-end ingredients
Flexible, lightweight formula
Heat protectant
The company recommends that you apply the cream on the hair using a brush or comb. That way, you can evenly distribute it all over the hair and make sure that everything will be as smooth as possible.
Pros
Works on both natural and styled hair
Makes the hair more manageable
Cons
Packaging might be defective
This is a great product from Regis, and I recommend that you try it if you are looking for something that will bring your damaged and burnt hair back to life.
CHI is a company that always comes up with great hair products and hot tools. This straight guard is another example of their greatness – if you have unruly hair that you want to turn into straight and smooth hair, there is no better tool for you than this one.
Key Features
Ionic and Cationic Hydration Interlink technology
Paraben-free cream
Gluten-free cream
You only need a small amount of cream to make your hair perfectly straight. Place the cream on your hand, and try to dispense it all over your hair with your fingers. You do not need to rinse the hair afterward.
Pros
Does not cause hair loss
Leaves the hair smelling nice
Cons
Might make the hair feel heavy or thick
This is a great product for everyone looking for a strong-smelling straightening cream. The perfume smell is not for everyone, but it is a nice touch if you are into strong smells!
This company has a ton of great hair styling products that I would recommend to you, but for now, I will focus on this Frizz-Ease straightening cream. Not only is it very effective, but it also comes in an amazingly designed package that you will love using.
Key Features
Improves hair manageability
Milk protein and almond oil-based
Improves the state of your hair
The best thing about this cream is the fact that your hair will stay smooth and straight for three days or even longer. Thanks to the amazing formula, this cream offers great and long-lasting hairstyling results.
Pros
Hydrates the hair
Smoothes hair frizz
Cons
Works better on very curly hair than on fine hair
This cream comes at a very affordable price but with no compromise of effectiveness. If your hair is very curly and unruly, this will be a game-changer for you.
This product is perfect for people who have finer hair. Instead of wearing the hair down, you will see that this cream gives the hair a lot more volume and definition which will make you love it even more.
Key Features
Does not require rinsing
Shea butter-based
Provides ultra-sleek blowouts
Once you start using this product, you will find that your hair will stay straight for hours on end even in the most humid weather. It will look glossy without any grease or frizz.
Pros
Protects the hair from heat
Cream has a nice aroma
Cons
Using too much of the product can make the hair sticky
You can easily make your unruly hair straight using this cream. It comes at a very affordable price, so I recommend you try it out at least once!
Finally, I will talk about this straightening cream from TIGI that comes in simple yet brightly colored packaging that is sure to catch your eye. You can use this cream daily or as often as you need without worrying about damaging your hair.
Key Features
Cream is humidity-defying
Recommended for everyday use
Made with thermosetting polymers
I love this cream because it can turn even the driest of hair into smooth, shiny hair that looks and feels healthy. Your hair will only benefit from a cream like this!
Pros
Dries fast
Adds shine to the hair
Cons
Packaging might seem outdated
Coming at a very affordable price, I recommend that you give this cream a try and see how much it can improve the look and health of your hair.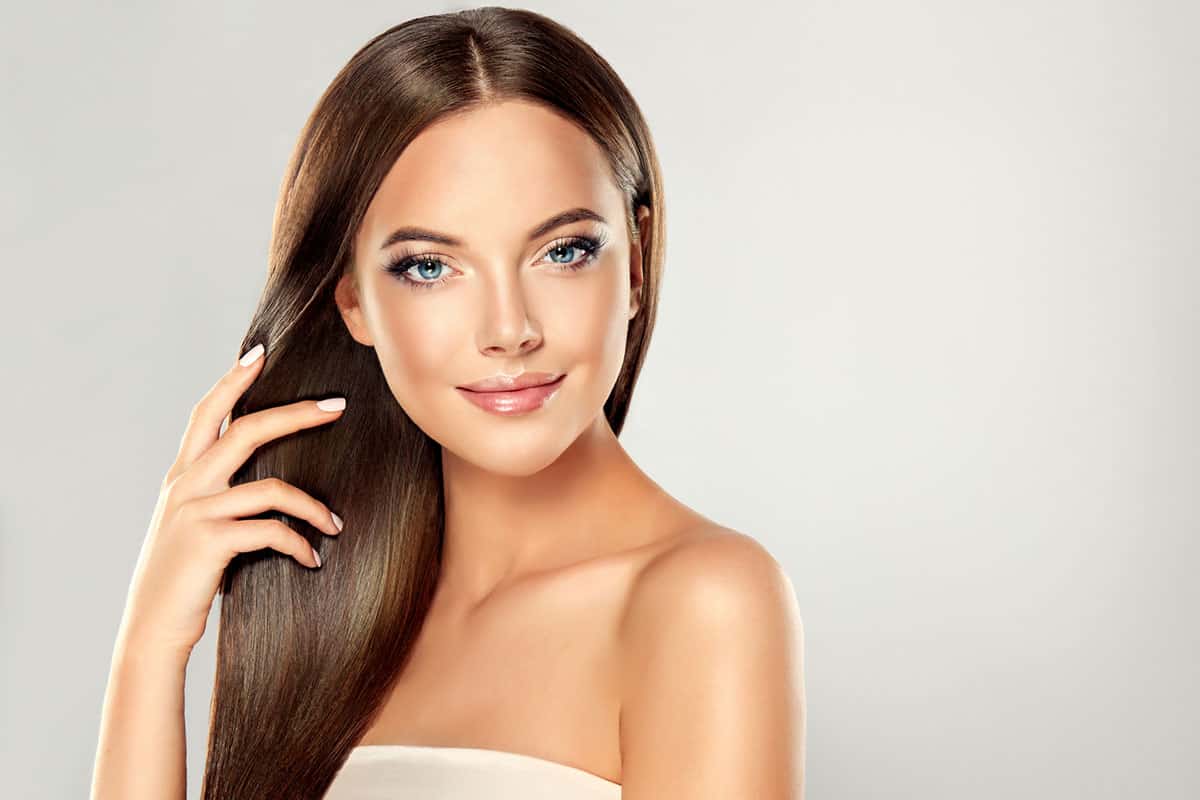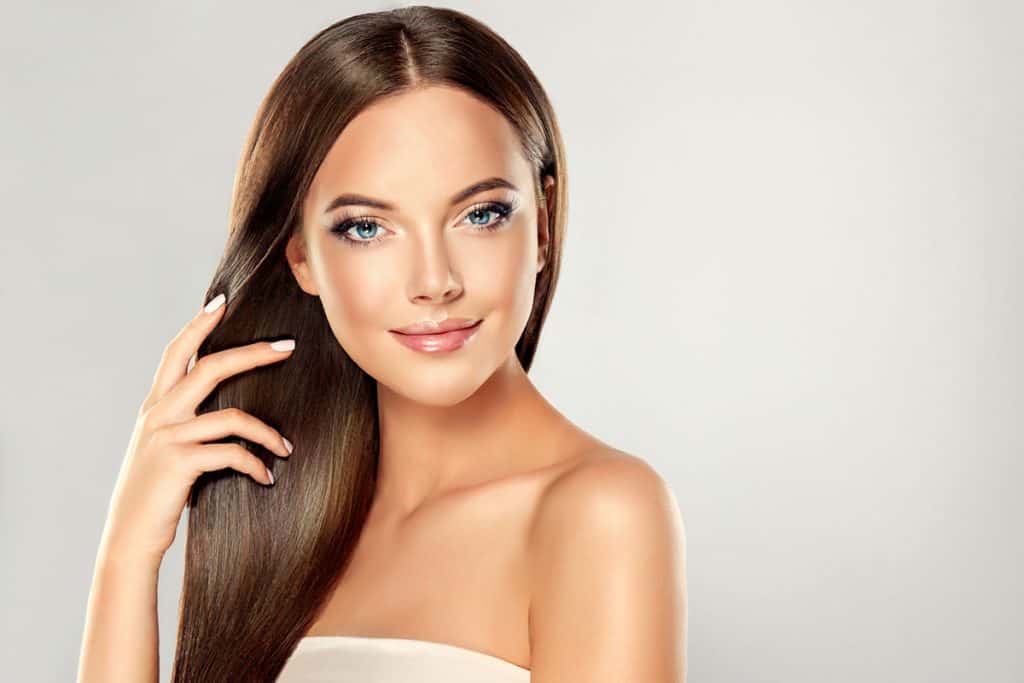 What Are Straightening Creams?
Hair straightening creams are hair products that you can use to straighten your hair temporarily. The effects of this type of cream last at least a few months. The creams are not that expensive, and you can apply them at home, but you need to know exactly how to do it before you get into it!
Before you apply straightening cream to your hair, you should always wash and towel dry it, and brush it through and make sure there are no tangles. Then, going section by section, you should apply the cream beginning from the roots and moving right to the ends.
What you need to realize about hair straightening creams is that they are heat activated. So, once you apply the cream to the hair and let it sit for as long as the instructions indicate, you should carefully blow dry the hair and go over it with a straightening iron. At the end, you should find your hair looking shinier and straighter than ever!
Choosing the Best Hair Straightening Creams
When it comes to hair straightening creams, it is very important to read the label and check if that cream is recommended for your hair type. Some brands pride themselves on coming up with hair straightening products that are suitable for all hair types and lengths, but others produce straightening creams that are specifically for certain types of hair.
On most of the creams, you can find information on whether the cream is lightweight or mild. This is also something to keep in mind: Lightweight creams are more suitable for fine hair, while mild and intense creams are more suitable for thicker, curlier hair. If you use an intense cream on fine hair, it will only wear it down.
I also recommend buying only from brands you trust, or from a country that has a regulating agency like the US FDA that ensures that the product is safe for use. Stranger danger! Don't spend your money on unknown products that could damage your hair or scalp. It's always better to invest in a product from a reputable manufacturer.
These are some of the most important points you need to consider when purchasing a hair straightening cream. When you get to the store, do not forget to look for the straightening creams mentioned above. Any one of them will help you straighten your hair without any negative side effects.
FAQs on Straightening Creams
Last but not least, I want to share with you some frequently asked questions on this topic. Let's see what else you need to know before using a hair straightening cream:
What are the side effects of hair straightening creams?
If you choose a quality product that is suitable for your type of hair, you will not get any side effects whatsoever. However, using a cream that is not suitable for your hair can lead to several side effects. The most notable ones are hair frizz, hair breakage, hair fall, as well as permanent hair loss.
If you want to avoid all these side effects, I recommend that you do your research on a product before purchasing and using it. You can also consult your hair stylist if you are unsure about whether to use a certain product or not.
Straighten Up with a Cream
That is everything you need to know about the best hair straightening creams! If you are looking for one suitable for all hair types, you need to look into the Oribe Straight Away Blowout Hair Straightening Cream. However, if you are on a tighter budget, the CHI Straight Guard Hair Straightening Cream is a great option as well.
Let me know in the comments if you have ever tried any of the creams I mentioned above and which one you would want to try next. I cannot wait to see if you like the selection I made for this review!