In recent years, synthetic wigs have turned into one of the biggest fashion statements worldwide. They might not have been as popular in the past, but they are certainly taking the world by storm nowadays because they come with advantages that will make you love owning and wearing a synthetic wig. But before you decide on investing in a wig, you will need to learn how to take care of, style, and straighten your synthetic wig.
Wigs can be made from natural or synthetic hair. There is a common misconception that synthetic wigs do not look as good as natural ones, but that is just not the case, especially when you take into consideration some of the modern synthetic wigs. They can sometimes look even better than natural hair while being easier to care for and style!
Unlike wigs from natural hair, which will react to all kinds of weather, synthetic wigs have a style memory that is totally independent of the weather. You can style the hair however you like, and that hairstyle will remain for quite a long time, thanks to the synthetic fibers' style memory. 
If you feel like giving your own hair a break from the straightener, or when you want texture that's totally different from your own hair, a wig is the way to go. However, it is very important to learn how to properly style a wig without damaging it.
If you want to learn more on how to straighten synthetic hair, stick with me as I go over some of my favorite tips and tricks for styling a synthetic wig. You will learn how to make your wig look flawless in just a few simple steps!
How to Straighten a Synthetic Wig
Synthetic wigs are the best option for you if you are looking for something affordable and easy to maintain that will also contribute to your style in the best way possible. As you might guess, this type of wig has some downsides — one of the biggest being that heat styling can lead to damage that affects the overall longevity of your wig.
So, if you are planning on wearing the wig straight most of the time, I suggest that you buy one that comes straight from the very beginning. There are wavy and curly wigs as well, but those can be permanently damaged if treated with some straightening tools. Once the original texture is damaged, you will not be able to easily style that wig, and it will also not look as good as it did before.
However, once you have your straight synthetic wig, there are certain things that you can do to maintain that gorgeous flat look. Today, you and I will go over two very effective methods to straighten synthetic hair. Let's get right into it!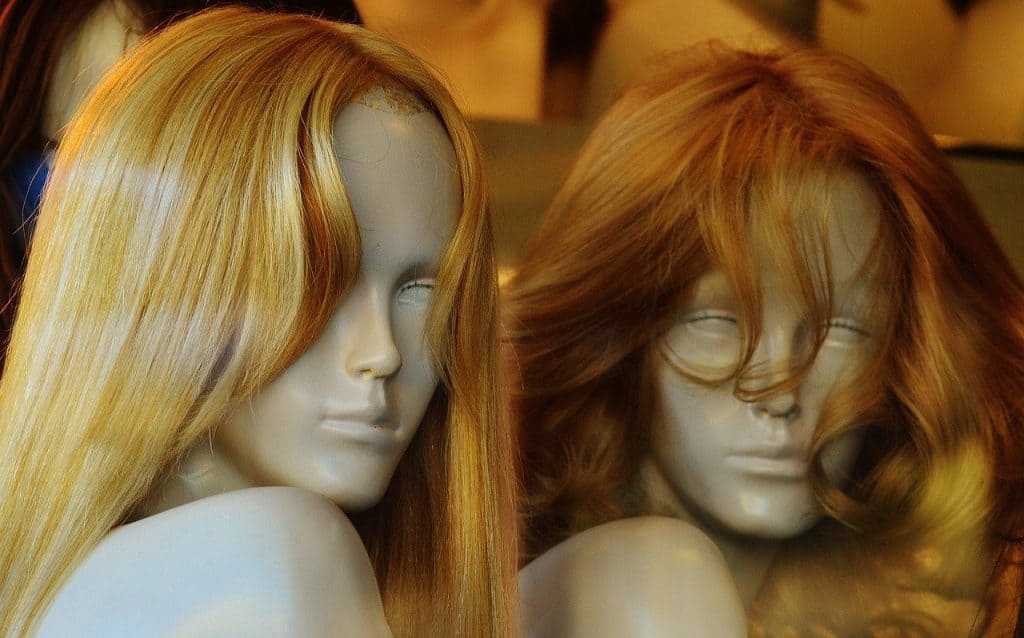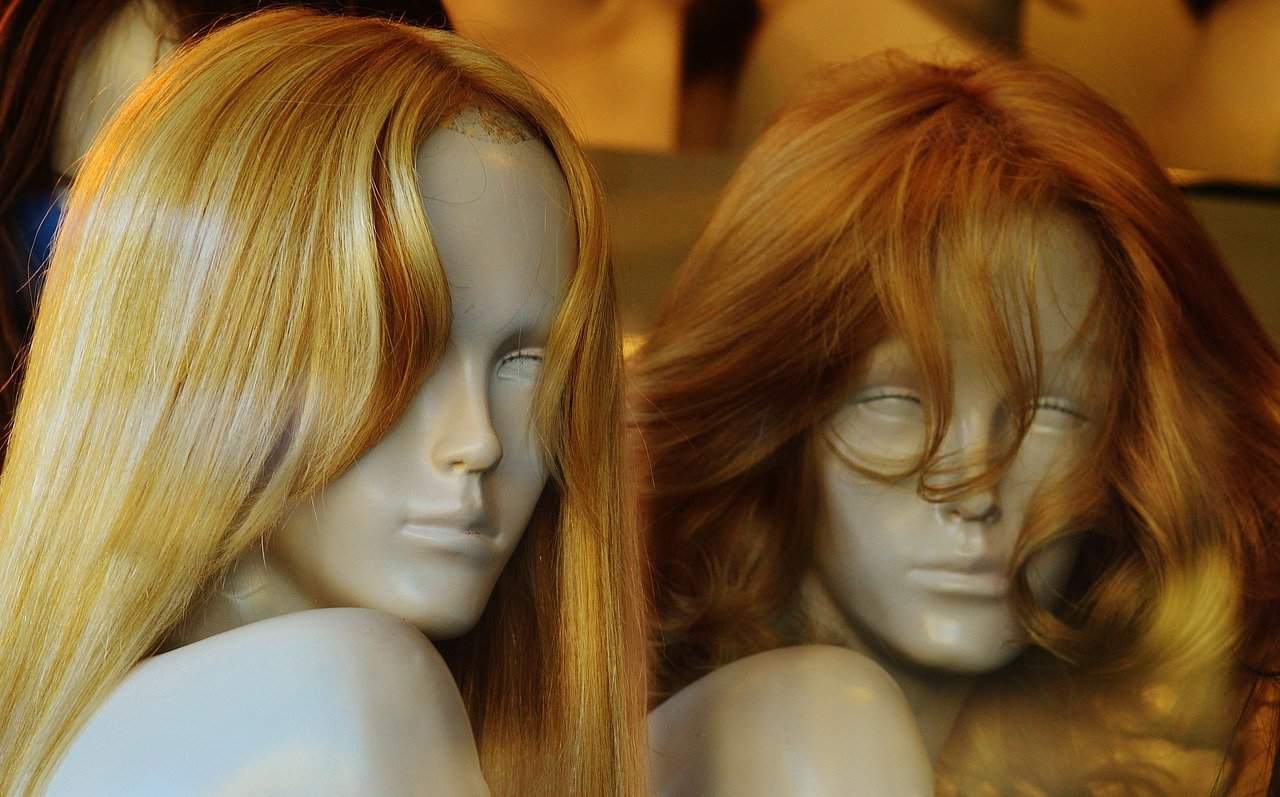 Method 1: Straightening by Washing
Here is how you can give your synthetic wig a bath in just five easy steps:
Step 1 — Comb the Wig
First things first: It is very important that you brush through your wig before you start with the actual bath. That means using your comb to make sure that the wig is completely knotless.
You can also use a brush, but confirm that it's wig-friendly before you use it. Put the wig on a stand and take it with you to the bathroom.
Step 2 — Prepare the Bath Water
Prepare some water that you will use to wash the wig. In a big pot, let the water boil to approximately 180F (82C). If the water gets too hot, let it cool down to avoid melting the fibers.
When the water is ready, take your water pot into the bathroom and add a few drops of wig shampoo. Mix the shampoo with the water before you pour it on the wig.
Step 3 — Bathe the Wig
Start pouring the shampoo water slowly on the wig. You can repeat this step up to five times, but always make sure that the water is at the right temperature.
Step 4 — Condition and Comb the Wig
Once the entire wig is soaked, spray some wig conditioner and gently comb through the wig to remove any tangles.
Step 5 — Air Dry the Wig
After combing it, let the wig dry, but remember not to use any heat tools, like blow dryers or flat irons, on it. If you did every step right, the wig will come out perfectly straight when it is all dried!
Method 2: Straightening by Steaming
If you want to steam your synthetic wig, here is what you need to do:
Step 1 — Comb the Wig
Just like you did when bathing the wig, start the steaming process by combing through the wig and making sure that there are no tangles or knots. When the wig is ready, put it on a stand and grab your steamer.
Step 2 — Section the Hair and Start Steaming
While steaming the hair, you will also need a wig brush to help you steam the hair section by section. Remember not to put the steamer too close to the wig or steam in one place for a long time. You should be very gentle and thorough, but also quick.
Go over each section of hair with the steamer a few times. Make sure that the wig is completely straight before you stop with the steaming.
Step 3 — Let the Wig Air Dry
Allow the wig to air dry and steer clear of any hot tools — just like I mentioned in the previous straightening method. After an hour or so, check to see if the wig is dry.
If it is, you can use a wig conditioner and give it another comb before it is ready to wear. If not, let it dry, and then go over the final step.
Step 4 — Condition and Final Comb
Once the wig is dry, you can use some conditioner to make it softer and smoother. When you spray the conditioner on the hair, you can gently comb through the hair.
That is all you need to do to steam your synthetic wig. If you follow all the steps I have mentioned, you will surely enjoy wearing your straight and smooth wig!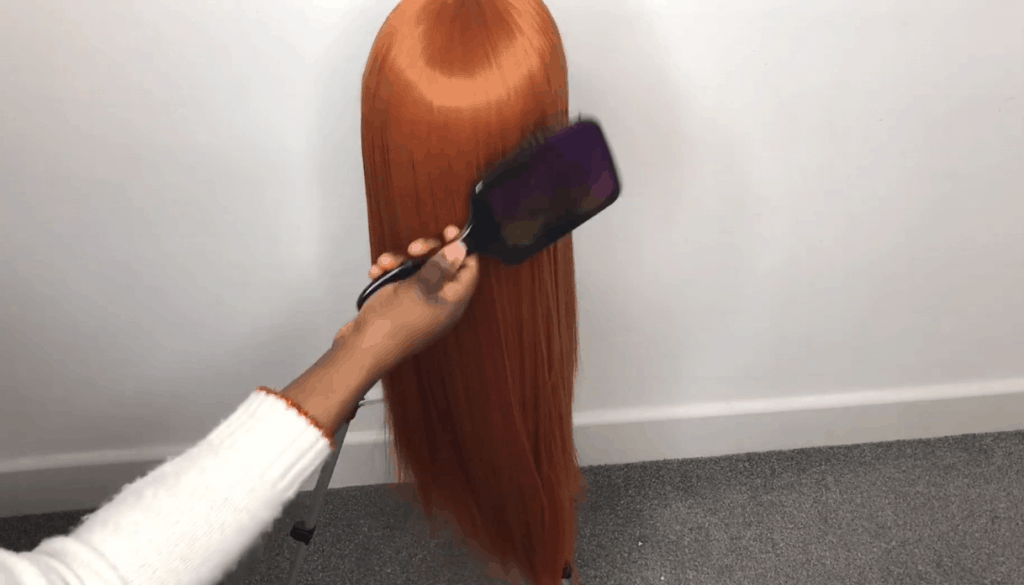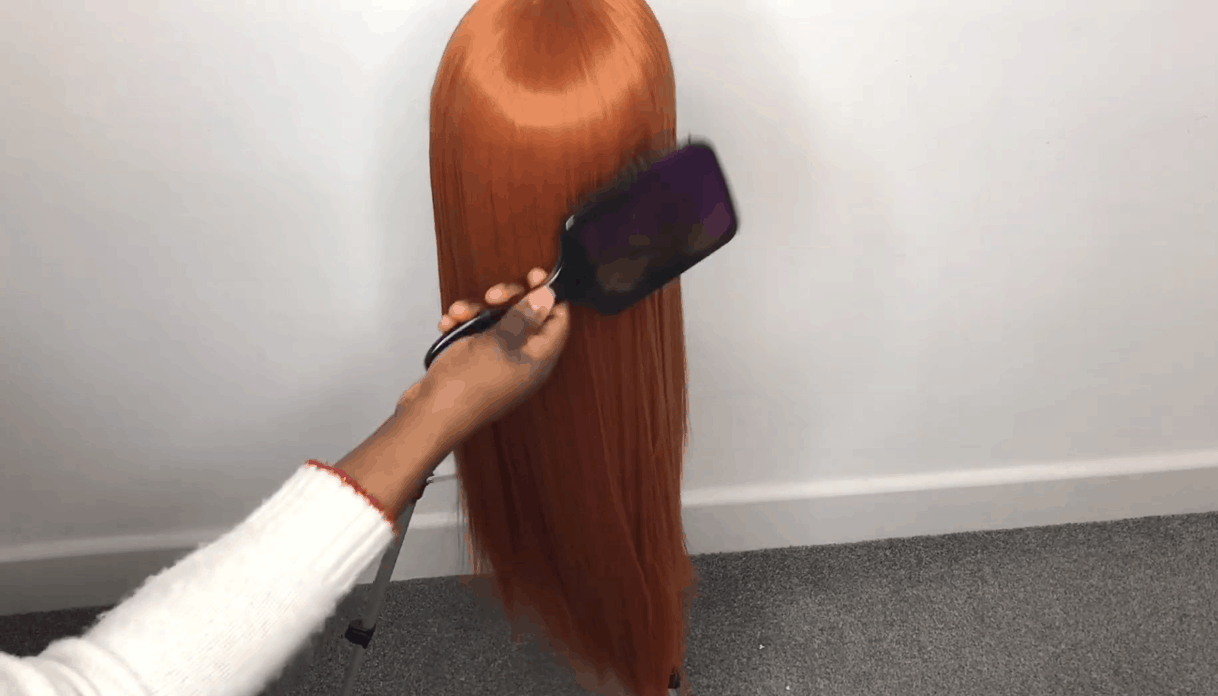 FAQs About Straightening Synthetic Wigs
Synthetic wigs can be very delicate, so proper maintenance is key if you have one and want to keep it around for as long as possible. There are a lot of straightening methods that you will find on the internet, but the two that I mentioned today are the most effective and efficient.
Now that we have covered the best methods for straightening synthetic wigs, let's look at some questions that you might come across or find yourself wondering about!
Can you put a heat protectant on synthetic hair?
As I have mentioned so far, using heat styling tools on synthetic hair is not advisable, but it is also not impossible. If you are planning on using a flat iron, curling iron, or blow dryer on your synthetic hair, you can definitely benefit from some heat protection.
With that being said, do not take the heat protectant as something that will completely eliminate the possibility of hair damage. Any hot tool that you plan on using should not be set to a temperature higher than 280F (137C). Even then, you are taking a risk, so you might want to rethink using the tools and go for one of the methods that I have mentioned instead.
What is heat-friendly synthetic hair?
In addition to the regular synthetic wigs, there are wigs made from heat-friendly synthetic fibers. With the heat-friendly wig, you can use some hot tools or a blow dryer to style the hair, but it is not recommended to use the tools on the highest temperature setting. The wig might be heat-friendly, but it is still synthetic fiber that will easily damage you heat it up.
How do you keep synthetic wigs looking new?
Proper handling of a wig will not only preserve it for longer, but it will make it look brand new for longer. It is not only the styling that makes a wig look nice; it is also the care that you give it.
Remember to always handle the wig with care, and be gentle with it when you are brushing, straightening, or washing. Wash it every four to six weeks, and make sure you use proper shampoos and conditioners for synthetic fibers. You can even invest in a wig-specific styling tool if you plan on using the wig every day.
Synthetic Wigs Have Never Looked So Good!
If you have not joined this hair trend so far, I advise you not to hesitate any longer and just get a synthetic wig. You will be shocked by how much you enjoy wearing it, caring for it, and styling it!
Learning how to straighten a synthetic wig is a must for flawless-looking hair that looks professionally done. Try the steaming method if you have a steamer, and if you do not, the washing method will achieve the same result!
If you have any other straightening methods that you know, please share them with the rest of the wig-loving community and me. I cannot wait to read all your experiences and learn more about your wig-wearing journey!