Last Updated on 17th August 2023 by Chauncey Morgan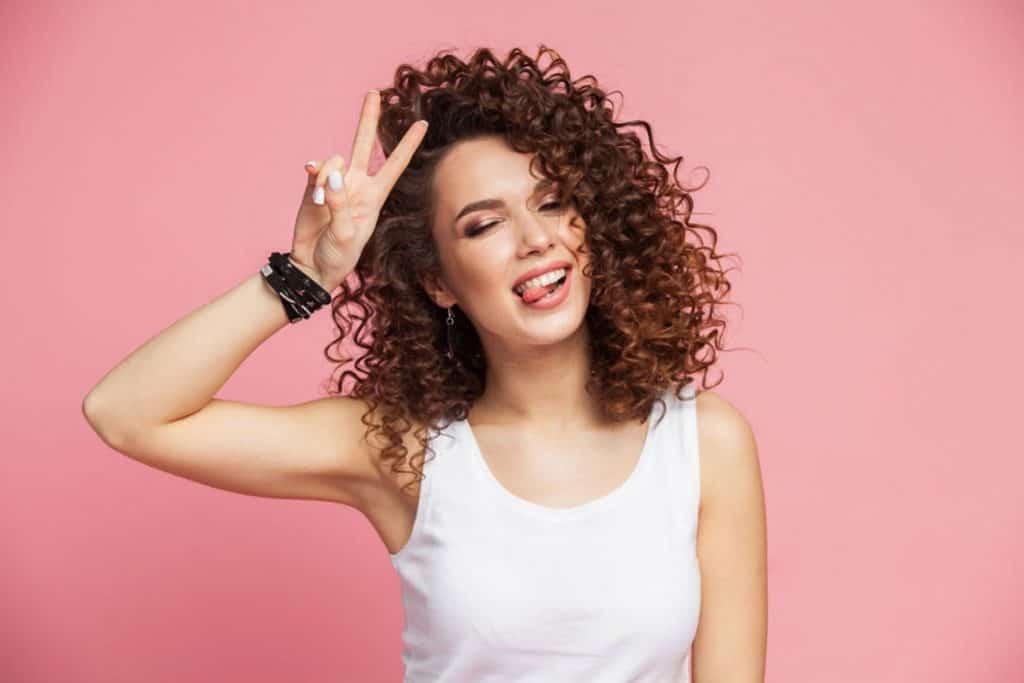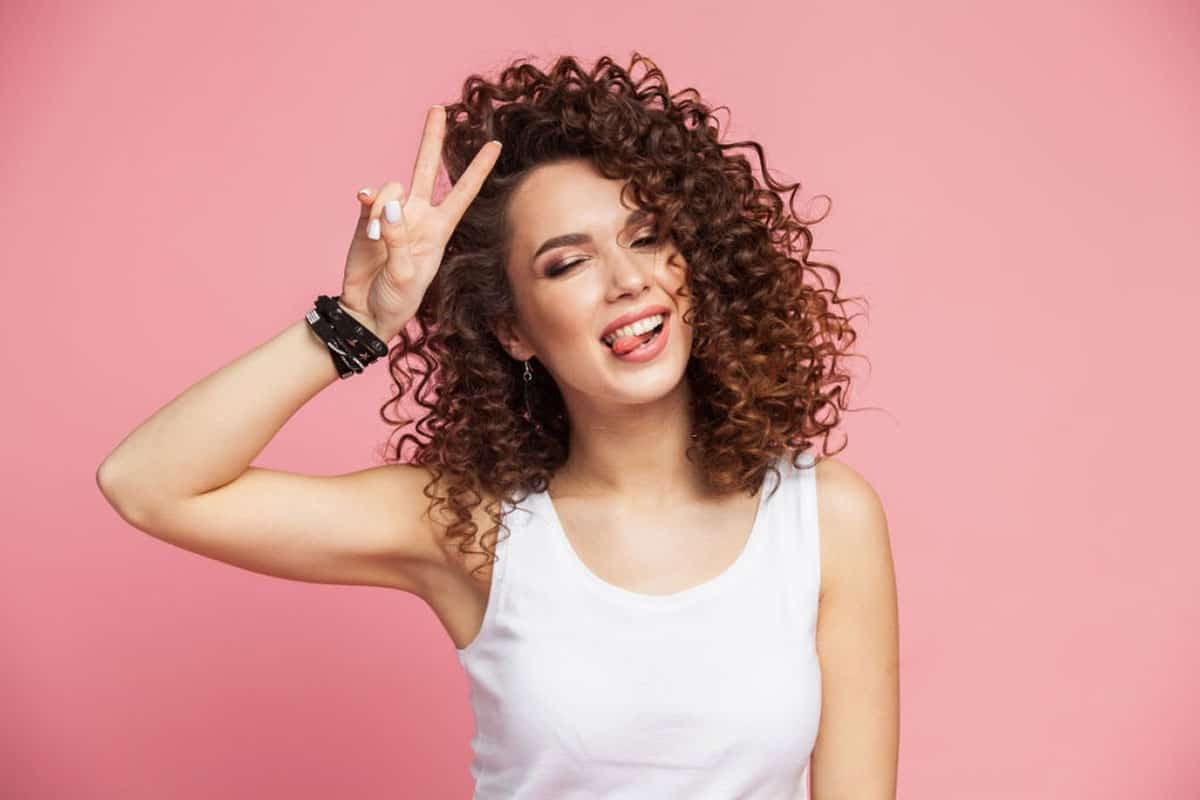 I know that you will agree with me when I say that a diffuser is a necessity when drying curly hair. But what happens if you do not have a diffuser? How should you dry your hair without making it look frizzy and all over the place? In this guide, I will tell you everything you need to know about how to dry curly hair without a diffuser and make it look gorgeous!
Curls are very high maintenance – this is something that girls with straight hair do not really realize. It takes precise drying and styling techniques to make your curls look well-defined, and there are also a lot of products that you have to use on your hair when styling it. However, the most important part of drying curly hair is the diffuser – a real God-given tool if you ask me.
With the help of a diffuser, you can dry your curly hair quickly and still keep your curl's natural pattern. The diffuser can also help you eliminate frizz while keeping your curls voluminous and bouncy. What more could a girl need, am I right?
Still, there are moments in which you might not have your trusted diffuser by your side, and in those times, you need to know how you can dry your hair without making it look lifeless and frizzy. That is exactly what you will learn in this guide, so if you are interested, I suggest you keep on reading!
What Exactly Is a Diffuser?
Most of you are probably familiar with the term diffuser, but I would like to give a short explanation for those who have not heard about a diffuser until now. A diffuser is a type of attachment that you can easily add to your blow dryer. That attachment will help you dry your curls more quickly, keeping them in their natural pattern and making them look bouncy and frizz-free.
If you have curly hair and you have not tried drying them with a diffuser, I suggest you go out and get one immediately. The diffuser will make the drying process so much easier while saving you some time as well.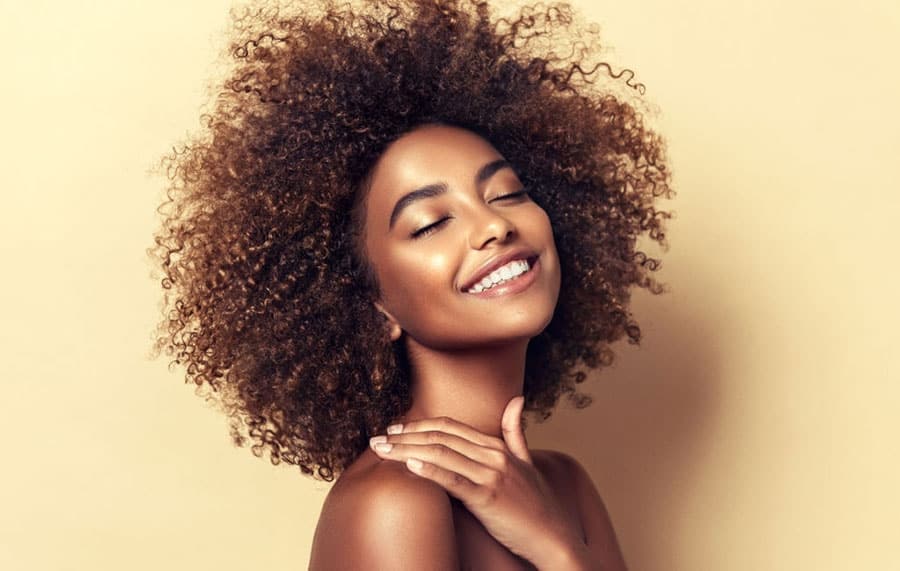 DIY Sock Diffuser
You can also make a DIY diffuser by getting an old sock and fitting it over your hair dryer — et voila! You have a sock diffuser. Just make sure your sock is cottony as synthetic fibers might melt from hair dryer heat. On this same principle, you can take a loose woven natural fabric, like gauze or cheesecloth, and secure it over the mouth of your hairdryer with a scrunchie.
DIY Strainer Diffuser
You can also use a kitchen tool — like a sieve or colander — as a makeshift diffuser. Pick a helmet-sized one and place your curly tresses in it, and blow dry away.
How to Blow Dry Curly Hair without a Diffuser
However, if you have made up your mind about not using one, that's okay as well since there are alternatives to using a hair diffuser. I will tell you exactly how you can blow-dry your curly hair without a diffuser in just a few simple steps.
Even when you do not have a diffuser available, you do not need to settle for hair that looks frizzy all the time. There is a very easy five-step method that you can use to dry your curls and still keep them looking as gorgeous as always. Let's see how this method works and what it is all about!
Step 1 – Clean and Condition Your Hair


Before you start drying, you will need to wet your hair and clean it up. In this case, it does not matter how long it has been since your last wash, but I would not recommend washing your hair every day as that can lead to unnecessary damage to your hair strands.
The next time you need to wash your hair, make sure you do so with a shampoo and conditioner that are specifically made for curly hair. The conditioner can be one that you leave in your hair, but do not use too much of the product as that can make your curls a bit stiff and flat.
Step 2 – Add Heat Protectant to Your Hair


Heat protectants are very important, and you should always use them on your hair regardless of if you are only blow-drying it, straightening it, or curling it with a hot tool. The heat protectant can help you avoid unnecessary damage and keep your hair looking shiny and full of life.
As I mentioned with the conditioner, use this product in moderation as well. Too much heat protectant can weigh your hair down.
Step 3 – Towel-Dry Your Hair


When you towel-dry your hair, you should use a softer towel or maybe even a cotton t-shirt. Drying your hair with a cotton shirt can help keep your hair frizz-free, and that is something you want to achieve.
Make sure that you do not press or pull the hair too much. Using the towel, dry the hair as much as possible, leaving it damp before you move on to blow-drying it.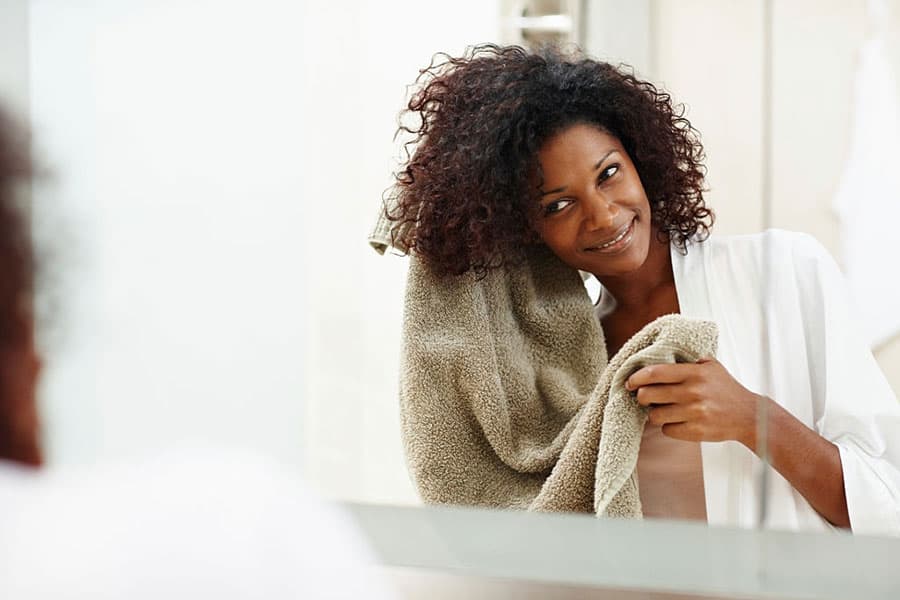 Step 4 – Detangle Your Hair


Once your hair has been towel-dried, you can move on to detangling and brushing the hair thoroughly. By now, the conditioner should have softened the hair up, so brushing should be very easy. Make sure that there are no tangles in your hair before you start blow-drying it.
ProTip: Using a curl activator after this step will give you leveled-up fab results.
Step 5 – Blow-Dry Your Hair on Medium Heat


I know that curly hair is often thick and textured and takes a lot of time to dry, but the best thing for your hair would be to steer clear of those high blow-drying temperatures. The high temperature can make your hair look frizzy and reduce the volume that the hair naturally has, making it look very dull and lifeless.
When using a blow dryer without the diffuser, you only need to set the temperature to low or medium. You can put your hair upside down and then turn it sideways so you will be able to reach every part of your hair and dry it completely. Do not be afraid to flip the hair and move it around as that will only make it look more natural!
FAQs on Blow-Drying Curly Hair
Diffusers are usually mentioned when talking about curly hair, but that does not mean that they cannot be used on straight hair as well. One of the most frequently asked questions that I found in connection to this topic was just that: Is it possible to use a diffuser on straight hair? So let's see if that is possible!
Can you diffuse straight hair?
Yes, you can definitely use a diffuser when blow-drying straight hair. In this case, it will serve as a volume booster for your hair. It will not form well-defined curls, but it can help create waves on your straight hair that will look beachy and very natural.
That's How You Dry Curly Hair Without a Diffuser!
I hope that this guide helped you learn more about how to blow dry your hair without a diffuser available. This five-step method can be very effective if you learn to use it properly and you pay enough attention to your hair when drying and styling it.
Let me know if you tried the method out and what you think about it. I cannot wait to read all your comments!