Last Updated on 17th August 2023 by Chauncey Morgan
Silk press, call me obsessed. That bouncy, soft, silky hair is all the rage this year, and it's easy to see why! Of course, you have got to get the look, but with all the information available, it's easy to find yourself scratching your head and asking yourself, "what's the best silk press flat iron for my natural hair?"
Say goodbye to stiff, lifeless hair. Ditch the nasty chemicals and say yes to silky, soft hair that moves with you. Do you want hair that dramatically blows back with an ocean breeze? I thought so! Remember: natural hair can be delicate, so it's important to use the correct tools to do the job. Before you waste your money on another flat iron that burns your hair or otherwise can't deliver, here's a list of the best silk press flat irons for use on natural hair!
TOP PICK

I love the Chi Pro 2 because of its quick heat function and titanium plates that'll give you that even heat distribution. 
The Best Flat Irons for Silk Press Hair Are:
BRAND
DETAILS
#1 Chi Pro 2 Digital Titanium Infused Ceramic Flat Iron



Titanium-infused plates 

Color-coded digital temperature settings

Two-year warranty

CHECK PRICE

#2 GHD Platinum+ Hair Straightener, Ceramic Flat Iron Professional Hair Styler



Ultra-predictive heating technology

Up to 70% less hair breakage 

High-gloss plates

CHECK PRICE

#3 Conair Professional Infinitipro 1 ½-Inch Tourmaline Ceramic Flat Iron



1 ½-inch plates

Five heat settings

Can create beach waves

CHECK PRICE

#4 Furiden Professional Hair Straightener



Can straighten or curl

LED temperature settings

Heats up in 15 seconds

CHECK PRICE

#5 HSI Professional Glider Ceramic Tourmaline Flat Iron



Instant heating

HeatBalance technology

Straightens, flips, and curls

CHECK PRICE
The CHI Pro 2 is easily one of the best flat irons for silk press on natural hair. When it comes to attaining that smooth, easy, shiny, silk press look, this flat iron gets the job done easily. If you're not the most graceful at wielding a flat iron (I know I'm not), you'll love its ergonomic design. It is at the top of this list because it is affordable and incredibly easy to use.
This titanium-infused ceramic flat iron will get your hair shiny and smooth in no time. For the more numerically challenged among us, the CHI Pro 2 has an easy color-coded digital temperature setting. For coarse, thick, hair, use the red setting. If your natural hair is medium-wavy hair use the green setting, and for damaged or delicate hair use the blue setting. With these easy settings, anyone can achieve a beautiful silk press.
Not only is it easy to use to straighten, but the smoothed edges of this iron also mean it can function as a curler or be used to create beautiful bouncy beach waves. If you're a woman who does it all, get a silk press flat iron that can do the same!
Key Features
Titanium-infused ceramic plates
Color-coded heat settings
Ergonomic design
This is a great option if you want to try a silk press with an easy-to-use flat iron. In terms of price, it's in the mid-range, so if you're not ready to drop some serious cash, but also don't want to waste your money on cheap flat irons that burn your hair, the CHI Pro 2 will have your back.
Pros
Color-coded settings make choosing the right temperature simple
The lightweight and ergonomic design makes for ease of use
High-quality plate materials make hair shiny, and the flat iron more durable
Cons
Large, might not be suitable for travel
Overall, I consider this the best flat iron for silk press because it is just so easy to use. It heats up in 40 seconds, the ion-infused plates keep your hair shiny, and it has a sleep timer in case you are forgetful. If you are new to straightening your hair, it's super easy to use. If you want to change up your look, it can also be used to curl. The manufacturers are so confident that this flat iron will do it all that they offer a two-year warranty.
For those looking to splurge, look no further. The GHD Platinum+ hair straightener is the Rolls-Royce of silk press flat irons. The fact that it does not have an option for the user to choose their own heat setting may be a little hair-raising at first, but trust this silk press flat iron: it knows what it's doing! This is the world's first smart hair straightener, meaning it can predict your hair's needs and heat the plates accordingly.
The GHD Platinum+ uses ultra-predictive hair technology. This flat iron monitors its plates 250 times a second, and always maintains the perfect temperature to straighten your hair without damaging it. The GHD Platinum+ Hair Straighter entirely removes all guesswork from the silk press equation: just turn it on, and it's the perfect temperature.
Because it has such highly advanced technology, it can prevent hair breakage and loss of color. For those with damaged and colored hair, this is the product for you!
Key Features
Ultra-predictive heat technology
Heat-resistant protective plate
Universal voltage
This is a flat iron that can be used on any hair, anywhere. Its universal voltage and heat-resistant protective plates mean you can take this bad boy all around the world!
Pros
Smart technology takes the guesswork out of choosing a temperature setting
Microsensor heating technology means hair receives significantly less damage during the styling process
Protective plates and universal voltage make it easy to travel with
Cons
Price may be out of range for some
The GHD Platinum+ Hair Straightener may be a little pricey, but it more than makes up for it in performance. If you want full-bodied, bouncy, shiny hair without ever having to worry about damaging it, treat yourself to the world's first smart flat iron.
For those looking for a more budget-friendly option, Conair has you covered! This tourmaline-infused ceramic flat iron has five heat settings and can reach a maximum temperature of 450 degrees Fahrenheit, making it usable for women of all hair types. This model is sold with varying plate sizes, so if you have thicker or more fine hair, you can buy a model that suits your needs.
Do be aware, because the Conair Professional Infinitpro is less precise with its heat setting, it may be less suitable if you have hair that is prone to damage or breakage. If your hair is a bit more delicate, you may want to opt for a more precise flat iron. It is also not as durable as some other flat irons on this list, so if you're a frequent flattener you may want to consider purchasing something with a longer warranty.
That said, if you're buying a flat iron for the first time and don't want to break the bank but also don't want to waste any money on something that will burn your hair, go for the Conair Infinitipro.
Key Features
Tourmaline ceramic plates
15-second heat-up
Multiple options for plate size
Personally, this is my favorite budget flat iron because it delivers the same quality silk press as other more expensive flat irons. If you're more experimenting with your style or just want to change up your look for a night out every so often, this can be a fun tool to keep in your beauty kit.
Pros
Excellent performance for an affordable price
Great for beginners because it heats up quickly and is easy to use
Comes in multiple fun colors and different size plates
Cons
May not be suitable for damaged or prone-to-damage hair
Not as durable as other listed flat irons
If you're new to the silk press game, the Infinitipro by Conair is a great place to start. In terms of budget-friendly options, it is an outstanding flat iron for silk press hair. It's easy to plug and play and is also easy on the wallet. Conair has been a highly respected brand in hair styling tools since 1959, and the Infinitipro lives up to that standard.
If you need a tool that can do it all, Furiden's 2-in-1 Professional Hair Straightener can provide both a lovely silk press AND bouncy curls. What I love most about this model is how smooth it feels: you only need to rotate the heating dial to your desired heat setting and in 15 seconds, you can begin styling.
Its tourmaline-infused ceramic plates create enough ions to smooth the hair as it straightens, so say goodbye to frizziness! The ions also infuse when curling, creating defined curls with no flyaways.
The Furiden Professional Hair Straightener also has a 360-degree swivel cord, making it easy to maneuver in any location. It also has floating plates with curved edges, so you don't snag or tug your hair while styling. For a snag-free styling experience, buy the Furiden Professional Hair Straightener.
Key Features
2-in-1 design
15-second heating time
Ionic plates
If you're looking for a gift for a woman in your life, consider the Furiden Professional Hair Straightener. With its high performance and versatility, it makes a great birthday gift or Christmas present for any hair-loving woman.
Pros
It can do everything! Silk press, beach waves, retro curls, this styling product does it all
Ingenious design prevents snags or tugs
Heats up quickly, saving you time
Cons
Longer plates could be better for curling
If you're not sure if you prefer curls or a silk press, go for the Furiden Professional Hair Straightener. This styling tool can do everything from pin-straight to retro curls, and it can do it without snagging or tugging the hair. If you're looking for a gift for a woman in your life, or just want to treat yo'self, choose this flat iron!
This flat iron is preferred by women who are always on the go. Why? Because this little guy heats up instantly. This professional-grade flat iron features tourmaline-infused ceramic plates, a temperature range of 140-450 degrees Fahrenheit, and HeatBalance technology: advanced microsensors that prevent damage to your precious hair. This flat iron can handle both delicate hair AND hair that needs a lot of heat to achieve straightness.
In addition, this flat iron comes with dual voltage that is compatible with 110v and 220v, meaning you can travel the world and still maintain that beautiful glossy frizz-free silk press! You may have places to go and not a lot of time, but the HSI Professional Glider has your back! The makers of the flat iron also have your back, since The Glider comes with a one-year warranty.
The Glider's floating plates can flip and curl the hair as well as straighten it. In terms of versatility, the Glider delivers.
Key Features
Tourmaline-infused one-inch ceramic plates
Dual voltage
HeatBalance technology
Don't be surprised if you see this in your bestie's bathroom. The HSI Professional Glider is one of the most popular models of flat iron for silk press on the market. Don't be afraid to ask your friends to try it if they have one.
Pros
Instant heating is great for busy women
Microsensors prevent future hair damage
Wide range of heat settings allow for multiple users to use the same styling tool
Cons
Plate size might not accommodate extra thick hair
It's not hard to see why this flat iron is so popular. It accommodates a wide range of hair types, heats up quickly, and can go anywhere. Not only that, but it also comes with protective gloves, and a travel-sized argan oil leave-in hair treatment.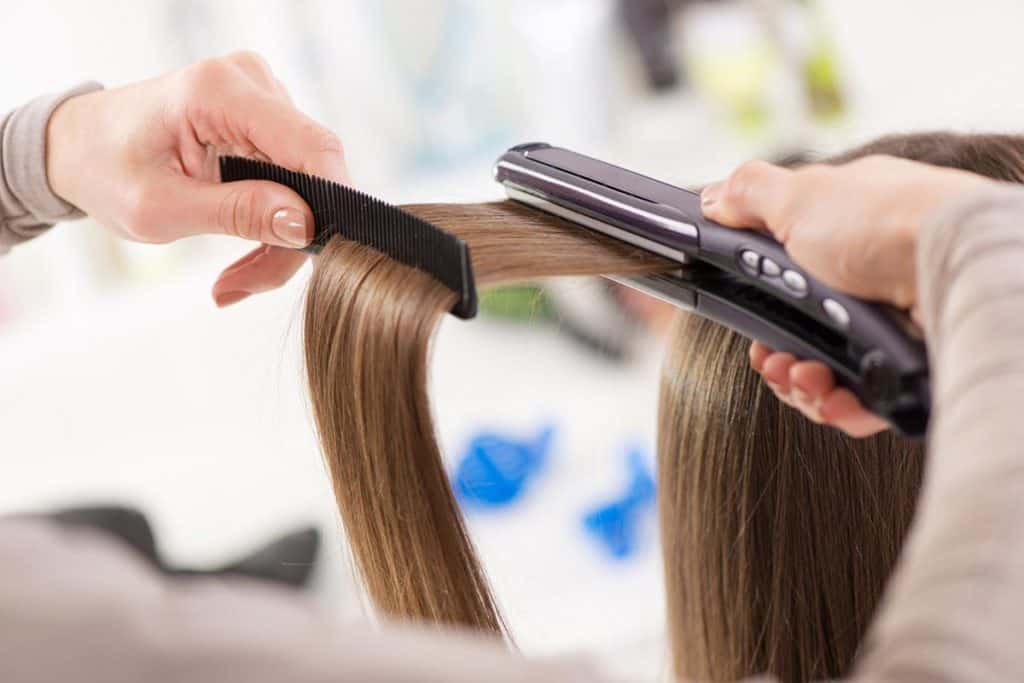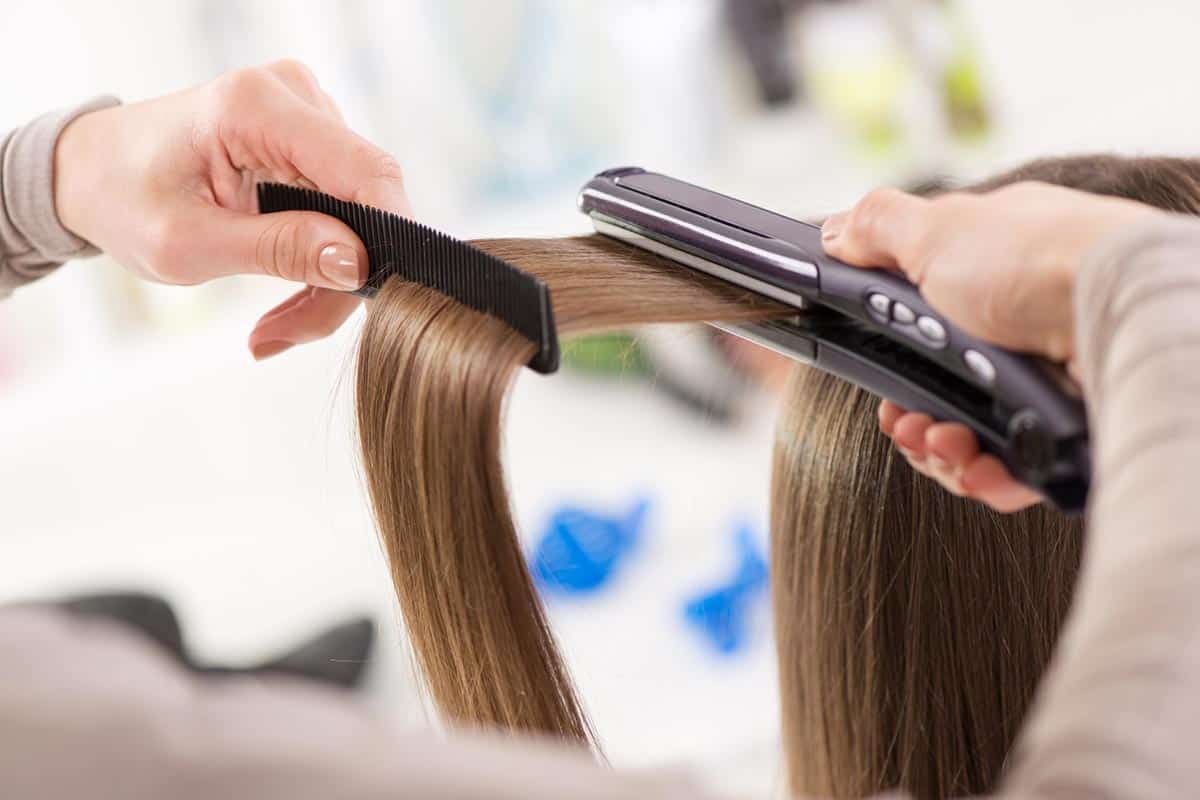 Tips for Picking the Best Silk Press Flat Iron
Okay, that was a lot listed there. I know what you're thinking: "how do I choose the right flat iron for me?" There are many things to consider when it comes to choosing the right flat iron to silk press natural hair. Here's a quick guide to help clear through the confusion and help you decide which flat iron is best to silk press your natural hair.
Plate Material
Not all straightening irons are created equal! Cheap materials can heat unevenly and even create "hot spots" that burn your hair. When it comes to a shiny, frizz-free silk press, it is all about high-quality materials! Don't settle for any cheap metal on your locks. Titanium, ceramic, and tourmaline are the professional gold standard when it comes to straightening hair. Why? Because they create ions that smooth away frizz and poofiness.
So you know the names of the right materials, but do you want tourmaline-infused ceramic or tourmaline-infused titanium? If you need your flat iron to get hot quickly, use titanium. It can hold high temperatures, making it a better choice for heat-resistant hair.
Ceramic flat irons are a bit more gentle, so if your hair is prone to damage, or you're concerned about color retention, choose a ceramic flat iron.
Size Of Straightening Plate
Does size matter? Of course, it does! If you've got a lot of hair and not a lot of time to straighten it, it's best to choose a flat iron with a larger plate. Trying to straighten long natural hair on a standard one-inch plate can be a time-consuming pain in the neck. A one-and-a-half or two-inch plate can dramatically reduce the time it takes to give your hair that lovely silk press!
Conversely, if you have short hair, or your hair does not resist heat treatment, a smaller plate is more gentle on the hair. Flat irons with smaller, shorter plates are also easier to store in luggage if you need to take your style on the go.
If you are getting a 2-in-1 curler and flat iron, you might want to get one with longer plates, because they work better for curling long hair.
Hair Texture
Just like the incredible women who possess curly hair, no two curl patterns are exactly alike. If you have 3b hair, you should not be using the same styling routine as someone with 4c curls. Ask women with your similar hair texture, "Which flat iron do you use for silk press?" If you are unsure, go for a flat iron with a wide range of temperatures, start on the lowest temperature, and work your way up. The key is to find the lowest possible temperature that effectively straightens your hair.
Also, consider the heat-protecting products you use when you are straightening your hair. Are you using a product that effectively protects your hair type without weighing it down? Consult a stylist who works with similar hair textures to yours for a professional perspective on which products are best for your hair.
Heat Settings
As I said, you want to find the lowest possible temperature to straighten your hair. To be effectively straightened, most natural hair needs to be heated to 300 or 400 degrees Fahrenheit. If you have thicker, more coarse hair, you might need a straightening iron that can reach above 400 degrees. If your hair has damage from bleaching or other chemical processes, keep your flat iron below 300 degrees when you straighten your hair.
It's not just about how hot your flat iron can get: sometimes you also need precision in temperature. Lower-end flat irons often only have one heat setting. If this is the case, do not use that flat iron on your hair. The flat iron you are using must come with a range of settings, so you can find the right one without burning your hair.
Versatility
I can't get enough of silk-pressed hair, but sometimes you also want to throw some curls into the mix. If you're the type to sometimes want curls or even just add a little flip at the end of your nice straight hair, consider a flat iron with 2-in-1 abilities. Look at the edges of your flat iron, are the edges sharp or curved? It may seem like a minor detail, but the difference it makes is noticeable. The sharp-edged flat iron can easily create pin-straight looks, but cannot create flips or curls at the ends of hair. If your flat iron has a curved edge on the plates, it can also curl the hair. When your flat iron can also serve as a curler, the possibilities are endless!
Also, consider where you want to use this flat iron. If it's going to stay in your bathroom for its entire lifespan, the voltage may not matter. If you plan to take your flat iron with you when you go traveling, you will need a model with dual or universal voltage.
Final Verdict
A high-quality flat iron is crucial to getting a proper silk press. Because natural hair can be prone to frizz, it is important to always use ion-infused styling tools to lock in moisture and smooth away frizz. Be sure to be careful when purchasing a flat iron for silk press, a bad flat iron can burn your lovely tresses! I hope this guide is helpful for you while searching for the right flat iron.
While I love every single one of these flat irons, my choice for the best flat iron for silk press would have to be the Chi Pro 2 because it is easy to use and performs well on a variety of hair types.