Last Updated on 30th September 2021 by Chauncey Morgan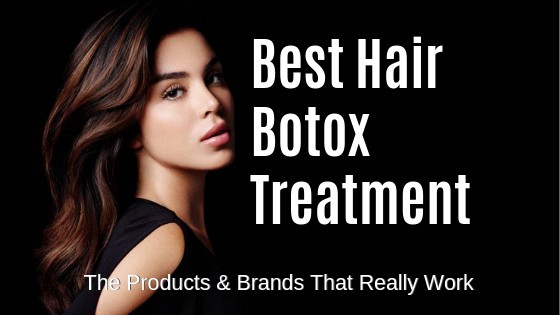 Hair, just like our skin, succumbs to the aging process. Over time, it acquires minuscule damage that weakens the shaft and makes them susceptible to hair loss.
This can be compounded by the chemical treatments we get for our hair. One way to treat that and reverse the aging process is by using hair botox treatment.
This treatment doesn't really have Botox – the Botulinum toxin that is injected into the skin. What it has are different types of fillers such as collagen and keratin in order to bring back shiny and healthy hair.
Ready to find the right hair botox treatment for your aging hair? Check out our best recommendations below.
Best Hair Botox Treatment for Reviews
Product
Details

1. Inoar Professional BotoHair Kit

Easy to Use Complete Kit

Price: $$
Best Value
Used by Professionals

Check Price

2. Nutree Professional Blonde Botox Expert

For Damaged Blonde Hair

Price: $$$
Specifically Formulated for Restoring Blonde Hair

Check Price

3. Majestic Keratin Majestic Hair Botox Complete Kit

More Natural Ingredients

Price: $$$
Formaldehyde-Free
Does Not Emit Strong Fumes

Check Price

4. Softliss Keratin Botox Gel

Most Potent Formula

Price: $$$$
Extra Proteins for Better Hair Regeneration

Check Price
1. Inoar Professional BotoHair Kit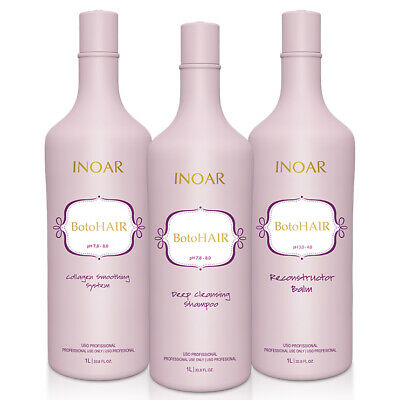 Use what professionals use. This Inoar Professional BotoHair Kit is a staple in many professional hairstylists' arsenal. It's not hard to understand why. The BotoHair kit comes with three products – a deep cleansing shampoo, a collagen smoothing system and a reconstructor balm. All of which will complete a step-by-step process in restoring the health and vibrancy of your hair.
It seals in Keratin in your hair strands while the collagen treatment helps tame frizz and control volume by up to 95%. So, whether you have curly hair or straight but damaged hair, you will find this line helpful in managing your hair.
Pros:
Unlike other hair botox treatments, this one only has 0.2% of formaldehyde. It might not be completely bereft of this ingredient but there is only a small amount of it that it isn't harmful to the body.
It helps restore the hair without losing its natural volume. You won't have to worry that you will get flat and limp hair. Curly-haired people will also like how it retains your natural curls.
Many people who have frizzy hair said they can't live without it. It is the only thing that tamed their unruly hair. It also leaves the hair feeling and looking soft and smooth.
It is very easy to use. It comes with instructions you can follow. You can apply this on your hair by yourself.
There were those who said this is better than Keratin treatment alone when it comes to making the hair shiny and keeping that shine.
A little bit goes a long way. If you use the 1000 ml kit, you can get 12-20 hair treatment sessions. So, although it is slightly pricey, you can make it last for a few months.
It cuts down your preparation time in the morning. You can just air dry your hair. It won't become frizzy like before.
Cons:
The smell can be strong. When using it, you might need to have ventilation in the room.
2. Nutree Professional Blonde Botox Expert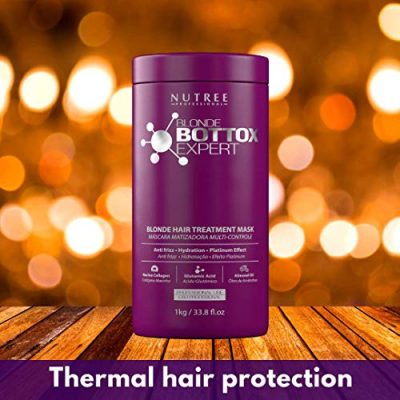 It is difficult to lift the color from dark hair to make it blonde without using some strong chemicals. These strong chemicals will inflict damage to your hair. They will fry your hair strands and make them look dry and damaged. You can use this product from Nutree Professional that has been specifically formulated for blonde hair to restore that damage.
It has an interesting mix of glutamic acid, marine collagen and almond oil that works in restoring the health and the balance of the hair in order to get more shine and softness. It is recommended for fine, brittle and weak hair that been subjected to a lot of damage. It leaves your hair with a nice platinum shade.
Pros:
It does what it is supposed to do. It truly leaves the hair feeling soft and smooth.
This is an ideal choice for treated blonde hair as it restores the strength of the hair and makes the hair strands denser. If you have weak and brittle hair due to over processing, get this.
It has an anti-brassiness effect. It prevents your blonde hair from turning yellow or brassy overtime.
This is a product that contains natural hydrating and nourishing ingredients. You don't have to worry about harmful chemicals getting in your hair.
One usage can last for as long as 4 weeks with this hair botox treatment.
It has a nice fruity scent to it, not like the strong chemical smell of the previous one.
The bottle only dispenses the right amount of product. You don't have to worry that you will use too much of it.
Application is straightforward and easy. Some people felt the need to wear gloves because they said it tends to leave off a tingling sensation.
It does not change the natural texture of the hair. If you want to preserve your hair's natural curls or waves, this is a good product to try.
Cons:
Some said the toner in it is quite strong. If you have a light hair color, you should only leave it in your hair for a few minutes.
3. Majestic Keratin Majestic Hair Botox Complete Kit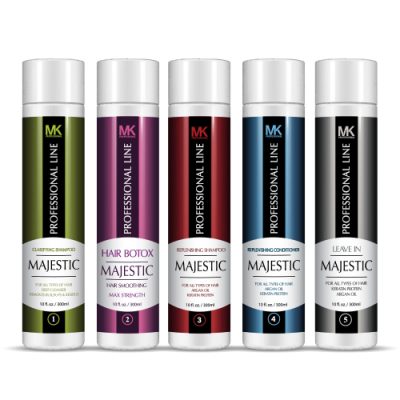 Out of all the products on this list, this one must contain the most interesting list of ingredients. It contains Amino Acids, Caviar Oil, Argan Oil and some natural proteins. Caviar oil is known to contain vitamins A and D as well as a good source of omega 3 fatty acids. As a result, it is an interesting ingredient that helps restore the hair's health.
It does not contain formaldehyde like other Botox and Keratin treatment, so if you are concerned about what this can do to your health, you should go for this more natural counterpart. Its usage is different from the others as well. You need to use the clarifying shampoo twice or three times for those with virgin hair or those people with tight curls. Now blow dry your hair until it is completely dry. Part your hair into sections and then apply the hair botox treatment on each section using a brush. Start applying ¼-inch from the roots. Use a comb to a ply it well and then leave it there for 50-75 minutes. Rinse off and then blow dry it before ironing your hair.
Pros:
This product is devoid of harmful formaldehyde.
It is a complete kit that not just restores your hair and removes frizz but also makes it more manageable.
It contains caviar oil, which is a good source of omega 3 fatty acids and different vitamins that help bring back the original health of your hair.
This kit does not emit strong fumes, so it won't hurt your eyes or your hands.
There were those who said this made their hair look and feel better compared to the professional treatment they got at a hair salon.
The kit comes with a conditioner, a shampoo and a leave-in product already, so you don't need to buy those extra.
It works on different types of hair.
Many people said this also encouraged their hair to grow faster.
Cons:
This is a bit pricey but since it will last you many uses, you can actually save more money.
4. Softliss Keratin Botox Gel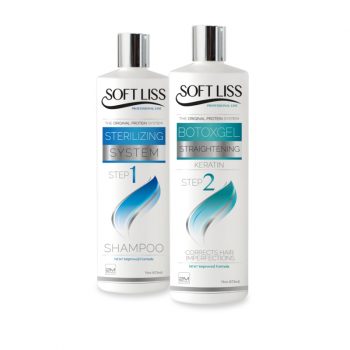 This protein-infused gel hair care product promises to make your hair smoother by as much as 90%. It deals with even the unruliest hair, so give this a try if you have heavily damaged or frizzy hair. Since it contains more proteins compared to the usual keratin hair treatments, it works better in regenerating the hair. It has instantaneous results that last for a long time.
The SoftGel works even when a small amount of product is used, hence allowing buyers to save more money when using this. If you have long hair, you might find this product a more cost-effective choice or you.
Pros:
This is a more economical choice because it works even when using just a small amount. You won't use up the entire bottle if you have long hair.
It contains more proteins. That means it works better even on the most damaged hair.
It is easier to use. It doesn't also leave behind a lot of mess since a little bit goes a long way.
Unlike other hair botox treatments that tend to generate smoke when drying and ironing the hair, this one does not have that effect. It emits 70% less smoke.
One bottle can last you for a long time. It can be used for up to 16 applications.
It also adds more volume to the hair aside from making it softer and smoother.
It is easy to use since it is a 2-step process.
Cons:
Some said this product still emitted unwanted smell even despite its promises that there is no smell.
Which Hair Botox Treatment is Right for You?
Now, which of these treatments is the best choice for you?
Great for People on the Go: Inoar Professional BotoHair Kit. This is not just easy to use. It also makes your entire hair care routine easier. If you don't fancy spending so much time anymore just trying to tame your hair only to have it spring back to frizziness later in the day, this is the right product for you. It is a complete kit that delivers its promise when it comes to smoothing out frizz and restoring the shine and silkiness of the hair. You won't be disappointed with it. It's just a tad expensive but since you will stretch out its use for a few months, it is still a good choice.
Recommended for Damaged Blonde Hair: Nutree Professional Blonde Botox Expert. If you have blonde hair damaged by bleaching, get this one. It is a complete product that helps nourish the hair and treat the brittleness, frizziness and dryness of the hair shaft. It has a toner, so it reduces brassiness as well. No need to buy a separate toner. Best of all, this has a long-lasting effect, so you won't have to use it every day.
More Natural Than Others: Majestic Keratin Majestic Hair Botox Complete Kit. If you are hesitant to try those products that contain formaldehyde, get this one. It is completely free from it. This is also great because it contains an array of helpful natural ingredients. Many people said they have never had hair that soft after using this product.
Most Economical Choice: Softliss Keratin Botox Gel. It is recommended to use just a little amount of this product since it is potent. It can last you many uses, even when you are using it on long hair. Overall, this is a great choice because of its economical usage and its ability to keep the hair looking and feeling soft and smooth.
Botox Treatment versus Keratin Treatment: Which One is Better?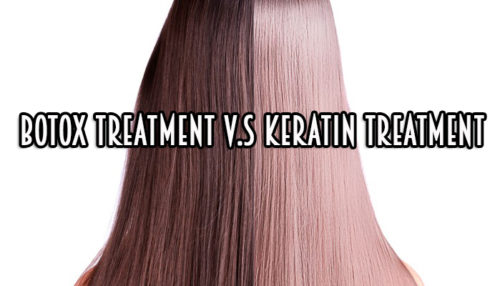 Keratin treatment only has keratin as its key ingredient whereas botox treatments have a full lineup of ingredients that nurture the hair and bring back its shine. Botox treatments also often last longer than keratin treatments. In some cases, the keratin treatment gets stripped out of the hair when exposed to hard water.
Botox treatments also contain helpful natural oils that can bring back the shine of the hair as well as restore its strength and structure. It is a good choice for aging and damaged hair. Most keratin treatments contain formaldehyde as well whereas there are botox treatments that are more natural. You can opt for these natural treatments if you want a less harmful way to treat your hair.
Both treatments are good but if you want a more nourishing and long-lasting results, it might be better to go for the botox treatments.
Conclusion
These are your best choices when it comes to hair botox treatments:
There are plenty of other products out there that help in restoring the hair and giving it more brilliance and luster. Learn how to have healthy hair here!