Last Updated on 28th November 2021 by Chauncey Morgan
You know how natural hair sometimes gets all tangled up and you try to brush it, but you only end up pulling it and hurting yourself? I'm positive that African-Americans with 4C curl pattern know what I am talking about, but luckily for them and the rest of us – there is a great solution. All you need is the best detangling brush for 4C hair, a conditioner or detangling serum to help you along, and you will be able to care for your hair with no problem!
Now, choosing a detangling brush may not be easy as there are a ton of them on the market right now. They come with different types of bristles of varying lengths and shapes, and the brush itself can be in various shapes or colors. But no need to worry, I will tell you exactly what type of brush you need if you have natural 4C hair.
The detangling brush is something that I recommend you get as soon as possible if you have thick natural hair with a 3A to 4C curl pattern. It is the best solution to painless brushing. It is very gentle on the hair, and it does not cause any breakage or frizz. The brush is also quite easy to use, so everyone can use it to style their own hair.
I would love to go on and on about all the benefits of picking the best detangling brush for natural hair, but I know that you are a lot more interested in the best brushes that I have chosen to review. I do not want to keep you in the dark any longer, so I will move right on to the detailed reviews of my top detangling brushes for 4C hair. Stick with me and learn more about them – I promise that by the end of the review, you will know exactly which one is right for you!
TOP PICK
My favorite detangling brush for 4C hair is the Tangle Teezer Wet Hair Detangling Brush. It can be used on both wet and dry hair, and it has amazing two-tiered flexible teeth that can comb through the biggest tangles. The company sells many detangling brushes, so make sure you carefully select the one that is recommended for your type of hair.
The Best Detangling Brushes for 4C Hair Revealed
Nothing short of a detailed review is enough to tell you everything you need to know about these amazing detangling brushes. However, before I get into that, I want to give you a brief look into the key features of these brushes as well as their product rating from Amazon:
PRODUCT
DETAILS
PRICE
#1 Tangle Teezer Wet Hair Detangling Brush


Ergonomic grip

Less hair breakage

Can be used on wet hair

CHECK PRICE

#2 Crave Glide Thru Hair Detangling Brush


Firm quality bristles

Works on all types of hair

Child-friendly

CHECK PRICE

#3 BESTOOL Wet or Dry Hair Detangling Brush


Sturdy grip handle

Fast detangling

Flexible bristles

CHECK PRICE

#4 Michel Mercier Wooden Hair Detangling Brush


Anti-static brush

Made from fine Italian wood

Color-coded models available

CHECK PRICE

#5 Remington Tame the Mane Electric Detangling Brush


Electric detangling

Cordless

Battery-powered

CHECK PRICE
The best overall choice for this review is the wet detangler brush from Tangle Teezer. This brush comes in several different colors that you can choose from. There is the millennial pink, the liquorice black, the mint karma, the raspberry rouge, and the black and pink combo.
Key Features
Two-tiered teeth
Suitable for all hair types
Extra gentle on the scalp
One of the best things about this brush are the flexible teeth. There are 325 flexible teeth that will take care of your tangles without pulling on the hair or causing breakage.
Pros
Great quality at an affordable price
Does not damage hair
Cons
Does not work that well on wet hair
This cute brush will help you detangle even the curliest, thickest of hair. You will love using it and giving your hair the care it deserves!
Created to help people have healthier hair, this detangling brush from Crave Naturals will amaze you with its effectiveness. The firm bristles can separate your hair strands without pulling them at all, and they can also help massage the scalp.
Key Features
Suitable for wet and dry hair
Bristles do not lose their shape
Great for children's hair
If you want to get the most from this brush, you should use it on damp hair that has been shampooed and conditioned. For extra tangled hair, you should start detangling from the ends and work your way up to the roots.
Pros
Increases hair shine and smoothness
Pain-free detangling
Cons
Might be a bit hard to hold while detangling
The Crave Naturals detangler brush is the perfect brush for 4C hair. It comes in six different colors, so choose the one you like best and get brushing!
As you might have guessed from the name, this detangling brush from BESTOOL can be used on both wet and dry hair. It will detangle any sticky situation much faster and easier than most other brushes, and it will decrease the damage more than you would ever expect.
Key Features
Rubberized ergonomic handle
Flexible free comb arms
Smooth long bristles
The brush is available in five different colors: purple, pink, black, blue, and green. It can be used on all types of hair, including straight, wavy, curly, very curly, kinky, and coily hair.
Pros
Handle does not slip
Lightweight design
Cons
Bristles might be a bit flimsy
This brush is the most affordable one on this list, so if you are on a tighter budget but want to get something that offers great quality, I suggest you look into it more closely.
The entire Italian wooden line from Michel Mercier is amazing just because it has such a great design and it offers the best detangling experience ever. There are several brushes to choose from, but the one most suitable for 4C hair is the wooden brush with black bristles.
Key Features
428 contact points
Anti-static brush
Ergonomic handle
Thanks to this amazing brush, your hair will feel much softer after detangling. It will also be a lot shinier. Detangling with this brush is very easy and can be done on both wet and dry hair.
Pros
Great at removing shed hair
Color-coded models make it easy to choose the right one
Cons
Bristles might break off after some time
With most detangling brushes being plastic or silicone, this wooden brush is a real refresher. It might not be as affordable as some of the rest, but it is worth every penny!
Last but not least, I want to talk about this great electric detangling brush from Remington. The electric detangling is just perfect for people with thick, long hair. Using the brush is so simple that you can even trust your children to do it by themselves!
Key Features
Cordless
Electric detangling
Bristles have soft tips
This is an update to Remington's Tangle Tamer – but it is 100 times better! It is also suitable for traveling as it comes with a brush cover that protects it at all times.
Pros
Quick and effective detangling
Very gentle on the scalp
Cons
Requires batteries to work
This electric detangler is a great choice for people who want to move on from regular brushes and upgrade to something better. It is super effective on all types of hair, so you will not regret purchasing it!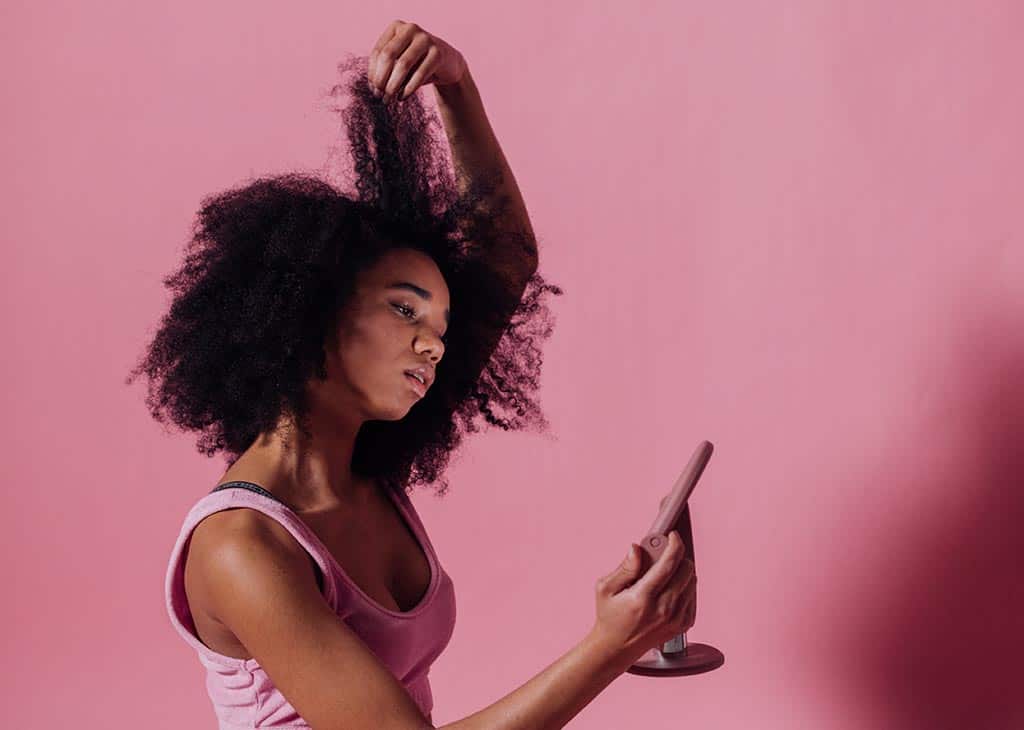 How to Pick the Best Detangling Brush for 4C Hair
After seeing these amazing detangling brushes, I know that you might want to try them all out. However, if your budget allows you to buy only one, I want to help you choose the best detangling brush for your natural hair, specifically.
When it comes to detangling 4C hair, you need a brush that can get in there and take care of your hair. At the same time, you need something that will be easy to use and that will not cause you a lot of pain. I think that you can achieve that with a brush that has firm bristles.
Bristles are the most important part of the detangling brush. You should get a brush that has firm bristles that will not lose its shape after a few detangling sessions. Here is everything else you need from your bristles:
Bristle length – I recommend getting a brush that has bristles of varying lengths. That kind of brush will do wonders on thicker hair, getting into all of your hair strands and tackling all of the tangles.
Bristle material – Silicone bristles are great, but they are not nearly as strong as plastic bristles, and strength is something that you need when it comes to tangles. I recommend getting a brush that has plastic bristles if you want to easily detangle your hair.
Bristle shape – As for the shape of the bristles, I recommend going for cone-shaped bristles. Ordinary bristles will not work as well when it comes to 4C hair; they are better for straighter hair types.
That is everything you should know before buying a detangling brush. In addition to all these things, I suggest you find one that is lightweight and has an ergonomic non-slip handle, as well as one that can be used for both wet and dry hair. If you get all of that from one brush, then you can truly say that you have it all!
How Often to Brush 4C Hair
I know that natural hair can get very tangled sometimes, but that does not mean that you should use a detangling brush on it too often. Doing that can lead to hair damage and possible breakage, and that is not something that you want to experience.
I recommend using the brush once per week for thicker and longer natural hair that gets tangled easily.
For short, cropped 4C hair, brush often and longer to achieve beautiful 360 waves.
You've Unraveled Detangling
I hope that this review taught you more about the whole hair detangling process while also helping you learn more about the best detangling brushes for natural hair. I recommend looking into the Tangle Teezer Wet Hair Detangling Brush if you want fast results. If you're on a budget, the BESTOOL Wet or Dry Hair Detangling Brush can offer almost the same results at a more affordable price.
No matter which brush you choose, I hope that it will help you detangle your hair easily. Let me know if you have had any good experiences with other detangling brushes – I would love to know all about them!