Last Updated on 1st February 2021 by Chauncey Morgan
Straightening brushes make hair styling easy and fast, particularly if you are after a straight but natural finish like the kind you get from superior salons and shops. However, just like with straightening irons choosing the best hair straightening brush for your hair type can be difficult because of the sheer number of options you have in the market. Be careful not to choose those that will damage your hair. Today, we will help you find the best hair straighteners that will do a good job drying and straightening your hair without curling or ruining your natural style.
Best De-Tanglers & Hair Straightener Brushes Reviews
1. InStyler Straight Up Ceramic Straightening Brush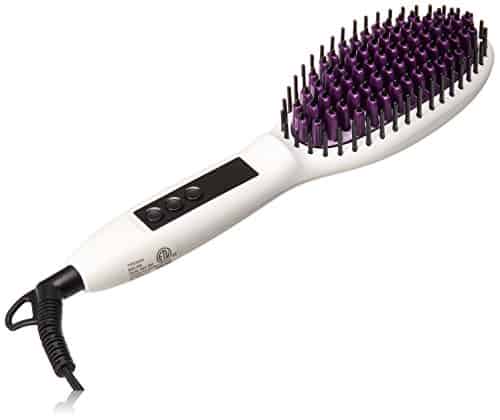 If you have thick hair that takes hours to flatten or style, the InStyler STRAIGHT UP Ceramic Hair Straightening Brush is most definitely worth a try. It heats up very quickly, but most importantly, it keeps the heat as you detangle and straighten your hair. It allows you to brush a large section of hair on every pass, reducing the time it takes to treat your locks and gliding easily through the strands. Simultaneously, the Cool Tip Ionic Bristles means you won't accidentally burn your scalp (or your fingers) while straightening your hair. It also reduces frizz on naturally wavy or curly hair for a professional blow-dry finish.
The temperature goes up to 450 F but there is usually no need to go that high when straightening your hair unless you have very curly, thick hair that refuses to hold a style. Usually, a lower temperature setting such as 330F is enough for a natural finish. If you want to achieve glossy, sleek hair, you can always use a straightening iron afterwards just for a finish.
It only works on dry or almost dry hair, so do not use on wet hair. The best way to use it is to let hair air dry (or rough dry, if you are in a hurry) and detangle it, and then apply a heat protectant and use the hair straightening brush in sections. This achieves the best results with minimal damage to the hair and in the shortest time.
Pros:
This straightening brush features 65 ceramic heated plates. It delivers fast, powerful and consistent heating results, so you can dry up and straighten your hair without spending forever in front of the mirror or trapped in the bathroom.
This relatively new product works with any type of hair. Since it has 7 temperatures to choose from, you can flatten or smooth any type of hair – from smooth to coarse. This is a great all-around styling that suits with different hair types, so if there are more users in your home, you can go for this one.
This hair straightening brush heats up faster than many others on the market, meaning it's great for those who have busy schedules and want to get their hair done in a hurry. Simply wait for 30 seconds and you are good to go. It's a great tool to have for busy individuals.
The ionic bristles have a cool touch function. That prevents your scalp from getting burned. You can get it closer to the roots for the most effective results. that look like you just came from a professional salon.
The temperature can go as high as 450 degrees Fahrenheit, so if you have more stubborn and less manageable hair, this tool will suits you.
It doesn't lose heat as you manipulate your hair, which is great for those who have particularly long or thick styles.
What will take you hours to accomplish with other brushes or tools will only take less than 20 minutes with this one.
The seller of the InStyler Straight Up Ceramic Straightening Brush is easy to contact with questions, concerns, and other queries.
Cons:
One negative to keep in mind is that the brush is pretty heavy, so if you have very long hair or struggle to use heavy tools this might not be the right choice for you. Also, if you buy this brush from a shop online, make sure you get the right product. Some digital devils like to sell knock-off products that can be bad for your hair.
2. MiroPure Enhanced Hair Straightener Brush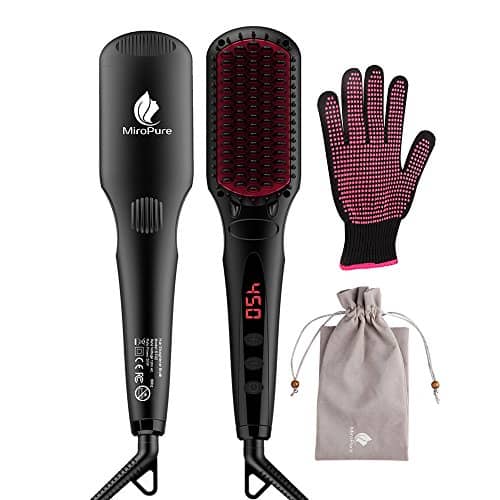 Your coiled hair will match this hair straightener brush. It features a Double Ionic Generator that will help seal the moisture in the hair for a naturally silky and smooth look. It eliminates the flat and limp effect that one often gets with flat irons. This is great for curly hair because of its high-density nano components. In just minutes, you can tame that mane and get your desired straightening results.
This product is also loaded with useful features such as anti-static technology, an auto off and auto temperature lock feature, a 360-degrees swivel power cord, and an anti-scald feature. You will be hard-pressed to find anything lacking with this brush, especially if you're someone who likes your beauty technology. You'll no longer have to fear your hair curling a few minutes after using this straightener.
Pros:
This suits even wavy and curly hair. Simply section your hair and run the brush through the length of your hair. Repeat until you see desired results.
You get soft, shiny and silky hair all the time, but it doesn't make your hair look too limp. It still retains some of its volume, giving you a professional, bouncy finish.
The safety features are a nice touch. The auto off function kicks off after 60 minutes of being idle. That way even if you forget to turn it off, it will not cause a fire. The auto temperature lock function is also a nice feature to avoid accidentally switching the brush to a higher temperature when not needed.
It is simple to use. The handle is ergonomic and comes with a 360-degree swivel power cord to make this easier to use no matter what direction you want it to go.
The product even has a scalp massaging effect because of its design. The ends stimulate your hair follicles.
This product comes with a glove and a pouch to reduce your chances of burning your hand and to keep the brush stored properly. The pouch is also convenient for travel.
Cons:
You will need the gloves because the device gets really hot to stop hair from curling.
3. Lescolton One Step Hair Dryer & Styler Hot Air Paddle Brush (For Damaged Hair)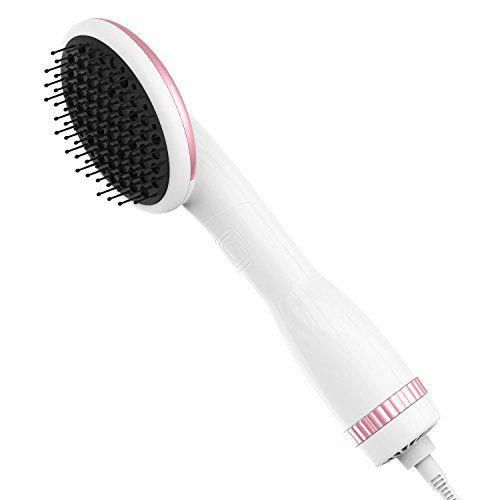 If your hair is damaged from frequent styling, this hot air powered Lescolton One Step Hot Air Paddle Brush is the answer. Instead of a hot ceramic plate, it uses hot air, that is blown through the paddle brush giving you a mix of a blow-dry and a straightening iron with minimal heat damage. This is also great if hot irons make anyone nervous, as some hair types are notorious for drying out and breaking easily, especially if they naturally lack moisture to begin with.
The Lescolton flatters thick and long hair as it is quite large, so you'd have issues styling smaller areas like a short fringe. It works on towel-dried hair, which can cut down your styling time in half since you don't have to sit around waiting for the strands to dry. It generates ions to reduce frizz and works great on wavy hair since you can adjust the temperature to reduce curling.
Pros:
You can use it directly on damp hair. That will simplify your hair styling process.
It minimizes frizziness and eliminates tangling. It also reduces flyways, so you can make your hair a lot more sleek and manageable.
This tool gets the job done but it also boasts several compact features. It is lightweight, making this easy to bring with you when travelling. It is also simple to store or stash in your bag since it doesn't take up a lot of room.
It retains the volume in the hair. You can also use this to curl your hair or style it in perfect, professional waves.
The brush head can be used for massaging.
It is also more affordable than other hair straighteners out there despite producing professional quality.
Cons:
Some said the Lescolton is a little awkward to use because of its larger shape and size. The dimensions of the device also make it a poor choice for travel since it will take up quite a bit of space in the average beauty bag.
This is a relatively new product on the market, so the manufacturer isn't as tried and true as more well-known brand names like Revlon. While this can be a deterrent, new isn't always a bad thing.
4. Revlon One-Step Hair Dryer & Volumizer (More Volume)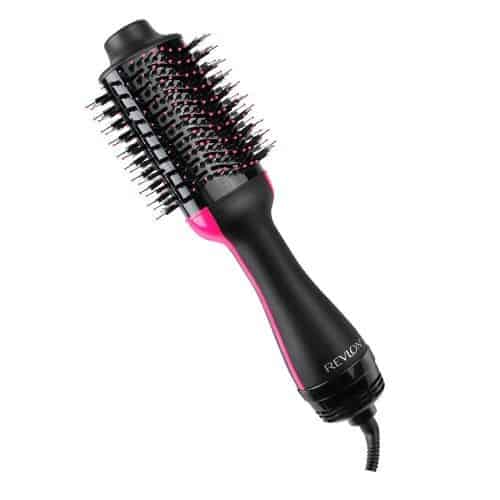 If you are after volume and shine the Revlon One-Step Hair Dryer & Volumizer is the best hair straightening brush for you. It has round edges to create volume and Nylon bristles for detangling as you go. It generates a negative ion saturated air flow, which helps with faster drying and effective reduction of frizz. You can use it on damp, towel dried hair for the quickest results.
The Revlon One-Step Hair Dryer & Volumizer is quite a large brush, so while you can get pretty close to the scalp it won't style very short hair comfortably. You would be better off using a smaller brush or using a regular bristle brush for the shorter hairs. The shape is also designed for volume, so if you want pin straight hair this isn't for you. But if you are after the results from a traditional blow-dry this is a much quicker and easier-to-use alternative to a blow-dryer.
Pros:
If you like big and volumized hair, this is the best one to get. The barrel shape helps you get more volume under your hair, so it has more body.
It detangles your hair effortlessly thanks to the tufted bristles. The Nylon pin shapes of the bristles also leave your hair smoother.
You can choose from 2 different temperatures to suit different styles and textures.
It can be used closer to the scalp.
The hair straightening brush has a nice and thick handle that makes this simple to use. It is also quite lightweight, so you won't feel tired holding it.
It works fast even on the thickest of hair types. There were those who were able to style their hair in under 10 minutes.
Cons:
You can't take it with you when traveling overseas because it has 120V only and will get damaged if you use a voltage converter. This means it will only work as a home styler. However, if you are someone who doesn't travel often, then this will be great for you.
5. GlamFields Ionic Hair Straightener Brush (Fast Results)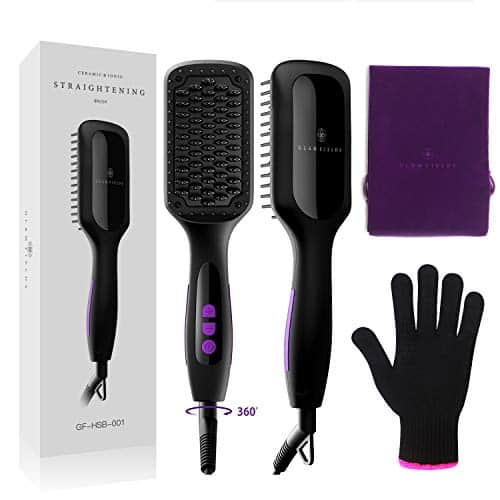 This paddle style product keeps your hair soft and smooth while eliminating unsightly frizz and protecting your hair from split ends. It emits rich negative ions that achieve the aforementioned results. It boasts of MCH technology that allows this tool to heat up fast, so you can style your hair without waiting forever for the brush to be usable. The dense teeth mean it can accommodate more hair, thereby cutting down your styling routine and preventing too much energy use. The auto shutdown and temperature lock functions help you use this product safely.
Pros:
This product comes with 12 different temperature settings. You can choose the exact temperature that you know suits your hair. If you have unruly hair, you can set it to a higher temperature.
It always keeps the hair soft, manageable, and beautiful. The anion spray helps seal in moisture and create softer hair.
It heats up fast through its MCH technology, but it won't hurt your hands or even your scalp.
This is very effective in taming frizz and leaving behind a sleek finish.
It automatically shuts off when not in use for 30 minutes so you never have to worry about accidentally leaving the brush on when you rush off to work or school in the morning.
It is capable of rotating 360 degrees and features a swivel power cord for easier usage.
People with tight curls and coarse hair have experienced great results with the GlamFields Ionic Hair Straightener Brush despite having difficult to style hair types.
It features a digital LED screen that displays temperature.
It is backed by a 12-month warranty.
Cons:
Some said that those with thicker hair will need to brush through the strands multiple times to achieve a truly straight appearance. This particular device is also larger than most, making it a poor choice for those who need to travel a lot.
The Verdict
Out of all the hair straightener brushes out there, these are the ones with the best and most professional features:
All of these products are available from a variety of digital shops, so you no longer have to worry about your local store not having them in stock. To feel like a new you with a new look, we highly recommend these five products because of their quality, professionalism, and simplicity.
While we recommend all of above-mentioned products, we think the GlamFields Ionic Hair Straightener Brush is your best choice. It has dense bristles and works well in taming frizzy hair. The price is also affordable for individuals on a variety of budgets, so you don't have to shop around to find something decent that is still economically safe to purchase.
Types of Hairbrush Straighteners
There are different types of straightening brushes on the market which can be used to create different styles from straight to voluminous. Despite the number of available products, all of them work similarly in detangling and styling your hair (and sometimes drying it) in a fraction of the time a blow-dry would take
Paddle or Flat Hair Straightening Brush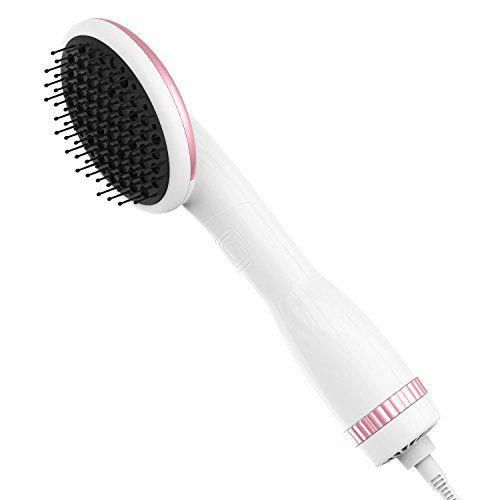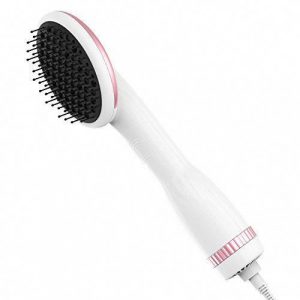 Most hairbrush straighteners look like a paddle brush, with a ceramic plate that has hard, rounded bristles that comb the hair and flatten and smooth at the same time. As the device warms up, the heat is evenly distributed to the bristles. The quality of the materials is what differentiates the best hair straightening brush from the rest: if the heat is not distributed evenly your hair will be damaged in places and un-styled in others.
In worst case scenarios, low quality materials can also burn your scalp as the bristles move through the locks. This is why it's important to not purchase knock-off varieties just because they are inexpensive. Always shop around when trying to buy a new hair care product, even in a digital setting.
Some modern hairbrush straighteners work similarly to a hairdryer, blowing a jet of hot hair through the bristles. Those allow for styling from wet or at least towel dried hair for even quicker results. They also tend to be safer than the traditional heated bristles since there is less possibility of skin contact.
Round Hairbrush Straighteners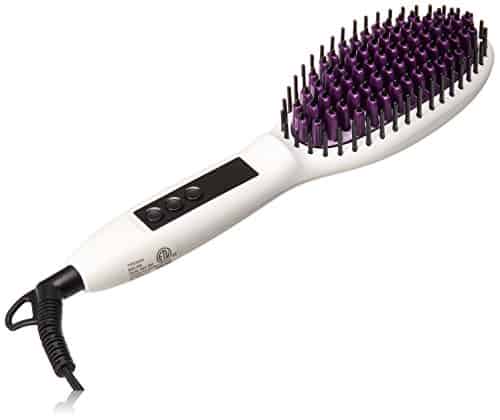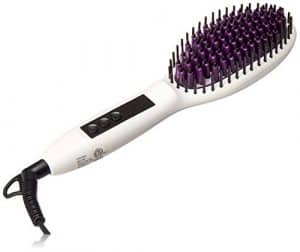 Round brushes are the best hair straightening brushes if you want a natural finish and extra volume, but don't like blow-drying your hair. Perfect for volumizing and detangling fast, this type of hairbrush straighteners looks like a barrel or round brush. Some of them are just a ceramic core that heats up the bristles, and those are to be used on dry hair. But others actually push the hair out of tiny holes located in the brush, and they can be used to straighten hair even when damp instead of having to rough dry first.
Step by Step Guide in Effectively Using Detanglers & Hair-Straightener Brushes
If this is your first time using a detangler and hair straightener brush, you might be a little frustrated with it. It isn't meant to be used like a regular comb. There are some users who are disappointed with their brush because it doesn't give them the results they desire. But in many cases, it is not the brush that is the problem but how people use it.
That said, here is a brushing step-by-step guide of what you would want to do to make sure that you get straight and shiny hair every time:
Step 1:
Dry your hair thoroughly. Once dried up, apply your preferred heat protectant product. This step is important as your hair is going to be exposed to high temperatures that can dry out strands and cause damage. Apply the product on your palms and then spread it lightly on your fingers. Comb your fingers through your hair to get the product in there effectively.
Step 2:
Run the brush over your hair to remove tangles. You can also use your fingers to work out the bigger knots and to avoid inflicting too much damage on your hair. Keep on brushing until you get all the tangles out.
Step 3:
Plug in your hair straightener brush and then set it to your preferred temperature settings. Let it pre-heat while sectioning your hair into manageable sizes that will be easy to brush.
Step 4:
Section your hair. You can usually start doing this step while waiting for the brush to heat. Use sectioning tools such as clips to get your hair out of the way. If you have more time, it is better to divide your hair into smaller sections in order to get straighter results. This ensures that the bristles of the brush will really get through your hair. Start with the bottom half of your hair first and work your way to the top.
Step 5:
Brush each individual section, starting from the top and approaching each section from the underside for maximum effectiveness. Brush one section. Brush the top portion and brush the underside of your hair. Start from the roots, run it over the shaft slowly to allow the heat to penetrate and work your way to the tips.
Step 6:
Repeat the process until you are satisfied with how straight the section has gotten. Do the same steps with the rest of the sections.
Step 7:
Once you have completely gone over all the sections, finish off the look by running the brush over the top of your head and down to the tips. Keep on brushing until you are satisfied with the straightness and the gloss. You can also run it under the hair to get the volume you prefer.
Hair Straightener Brush versus Flat Irons – Which is a Better Choice?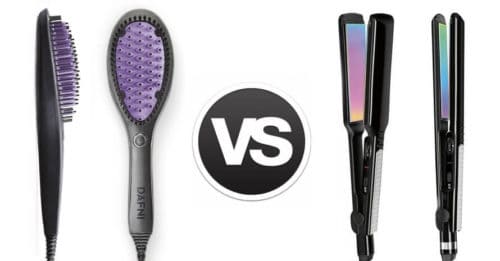 We think both tools serve their purpose well. It really just depends on the kind of end result you prefer. Flat irons tend to work better in creating pin-straight hair. It also works in straightening stubborn curly hair and helps in taming frizz. If you have hair that tends to be resistant to straightening, you might get better results with a flat iron. You can shop around and try a few products to find the one that works for you. If you have a local salon in your area, you can also request that they help you determine which style produces the best results.
On the other hand, there are benefits to using detanglers & hair-straightener brushes that you can't find in flat irons. Here are some of them:
Saving Time. For one thing, using these tools are like hitting two birds with one stone. You are making your hair softer and smoother by removing tangles while also straightening it, removing its frizziness and making it softer. If you don't have a lot of time in the morning to tame your unruly hair, this tool can be an indispensable addition to your hair styling routine. There are also some hair straightener brushes that already come with their own hair drying system, so you are drying your wet hair while straightening it simultaneously.
Gentler on the Hair: Although flat irons also come with temperature settings, so you can choose the setting that will inflict the least damage to the hair, these brushes might be better because they don't expose the hair to too much heat. The heat won't cause too much hair damage, at least not as much as a flat iron, but will still give exciting results. In many cases, these brushes produce more professional results as well, since you don't have to worry about unnaturally straightening hair or creating angles caused by bending the strands around the flat iron through error.
More Volume: If you want to get straighter hair but without the flat and limp hair results that you often get with flat irons, a hair-straightener brush is the best way to go. It straightens the hair while retaining some of its volume. You can also go for the rounded hair brushes in order to get more volume. In general, you can just shape your hair better with this kind of hair-straightener brushes.
Less Instances of Burning Your Skin: The ends are heat-proofed, so this tool won't hurt your scalp. With flat irons, if you get them too close to the scalp or the ears, they can scald the skin. Everyone has experienced or met someone who has accidentally burned their ears or scalp when using a flat iron. It's something that no one wants to experience.
Massaging Effect. Some of the brushes out there, especially the paddle ones, even have a massaging effect. They can have a gentle stimulating effect to the scalp, which is great if you want a relaxing way to style your hair. Some individuals even claim the stimulating massage can improve the health and beauty of one's hair because it stimulates the follicles. Whether or not this works is up for debate, but there's no reason why your scalp can't feel as good as it looks through a lovely massage.
Tips in Finding the Best Detanglers & Hair-Straightener Brush
We want you to locate the detangler & hair-straightener brush that suits your needs. Everyone has different preferences, after all. But keep the following factors in mind if you want a brush that works for you:
Decide on whether to get paddle or rounded brushes.
We think both brushes are great when it comes to styling your hair. But they have subtle differences with the end result. You will most likely get flatter results with the paddle brushes and more volumized results with the rounded ones. With the rounded brushes, you will also be able to achieve different hairstyles such as inward and outward curls.
Choose one that has variable temperature.
Variable temperature allows you to choose the heat settings to your desired level. Some days you might want to treat your hair gently while other days you might want to want to get the best results. There are those that come with only 2 heat settings, but if you have more money to spare, you might want to go for those with more temperature variation.
It should be easy to use.
Stay away from those brushes that snag in the hair easily or with non-swivel cords that are difficult to maneuver. A 360-degree swivel function allows you to use the hair straightener brush without too much trouble. A brush that has a hair drying function might also make your hair styling work easier. It can cut down your hair styling work in half and can save you so much trouble in bringing two tools when traveling. Digital displays of the exact temperature of the device are also becoming more common and can help you achieve the straightness you desire. If you travel often, you will also want to choose a product that is easy to store in a standard beauty or travel bag.
What sort of bustle technology is used? Does it come with a massaging feature? Are they tufted? Are the ends heat-proofed? You would want to go for those that you can use closer to the scalp, so that you can get more coverage.
It should have a reasonable weight, so you don't feel like it is too flimsy but also not too heavy that it is tiring to use it. The handle should have slip-proof rubber grip and should be thick enough to grip it properly.
Compare energy consumption.
Heating tools are some of the biggest energy consumers at home. While you won't use it for hours, it is still a smart idea to do energy consumption comparison, so you can determine which one will not consume too much energy. People often say that beauty has a price, but you shouldn't have to pay extra on your energy bills just because you want to try a beautiful new style.
Make sure you take these tips into consideration in order to find a brush that has the features that will be useful for you.
What to Do Next?
Now that you know what hair straightener will work for you, you can focus on other aspects of your beauty regime to achieve your most desired look. Don't miss our other recommendations for the products you need to make quick work of styling your hair. Check out more hair tools and hair care recommendations on our homepage, as well as new tips and tricks to get you through the day.