Last Updated on 14th September 2023 by Chauncey Morgan
Getting beautiful, even waves that form a perfect pattern takes quite a bit of work and precision. If you want those waves to form in your hair, you should get one of these seven best wave brushes, that will help you work efficiently and get your desired results that much quicker.
Wave brushes are very different from regular hairbrushes. They are designed to fit the scalp better, they usually have natural boar bristles, and they are specifically made to enhance natural curls while keeping them frizz-free! In addition to all this, I have to mention that there are a ton of these brushes. You can find them in many shapes and colors with various types of bristles that can be soft or hard.
If you are looking for a wave brush that will minimize the tediousness of the task and get your hair looking the way you want it to look, I got you covered. Stick with me as I go over the seven best wave brushes you have to know about. By the end of this guide, I have no doubt you will have found the right brush for your hair!
TOP PICK

All Torino Pro Wave Brushes have superb quality, but as my top pick for this review, I pick the Torino Pro Wave Brush #730. You can use this brush for all wave stages – it has amazing boar bristles that will protect your hair from damage, will not bend, and will have a better pull when styling the hair.

Thanks to the amazing design, this brush can fit all types of hair, cover the entire head of hair, and make some amazing waves. The brush comes at a very affordable price, so do not hesitate to get it and try it out!
My Roundup of the Best Wave Brushes
PRODUCT
DETAILS
PRICE
#1 Torino Pro Wave Brush #730



Unbendable bristles
Better pull
Glossy candy paint finish

CHECK PRICE

#2 Torino Pro Wave Brush #600



Very firm brush
Quick waving
Comfortable handle

CHECK PRICE

#3 Crown 360 Sport Wave Brush



Boar bristles
Non-slip rubber grip
Completely waterproof

CHECK PRICE

#4 KISS Red Premium Pocket Wave Brush



Synthetic bristles
Prevents hair breakage
Protective cover included

CHECK PRICE

#5 WAV Enforcer Spin Wave Brush



Natural wood handle
Stimulates the scalp
Long, comfortable handle

CHECK PRICE

#6 Wolfin Pro Premium Curved



Fits in the palm
Convenient use
Schima superba wood base

CHECK PRICE

#7 Aosina Medium Curved 



Firm boar bristles
Ergonomic design
Easy to clean

CHECK PRICE
Now that you have seen the key features of these seven great wave brushes, I want to go right into the detailed reviews. Make sure that you pay attention to these reviews – later, you can use the information to determine which one is most suitable for your hair and your needs. So let's see what these brushes are all about!
Torino Pro is one of those brands that you have to know if you want to wear your hair wavy. Their wave brushes are some of the best on the market, and they have been used by NBA stars, rappers, and other celebrities. This palm brush is my best overall pick because I love everything about it!
Key Features
Better hair grip
Better hair pull
Boar bristles
After you use the brush, you know that you have to clean it up. The company has got you covered on that part as well – the brush comes with a maintenance card that will tell you exactly how to clean it and what to use to avoid damaging the brush.
Pros
Bristles do not bend
Bristles have pointy tips
Cons
Part of the bristles may fall off
There is a reason why so many celebrities use brushes from this company to wave their hair – they know that this brush can give them quick but amazing results. If you want to achieve the same, make sure to get this palm brush!
As you might have expected, this list features another Torino Pro wave brush. It is true; the brushes from this company are so good that I had to include more than one. As my second favorite wave brush, instead of a palm brush, I have a wave brush with a long handle.
Key Features
Medium-hard bristles
Curve contour
Comfortable handle
If you do not like palm brushes, this brush is going to be a perfect choice for you. The comfortable handle will allow you to style the hair without any problem at all, and it will also not tire your hands.
Pros
Comes with maintenance instructions
Penetrates through all layers of hair
Cons
Not suitable for fresh cuts and longer hair
This brush is incredibly convenient and affordable. I do not doubt that you will love using it. However, if your head tends to be tender, you should go for something less hard.
With a similar shape to the Torino Pro 730, this Crown 360 wave brush can easily fit in the palm of your hand while still offering comfortable hairstyling. This particular brush comes with soft boar bristles, but if you are looking for something with a firmer grip, the company has several other brushes you can look into.
Key Features
Natural boar bristles
Non-slip rubber grip
Crack- and dent-proof design
You can easily use this brush on wet and dry hair to make perfect waves. At the same time, it will help you detangle your hair, making it shinier and keeping it from breaking over time.
Pros
Can be used in the shower
Suitable for short- to medium-length hair
Cons
Grip might not be that comfortable
The design of this brush is practically indestructible. If you are looking for a brush that will last you for years, you should look into this one!
Yet another company with some great products – Red by KISS has been quite popular over the years, especially after they teamed up with superstar Bow Wow. Their wave brushes have been used by so many people, all of whom claim that the experience was entirely all too pleasant.
Key Features
Does not cause frizz
Prevents hair breakage
Suitable for sensitive scalps
This brush can be used even on sensitive scalps which is amazing. Not many wave brushes are as soft as this one while still providing quick and effective hairstyling.
Pros
Suitable for short and medium hair, curls, and fades
Protective cover included
Cons
Might not work well on wet hair
If you are looking for a soft brush that you can use every day, this might just be the one! The company also offers brushes with medium and hard bristles, so make sure to check those out as well.
The WAV Enforcer is great because you can easily use it on several types of hair to make perfect waves. The design of the brush offers scalp stimulation. It can also help distribute hair oils which will, in turn, encourage new hair growth!
Key Features
Comfortable long handle
Natural boar bristles
Medium bristles
To use this brush on your hair, you should add some moisturizer or pomade you like to use, then start brushing the hair with slow and controlled movements. The waves will start to come in immediately and they will last for days after the initial styling!
Pros
Suitable for short and medium hair as well as fades
Easy-grip handle
Cons
Some bristles might fall off quickly
The WAV Enforcer is a very affordable brush that offers great hairstyling. To get even better results, I would recommend that you get a premium do-rag or soft scarf that will help you lock in the moisture.
Moving on into another great wave brush that can be used to style both hair and beard – the Wolfin Pro Wave Brush. Not only does this brush offer versatile styling, but it also comes at a very affordable price so that everyone can try it out.
Key Features
Special curved design
Protects hair from damage
Safe for the planet
What I love about this brush is its amazing design. To make their brush more durable and less prone to damage, the company used Schima superba wood as well as boar bristles. The combination of these materials makes for a great waving experience!
Pros
Offers scalp exfoliation
Offers 360-degree styling
Cons
Bristles might be a bit too hard
Your hair will never be messy again if you get this brush for yourself. You will be able to detangle, comb, and wave your hair easily and quickly. If you happen to have a beard, try using the brush on it as well!
I'll finish off my list with yet another great wave brush, this time from a company called Aosina. It will not only wave your hair, but it also helps detangle it and it can easily reach the scalp to help with exfoliation. It is a triple threat that you will love using on your hair!
Key Features
Helps with detangling
Made from natural boar bristles
Eliminates hair frizz
The good thing about this brush is that you can easily clean it. You do not need any special tools or cleaning agents to do so. Just put it in your sink, use some lukewarm water and soap to remove all dirt and hair, and you will be good to go.
Pros
Compact and lightweight design
Ergonomic grip
Cons
Not quite suitable for medium and long hair
This is a good wave brush for everyone looking for high-quality design and soft bristles. It works especially well on African-textured hair, so if you have that kind of hair, you have to give it a try!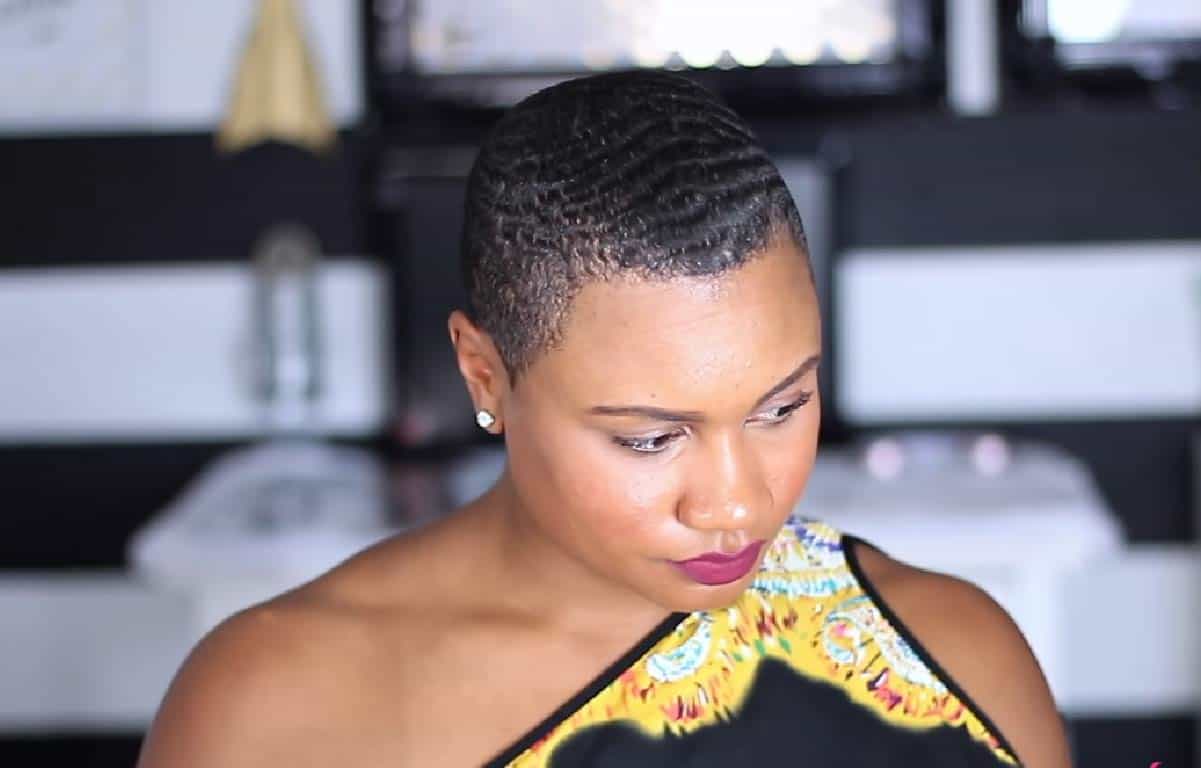 How to Pick the Best Wave Brush
In case you've never bought a wave brush before, I want to help you choose the absolute best one for your hair. To help you decide, I will share the basic things you need to know about wave brushes. Let's see what they are!
Brush Bristles
You can find nylon, plastic, boar, and a bunch of other types of bristles. I recommend that you always go for a brush with boar bristles because these bristles are natural, do not cause frizz, and do not damage the hair.
Also, you will notice that wave brushes are divided into soft and hard brushes. Soft brushes are better for people who have shorter hair, whereas hard brushes are recommended for people with longer and thicker hair. Hard brushes can damage the scalp if you have short hair.
The brush bristles should be dense so they can easily grip the hair and pull it in order to create the wave. They should also be of a medium length—if they are too long, they might not pull the hair well, whereas if they are too short, they might not be able to grip the hair.
Type of Brush
There are many wave brush types that you can choose from. There are the round, paddle, vented, hard, and double-sided brushes.
The round brush is best for medium to long hair, the padded one eliminates hair frizz, the double-sided one can help you style your hair easily, the vented brush is best for fast waving, and the hard one is only suitable for short hair that has not been cut recently. If you use the hard brush on fresh cuts, chances are you will hurt your scalp.
Brush Handle
Some wave brushes have handles, while others are made to fit the palm. If you are going for a brush with a handle, make sure that the handle is slip-resistant and ergonomic. This will help you style your hair without any problems.
Palm brushes can also be ergonomic, but you should make sure that the size is suitable for your hand. If the brush is too big, you might have difficulties using it, meaning it will not be very comfortable.
Brush Material
Finally, you should think about what material you want your brush to be from. There are many plastic brushes, but I recommend that you look for a wooden one. The wooden ones tend to last a lot longer, reduce static and frizz, and encourage new hair growth.
How to Create Waves in Your Hair
Waves can be somewhat tricky to create, especially if you have never done it before. Once you select a good wave brush using my recommendations as well as the buying guide, you will have to learn how to use it. Here are three simple steps you can follow to create your own waves:
I recommend that you make the waves on freshly washed hair. Using a good shampoo and conditioner, wash the hair and dry it thoroughly.
 Next, I would suggest that you detangle your hair. This step might take a while, especially if your hair is very tangled, but it will be much easier for you to make the waves if you do the detangling first.
The waving should not take that long, but it does require a specific technique if you want the waves to look good. I would recommend that you move the brush slowly and in one direction. You should make circular movements and go all over your head before you call it quits.
If you follow these steps, you should find that your waves look better than ever before. The only other thing I would like to add is that you should not press too hard with the brush because you might damage your curl pattern. If you keep that in mind and follow the steps mentioned above, you will have no problem creating gorgeous waves any day of the week!
FAQs on Wave Brushes
Before I wrap this guide up, I would like to share a couple more points with you in regards to wave brushes. The extra knowledge will surely come in handy at some point, so make sure to read everything!
How often should you clean your wave brush?
If you use your wave brush every day, I would recommend that you clean it once a week. The same goes for people who tend to use a lot of hair products. To keep your brush in the best shape possible, you will need to clean it often.
However, if you use the brush only a few times per month or you do not use that much hair product, you can put off the cleaning at least once or twice per month. When you clean it, make sure that you remove all stuck hair and dust that might have accumulated at the bottom of the brush.
How do you dry a wave brush?
Some wave brushes are suitable for wet and dry hair. If you used the brush in the shower, on wet hair, or if you just finished cleaning it, you will need to dry it before using it again. I recommend that you leave it in sunlight to air-dry, but if that is not possible, you can always blow dry it with a hairdryer.
If you end up using a hairdryer, you should not put it on the highest settings. Use it on a low setting and with low to medium speed. That will help avoid possible damage to the bristles.
Go Get 'Em 360 Waves!
Well, that is about everything you need to know about awesome wave brushes you can use on your hair. The Torino Pro Wave Brush 730 by Brush King 360 Wave Brush is a clear winner in my opinion, but if you want to get something more affordable, you can also look into the WAV Enforcer Spin Wave Brush.
Thank you for sticking with me through this review. I hope that you liked my selection for this list, but I would appreciate it if you recommend other good wave brushes in the comments below. I cannot wait to read your thoughts!