Choosing the right hair product can be a tricky job because what you apply to your mane can either make it or break it. Ladies with curly, unruly, wavy, or frizzy hair can attest to this statement, especially those who long for a straight, frizz-free mane. If you've been trying to score the best straightening shampoo, we spent a lot of time researching many products, so now we're ready to review the best of the best.
Although a shampoo that straightens your hair sounds like a marketing trick, those who have already tried a quality product can tell you all about the benefits of these shampoos. They not only work hard to keep your hair straighter but also protect it from heat damage, nourish it, and leave it shiny and smooth.
Without any further ado, let's find out all about the top five shampoos that will straighten your hair with ease, their ingredients, their pros and cons, and what hair types they're ideal for.
TOP PICK

For all the ladies who want to go straight to the point, we wanted to share our top pick right away. The MATRIX Total Results Mega Sleek Shampoo is an absolutely stellar product that provides long-lasting results, is a favorite of professionals, and is gentle enough for all hair types.
Reviews of Best Straightening Shampoos
PRODUCT
DETAILS
PRICE
#1 MATRIX Total Results Mega Sleek Shampoo



Comes in several sizes

Formulated with shea butter and ceramides

Contains sulfates

CHECK PRICE

#2 John Frieda Frizz Ease Flawlessly Straight Shampoo



Size: 8.45 fl oz

Formulated with keratin

Contains sulfates

CHECK PRICE

#3 TRESemmé Keratin Smooth Shampoo



Comes in various sizes

Formulated with keratin and marula oil

Contains sulfates

CHECK PRICE

#4 Pureology Smooth Perfection Shampoo



Comes in various sizes

Formulated with shea butter, sesame, vitamin E, camellia

Cruelty-free, sulfate-free, salt-free, and vegan

CHECK PRICE

#5 Agave Healing Oil Shampoo



Comes in two sizes: 8.5 and 33.8 fl oz.

Based on natural ingredients

Sulfate-free, paraben-free, phthalate-free, and cruelty-free

CHECK PRICE
Are you ready to find out why MATRIX's Total Results Mega Sleek is the best hair straightening shampoo for natural hair? Well, it's the choice of many professionals around the world, offers long-lasting results up to 72 hours, and won't make your mane feel greasy.
Key Features
Comes in several sizes
Formulated with shea butter and ceramides
Contains sulfates
This MATRIX shampoo is a fantastic product that many people with naturally wavy and curly hair are obsessed with. It's highly rated because of its ability to leave your hair silky smooth, soft, and shiny.
The shea butter ingredient is here to nourish your hair and tame all the stubborn strands that you usually can't control. Although the product contains sulfates, it won't cause buildup on your scalp, so you can feel free to use it as often as you need. Most other straightening shampoos can make your hair look dull and greasy after a while, but not this one.
Pros
It's a clarifying shampoo that won't cause product buildup on your scalp
The shea butter nourishes each strand and tames frizzy hairs
The product leaves the hair moisturized, shiny, and smooth
Cons
The scent can be a little strong for some
When you want to get the best hair straightening shampoo and conditioner for your hair, look no further than the MATRIX Total Results Mega Sleek line. You can purchase both their shampoo and conditioner products as a bundle and save up.
John Frieda is a well-recognized brand among hair care product fanatics. Their Frizz Ease shampoo for straightening hair is a best-seller we had to include in our list.
Key Features
Size: 8.45 fl oz
Formulated with keratin
Contains sulfates
The main ingredient in this John Frieda shampoo is keratin. This protein will nourish your hair, tame the frizzy strands, and leave it smooth. In addition, the keratin compound will help you style the mane much faster, achieving a straighter, smoother final look.
What we love about the product is that it's perfectly safe for color-treated hair, so you won't have to worry about applying it even if you're not flaunting your natural hair color. Thanks to the sulfates in the ingredient list, the shampoo lathers and washes your hair well.
The brand has an entire range of straightening products that belong in the same line. If you're looking for a hair straightening shampoo and conditioner combo, you can also consider the Frizz Ease Flawlessly Straight Conditioner.
Pros
Takes care of frizzy hair with ease
The keratin protein in the ingredient list nourishes and smooths hair and makes it shinier
It's safe for color-treated hair
Cons
It can make your hair feel greasy if you use it too often
John Frieda's Frizz Ease shampoo is a fantastic product that does exactly what it promises: smoother hair without frizz or stubborn flyaways.
Are you on the hunt for a simple formula to make your wavy or curly hair smoother and straighter? This TRESemme shampoo might seem a bit basic due to its low price, but it's a go-to for thousands of people out there!
Key Features
Comes in various sizes
Formulated with keratin and marula oil
Contains sulfates
The TRESemme Keratin shampoo is an absolute classic that comes at a very low price. If this is your first time trying shampoo to straighten your hair, this product should be on top of your list. The keratin ingredient will protect your hair and make it straighter and silky smooth.
Aside from helping you manage it better, keratin ensures that your new straighter mane lasts for several days. Marula oil is another very nourishing ingredient that moisturizes the hair and prevents it from looking dry.
Since there are sulfates in the formulation, you can expect the shampoo to lather well, but it can cause buildup if you use it too often. Also, because of the sulfate percentage, it's not the best choice for color-treated hair.
Pros
An affordable product
The marula oil is very moisturizing, nourishing, and perfect for dry hair
The keratin protein is also nourishing, fights frizz, straightens hair, and protects it
Cons
If you need to find the most affordable hair straightening shampoo that does a great job for an affordable price, then this one is it! The ingredient list is excellent, nourishing, and will leave your hair straight without making it dull.
Pureology is a trusted brand that makes professional-grade hair care products you can use at home. The company's subscription program allows you to use its products in the long term, save up, and note all the benefits that come with continuous use.
The Smooth Perfection shampoo comes in various sizes, and there's a conditioner you can purchase from the same line.
Key Features
Comes in various sizes
Formulated with shea butter, sesame, vitamin E, camellia
Cruelty-free, sulfate-free, salt-free, and vegan
If you don't mind paying a little more than usual for a shampoo that ticks all the boxes on the must-have list, then you have to consider this Pureology product. The formula is rich and nourishing with shea butter, vitamin E, sesame, and camellia. The beautiful scent comes from the shampoo's unique blend of oils including clove, violet, musk, etc.
The biggest downside of this purchase is it's a bit of an expensive one as far as hair products go. However, if you need the best for your color-treated hair and you also want to stick to gentle ingredients, then you shouldn't hesitate to try this great shampoo.
Pros
The shampoo uses a Thermal AntiFade Complex formula for long-lasting frizz control
The packaging is recyclable
It's ideal for color-treated hair
Leaves the hair straight, smooth, and shiny
Cons
Its price point is a bit high for some consumers
If you have colored hair and you're looking for a nourishing, rich shampoo that will straighten your mane with ease, then this is one of the best options. The Pureology Smooth Perfection Shampoo is also an excellent choice for everyone that prefers vegan products.
Agave is a brand that focuses on releasing products based on natural ingredients that work hard for your hair. For example, their Healing Oil shampoo we've featured here is effective in straightening your mane, taking care of frizzy hairs, and boosting the overall shine of your hairdo.
Key Features
Comes in two sizes: 8.5 and 33.8 fl oz
Made with natural ingredients
Sulfate-free, paraben-free, phthalate-free, and cruelty-free
The Agave Healing Oil Shampoo is free of sulfates, parabens, and phthalates and is cruelty-free. Actually, all of Agave's products follow the same principles. Although most people are under the impression that products based on natural ingredients don't work, this shampoo is here to prove them wrong.
It's one of the best products on the list because it works well for all hair types, and since it's sulfate-free, the shampoo is suitable for color-treated manes. It might be one of the more costly purchases on the list, but the brand puts in a lot of effort to eliminate harmful ingredients and release clean formulas.
Pros
Works great for all hair types
Contains agave plant sugars that boost hair moisture and make it shinier and smoother
Won't make your hair dry
Cons
Slightly more expensive than other alternatives on the list
If you're always looking for cleaner alternatives and prefer to use a shampoo that won't contain parabens, phthalates, and sulfates, then this Agave product should be your pick. It will leave your hair moisturized, won't make it greasy, and will prepare it for any hot tools you style it with.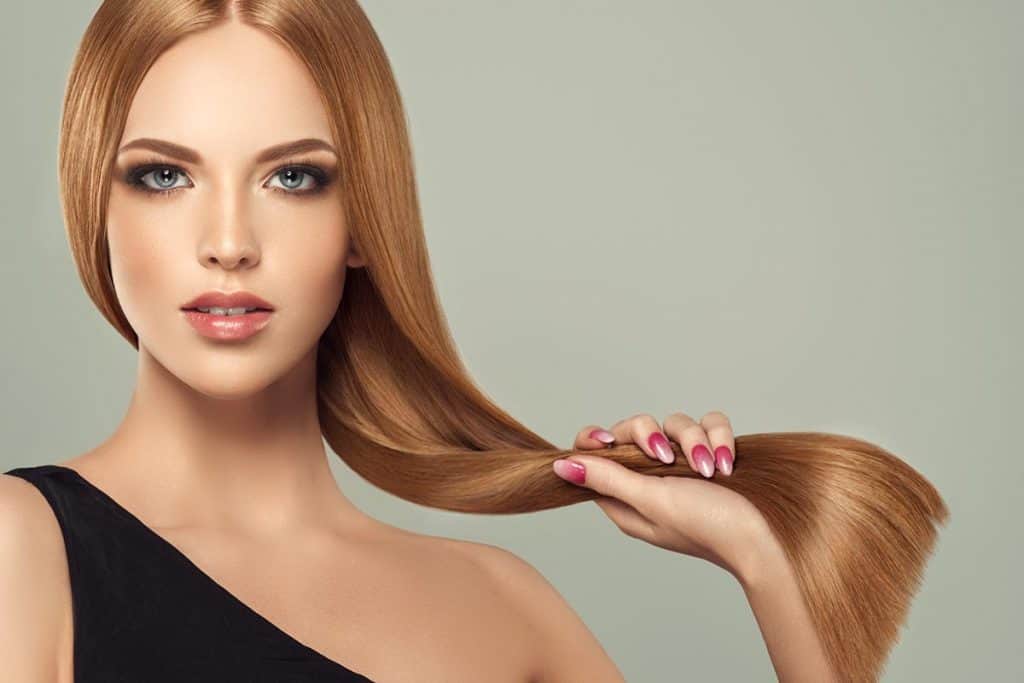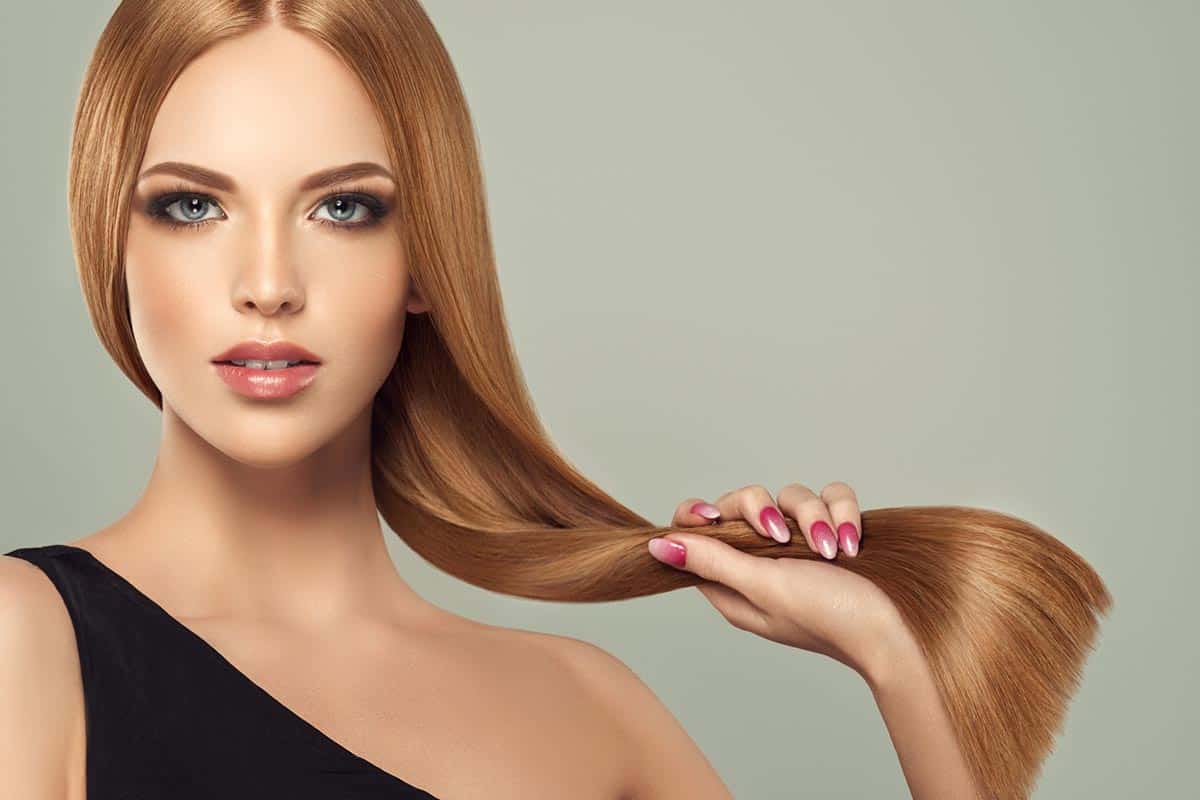 Do Hair Straightening Shampoos Really Work?
Yes, these shampoos do the job to a certain extent! These are not your regular shampoos. However, you have to be realistic with your expectations. It's a product that will help to smoothen your hair and minimize frizz, but it won't radically change your hair texture permanently.
Don't expect the same effect you achieve with straightening iron, as straightening shampoos are a bit more subtle in their results.
The secret behind these shampoos is in their ingredient list. They are formulated with ingredients that coat the hair, weigh it down, and cause a straightening effect.
These products also protect your hair from heat, so after washing and drying it, you can achieve the super-straight finish you want with a hot tool without fearing damage. They are perfect for curly and wavy hair, making the styling much simpler and faster and your hair shinier, smoother, and frizz-free.
Active Ingredients in the Best Straightening Shampoos
What kind of ingredients should you be looking for when purchasing a shampoo that's meant to straighten your hair? If you don't believe in the science behind these products, we'll go a bit more in-depth about the common ingredients they're based on so you can understand why they really work and what your priorities should be when shopping.
Silicone
The first ingredient on your must-have list for these shampoos should be silicone. But why is silicone so great, and how will it transform your wavy hair into straight, frizz-free perfection? First of all, silicone is a compound that's very successful in fighting frizz because it covers each hair strand individually, taming each one and making it smoother.
Once the hair strands are wrapped with this substance, they become straighter and retain their shape for a long time. In addition, since silicones act as a barrier between your hair and the environment, moisture won't be able to penetrate hair strands and cause them to curl.
Another important reason why silicones are a powerful straightening ingredient is because they help the heat from your hair tools (hairdryer, straightener, iron, hot air brush, etc.) reach your hair much easier and faster, so the final result is a sleek, smooth, shiny hairdo. Silicones are activated by heat, so once you apply heat, they'll get to the core of the strands and straighten them while also locking in moisture.
Silicone isn't one single ingredient. On the contrary, it's an entire group of chemical ingredients, and different manufacturers and products are based on different silicones.
If you're not quite sure how to recognize these chemical compounds, we're here to help. When reading the ingredient list, look for words that end in '-cone', '-xane', and '-conol'. Some great examples are dimethiconol, dimethicone, cyclomethicone, etc.
Keratin
You've probably been hearing about keratin hair treatments for a while now, but do you know how this ingredient works and why it's such a holy grail for ladies with curly or wavy hair?
Keratin is a protein that's already present in your hair, nails, and skin. Once you add it to your hair routine, you can expect your mane to be much healthier, smoother, frizz-free, and shinier.
As an ingredient, keratin nourishes the hair strands, making them stronger, more resistant to damage, and straighter. So, a shampoo made with keratin will act on the hair cuticle, in turn relaxing your hair strands and ensuring your hair stays straight for much longer than usual.
Another great advantage of this compound is that it conditions the hair, which means you'll find it much easier to style it. In addition, it creates a protective barrier that will minimize heat damage.
Just like silicones, keratin comes in several forms, and the ones you should look out for include hydrolyzed keratin, cocodimonium hydroxypropyl hydrolyzed keratin, keratin protein, etc.
Hair Oils: Argan, Coconut, Etc.
Shampoos that are meant to straighten your hair often include hair oils as a part of their ingredient list. The two most common ones you'll see are argan and coconut oil.
The purpose of adding hair oils to shampoo is to moisturize and nourish hair. These two oils are amazing conditioners that will treat each strand with antioxidants, vitamins, and much more.
Argan and coconut oil will make your styling session effortless, leaving your hair much smoother and frizz-free. An additional benefit is a shiny finish without getting the mane greasy. Once you wash your hair with a shampoo that contains oils, you can expect it to be straighter for a much longer time.
Shampoo Your Way to Straight
So, to wrap up, straightening shampoos won't magically transform your thick curly hair into stick-straight tresses, but an excellent one should smoothen frizz and work fabulously with your hair dryer or flat iron to help you achieve sleek, straight, and shiny hair. They will also protect your mane from damage caused by hot tools.
The most common ingredients you should look for in these shampoos are silicones, keratin, and hair oils. Since shampoos that straighten hair can cause buildup, you shouldn't use them too often.
The MATRIX Total Results Mega Sleek Shampoo is our top-rated product because it's gentle enough for all hair types and doesn't cause buildup. It contains shea butter that nourishes the hair and leaves it moisturized and shiny. Forget about stubborn frizz for good because this shampoo will take care of it.