Last Updated on 3rd August 2022 by Chauncey Morgan
The signs of low porosity hair are easy to miss. If your hair is difficult to manage and it feels dry and lifeless no matter what you do, you could already have low-porosity hair. It is time to step up your hair care game and address this problem, so you can have shiny and healthy hair once again. Check out below all the products we recommend to rehabilitate your hair.
Best Products for Low-Porosity Hair Reviews
Product
Details

Mixed Chicks Gentle Clarifying Shampoo

For ALL Hair Types

Huge Bottle Lasts A Long Time
Removes Build-Up Without Removing Natural Oils

Check Price

Shea Moisture Low Porosity Protein Free Shampoo

Great for Curly Hair

Protein-Free
Baobab & Tea Tree Oil

Check Price

I Am As I Am Curl Clarity Shampoo

Perfect for Dyed Hair

Restores Low-Porosity Hair
Natural Ingredients Blend

Check Price

Jessicurl Deep Conditioning Treatment

Great Price

Amazing Smell (From Natural Fragances)
Leaves Hair Soft, Shiny & Smooth

Check Price

DevaCurl One Condition Hair Conditioner

Cruelty-Free & Vegan-Friendly

Locks in Moisture
Works for Detangling Hair

Check Price

Curl Junkie Curl Assurance Smoothing Daily Hair Conditioner

Protein-Free

Natural Ingredients for Soft & Silky Hair
Great Absorption & Smell

Check Price
1. Shea Moisture Low Porosity Protein Free Shampoo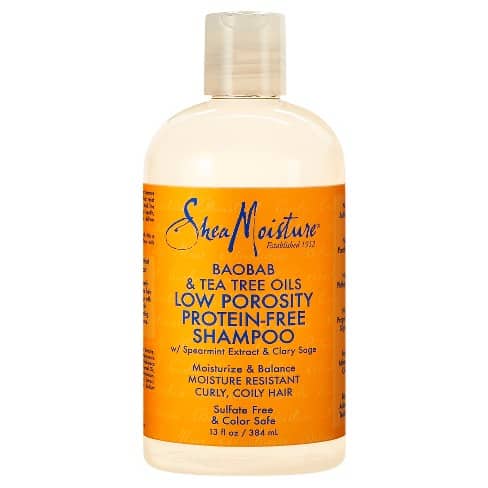 Effectively get rid of product and mineral buildup causing low porosity in your hair with the help of this clarifying shampoo that contains 2 key natural ingredients: Baobab and tea tree oils. Baobab is a kind of tree native to Africa. It bears a fruit that has antioxidative properties 2 times better than the superfood goji berry. It protects the body from aging, has natural hydrating property, strengthens hair shaft and has a nourishing effect due to its collagen-boosting benefit. Its tea tree oil component also helps in unclogging hair follicles and facilitating healthier hair growth.
It is particularly helpful for curly hair. The shea butter also incorporated in this helps in boosting the health of the scalp and anteing up hydrating. It leaves your hair and scalp feeling refreshed and invigorated due to its spearmint content. It finishes off by leaving your hair silky and shiny thanks to its Clary Sage content.
Pros:
You can get results in as fast as one wash. It restores health back to your hair. Hair doesn't feel brittle anymore with this.
Many people said their hair became more manageable with the help of this product.
It is effective in treating hair subjected to hard water damage.
It brings out natural curls.
There is a nice refreshing and tingling effect after using this.
Even when not used everyday, it still delivers great results.
This product has a reasonable price.
Cons:
It doesn't have a nice smell. Some people can't use it as a leave-in product because of the smell.
2. Mixed Chicks Gentle Clarifying Shampoo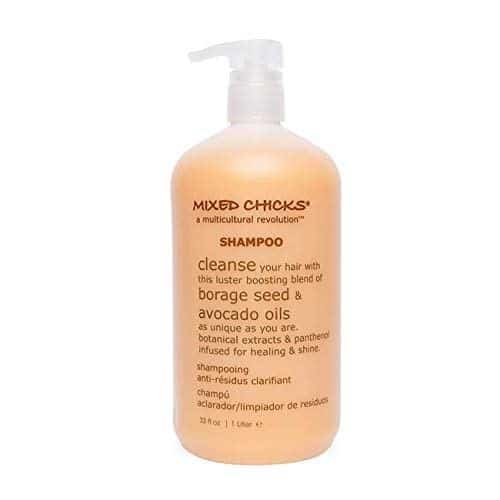 You know you are using a good product when it does what it is supposed to do without stripping your hair off of its natural oils. That is exactly what this clarifying shampoo delivers. It helps remove the build-up in your hair from hard minerals and all your styling products, but it doesn't get rid of the natural oils. It has a gentle formulation that restores the health of your hair.
Like the previous one, this, too, is infused with botanical extracts. Panthenol and soy protein are two of its best ingredients as they help get down deeper into the follicles of hair and add luster to your low-porosity hair. Whether you have straight, wavy, fine or curly hair, this should be a good choice.
Pros:
We like the botanical blends in this product. It also contains borage seed and avocado oil. Borage seed is a natural treatment for hair loss and scalp issues while avocado oil works in strengthening and moisturizing hair shaft through its monounsaturated fat and oleic acid content.
This shampoo also promotes hair growth with its vitamin H or Biotin content. This vitamin is known for its hair-growing capability.
The keratin in it helps in making the hair softer and smoother.
You can also reduce hair loss through its mallow leaf extract. This leaf extract has vitamin A content that works in strengthening the hair follicles.
This product also helps in treating dry, itchy and flaky scalp.
It is quite pricey, but it can actually last you for months. A little bit goes a long way with this shampoo even when used on curly hair.
Cons:
The price might put off some people.
3. I Am As I Am Curl Clarity Shampoo

If you have color-treated or processed hair that is dying because of exposure to hard minerals and products, use this one to restore it. Like the previous products, this one also has a blend of natural ingredients and that includes Amla, Coconut and Tangerine extracts. These natural ingredients work in restoring low-porosity hair and strengthening the hair shaft to prevent the strands from breaking or from falling out.
Pros:
This effectively restored moisture in the hair. It also has a thorough cleansing effect, which is great if you are dealing with heavy build-up.
People with curly hair found this effective in restoring their curls.
A little bit goes a long way with this product. Even with just a small amount, it still does a good job cleansing your hair and scalp and infusing more moisture.
It forms a lot of suds and is easy to lather in your hair.
Your hair will instantly look refreshed and soft after using this product.
It has a nice smell.
Cons:
Some said it didn't solve their tangled hair problems.
The Verdict
Cleansing your hair is very important. You need to rid your hair off of the gunk and the buildup that is causing it to experience low-porosity. Here are the products to look for:
We think the best product you should set your sights on is the Mixed Chicks Gentle Clarifying Shampoo. It might be more expensive than the other two, but you get what you pay for. It hydrates the hair using all-natural ingredients and works in restoring the strength and structure of the hair shaft. Also, it is a one-time investment as one bottle can last you for a long time.
Best Products for Low-Porosity Hair: Conditioner Products
1. Curl Junkie Curl Assurance Smoothing Daily Hair Conditioner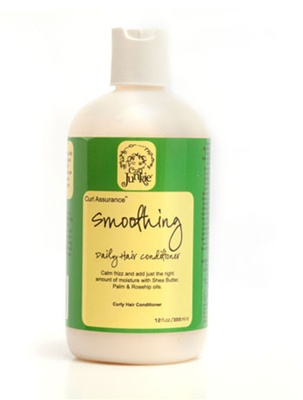 This product doesn't just nourish your hair. It also helps tame unwanted flyaways and unsightly frizz. It also lends your hair extra shine and gloss. It does that with the help of its blend of natural ingredients including aloe vera leaf juice, rosehip fruit oil, shea butter, chamomile flower water, Melissa leaf extract, nettle leaf extract and wheat germ oil. It also has peppermint leaf extract for a cooling effect. Simply use your fingers or a comb to apply this product on wet hair.
Pros:
If you are looking for a conditioning product for low porosity hair that does not contain proteins, this is a good choice.
It makes your hair soft and silky. It also gives it a nice shine.
A little bit of the product already does the trick.
It has a nice and attractive smell, nothing too strong.
It gets absorbed by the hair effectively.
It does help with the frizz. It also makes detangling a lot easier.
Cons:
Some said they did not find this as effective when it comes to having slippery curls.
2. DevaCurl One Condition Hair Conditioner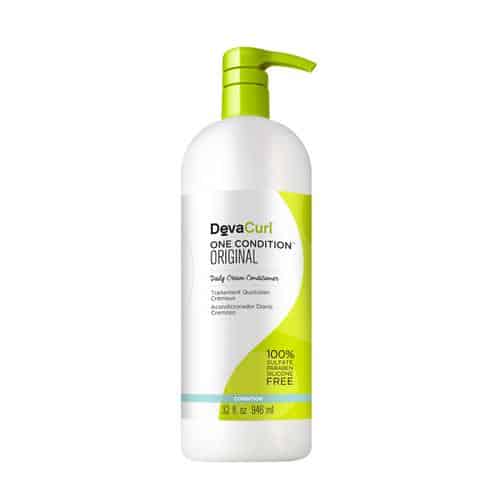 Lock more moisture into your hair with the help of this product. It is devoid of sulfate, silicone, paraben and wheat. This product is also cruelty-free and vegan-friendly. You will like the consistency of this product thanks to its quinoa protein and chufa milk content. It nourishes, protects and strengthens low-porosity hair.
Pros:
You can say goodbye to frizzy hair because this conditioner takes care of that problem.
Many people like how silky and soft their hair becomes after being treated with this product.
It is easy to use. Simply put a good amount of this product on your hands and apply it on your hair using your fingers. You can leave it in your hair for as long as 30 minutes for more effective hydrating effect.
It works in detangling hair as well.
This product is just as great with curly hair as it is with straight hair.
It also has a nice smell that lingers in your hair.
Cons:
Some said this product weighed their hair down.
3. Jessicurl Deep Conditioning Treatment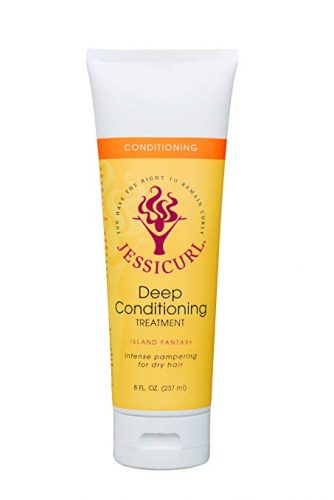 This product may be the cheapest in this list, but it definitely works like many other more expensive conditioners out there. It also has an impressive list of natural ingredients including lavender, cocoa, avocado oil, shea butter, aloe vera, peppermint, horsetail, bay laurel, thyme, sage, oregano, rosemary and nettle. Its fragrance comes for all the natural ingredients. No artificial fragrances are added.
Pros:
It effectively deep conditions hair, leaving your hair soft, shiny and smooth.
It comes in a pump bottle, so dispensing product is easier.
This product has a nice, refreshing and clean scent.
It really infuses more moisture in the hair. After one wash, hair feels more substantial.
It takes care of the frizziness as well.
Cons:
There were those who said this product did not work for them.
The Verdict
Take hair care up a notch with the right hair conditioner. After getting rid of all the gunk in your hair, follow it up with a conditioning product that will further hydrate your hair. Here are the best products you should add to your beauty arsenal:
We think the Jessicurl Deep Conditioning Treatment is the best choice just because of its more affordable price tag, amazing smell and hydrating benefits. It does what it is supposed to do and more. It won't disappoint you.
Low Porosity Hair Characteristics
How can you tell that you have low porosity hair? Here are some tell-tale signs:
Dry hair that

struggles to retain moisture

Conditioners seem ineffective

Heat activated treatments actually work

You have dandruff and your scalp always feels dirty

Blow-drying takes ages, but your hair feels oily soon afterwards

Curls take a long time to air-dry

Natural oils sit on top of your hair

Products don't absorb and seem to sit on hair. Leave in conditioners make your hair feel dirty.
Hair Porosity Test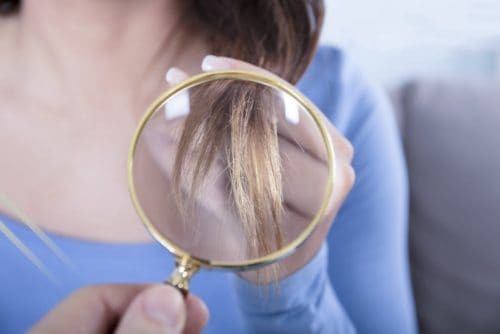 To get an idea of your hair porosity, a simple test is just feeling your hair. Gently take a strand of hair and stretch it between your thumb and finger. Slide your thumb up the hair shaft towards the scalp. If your fingers seem to slide over your hair, you are likely to have low porosity hair. If the strand feels rough and breaks, you are likely to have high porosity hair.
There is another very simple hair porosity test that can be done at home and takes 3 minutes. All you need is a strand of your hair.
First of all, use a clarifying shampoo to clean your hair. Micellar shampoo works great too. Don't apply any oil or product. Cut a small strand of hair.
Drop the strand of hair on a glass of distilled water. Ironing water works if it's non-scented.
Look at the glass to see if the strand floats or sinks. Is the hair floating at the top of the glass? You have low porosity Hair. Normal porosity hair will sink to the bottom, slowly, over 3 minutes. High porosity hair will sink very quickly, as the strands become soaked with water.
Low Porosity Hair Products To Avoid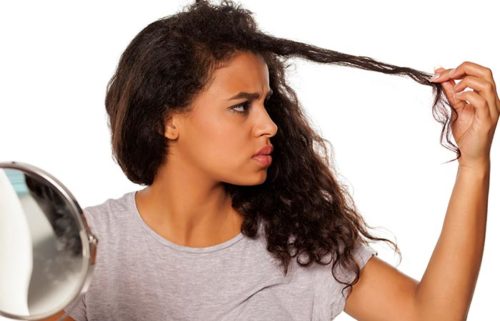 As a general rule of thumb, low porosity hair should avoid low pH products and very thick products that are difficult to absorb. Products with a low pH (acid) force the hair cuticles to shut and are often used to enhance shine. However, in the case of low porosity hair, they make the problem worse!
Very thick products, such as butter and natural oils are difficult to absorb to start with. So, for low porosity hair, they just become a thick layer on top of the hair and do more harm than good. This includes some co-wash products and cleansing conditioners.
Protein treatments can also have unintended consequences for low porosity hair. They will make the hair strong, but brittle, and that usually leads to damage. You want to use some protein but always mixed with moisturizing treatments.
Yes, they are the bread and butter of most natural hair routines, and they work great for people with high or normal hair porosity. But unless your hair can soak them up, they do more harm than good, and they'll weigh down your strands and curls. If nothing in the natural hair care community seems to work for you, that's usually another sign of low porosity hair.
What to Do Next?
Make sure you have all the products you need to restore the natural shine and health of your hair. See all our healthy hair tips here!