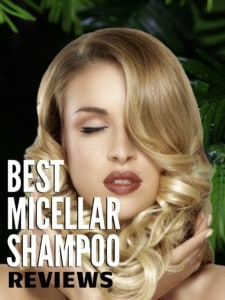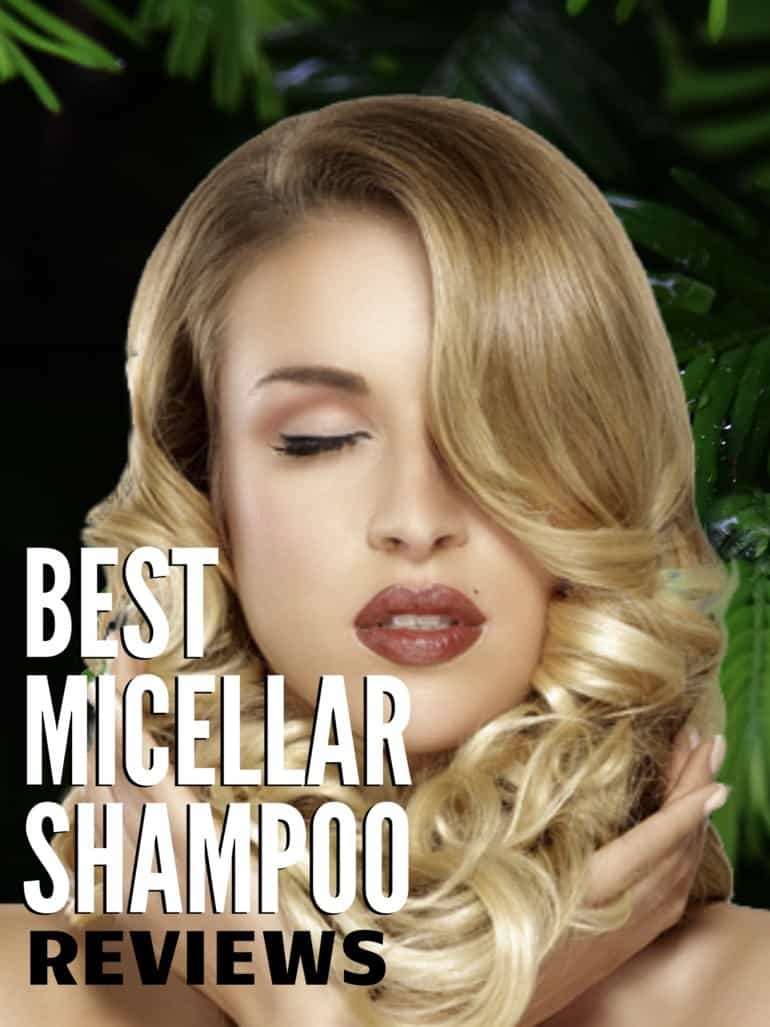 Do you love micellar water to cleanse your skin? You'll be happy to know that micellar shampoo exists to cleanse your hair as well. Micellar shampoos use micelles to wash your hair without stripping it off of natural oils. It's the ideal type of shampoo for sensitive hair and scalp, or for daily washing. We looked for the best ones in the market today.
Find out below which products are worth buying:
Best Micellar Shampoo Reviews 
| IMAGE | BRAND | DETAILS | |
| --- | --- | --- | --- |
| | #1 Pantene Shampoo and Sulfate Free Conditioner Kit | | Check Price |
| | #2 Redken Clean Maniac Micellar Clean Touch Shampoo | | Check Price |
| | #3 DevaCurl Buildup Buster | | Check Price |
| | #4 Herbal Essences BioRenew Micellar Water & Blue Ginger Shampoo and Conditioner | | Check Price |
| | #5 Kerastase Aura Botanica Bain Micellaire and Soin Fondamental Conditioner Duo | | Check Price |
1. Pantene Shampoo and Sulfate Free Conditioner Kit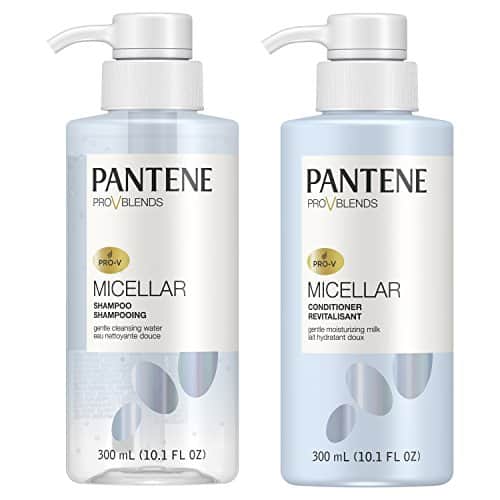 This value-for-your-money hair care kit comes with a shampoo and sulfate-free conditioner. The micellar shampoo is the closest thing to a natural product as it is free from parabens, dyes and silicones. If you are watching what you are putting in your body, this is a good choice.
Its formulation makes it suitable for all hair types. It also has a rich blend of nutrients, antioxidants and pro-vitamin B5 like other products in the Pantene Pro-V range. It is very gentle, so if you have fragile hair or are looking for a shampoo for sensitive scalp, this one is for you.
Pros:
This is a great deal because for its price, you are already getting a shampoo and a conditioner.
Its micellar technology works in deeply cleansing the skin. It traps dirt and buildup in the hair, so you can get a more satisfying wash with it.
The conditioner has moisturizing milk as well. Your hair isn't just cleansed, it is also deeply infused with micellar water to prevent dryness.
It restores fragile hair back to its original glory.
It actually doesn't weigh your hair down, even when you use the conditioner. Many people said they used both and their hair did not feel greasy at all.
It has an amazing scent that isn't cloying.
Cons:
The quantity of each bottle might be a bit disappointing.
2. Redken Clean Maniac Micellar Clean Touch Shampoo

Once you notice your hair getting grimy, cleanse with this shampoo. It is a sulfate-free, color-safe micellar formula that is gentle enough for daily use. It strips away oil, dirt and impurities without damaging hair. And thanks to its odor neutralising technology it keeps hair smelling fresh and clean. It's perfect for fine hair that lacks volume, and safe for use if you have rainbow hair.
Pros:
This product is loaded with all the good stuff – avocado oil, gold camelina and olive oil. These natural ingredients all work in providing intense nourishing treatment.
It really makes the hair silkier and shinier. It also works in targeting dry and damaged spots, so you have even smooth and soft hair.
Many people said since using this, their hair did not get as greasy. Their hair did not become heavy with grime easily.
This product also has a nice smell.
It strips away all the bad stuff in your hair but won't affect your hair color. You can still retain the vibrancy of your color with the help of this product.
It has also worked in taming frizzy hair according to some users.
Cons:
There were those who said this doesn't form enough suds. However, if you are used to the no-poo effect, this shouldn't be a problem.
3. DevaCurl Buildup Buster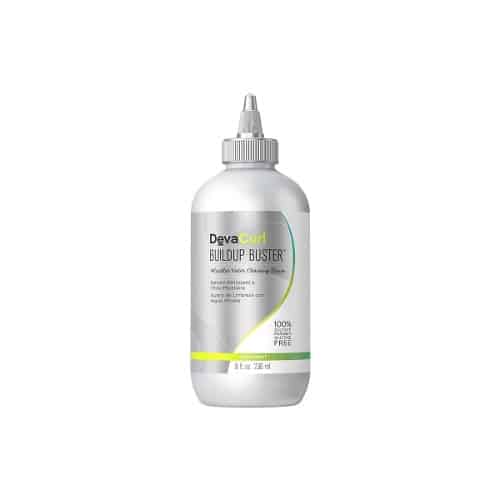 Looking for a micellar shampoo for curly hair? Look no further. The Devacurl buildup buster is 100% sulfate, paraben and silicone free. It is a cleansing serum, so it is not strictly a shampoo. Don't expect this to lather as well. Those used to no-poo shampoos will find this a good choice. It is designed to be applied to the scalp in sections and massaged from the scalp to the ends of the hair. It contains Abyssinian seed oil and jojoba to hydrate, but it is still a cleansing product so should be only used once a week.
Pros:
This helps maintain curly hair and restore those with badly damaged curls.
It is free from paraben, silicone and sulfate, making this a better choice than many other shampoos out there.
It also restores hair damaged by environmental stress. If you go out a lot and you get stuck in areas where there is heavy pollution, this is what you can use to restore it.
It effectively removes unwanted buildup but still retains all the natural oils in the hair.
It has nourishing jojoba and Abyssinian seed oil to truly make your hair softer and smoother.
This product helps make curly hair tighter and bouncier.
Cons:
It is a shampoo serum, so it won't lather like a normal shampoo.
4. Herbal Essences BioRenew Micellar Water & Blue Ginger Shampoo and Conditioner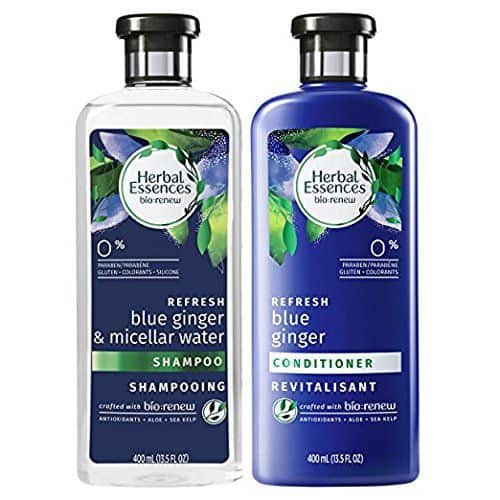 This new addition to the Herbal Essences BioRenew line is pumped full of antioxidants. The micellar-based formulation gently cleanses hair while the antioxidants keep on working after you rinse it. It also has aloe vera and seaweed to give fine, thin hair more volume without weighing it down. It has a fresh ginger blossom, floral bouquets and clean musk fragrance that feels refreshing but doesn't linger. This has good clarifying properties, so if you have hair with heavy buildup, this should help you out.
Pros:
This product is paraben, silicone and colorants free. It is also free from gluten. If you have sensitivity to these ingredients or you are looking for one that is more natural, you will find this a good product.
It cleanses your hair deeply and removes grime and oily residues without making your hair limp or flat. It also contains antioxidants that keep harmful free radicals at bay.
This can be used for colored hair as well. It balances the natural pH level of your hair.
The fresh ginger blossom scent is nice and isn't too overpowering.
This is also good for hair damaged by hard water.
For two products, the price is actually affordable.
Cons:
Some said it didn't work on their thin hair.
5. Kerastase Aura Botanica Bain Micellaire and Soin Fondamental Conditioner Duo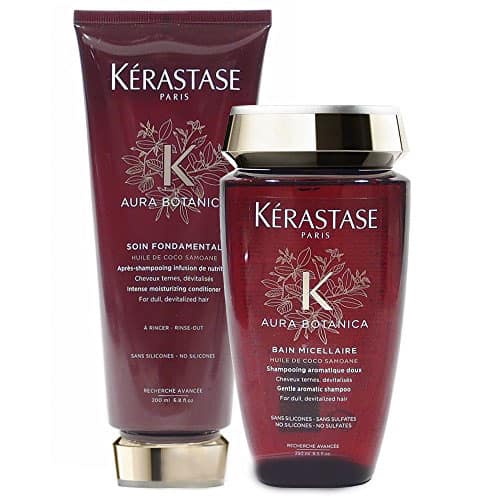 Gentle formula with a luxurious lather, this premium micellar shampoo from Kerastase delivers hair that is deeply cleansed yet not stripped off of its natural oils. It is sulfate and silicone-free and suitable for colored hair. It has a lovely aromatic fragrance. You only need a quarter sized amount, so the bottle lasts forever. It is designed to work with the matching conditioner, so for best results, you may want to buy both. However, it can also be used on its own.
Pros:
This product injects more softness and shine to the hair.
It is safer to use because it is free from sulfate, paraben and silicone.
It makes the hair feel lightweight.
It helps fight frizz.
The shampoo contains a sweet orange essential oil that gives it an energizing aroma while cleansing the hair. It also contains hydrating Moroccan Argan oil and Samoan Coconut oil.
Cons:
This is the priciest among the products in this list.
The Verdict
After checking the market, here are the products we think are the best choices:
It really depends on how your hair reacts to these products, but we think you can't go wrong with the Herbal Essences BioRenew Micellar Water & Blue Ginger Shampoo and Conditioner. It has a good cleansing effect and leaves the hair feeling soft and nourished. It is also effective when it comes to infusing more moisture into the hair for a silky effect. It also comes with a conditioner that further takes its nourishing effect to the next level.
Frequently Asked Questions About Micellar Shampoo
To learn more about this shampoo, here are some frequently asked questions about it and the answers:
How Do Micellar Shampoos Work?
Micelles are molecules with two parts: an internal one that is attracted to grease, and an external one that has affinity for water. This difference in polarity is what makes them so effective as a cleanser for skin or hair.
The oil-loving end attracts and encapsulates excess oil and oil-based products such as makeup. When used for skincare and applied using cotton pads, the water-loving side follows the water base of the cleanser. When used as a micellar shampoo, micelles rinse away, dragging oil and dirt with them.
It's like a magnet that attracts dirt and oil from your hair without stripping it off nutrients. If you bleach your hair or have a sensitive scalp, micellar shampoo is the most gentle way of washing your hair and prevent damage.
Why Is Micellar Shampoo The Best Shampoo For Sensitive Scalp?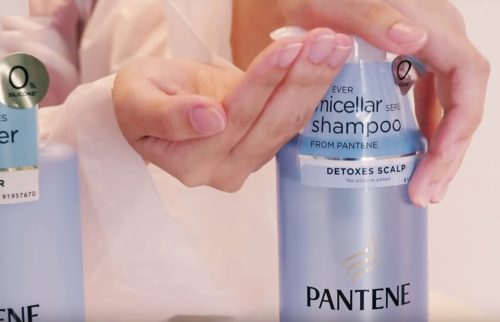 The gentle cleaning action of micellar shampoo is less damaging to the scalp than conventional shampoos. Micellar shampoos are SLS-free, cleaning hair without leaving a buildup of products that could irritate your scalp.
If you have a sensitive scalp, another thing to avoid is sodium chloride in shampoo. Yes, table salt in shampoo is a thing. Sodium chloride is used in shampoo as a thickener, particularly when used in combination with sodium lauryl sulfate. It is also drying and irritating to your scalp. Micellar shampoo that doesn't include this ingredient is the perfect shampoo for sensitive scalp.
Micellar shampoo also works great as a very gentle clarifying shampoo. It cleanses the hair leaving it light and buildup free, without irritating sensitive scalps. They are very respectful with the scalp and hair, still offer an effective way to cleanse sensitive scalps and damaged hair.
If you have sensitive scalp, a micellar shampoo with as few ingredients as possible is less likely to trigger allergies or irritate. Keep in mind that most micellar shampoos have no conditioning ingredients or other treatment actives. So, if your sensitive scalp also suffers from dandruff, you may want to use a separate seborrhoea shampoo to treat it.
Does Micellar Shampoo Replace a Clarifying Shampoo?
If your hair is very dirty, oily or grimy due to the build up of styling products, then micellar water shampoo may not be enough. Unlike a clarifying shampoo, micellar shampoos are gentler and don't dry the hair, but they are not as strong.
Some hair treatments and direct dye (rainbow hair) ask you to use a clarifying shampoo beforehand. If your hair is not very oily or you don't have a build up of silicones a micellar shampoo may do the trick. But I'd be on the safer side and keep a bottle of clarifying shampoo handy to ensure the hair is squeaky clean.
Can You Use Micellar Shampoo Daily?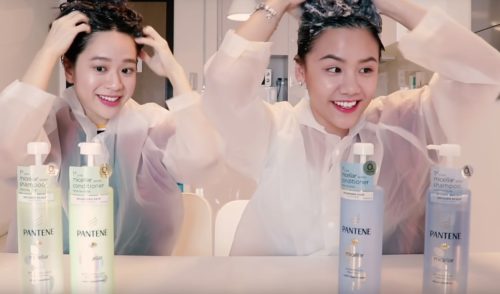 Technically you shouldn't wash your hair more often than every couple of days. However, that is a luxury that you may not have. If you exercise or have a physically demanding work, or live in a very hot and humid climate, dry shampoo may not cut it. Or you may just love the feel of clean, freshly washed hair.
If you wash your hair daily, using micellar water shampoo can help preserve the health of your hair and scalp. It is less irritating than regular shampoo, and it doesn't fade hair color like other shampoos do. Always look for a shampoo that is free from sulfates and parabens so it's as gentle on your hair as possible. If you have a sensitive scalp, look for a micellar shampoo with hydrating actives to prevent it from drying out.
If you want to try a micellar shampoo for yourself, we suggest also getting a conditioner that treats any specific hair concerns. This way you'll be able to treat your hair after it has been thoroughly washed.
What to Do Next?
Taking care of hair is often challenging, especially if you have hair prone to coarseness and frizziness. To help you achieve effortless hair, we have a lot of product recommendations we think will help different types of hair. See our expert reviews of the best shampoos for any hair type here!