Last Updated on 17th May 2022 by Chauncey Morgan
Having sensitive scalp makes you more susceptible to inflammation, flakiness and itchiness when you use regular hair care products. Go the extra mile and find products specifically formulated for sensitive scalp. Switch to these hypoallergenic shampoos for sensitive scalp if you want to say goodbye to inflammation and itchiness. There is no shortage of these products out there, but we are here to help you narrow down your choices to the best ones.
Best Shampoo for Sensitive Scalp Reviews
We suggest singling out the following products:
Find out what these products have to offer:
1. Maple Holistics Pure Tea Tree Oil Shampoo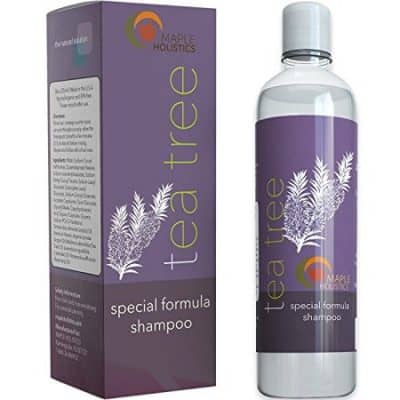 Maple Holistic' line of tea tree oil shampoos is formulated to detoxify the scalp and rejuvenate the hair. It has a gentle clarifying action that unseats dirt and strips away the build up of hair care products and hard minerals in it. Often times, that hard mineral gunk in the hair is what causes inflammation and irritation to happen.
Its main ingredient is Australian tea tree oil, which is a natural ingredient known for its antibacterial and antiseptic benefits. This naturally works in soothing existing irritation and flakiness. It also helps stop hair all in its track.
Pros:
This product is devoid of sulfate, which can be harsh on sensitive scalp. It also does not contain parabens, so it is good for all hair and skin types. Since it is gentle and does not contain strong chemical ingredients, this is also great for people with colored and treated hair.
It helps soothe existing inflammation and itchiness, thanks to its natural antibacterial properties.
It helps control sebum production. It prevents sebum from clogging your hair follicles, which can encourage bad bacteria to grow.
This product also contains a lot of natural ingredients such as rosemary and botanical keratin. It also has lavender oil that is known for its ability to encourage hair growth. The aloe vera ingredient in it works in soothing irritated scalp as well.
This product is eco-friendly. It is encased in recycled packaging and is completely cruelty-free.
This product is fairly priced. For the amount of product you will get, it has a good price.
It helps encourage better blood circulation as well, which can rejuvenate the hair and prevent inflammation from happening.
It leaves the hair feeling not just clean but also soft and silky. It doesn't strip away its natural shine.
The itching stopped after using this, according to users with sensitive scalp. It provided immediate relief and also helped in healing the sore spots.
Many people said this has a nice scent to it.
Cons:
There were those who said this made their hair frizzy.
2. Tree to Tub Gentle Sensitive Scalp Shampoo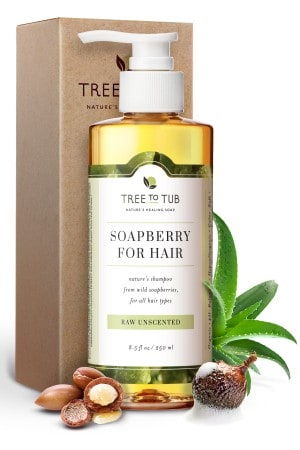 Tree to Tub specializes in natural and gentle personal care products. The Soapberry for hair is made from wild soapberries that help in getting rid of residues and sebum from the hair and scalp without leaving the scalp dry and irritated. It restores the natural pH balance of the scalp, which is 5.5. Irritation can happen when the scalp is too basic, which can happen if your hair is exposed to too much hair care products and hard minerals.
This is a product that contains a lot of natural ingredients including Aloe Vera and Argan Oil. Aside from the soapberry, this also contains olive leaves that contribute to its balancing benefits. Its chamomile content also helps in soothing irritated skin.
Pros:
This product is gentle on the scalp. It is so gentle that it can be used by people with psoriasis and eczema as well. Aside from containing all natural ingredients, this product is also without harmful toxins and sulfates. It also does not contain silicone, gluten and DEA/MEA. It is unscented as well.
This is a product safe for people with colored hair. It will not strip away the dye from your hair.
With the natural ingredients of this product, it also has antifungal and antibacterial properties.
It can be used by the entire family. Since it is gentle, even the kids can use it.
This product comes with a pump dispenser that makes it easier to pour out just the right amount of shampoo. The packaging is also nice.
A lot of people noticed a difference in how their scalp feels after using this product. It did not cause itchiness anymore.
It actually restores volume to the hair.
There were those who struggled with seborrheic dermatitis and said this is the only product that calmed down their scalp.
Cons:
There were those who said this didn't lather so well. They had to use more of this product to truly cleanse the hair.
3. Pharmaceutical Specialties Free & Clear Hair Shampoo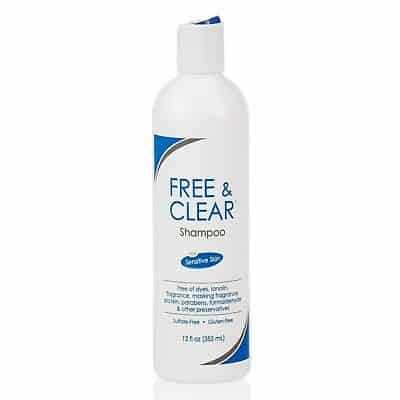 This shampoo has one of the gentlest formulations around just because it does not contain common chemical components found in hair care products such as artificial fragrances, preservatives, sulfate, phosphate, lanolin, parabens and dye. It is also free from proteins and gluten and helps restore your hair's' natural pH balance.
Use to nourish the scalp and get rid of the buildup that is causing the scalp to act up. It also works wonders when it comes to controlling oiliness. Since it has a more natural formulation, this product doesn't sting the eyes.
Pros:
This product is one of the best when it comes to its cleansing effect. It really helps in getting rid of the hard mineral deposits in the hair and also helps get rid of the sebum.
Say goodbye to flaking with the help of this product. As it cleanses your hair, it restores the natural pH balance, which can then treat all its problems before such as scaling and flaking.
It is a product that even people with eczema and psoriasis can use. Many people with these skin issues have found relief from this product.
It doesn't have a scent, so if you like something that doesn't smell cloying, this should be a sterling choice.
This product also has an attractive price, great for people on a budget.
Cons:
It doesn't lather that well, so you might need to really work the product in the hair.
4. Numis Med Sensitive Soothing Shampoo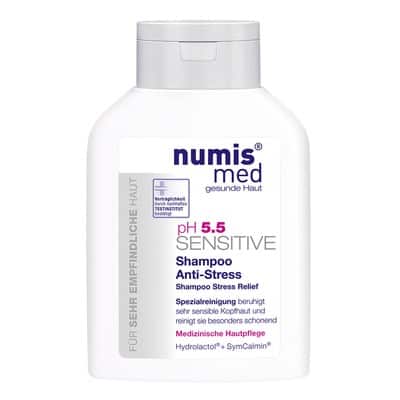 This Germany-made shampoo has been formulated to restore the pH balance of the hair to 5.5. It has a hydrating formula that works in nourishing the hair to make less prone to itchiness and flaking. It contains Hydrolactol and SymCalmin, which is a combination of specially formulated ingredients that help soothe irritated skin and calm down inflammation.
SymCalmin has benefits similar to that of oats when it comes to its calming benefits. This is a good choice even for those with eczema. Hydrolactol, on the other hand, seals moisture in and prevents it from dissipating. This acts as a barrier against outside elements.
Pros:
This is one of the best when it comes to keeping the hair hydrated. After a few washes, this product manages to keep inflammation at bay. Many people who used this experienced relief from inflammation and itching.
It is completely free from parabens. It is also vegan and has never been tested on animals. You can also be assured that this product is devoid of dyes, parabens and paraffin oils.
It has a light smell. It won't leave you with heavily perfumed hair.
There were a lot of users who suffered from eczema, psoriasis or dermatitis and they found relief with this product.
It makes the hair feel shiny and soft. This eliminates the need for a follow up conditioning treatment.
There is a good balance of treatment for the hair and scalp. Many products out there that supposedly heals the scalp tend to be damaging to the hair shaft. There are also those good for the hair but not exactly good for the scalp. This one strikes a balance between being good for the hair and the scalp.
Unlike others, it produces a nice lather. A little bit goes a long way in cleansing the hair and the scalp.
Cons:
The packaging is a bit bulky.
Which Shampoo for Sensitive Scalp Is the Best Choice for You?
Solves Thinning Hair Problems: Maple Holistics Pure Tea Tree Oil Shampoo. Aside from the fact that it has a host of ingredients that work in soothing irritated and inflamed scalp, this product also contains ingredients that encourage hair regrowth. If you deal with thinning hair as well, you would want to consider getting this product. What you will find ideal about this is that it has a lot of natural ingredients that work in nourishing the hair and the scalp.
Has Healing Benefits: Tree to Tub Gentle Sensitive Scalp Shampoo. This product is great not just for people with sensitive skin but also for those with more serious skin care issues such as eczema and psoriasis. It has botanical ingredients that nourish the scalp, prevent dryness and restores acidic balance in order to make the scalp healthier.
Great for Eczema and Psoriasis Sufferers: Pharmaceutical Specialties Free & Clear Hair Shampoo. Eczema and psoriasis can wreak havoc to the skin. It brings about redness, inflammation and itchiness that can't be controlled easily. You would want to switch to this product for instant relief. Since it is mild and devoid of the usual chemical components in shampoos, it is a better choice for you.
Restores Balance: Numis Med Sensitive Soothing Shampoo. It can be hard to find a product that nourishes the scalp without being harsh on the hair and find a good hair care product that won't irritate the scalp. This one is the best choice because it manages to balance its goodness to both hair and scalp. Many people with scalp and skin issues said they experienced great relief with this product after just a few uses.
What Causes Scalp Sensitivity?
For you to completely address scalp sensitivity, it helps to first find out what causes this to happen in the first place. Why do you get irritated and inflamed scalp?
Skin Conditions
The most common reason why you exhibit signs of sensitive scalp is because you have an inherent skin disorder. People with eczema, dermatitis and psoriasis tend to experience scalp sensitivity as well. Since the skin in the scalp is thin, it is very sensitive. Using regular shampoo can irritate the skin and cause inflammation. Aside from using a milder shampoo, it is also important to address the skin condition itself. It can be treated with the help of supplementary medications or taking supplements that can help the body fight off the problem on its own.
Exposure to Chemicals and Hard Minerals
Chemical ingredients and hard minerals can also be the culprit. If you recently had a hair dye and your scalp suddenly started acting up, that is most likely because of the exposure to the hair dye.
You would want to switch to the best ammonia free hair dyes we recommend, too. 
If you have well water, chances are, you could already have hard mineral build up in your hair and on your scalp that is causing inflammation and itchiness.
Irritation Caused by UV Rays
Exposure to UV rays can also trigger irritation. This can happen if you are outdoors a lot. If you just spend a day out under the sun with little to no protection for your head, your scalp could end up getting sunburnt.
Infection
Another likely cause is infection. Bacteria likes to thrive on the scalp because of the moist environment. The hair follicles could excrete sebum that can cause bacteria to grow. Not cleansing your scalp often can lead to an infection.
Switching to the best hard water shampoo may also help in treating scalp problems caused by irritation and sensitivity. To learn more, visit our guide on that subject.
Conclusion
Your hair is your crowning glory and if you don't take care of it, it can have a big impact to your appearance. Lucky for you, we have all the resources you need to ensure that you have the right products that will help you take good care of your hair. Check out more of the best shampoo reviews on the market here.