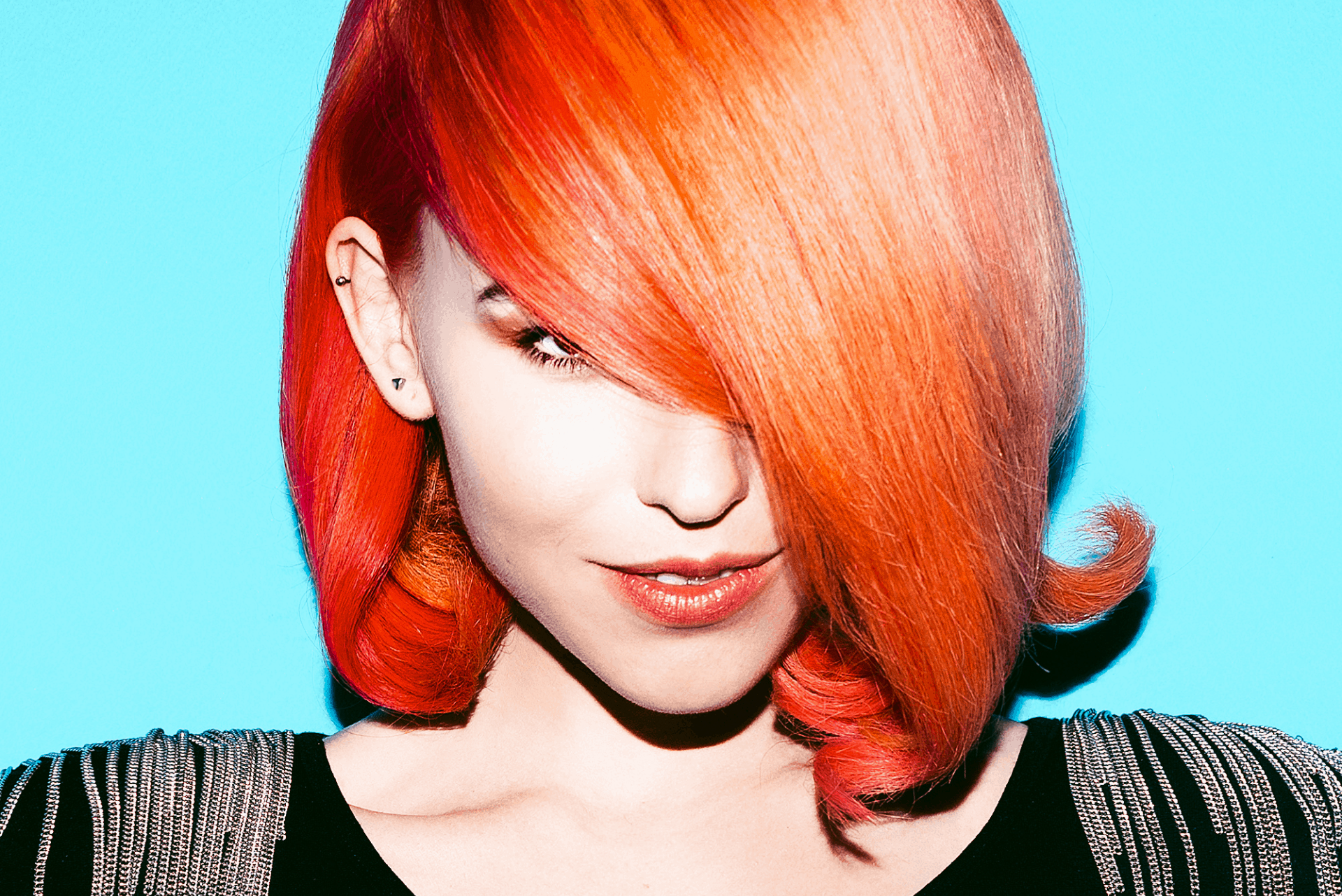 Ammonia is a common ingredient in hair dyes. Ammonia is a compound made from hydrogen and nitrogen that can be caustic on hair but is necessary for many dyes to work. It is responsible for the swelling effect hair dyes have on the hair shaft. This is what inflicts damage to the hair strands and also triggers allergic reactions. However, the process is also responsible for lifting the protection around hair strands so that the color from the dye can become attached to the strand itself and maintain the color. Usually, the protective sheath is restored afterward.
When having your hair dyed, it is worth looking for hair dye products that are completely devoid of ammonia. These can be just as effective as chemical dyes but are healthier for your hair, keeping it sleek, shiny, and unbroken. There are natural and even vegan hair dye alternatives today. We looked for the best ammonia-free hair dyes today that you can use to get the hair color you want. Find out below what we recommend.
Best Ammonia-Free Hair Dye Reviews
Product
Details

1. Clairol Natural Instincts Crema Keratina Hair Color Kit

Best Overall Pick

Semi-Permanent
Keratin for Extra Shine
8 Colors

Check Price

2. Garnier Olia Ammonia Free Hair Color

Most Color Shades

Permanent Dye
Healthy Natural Oils
34 Colors

Check Price

3. L'Oreal Inoa Ammonia Free Permanent Hair Color

Great for Touching Up Grey Hair

Permanent Dye
Covers Grey Hair Down to the Root
Natural Ingredient Mix

Check Price

4. REVLON Colorsilk Beautiful Color Permanent Hair Color

Permanent Dye
Paraben-Free, Organic Ingredients
41 Colors

Check Price

5. Indus Valley 100% Botanical Natural Hair Dye

100% Natural Ingredients

Semi-Permanent
Organic Herb Mix
12 Colors

Check Price
1. Clairol Natural Instincts Crema Keratina Hair Color Kit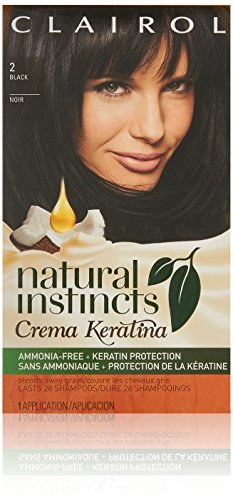 This hair dye isn't just ammonia-free, it also contains keratin that will help nourish your hair and keep damage at bay while you are changing it to a different color. Keratin is a fibrous protein found in numerous natural parts of animals, including hair and hooves. Having an additional dose of keratin can improve the shine and overall health of the hair while still allowing the dye to do its job. You will also end up with healthy hair even after a coloring session because of its additional coconut oil content that hydrates the hair effectively.
This product is a semi-permanent dye. That means it will not affect the hair shaft, ideal for those with allergies. What it does instead is coat the strands of your hair with the hair dye. This stops your skin from reacting and also ensures the color looks stable and solid without damage. This type of dye should last for as long as 28 washes. You can choose from 6 different colors ranging from dark and light.
Pros:
It leaves your hair feeling soft and smooth after a coloring session. It is non-drying unlike other hair dye products out there and can even help the strands lock in moisture thanks to the keratin.
Hair dye novices will find this product easy to use. It has a non-drip formula so you don't need to worry about getting the color everywhere and making a mess throughout your kitchen or bathroom. It has a thicker and creamier consistency that allows you to apply it evenly in your hair without the messy drips.
This product contains everything you need for the coloring session. It has CC+ Colorseal Conditioning Therapy that helps seal off the color in your hair. This should be applied after the dye.
The color actually lasts for a long time. In fact, it is comparable to other popular hair dyes out there. Just be sure to not over-shampoo and to avoid washing too much.
Many people said this is easier to apply than many other hair dyes out there. Application is a cinch and it did not leave a big mess behind.
Rinsing it out is quite easy as well. It doesn't have residues that cling to the scalp. The process of rinsing will not remove the hair dye from the strands right away – the rinse will just take away the excess.
 Many people said their hair looked better and healthier after this treatment.
This semi-permanent hair dye is ideal for people who can't decide which color to go for. It doesn't force you to commit to a certain hair color for a long time.
Cons:
This might not work well on grey hair. Grey hair is lacking important proteins and the ability to retain color, which is why it starts to fade as humans age. For this reason, it might not hold on to the dye like other colors. Naturally, white hair will struggle as well.
2. Garnier Olia Ammonia Free Hair Color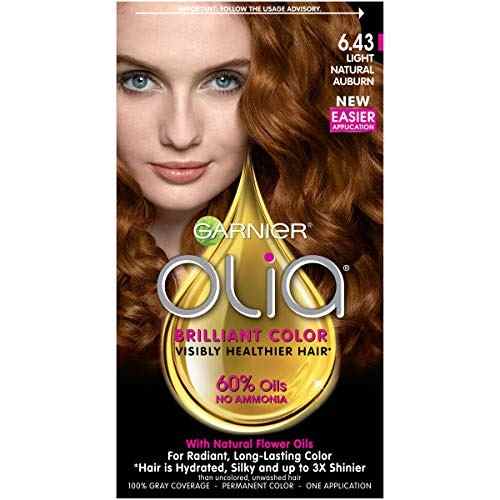 Olia from Garnier has an extensive color option. You can choose from 34 different shades, from black to blonde and everything in between. You can even choose between warm and cool shades to find something that best suits you. It is a permanent hair color free from ammonia and loaded with 60% natural flower oil blend. Not only will you get the color you want, you also will be left with hair up to 3x shinier. Hair also feels more hydrated with this product, thanks to the extra oil and moisture.
This oil-powered color boasts of oils from shea, olive, and avocado, so you are getting all the good stuff while getting the color you want.  You also won't be getting the unpleasant chemicals you don't want.  The colors are vibrant and striking and provide 100% coverage on gray hair.
Pros:
This is a permanent hair color, so it will last longer on your hair. If you don't like to re-do your hair color every so often, this is a good product to look for. It will be very difficult for you to wash this out, so be sure you like the color before you actually use it.
There are more color options. There were those who said this is the only blonde hair color they tried that really worked in lightening their hair out without inflicting the damage. Usually, the damage is due to bleaching the hair prior to coloring. If you spring for the Garnier Olia Ammonia Free Hair Color, you will be able to avoid bleaching and damage.
After rinsing it out, your hair will feel soft and silky. It even has a nice shine to it after blow-drying your hair.
It is convenient to use. You can apply it by yourself. Most of those who tried this applied it by themselves in the comforts of their own home without experiencing problems.
Many said Garnier products never fail to deliver true-to-color results. This one isn't an exception. It will really give you the color you want.
It is a thick dye, so you shouldn't have problems with it running and dripping on the side of your face. It also doesn't have a strong and overpowering smell.
It is an inexpensive dye that does what it promises to do.
This provides a good coverage for grey hair as well.
Cons:
Since this is an oil-based dye, it is not ideal for people with very oily hair and scalp. The dye will struggle to stick to the hair strands.
3. L'Oreal Inoa Ammonia Free Permanent Hair Color


INOA or Innovation No Ammonia is one of the front runners in the ammonia-free hair dye game. The manufacturing promised colored hair as healthy as before it was dyed. This ammonia-free permanent hair color is just the thing you need to touch up those unsightly grey hairs. It is a permanent type of hair color that makes use of ODS 2 Technology Sublime Shine Mix. It promises to keep your hair healthy even during exposure to dyes. This product also promises up to 6 weeks of hydration and nourishment.
This L'Oreal Inoa Ammonia Free Permanent Hair Color boasts an extremely natural mix of ingredients that uses oils and works to make a permanent dye job that doesn't wash out after a set number of showers and baths. Instead, you will be left with clean, healthy hair without needing to use chemicals like ammonia. The dye also smells decent, unlike some that are harsh and caustic.
Pros:
This product really does a great job in coloring the hair without inflicting too much damage. Hair comes out softer and shinier after using it.
It did cover grey hair even down to the roots. If you have grey hair issues, you might find this an ideal choice.
This product does not emit strong fumes unlike other ammonia hair dyes out there.
Many people said this product smells nice.
Even if you lighten your hair a lot, this will not damage your hair because it doesn't use bleach or ammonia.
It is easy to use. Most of the users just used this all by themselves without help from other people.
Cons:
There were those who said you need to use more of the product to get the coverage or color you want.
4. Revlon Colorsilk Beautiful Color Permanent Hair Dye
This hair dye isn't just bereft of ammonia. It is also without parabens, which is good for people who want a more natural approach to coloring. Parabens have been found harmful to the health as it mimics estrogenic hormones that can cause breast cancer. It has been formulated with a proprietary blend of organic ingredients. It has a coconut base that effectively rebuilds the original structure of the air so that the hair shaft is protected during the coloring process. It doesn't just protect your hair from damages, it also ensures the color stays and lasts long.
You will also find keratin in this product. Keratin is a plant-based complex that is created by combining the amino acids of common plants like corn and soy. Add that up to its Silk Amino Acid content and you have a product that will leave your hair nourished and soft. Unlike other hair dyes with a strong scent, this one has a pleasing scent. The aroma managed to be light, soft, and delicate without smelling too much like an herbal shop.
Pros:
This hair color comes in a wide selection of colors. There are also new brown shades to choose from if you want to get natural-looking hair.
It has plant-based ingredients. The coconut base works in the restructuring hair shaft to make sure it can withstand the effects of dying.
This product really leaves your hair feeling soft and smooth. The keratin in it infuses more shine to the air. It also contains silk amino acid that nourishes and moisturizes the hair even more.
The color is quite long-lasting. Even after many washes, it still remains vibrant.
Many people loved the scent. It's a nice treat considering how dyes usually smell off-putting.
It doesn't irritate the scalp, great for people with sensitive skin. If you are allergic to traditional hair dyes, you might find this an ideal choice.
Cons:
Conditioner is only good for one use.
5. Indus Valley 100% Botanical Natural Hair Dye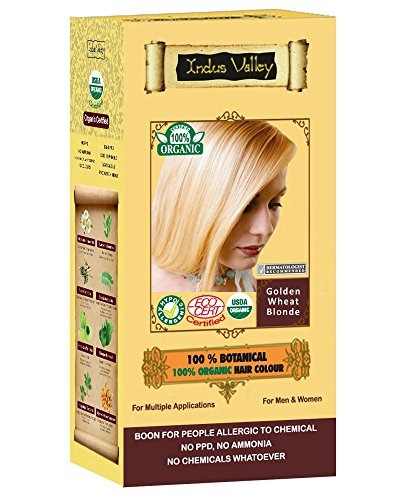 This is the most natural hair dye we can find out here. It isn't just devoid of ammonia, it also doesn't contain peroxide, heavy metals, and PPD. It is completely natural, so it is recommended for allergy sufferers, for people with sensitive skin, and even for lactating women.
What makes this product a cut above the rest is its completely herbal components. It is 100% pure and contains only herbs that are certified organic by the USDA. Their ingredients are also India organic-certified and ECO certified.
Pros:
This product has an interesting mix of herbal dyes. It contains 8 certified organic herbs. You are dying your hair with chamomile, Amla, Fenugreek seeds, Indigo, Brahmi leaves, and Rubia Cordifolia.
People with grey hair issues will also find this helpful. It has good gray hair coverage. It also has effective properties that work in preventing premature graying.
It has nourishing properties as well. It adds more volume to hair and also helps in the regrowth of damaged hair.
It is non-staining. It doesn't leave color on your skin and hair.
This product is true to its color. You get the exact shade you are after.
Cons:
It has a different process compared to other dyes. Some people find using this more time-consuming. The herbal scent also tends to smell too earthy.
The Verdict
It can be difficult to find a good ammonia-free hair dye. Just because a company claims to not include caustic chemicals in its products doesn't mean they're effective. After doing extensive research, we think these are the best ammonia-free hair dye products you should get:
Two products stand out from the rest and they are Garnier Olia Ammonia Free Hair Color and the Keune So Pure Permanent Hair Color. Both have a wide selection of colors, so you can always find something that will suit your preferences and desires. They also nourish the hair and the scalp with their botanical ingredients like keratin and avocado oil. You will get the best hair color results while also experiencing softer and shinier hair. The colors from these products are also long-lasting, so they don't wash out after a couple of showers.
Benefits of Choosing Ammonia-Free Hair Dye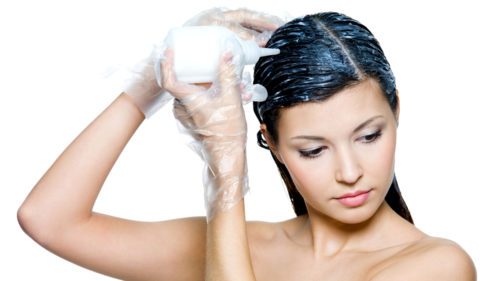 So, are you still on the fence about using ammonia-free hair dye? After decades of believing that only ammonia hair dyes will really work in changing the color of our hair, it seems like such a stark change. After all, generations of men and women have been told for centuries that beauty is pain.  But for the doubting Thomases out there, here are the benefits that will make you want to give this a try:
It doesn't damage your hair.
Ammonia can be terrible for hair and other organic materials due to its harsh composition. It, like bleach, strips away necessary shields around the hair strand and can make it impossible for the locks to retain moisture. By getting rid of ammonia and using dyes free of the chemical, you can protect your hair and keep it healthy for a long time, even if you change your hair color frequently.
Perhaps the most significant benefit of ammonia-free hair dye.  is its ability to change the color of your hair without inflicting too much damage. This is good news for people who dye their hair a lot of times in just one year r those who often go many shades lighter. As you know, getting a lighter hair color often inflicts more damage to the hair because additional steps such as bleaching are often needed.
It leaves your hair feeling soft and smooth and looking shiny.
Many of these hair dyes have a blend of oils that infuse more moisture into the hair. That means after using these products, you always get hair that feels softer than it did before the treatment. Many people even said after using the ammonia-free hair dye, their hair became more manageable compared to its pre-dyed state.
It doesn't irritate the scalp.
Ammonia is the one that causes scalp irritation. It causes inflammation of the hair shaft. These hair dyes will prevent that from happening. Many products out there are so gentle, they can even be used by people with dye allergies.
It nourishes the hair shaft.
The hydrating effect of the botanical ingredients in these products works in nourishing the shaft, so you won't have to deal with dry and brittle hair.
It doesn't emit a pungent odor.
There is no need to deal with unwanted ammonia odor anymore. In fact, you can find ammonia-free hair dyes that have essential oil fragrances, so they make your hair smell better.
What to Do Next?
After dyeing your hair, make sure you give it the care it needs. Protect it from brassiness and use products that can help prolong the color. Read our guide to hair color levels to find out everything you need to know. Check out our homepage for more product recommendations.