It can make your hair feel rough and tangled and can diminish its luster and vibrancy. Hard water also makes it more difficult to completely rinse of soap in your hair, hence all that buildup that weighs it down…
One way to counteract that is through the use of a hard water shampoo. Say goodbye to hard water hair as we will show you the best hard water clarifying shampoos you can buy today.
Best Hard Water Shampoo Reviews 
Product
Details

1. Kenra Clarifying Shampoo

Most Popular for Hard Water

Price: $
Effectively Removes Mineral Deposit Build-Up
Safe for Color-Treated Hair

Check Price

2. Malibu C Hard Water Wellness Shampoo

Restores Original Shine & Softness

Price: $$
Removes & Prevents Discoloration
Helps Relieve Dry & Itchy Scalp

Check Price

3. Hairprint 99% Plant-Based All Natural Chelating Shampoo

100% Plant-Based Formula

Price: $$$
Organic, Plant-Based Ingredients
Retains Natural Oils & Shine

Check Price

4. Paul Mitchell Shampoo Three

Great for Chlorine

Price: $
Removes Greenish Tint from Chlorine Exposure
Long-Lasting, Potent Formula

Check Price

5. Grapefruit Detox Re-Nutrient Shine Repair Shampoo

Most Affordable

Price: $
Gentle & Safe Formulation
No Sulfate or Other Harsh Ingredients

Check Price
1. Kenra Clarifying Shampoo

Get rid of the dull look of your hair and the buildup of deposits with the help of this clarifying shampoo. It is safe to use even when you have colored hair. It's very easy to use. Simply apply it directly to damp hair, massage and then lather. After lathering, rinse it off thoroughly. You would want to use it once a week for best results.
Pros:
This works even when you have extremely hard water. If your water softener can't keep up with the minerals in your water source, this will really help. It really clarifies your hair even after just one wash.
It is safe to use even if you have colored hair. It helps in preventing brassiness in hair and also keeps the roots soft. It doesn't mess up with the tone of your hair, even if you have highlights.
It has a nice grapefruit scent that perks you up but isn't very overpowering. It also produces a good amount of suds and leaves your hair feeling thoroughly clean.
It doesn't completely strip your hair off of its natural oils, so you can retain your hair's natural shine and volume.
The price is very affordable. Some people even stretched it out by mixing it with their regular shampoo. It is potent enough that even when diluted with another shampoo, it will still work.
Cons:
There were those who said it left their hair feeling rough. They had to use conditioner afterwards to rectify the problem.
2. Malibu C Hard Water Wellness Shampoo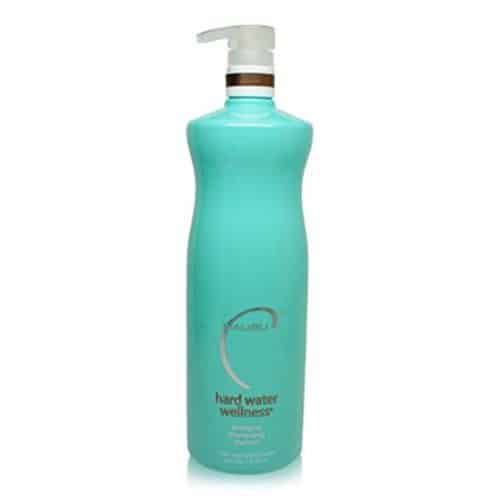 Say goodbye to dry, brittle and unmanageable hair with this product. It rids your hair of the buildup that weighs it down. It also instantly makes your hair feel soft, shiny and volumized. It restores the natural glory of your hair. This product caters to different types of hair including processed, colored or permed hair. It also effectively delivers more moisture into your hair and prevents it from succumbing to oxidative damage caused by the bromine and chlorine content in the water.
Pros:
It really leaves off a clean feel. It effectively removes mineral buildup and restores the original shine and softness of hair.
It prevents discoloration in colored hair. If you have an expensive color, this will prolong the vibrancy of your hair color. You don't have to make frequent trips to your hair salon.
This product will also help in alleviating dry and itchy scalp caused by hard water.
It has a nice and mild scent.
Hair becomes more manageable with the help of this product.
Cons:
It is a bit pricey.
3. Hairprint 99% Plant-Based All Natural Chelating Shampoo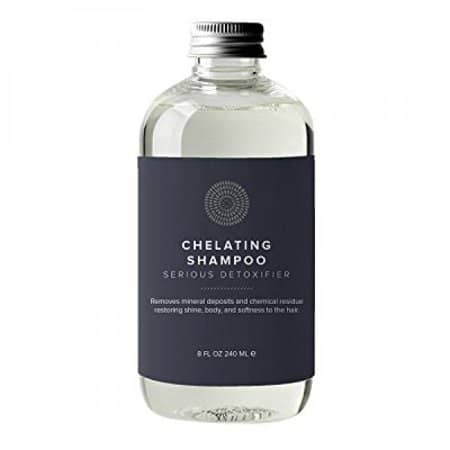 This product strips away all the fluff and goes back to natural roots in order to provide a better product for hair and scalp. Its combination of botanical ingredients helps in getting rid of mineral build-up in the hair while exfoliating and healing your scalp. It has a soothing effect that will make your scalp feel like you just had professional treatment. What makes this remarkable is it doesn't contain too many unnecessary ingredients.  Every bit of ingredient is also measured precisely to provide the best results.
Pros:
This product is completely plant-based. It contains a plethora of natural ingredients including Aloe Vera leaf juice, coconut milk, saw palmetto fruit, olive leaf, green coffee bean and willow bark, to name a few.
Because it is a chelating shampoo, it works better in removing buildup compared to just clarifying shampoo. It is particularly effective in removing hard mineral buildup.
It still retains the natural oils in the hair, so you can still enjoy natural shine and volume even without the need to use a conditioner afterwards.
It also improves scalp health. Some even said their hair became stronger and they became less prone to fallouts.
One bottle can last for a long time since you don't have to use it every day.
Cons:
Pouring out product might be tricky because of the packaging design. You could accidentally pour out too much product.
4. Paul Mitchell Shampoo Three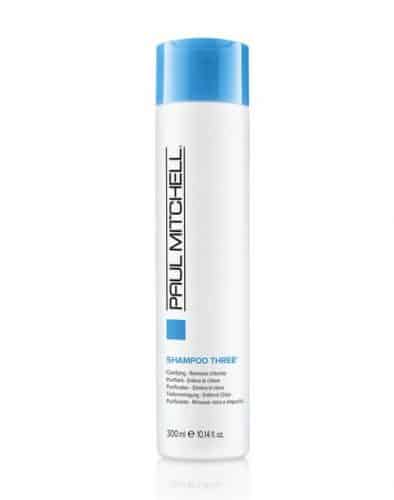 Getting rid of product build up is easier with the help of this hard water shampoo. It deeply cleanses the hair and is particularly more effective in getting rid of chlorine. If you are a swimmer, you will also find this product helpful. To use this product, simply apply a small amount of it to your hair, massage it and then rinse it out. You can use it daily.
Pros:
This product helps get rid of the greenish tint in hair due to exposure to chlorine. It removes the brassiness as well.
A little bit goes a long way with this product. You should only use it sparingly, so that means one bottle can last for a long time.
It removes chlorine smell from hair as well even after just one wash.
Some said they like how it smells.
Cons:
Some said it did nothing to prevent tangling.
5. Grapefruit Detox Re-Nutrient Shine Repair Shampoo

Don't shy away from this product just because it is the cheapest. Even though it is the least expensive it has everything you might be looking for in a hard water shampoo. It has a gentle formulation devoid of sulfate and other harsh ingredients, but still capable of getting rid of the hard water deposits collected in the hair. It also works in ridding your hair of pollutants as well as in removing residues of styling products.
Pros:
This product has a gentle formulation that makes it ideal to use even for young ones. It doesn't contain sulfate, synthetic dyes, colorings, fragrances, BPA, DEA and parabens. It is the safest product you can use out there.
It is the most affordable choice in this list. You can stock up on it and not worry that you are breaking the bank.
This product can also be used on color-treated hair. It maintains and restores the vibrancy of colored hair and doesn't strip away its natural shine.
It can be used to improve the health of the scalp as well.
It has a nice grapefruit scent that will really energize you in the morning.
It actually leaves the hair feeling soft and silky.
Cons:
Some said they did not notice any difference with their mineral-riddled hair.
Which is the Best Choice?
These shampoos will take care of your hard water hair problems:
Now, all of these products are worth trying. But if you must start your search with just one, we recommend getting the Kenra Clarifying Shampoo. It is a popular clarifying product for a reason – it really does a good job in stripping away the mineral buildup in the hair. It has a nice smell and you will get your silky, shiny and healthy hair back with it.
5 Signs That Will Tell You Have Hard Water at Home
Most people realize too late that they have hard water at home. It just doesn't dawn on them that well water could be the reason why they are having issues with their hair and skin. But here are some signs you need to watch out for that will tell you that you have hard water issues at home:
There is a buildup of minerals around your water fixtures.
One tell-tale sign that your home has hard water issues is if you can see signs of hard mineral buildup around the water fixtures. Even if you get rid of them by scrubbing them, they come back.
Your stainless steel pots and pans and glasses tend to have splotchy white marks after washing them.
Hard water isn't just damaging to your hair, it can also be damaging to everything that this water is used on such as your pots, pans and glasses at home. If you use the same water to wash your pots and pans, look for signs of mineral deposits. When they dry out naturally, they leave splotchy white stains behind on pots, pans and glasses.
You can see signs of corrosion everywhere.
Hard minerals are bad for certain kinds of plumbing pipes. If you have an older home, chances are, you still have pipes susceptible to corrosion caused by the minerals in the hard water. If changing your plumbing system to more modern PVC materials isn't a good option right now, you need to solve your hard water problem first.
Soap doesn't lather easily.
Hard minerals might react with the substances that are in your soap. This is why some soaps might not lather well.
Your skin gets dry and itchy.
One of the common signs of hard water problem is dry and itchy skin. If you have a particularly sensitive skin or you suffer from conditions like eczema, be careful because exposure to hard minerals in water can cause a flare-up.
How to Deal with Hard Water Issues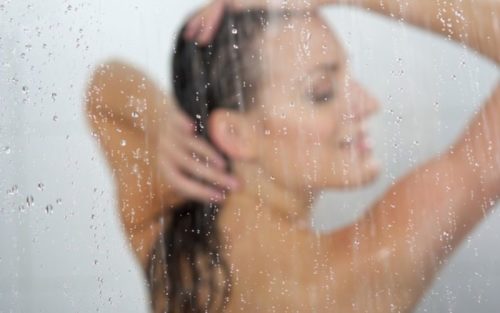 Installing a water softener in our plumbing system is the best way to deal with hard water issues. You can install it on the plumbing fixtures where you need soft water from such as in the bathroom or in the kitchen. What they do is neutralize the hard minerals in the water with the use of salts or other kinds of technologies.
Of course, these water softeners come with a cost. You need to buy the unit and then have it installed by a plumber. Many of these also need to be hooked up to your home's electrical system. That can add up to your monthly electrical costs.
There are also less expensive hard water softeners such as the shower filters available today. You can place these in your shower head. That can help a lot when it comes to relieving itchiness and eczema as well as in preventing minerals from building up in your hair.
You can also manually deal with the effects of hard water. Aside from using hard water shampoo, you can also use vinegar to clean the mess left behind by hard water. Vinegar is an effective limescale remover. You can use it to clean your appliances that use water such as coffee maker and washing machine. Just run an empty cycle and pour vinegar. It will help descale your appliances.
You can also mix vinegar with distilled water and then put it in a spray bottle. Spray it on your plumbing fixtures and leave it there for a few minutes to remove the mineral deposits and the residues. Do this once a week and you should be able to keep your home in good shape.
It is also important to determine how hard your water is. If you have more serious hard water issues, you need to look for solutions that can accommodate that need. A small shower filter might not cut it. Do a water test first and see what sort of minerals you are dealing with. Also, that will help you determine which products will work with the hard mineral problem you have.
What to Do Next?
It really is important to take good care of your hair. We have more product suggestions that will help you out with taking care of your hair. Make sure you visit our homepage to find out which other products we highly recommend.
Find even more helpful advice here, if you're still searching for your ideal shampoo!