Last Updated on 30th September 2021 by Chauncey Morgan
Hot rollers have been around for decades. It's just that recent technology has made them easier and more convenient to use. These styling tools are capable of creating dimensional results, so they are worth adding to your hair styling arsenal. This article will help you find the best hot rollers that can give you the results you are looking for without putting in too much effort and at a price you can afford.
Best Hot Rollers Reviews 
Without further ado, here are the hot rollers we think you should get your hands on:
What makes these hot rollers the best?
1. BaBylissPRO Nano Titanium Roller Hairsetter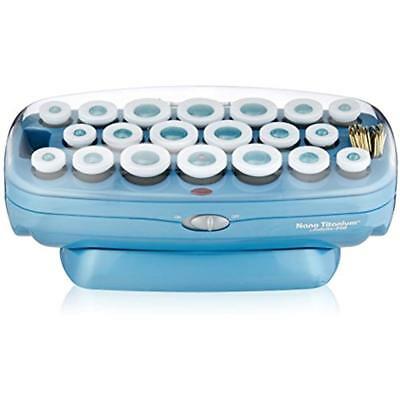 This has the most number of rollers in this list. It comes with 20 pieces of rollers, 6 of them are ¾-inch in diameter, 6 have an inch of diameter and 8 of them have a 1-1/4-inch of diameter. The varied sizes and the number of rollers allow you to achieve different curl sizes. More pieces also mean more hair coverage, so if you have thick hair, this should be a good choice for you.
It features nano titanium technology, which effectively heats up hair but without inflicting damage. As a result, you get curly but shiny hair all the time. It is stable even when set to a high temperature setting. It retains its heat, allowing for more effective curling process.
Pros:
This comes in a neat packaging. You can keep your rollers organized in their size-coded slots. The blue color is also nice to look at, so if you want to display this on your vanity table, that should be no problem.
The velvety flocked rollers do not snag the hair. You can put it on and take it off without damaging or breaking the hair shaft.
It has more rollers, which give you more styling power. If you have thicker hair and you need to separate your hair more, this can accommodate you.
Many people liked the different sizes of rollers as they are able to create more dimension for a more interesting curly look.
It takes a bit of time learning how to use it but it is still easier to use than blow drying your hair and then having to curl it with a curling iron or a flat iron. You can do other things while allowing it to set.
These are gentle on the hair. They are not too hot that they inflict damage but they still get the job done. Take them off and set them with a hair spray and you are great to go. Many said if you use hair styling products, the curls last until the next day.
These rollers heat up fast. No need to wait for a long time, great for those hectic and busy mornings.
It actually makes the hair shiny.
Cons:
They are a bit more expensive but for the number of rollers you are getting and the price, the price is well worth it.
2. Remington H1016 Compact Ceramic Worldwide Voltage Hair Setter
A full set of rollers might be cumbersome to bring when you are traveling. If you are looking for a compact hair setter that you can bring with you on your numerous travels or you simply want one that doesn't take up a lot of counter space, this one from Remington is the best choice. One set comes with 10 rollers, 5 of them with 1-1/4 inches of diameter and the rest with an inch of diameter.
It features a combination of ionic and ceramic technology, thereby allowing you to get longer-lasting curls and better volume. These technologies also minimize the appearance of frizz. The rollers are held by a J-Clip with a design that prevents hair creasing.
Pros:
This is the least expensive one in this list. For those who are on a budget, you will find this a great buy.
It comes with a compact storage case that you can easily stow away in your vanity drawer, bathroom or travel bag. The small size makes this easy to carry. It is also dual voltage so you might not have to bring an adapter.
It reduces the possibility of burning your fingers with its cool-touch ends. This makes handling the hot rollers easier.
It takes only 90 seconds to heat these rollers up. If you often deal with a hectic morning and you don't have a lot of time to style your hair, the short heating time will help you out.
This product is built to last. There was a customer who forgot to unplug it and it still worked well.
Although it doesn't heat up too much, it still did a great job curling the hair. A lot of users were surprised at how well these curlers curled up their hair without dealing with a hot head.
It works even when you have long and thick hair. It did a great job curling pin straight hair.
Cons:
Some said they did not like the clips. They prefer the butterfly cage ones.
3. INFINITIPRO by Conair Instant Heat Ceramic Flocked Rollers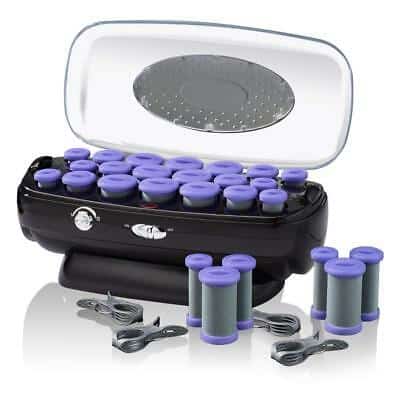 Do you have stubborn hair that refuses to curl no matter what you do? You might find this an ideal choice then. It comes with 12 different temperature settings so it can accommodate the heat styling needs of various hair types. The base has an ionic generator that reduces frizz and allows the curls to set and then hold for a long time.
These rollers have ceramic technology that allows faster heating time and more effective heat distribution. With 20 rollers and 3 different sizes, you can make quick work of styling your hair.
Pros:
Many people are impressed by its curling benefits. It has excellent heat retention but it doesn't inflict damage to the hair. They said the curls held up well.
The adjustable heat settings allow users to customize it to their specific needs. If they need the curls to hold much longer, they can set it to a higher temperature setting.
It comes with a retractable cord. Although this isn't as compact as the previous one, this feature makes it easier to bring when traveling.
The clips that came with it did not leave dents on the hair.
It has a good heating time. It is not too fast that you will be in a hurry to roll your hair around. You have plenty of time to prepare your hair while waiting for the unit to heat up.
It gets rid of frizz. The ceramic technology ensures that you get tight and bouncy curls minus the frizz. You get shiny results all the time.
Cons:
The clamps that came with it are not that impressive.
4. Conair Compact Multi-Size Hot Rollers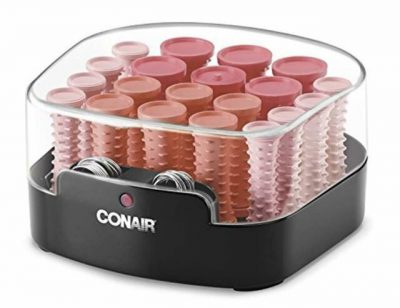 Some hot rollers can get tangled up in your hair because of the material used. This one is the perfect alternative because of its tangle-free design. One set comes with 20 hot rollers with different sizes. 8 of them have half an inch of diameter, 6 of them have ¾-inch of diameter while the rest features an inch of diameter.
These hot rollers have a patented grip design. This ensures a better grip to the hair shaft, for more effective heating. The case is compact and also has dual voltage benefits so you can bring this with you when traveling.
Pros:
There is a lot of rollers to cover even thicker hair. Many said they did not think there is enough to cover the head but this actually worked.
It creates not just bouncy but also soft and shiny curls. It leaves the hair looking nice and healthy.
The price is great for a set that has more rollers included.
These rollers did not require a long heating time. You can save so much time when using these.
The curls actually held up. You can enjoy healthy and bouncy curls all day long.
You can take out the hot rollers without them getting tangled up in the hair.
Cons:
Some said the metal clips are a little difficult to put on because they tend to hurt the hands.
Which are the Best Hot Rollers for You?
Great for Thick Hair: BaBylissPRO Nano Titanium Roller Hairsetter. We think this is great for anyone looking for a quality hot roller set but if you have thick hair, this might be a better choice for you. That is because one set has more rollers compared to the others, so you can separate your hair thinly and still have more rollers to use. These rollers also have varied sizes so you can achieve the volume that you are looking for.
Ideal for Traveling: Remington H1016 Compact Ceramic Worldwide Voltage Hair Setter. Do you need to travel but can't bring your main hairsetter? Get this one then. It is more compact but does not compromise when it comes to the thickness of the curls. It just has a more compact case, which makes it fitting for travels. In fact, this can be used every day. Many people bought several of these products to use every day because it is affordable.  
Comes with Adjustable Heat Settings: INFINITIPRO by Conair Instant Heat Ceramic Flocked Rollers. If you want more options when it comes to heat settings, this can be a good choice. You can set it to a temperature lower or higher, depending on your hair type, hair condition and your personal needs.
Tangle Free Results: Conair Compact Multi-Size Hot Rollers. No need to grapple with these hot rollers if you use these as they will come off seamlessly. For a set that has more rollers, it is quite affordable. It also has a good curl retention. There were a lot of testimonials and rave reviews about how these rollers achieve curls that lasted for a long time.
Now, which of these products is our favorite? We think they are all good but if we are to choose only one, we highly recommend the BaBylissPRO Nano Titanium Roller Hairsetter. Although this is more expensive than the others, you won't be disappointed with the curls these hot rollers produce. Everything about this is well-made and have a good quality that will ensure they will last long. The titanium technology also creates soft and frizz-free curls.
Buying Guide: Factors to Keep in Mind When Purchasing Hot Rollers
Before we cap off this article, let us just give you a few more pointers to help you identify the best hot rollers for you.
Number of Rollers. The more rollers there are in the set, the easier it is to style your hair. This is true especially if you have thick hair. If you have thick hair and you only have 10 rollers in there, that might not suffice in covering the head entirely. You might need to do a second batch for the ones that were not covered. That can take more of your time. So, consider how many rollers are included or get a second set if you are satisfied with the product but don't like how there are only a handful of rollers in there.
Size of Rollers. Some rollers come in three different sizes while others only have 2. It boils down to your needs. We suggest getting those with more sizes because they allow you to have more styling options. Having smaller-sized rollers may be a better option for those with finer hair.
Heating Time. Don't waste your time waiting for the roller to heat up. Look for those that can heat up the rollers in 10 minutes or less.
Portability. It is a good thing most of the hot rollers you can find today come in compact packages. But look for other portable features such as a retractable cord or a more compact case, so that you can still bring these rollers when you travel.
Conclusion
Aside from hot rollers, we have other recommendations on styling tools you can add to your beauty arsenal. Find reviews of the best hair styling tools here!