Last Updated on 17th August 2023 by Chauncey Morgan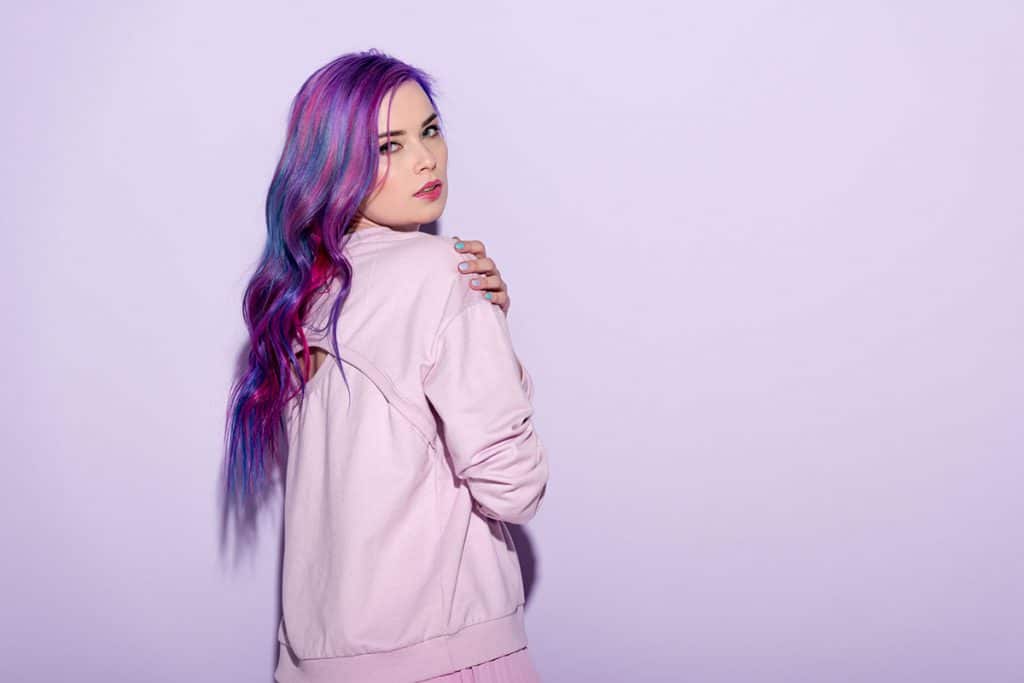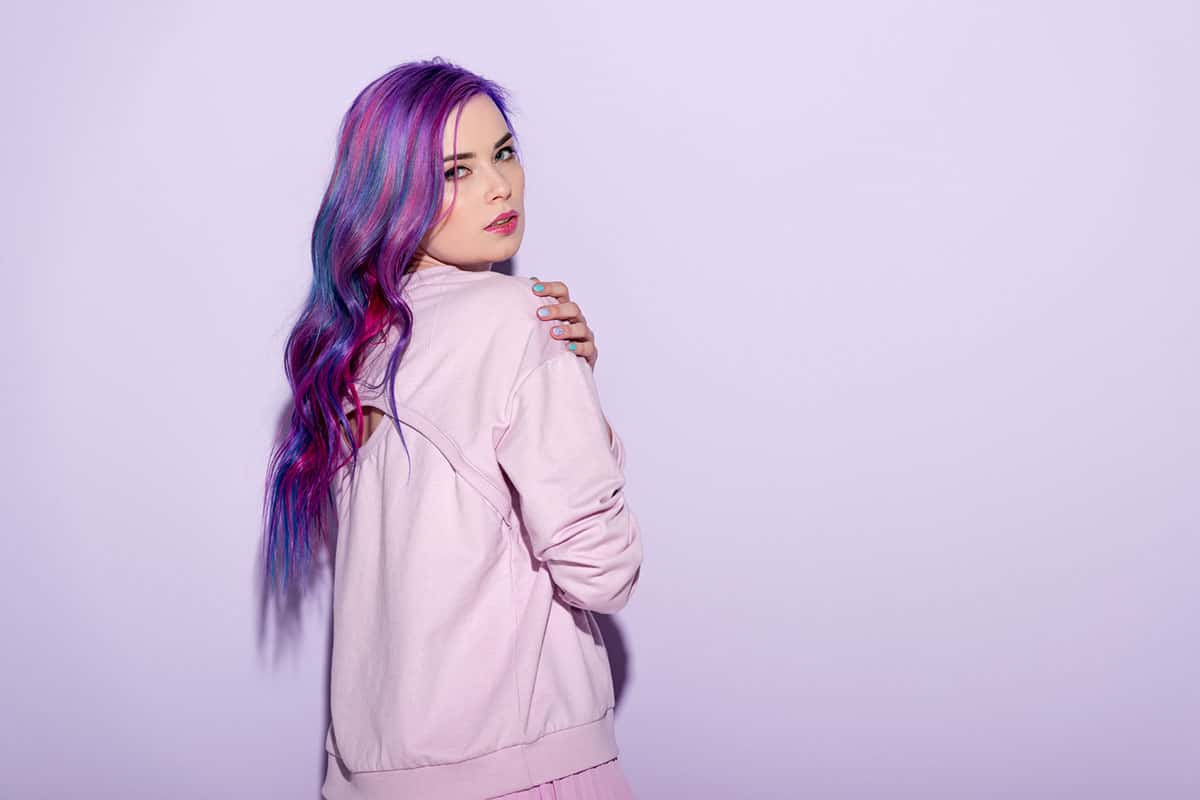 There is nothing more fun than making a change in the way you look. For me, that change has always been connected to my hair. I have tried out all of the possible hairstyles and hair colors — except for purple hair. So recently, I have been wondering if I could dye my brown hair purple without bleaching it, and it turns out that is actually possible and easily achievable!
Not that long ago, several hair dye manufacturers created purple dyes that can easily cover any type of hair color, including brown hair, without any bleaching or other type of lightening of the hair. All you need to do is purchase the purple dye and apply it to your hair. You will find that in only half an hour, your hair will be completely purple and look amazing!
In addition to a good hair dye, what you will need to achieve admirable purple hair is a good application method. In this guide, I will tell you all the steps to dyeing brown hair purple, how to maintain the purple after dyeing, as well as what kind of hair dye you should actually get. By the time you get to the end of this guide, you will feel like a professional hairstylist that knows all about making brown hair purple!
So, Can You Dye Brown Hair Purple without Bleach?
I am here to tell you that you absolutely can dye brown hair purple without bleach! However, there is a catch.
Not all hair dyes produce the same results. Some are better than others, and this also goes for purple hair dyes.
For some of them, you need to pre-lighten the hair with bleach. For others, no lightening or bleaching is necessary. It all depends on the specific type of hair dye, so you should read the instructions closely before you actually apply the dye.
Another good piece of advice is to consult a professional hairstylist even if you are planning on dyeing your hair at home. They have a ton of experience with hair dyes and will point you in the right direction. It might be a good idea to have a hairstylist do the entire coloring process for you, but if you want to do it by yourself, I am here to guide you through the entire thing.
How to Dye Brown Hair Purple without Bleach
If you want to color your hair purple without using any bleach, you have come to the right place. I have the perfect step-by-step guide that will help you dye your hair purple without ruining it. But before you get to dyeing, you need to know the type of hair dye you should use.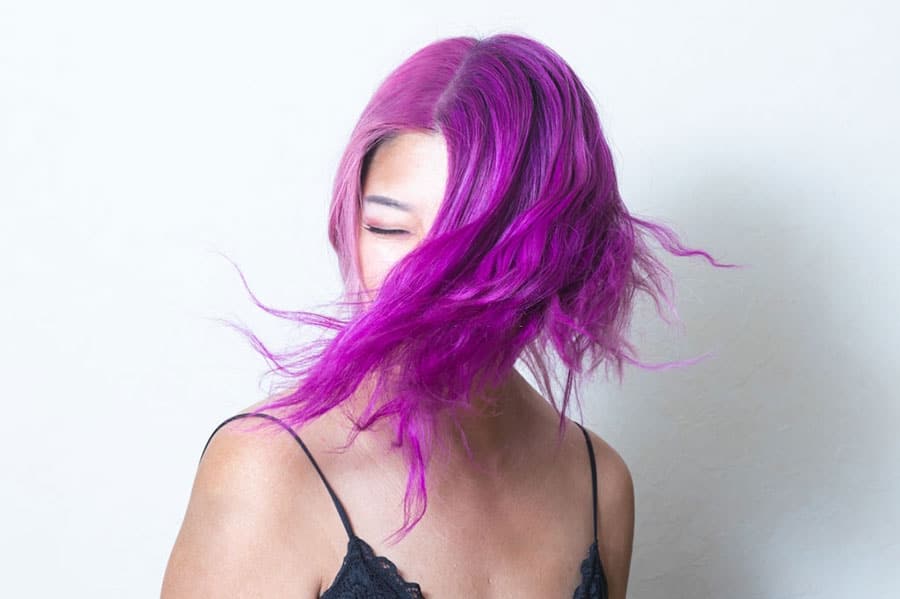 Permanent hair dyes are not recommended in a situation like this because they usually require bleaching the hair. They also contain a ton of ammonia that will lead to a lot of damage, so you want to stay away from them.
A much better choice would be to use a semi-permanent or demi-permanent purple hair dye if you do not want to bleach your hair. They will last anywhere from a week to a couple of months but will not damage your hair as much.
Once you have purchased the purple hair dye you want to use, you can get ready for the dyeing process. You will need to put on an old t-shirt, get a mixing bowl, application brush, some gloves, hair clips, and a comb. Here are the steps that you need to follow next:
Step 1 – Prepare the Hair
Wash your hair at least three days before actually coloring it. Do not use any styling products or dry shampoos on it; you should leave it to get as oily as possible before you dye it. The oils in the hair will actually help it stay healthy and will protect the scalp as well.
On the day of the dyeing and right before you get started, you should brush the hair thoroughly and make sure it is tangle-free. Then, you can use hair clips to section the hair for easier dye application.
Step 2 – Prepare the Color
Following the instructions on your specific type of hair dye, you should mix the color in the mixing bowl.
Step 3 – Apply the Color
Going section by section, apply the color on your hair. It might be a good idea to take small sections so that you cover your entire hair and do not leave anything behind.
Be sure to apply enough color to each section if you do not want your hair to look patchy. The more dye you add, the more thorough your coloring will be and the better results you will get in the end!
Step 4 – Let the Color Sit on Your Hair
After you have applied the purple dye to your hair, you should put a plastic cover over it and wait for it to develop. The instructions should say the exact amount of time you need to keep the color on your hair, but it will likely be anywhere between 20 and 30 minutes.
Step 5 – Finish It Up
When the dye sets in the hair, you should wash your hair thoroughly and make sure there is no product in the hair anymore. You do not need to use shampoo – you should only deep condition the hair and let it air-dry.
From here on out, you should use color-protecting products like shampoo and conditioner if you want your color to stay vibrant for longer. Other products, too-frequent washing, heat styling, or too much sun might lead to fading.
FAQs about Dyeing Brown Hair Purple without Bleach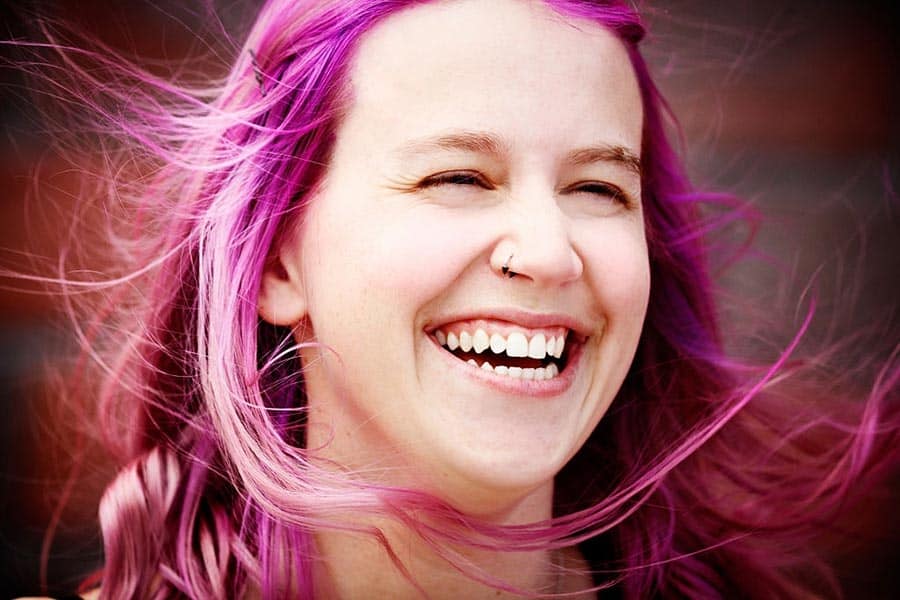 Purple hair is so fun and cool, but keeping the color vibrant and looking good will require some special care and maintenance. There are a lot of things that you should know about purple hair before you actually color your hair, so here are some of the frequently asked questions that I would like to bring to your attention.
What is the best purple hair dye for dark brown hair?
Choosing the right purple dye is crucial to making your hair look nice. I suggest using a semi-permanent or demi-permanent hair dye that will eventually come out, so even if you do not like it, you will be able to change it after some time.
Arctic Fox's purple dye is considered as one of the best options, while Manic Panic's purple dye is also a very good option. You should consult your hairstylist about which dye you should use to achieve the look you are going for.
Is purple hair high-maintenance?
Although you can dye brown hair purple without bleach, you also have to learn about color care. Purple hair can be high-maintenance, especially if you are going with a permanent color. Your hair will need to be toned often, and you will also need to use color-protective products at all times.
The same goes with semi or demi-permanent colors – a good shampoo for colored hair is a must, while your hair can also benefit from often deep conditioning treatments. Remember that the color will not last that long, so you will want to make the most of it!
Is purple hair dye damaging?
If the purple dye is semi or demi-permanent, it will not damage your hair. These types of dyes do not contain any ammonia and just lay on top of the hair strand, so they are gentle and less damaging.
However, the same cannot be said for permanent purple dyes. Most of the permanent dyes require the hair to be bleached, so the bleach will damage the hair even before you put the dye in the hair. After the dyeing, the frequent toning and touch-ups will also lead to more damage.
I suggest going with a semi or demi-permanent purple dye if you want to keep your hair healthy. You will even be able to change the shade of purple every couple of weeks when the dye comes out!
Nothing Is More Fun Than Having Purple Hair!
I hope that this guide helped you learn about dyeing your brown hair purple without any bleaching. If you follow the steps I mentioned above, you will achieve the purple hair you have been dreaming of in no time!
Let me know if you have had any experience with purple dyes and if you have any advice that you think will come in handy for those still contemplating whether or not to color their hair purple. I cannot wait to read all your comments!