Last Updated on 19th July 2021 by Chauncey Morgan
The build up of hard water, as well as styling products in your hair, can cause limp, greasy and dull hair. If you want clear, fresh and volumized hair, a clarifying shampoo is beneficial. We will help you choose the best clarifying shampoo that effectively strips away the mineral buildup from your hair. Check out the products we recommend below and find out which of those is better for your type of hair.
Best Clarifying Shampoo Reviews
Now make sure you get the following clarifying shampoos for your hair:
These are your best choices but find out what else people are saying about these clarifying shampoos:
1. Neutrogena Anti-Residue Shampoo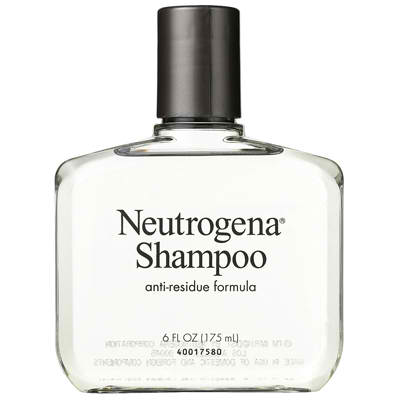 This anti-residue shampoo is arguably the most popular in this list. It's not hard to understand why. It works. It lifts away up to 90% of shampoo, styling products and hard mineral deposits from the hair. By removing all of the gunk that is weighing your hair down, this product instantly volumizes the hair. You get healthy and fuller hair without the use of more products.
Once all that gunk from your hair is removed, you can feel your everyday hair products working much better, which helps in shortening the amount of time it needs to style your hair. It also helps put an end to bad hair days.
Pros:
This anti-residue shampoo works gently on your hair. It effectively removes the build-up of impurities and gunk in your hair without harming your hair shaft and follicles. It doesn't irritate the skin, so it is great for people sensitive to strong chemical formulations. It doesn't contain artificial ingredients and formaldehyde.
Use this once a week only to make sure your hair stays light and fresh. Even though it is only a 6 fl. Oz. bottle, it should last you for a long time.
This product works for all types of hair. You can also use this on thin and processed hair.
It is the least expensive product in this list. If you are looking for an inexpensive clarifying shampoo that actually works, this is it.
It works even on thick hair. It gets through those thick hair strands.
Many people said they like the scent of this product.
Cons:
It is not readily available in stores, so your only option would be to buy it online.
2. Kenra Clarifying Shampoo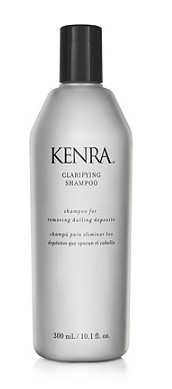 Do you live in a place where there is hard water and the hard minerals in your water source caused your hair to become stringy, dry and brittle? Get this one. It is especially formulated for hair damaged by hard minerals. It keeps hair shiny and healthy after every wash. Aside from hard minerals, this product also works on build up caused by hair products.
This product has a nice grapefruit scent and contains aloe vera that helps make the hair softer. It works for different hair type, even curly and thick hair. It can also work on colored hair as it doesn't strip away the dye.
Pros:
This is a product that really makes hair shinier and healthier.
Unlike other clarifying shampoos, it doesn't dry out the hair. The hair even comes out softer, thanks to its ability to get rid of the gunk left behind by hard minerals.
It works for all hair types. Whether you have thin, damaged hair or thick and unruly hair, this should work well for you.
If you have colored or treated hair, you can use this shampoo safely. It won't ruin your colored hair and won't strip away its shine.
The grapefruit scent smells nice. It isn't very overpowering like many of the shampoos out there.
One bottle actually lasts for a long time. It's not that expensive either, so this should be a budget-friendly option.
Cons:
Some said its clarifying action is not as effective on the build up in their hair.
3. Acure Curiously Clarifying Lemongrass Shampoo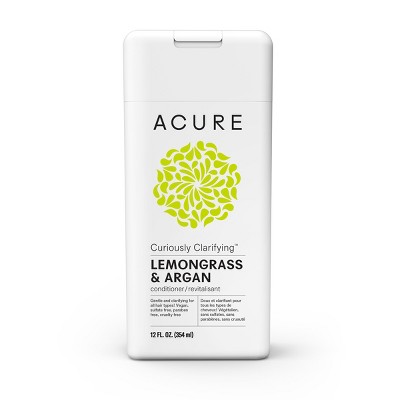 If you are looking for a clarifying shampoo that does its job in getting rid of product and hard mineral buildup while being vegan, paraben-free and sulfate-free, this is a fitting choice for you. It is also free from petrolatum, silicone and mineral oil. It contains all-natural ingredients such as aloe vera juice, acai, blackberry fruit juice extract, rosehips, pomegranate, calendula, chamomile, rooibos, argan, pumpkin, lemongrass, avocado oil, rosemary and lavender, to name a few
This product also contains CoQ10, which is what restores the structure of the hair, ideal for damaged hair. It also has a nice lemongrass scent that is rejuvenating and relaxing.
Pros:
Many people like how well it strips the hair off of grease and gunk. They said this is the only natural clarifying shampoo they tried that did not make their hair greasy.
It truly delivers fresh and clean results. It lightens the hair without taking away its natural volume.
This lathers really well, so you can get to the scalp in order to effectively get rid of the build-up.
It is completely natural. If you are looking for a product that does not contain harmful chemicals, you should opt for this one.
It contains a lot of natural ingredients that have the vitamins and minerals that restore the health of the hair.
Cons:
There were those who said its effects don't last long. After two days, their hair went back to feeling greasy again.
4. Paul Mitchell Shampoo Three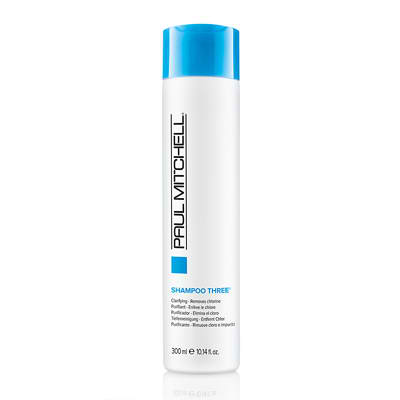 Paul Mitchell products for the hair are usually good and effective. This one isn't an exception. It effectively gets rid of product buildup in the hair. It works in removing chlorine and hard minerals in the hair as well. This product can be used by swimmers as well as it helps in preventing chlorine green.
Although it is not as good as the previous product when it comes to its list of natural ingredients, this one is still a great choice because it is paraben-free, and it is vegan.
Pros:
This product has earned a lot of rave reviews because it really works in keeping the hair clean. It effectively gets rid of the gunk and buildup in the hair.
If you swim a lot, get this shampoo. It works in preventing and getting rid of chlorine green hair. It is also effective for people with well water.
This product effectively leaves the hair feeling soft and looking healthy. It gets rid of the unhealthy grease in the hair as well.
It does not contain parabens and the ingredients are vegan.
It is very easy to use. In just a few washes, people said they were able to restore their hair back.
It works for different types of hair. This product also works on thicker hair even when you use just a small amount of it.
It has a subtle scent, so if you prefer something that isn't overly fruity or overpowering, this product should be a great choice.
Cons:
Some said it isn't as sudsy as they prefer. They had to apply it twice to get that sudsy effect.
5. Nothing But Clarifying Shampoo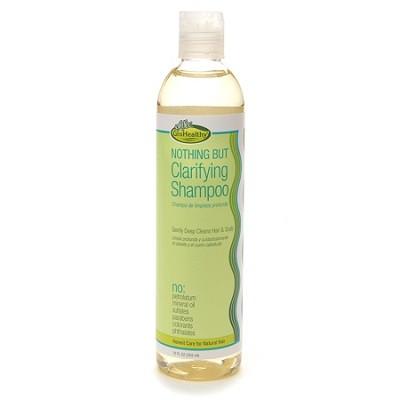 Another affordable clarifying shampoo you would want to try is this one from Nothing But. This comes in a clear container with a front label, so you can see when you are running out. The product itself is also clear. When applied, it lathers well.
It has a thick consistency that is devoid of sulfate, which is good for people with colored or processed hair. This will make your hair feel light and weightless and will leave behind a refreshing citrusy scent.
Pros:
This product contains a coconut oil-derived cleansing agent rather than the usual harsh chemical ingredients.
It is very thick, so even if you use a little bit, it can still do a thorough job cleansing the hair.
This product also contains Polyquaternium-10, which is a kind of agent that prevents static and enhances the hair's natural shine.
Unlike other clarifying shampoos that tend to be drying, this one has an ingredient that coats with emollient natural oils.
This product does not have a strong chemical hair. It has a nice citrusy scent that lingers in the hair.
It doesn't strip away toner and hair dye, so it is good for colored hair.
Cons:
Some said if you have long hair, you need to use more product to get the effects you are looking for.
Which Clarifying Shampoo is the Best Choice for You?
For Those Who Don't Want to Spend a Lot: Neutrogena Anti-Residue Shampoo. This is the best choice if you don't want to spend a lot of money. And since you only use it once a week, you should be able to make it last. It is a good option as well for people looking for a gentle formulation. It can work for all hair types as well.
Great for Hard Mineral Build Up: Kenra Clarifying Shampoo. This is a good product to get if you have dry and porous hair that is brought about by having hard mineral deposits in the hair. It is good for all types of hair, even processed and dyed ones. The price is also not bad considering that you only get to use it a few times in a month.
More Natural Option: Acure Curiously Clarifying Lemongrass Shampoo. This is the best clarifying shampoo you can get if you want something that is more natural. It is completely bereft of artificial ingredients that tend to harm the body. It is also the one with the highest number of natural ingredients, so if you like something vegan and cruelty-free, get this one.
Great for Swimmers: Paul Mitchell Shampoo Three. If you swim a lot in the pool, you would want to have this product in tow all the time. It helps in getting rid of chlorine and can be a solution to chlorine green hair that often. It is an all-around solution to removing hair buildup as well, so make sure you have one in your bathroom all the time to keep your hair squeaky clean.
Has a Softening Effect: Nothing But Clarifying Shampoo. This product is non-drying and will leave your hair looking and feeling soft and smooth. It comes in a simple packaging and has a thick consistency that makes this easier to apply evenly to the hair.
5 Reasons to Use a Clarifying Shampoo
A lot of people don't use a clarifying shampoo unless recommended by their hairstylist. But here are the top reasons why this should be a staple in your hair care arsenal:
It gets rid of heavy build up.
This is commonly recommended to use to get rid of build up from hair products. If you use hair styling products a lot and you notice that your shampoo and conditioner do not work quite as well in keeping your hair clean and shiny, you should use this. The build-up could be preventing your hair from soaking up the good ingredients in your hair care products.
It can restore damaged hair due to hard water deposits.
Minerals are good but too much of them can be harmful. If you use well water, hard water deposits could already be in your hair. Clarifying shampoo works in getting rid of hard minerals as well as chlorine, so you can enjoy softer and healthier hair.
It helps maintain the natural pH level of your hair.
Just like our skin, our hair also has a pH balance that it needs to maintain. External factors tips that balance off. Using this product can help restore that balance.
It can be used to prep your hair before treatment.
If you want treatments like hair coloring or keratin to work better on your hair, get rid of the build up first.
It can prevent your hair from turning brassy.
If you have colored hair, this product can stop hard mineral deposits from making your hair look brassy.
Conclusion
Want more information on which hair care products to get? Find our reviews of the best shampoos of all kinds here!