Last Updated on 2nd February 2021 by Chauncey Morgan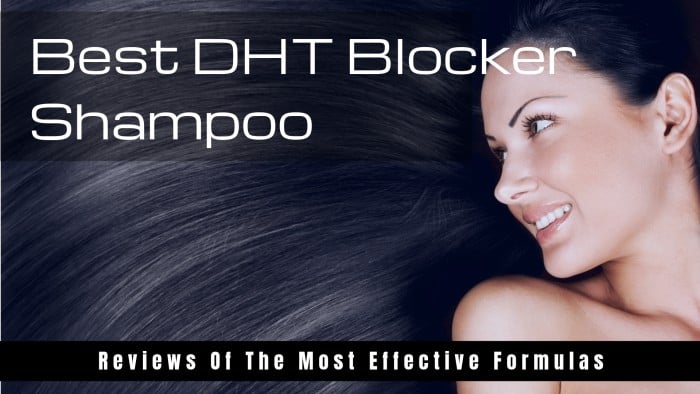 DHT blocking shampoos are designed to help prevent hair loss and promote hair regrowth. These shampoos can be beneficial for both men and women but especially to men who produce more DHT, a hormone that blocks the hair follicles and prevents hair from growing. The DHT blocking shampoos out there all have different ingredients and formulations, so don't expect them to work the same way. But we are here to help you find the best ones that will truly give you the results you are looking for.
Best DHT Blocking Shampoo Reviews
Here are some of the most effective DHT blocking shampoos you should consider trying:
Let us take a look at what makes these shampoos effective:
1. Maple Holistics Biotin Shampoo for Hair Growth and Volume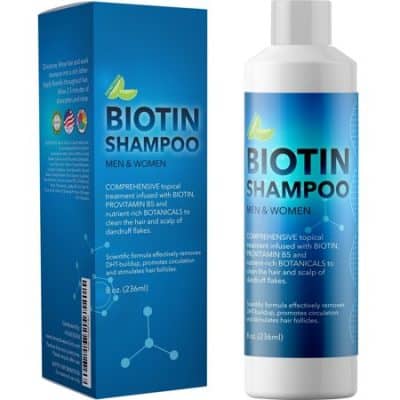 There is a reason why this has garnered over a thousand reviews online. It contains more than 10 different botanical ingredients known for their natural abilities to inhibit DHT production. Some of these ingredients are argan oil, coconut oil, evening primrose oil, rosemary, olive oil and tea tree oil. Its tea tree oil content, particularly, is known for its ability to treat dandruff and flaking. It also has natural antibacterial and antifungal properties that keep the hair healthy.
But perhaps its most potent hair loss-fighting ingredient is its biotin content. Also known as vitamin B7, this is a kind of water-soluble vitamin that promotes healthy and shiny hair. It adds not just shine but also volume to the hair.
Pros:
This product really works. Most of the people who tried it said they no longer suffered from intense hair fall after using this one. They also said their hair became thicker and lusher with the help of this product.
The manufacturer trusted their product enough that they are willing to give a money back guarantee. They will give you a full refund if it doesn't work for you.
This product is free from paraben, silicone and sulfate. If you like a shampoo that is more natural and does not contain toxic ingredients, this is a good choice for you.
It doesn't just make the hair thicker. It also works in repairing damages. It has moisturizing jojoba oil and many other oils that work in strengthening the hair and keeping it in great shape.
It also helps common scalp issues like dandruff and itchiness.
It works faster than many other commercial hair loss shampoos. There were those who used this for less than 3 months and they already felt a difference in how thick their hair is. There were even those who said they felt a difference in just a few days.
For the size of the bottle, the price is actually quite reasonable. A little bit goes a long way. Just a small dollop of this already covers the entire head.
The smell is good, according to many users.
Cons:
There were customers who said it did not help with their curly and fine hair.
2. Pure Biology Hair Growth Stimulating Shampoo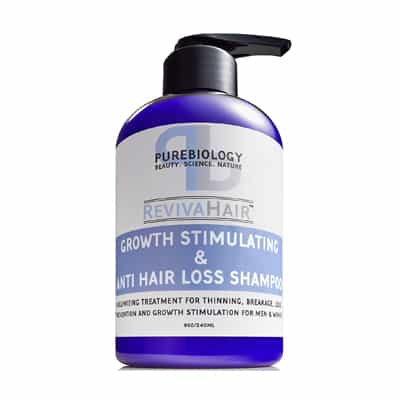 Boasting of 3HC Stimulation Complex, a proprietary blend of plant ingredients that show clinically-tested results when it comes to stimulating hair growth, this is one of the best DHT blocking shampoo you can rely on out there. It does not just prevent DHT from blocking the hair follicles, it also works in prolonging the lifespan of follicle, thereby preventing premature hair loss.
It also features a reliable blend of natural ingredients also known for their efficacy in blocking DHT and promoting regrowth such as vitamin E, rosemary oil, coconut oil, vitamin B panthenol, and green tea extract. Couple that up with Biotin and Keratin and you will have full, lush and shiny hair.
Pros:
The 3HC feature is a tried and tested ingredient. It keeps the hair follicles in a suspended state of growth, so it always stimulates the growth of hair.
It is backed by trials. The trials tested this on alopecia patients and they showed as much as 21% reduced hair loss in just 3 weeks.
This can be used by any adult. It is also effective for people with greasy hair, straight hair and curly hair.
This product has a nice smell. Many people said they like how it smells. It also lingers in the hair. If you like a citrusy smell, this will appeal to you.
It doesn't weigh the hair down. You can still get the volume you want.
This product has excellent cleansing properties. There were those who said this is the only DHT blocking shampoo that made their hair squeaky clean.
It really works. There were rave reviews about this helping them regrow their hair. It did not just stop the hair loss, it also helped stimulate the follicles to get out of the resting phase.
This contains peppermint, which leaves a refreshingly cool feeling to the scalp.
Many said although the product is smaller than your average shampoo, it does go a long way. One bottle can last for two months.
There were testimonials about its ability to detangle the hair.
Cons:
It is not sulfate-free. If you have colored or treated hair, this might not work well for you.
3. Honeydew Products Hair Loss Shampoo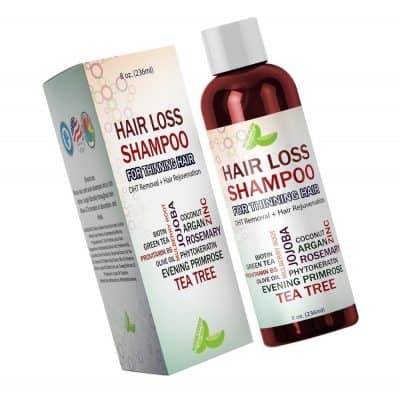 It is hard to believe this product is inexpensive. It might be cheap but it isn't lacking in all the good stuff that you would expect in a DHT blocking shampoo. It fights hair loss in the most natural way, having been incorporated with plant-based ingredients like rosemary, coconut oil, tea tree oil and mulberry. It also contains vitamins and minerals known for their hair loss-fighting abilities such as vitamins A, C, E and B5 and minerals like magnesium, iron and zinc.
It is the complete deal with its ability to prevent thinning hair as well as cleanse the scalp and make the hair look shiny and healthy.
Pros:
On a tight budget? You will love this product then. It is one of the best when it comes to preventing hair loss without being too hard on the budget.
Aside from its efficacy in preventing hair loss, it also helped strengthen the hair shaft. Many people said they had less frequent trips to the salon because they did not have damages at the tips that needed to be cut off.
This has an effective anti-dandruff formula as well. There were those who said their dandruff problems did not come back after using this one.
It lathers nicely. It is a small bottle but you can use only a small amount of it. Just a little bit of it spreads liberally all over the hair.
Many said this took care of their receding hair problem. It did not work instantaneously but after a few months, they definitely saw a remarkable difference.
There were those who said this made their hair look more hydrated. They also did not have issues with tangling.
Cons:
There were those who said they can't tell if it is really working for them or not.
4. Pronexa Hairgenics Clinical Strength Hair Growth & Regrowth Therapy Shampoo
Made from certified organic ingredients, this is a product that people concerned about their health will find beneficial. It contains botanical ingredients known for their DHT-inhibiting properties such as oleic acid, and saw palmetto extract. It also contains hair care ingredients such as aloe vera extract and seaweed extract.
Vitamins and minerals are also infused to the hair and the scalp in order to prevent hair loss. It keeps the hair healthy through its blend of vitamin B5, biotin and collagen peptides. You can be assured that this product is cruelty-free and backed by countless trials.
Pros:
Many users said there was a noticeable decline in hair loss after using this one. In fact, the effects manifested after just a few days of using it.
It helped many people suffering from hair loss grow their hair back. Many of the users started seeing regrowth. They also said their hair felt thicker and stronger.
Unlike other DHT blocking shampoos, this product did not leave the hair feeling and looking greasy. It actually cleans the hair well and does not leave a heavy feeling in the hair.
Many also liked how the product smelled.
It contains saw palmetto, which is one of the most vaunted natural ingredients that help in blocking DHT.
Cons:
This is a little bit more expensive than the previous products.
5. First Botany Cosmeceuticals Hair Growth Hair Loss Shampoo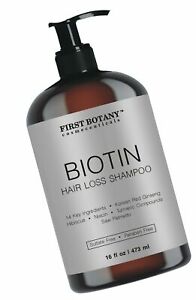 Out of all the products in this list, this contained the highest number of DHT blockers. The most notable ones are saw palmetto, nettle extract and Fo-Ti or He Shou. These are herbal ingredients that have been proven effective when it comes to inhibiting the production of DHT. In addition to these herbs, it also contains argan oil and biotin.
This is natural and devoid of sulfate and paraben. It also works for a wide range of hair types such as kinky hair, curly hair and straight hair. If you have treated hair, don't worry because it can work for you as well.
Pros:
Since it contains more DHT-inhibiting ingredients, it works better in preventing and treating hair loss.
This works on all types of hair. If you have artificial hair or hair extensions, this will also work well.
Many people experienced regrowth after just a few weeks. They also said their hair no longer breaks easily. When they wash their hair, they no longer have to deal with hair in the drain.
The smell isn't off-putting.
There were those who said this shampoo gave their hair more flume.
It has a smoothening effect. You can use it as an everyday shampoo.
Cons:
There were those who said this caused scalp pimples for them.
Which DHT Blocking Shampoo is the Best Choice for You?
Fast Results: Maple Holistics Biotin Shampoo for Hair Growth and Volume. This product proves that you don't need to load yourself up with chemicals just to get great results. In fact, natural is the best way to go. It has garnered high ratings and reviews because it really works. And what is even better is that the results come in just a few weeks.
Makes Hair Softer: Pure Biology Hair Growth Stimulating Shampoo. DHT blocking shampoos aren't exactly popular for their ability to keep the hair soft and shiny. But this one does. It helps in stimulating hair regrowth but also restores the luster and shine of the hair. You can hit two birds with one stone with this shampoo, so it is little wonder why it has raked such high reviews.
More Affordable Choice: Honeydew Products Hair Loss Shampoo. Here is another good hair re-growing shampoo that also prevents hair loss and receding hair. It is the least expensive one in this list. If you are on a budget, you might find this the best choice.  
Contains Organic Ingredients: Pronexa Hairgenics Clinical Strength Hair Growth & Regrowth Therapy Shampoo. This has been the answer to many people's hair woes. It took care of their hair loss problems and also help them regrow their hair back. If you have tried other natural shampoos and they did not work, give this a try. It contains saw palmetto extract, which is one of the most known ingredients for treating DHT-caused baldness.
Contains More DHT Blockers: First Botany Cosmeceuticals Hair Growth Hair Loss Shampoo. One way to tell that you are using an effective product is by the number of DHT blockers in it. This one has more than the previous products, so you know it will work. It also makes the hair softer and smoother after every wash.
Out of all these products, our favorite is the Maple Holistics Biotin Shampoo for Hair Growth and Volume. It works and it does a good job restoring the hair back to its original glory and giving thicker hair without the grease and the heaviness.
Conclusion
Read more of our product reviews on hair care and style products. Find more of the best shampoos available today here!